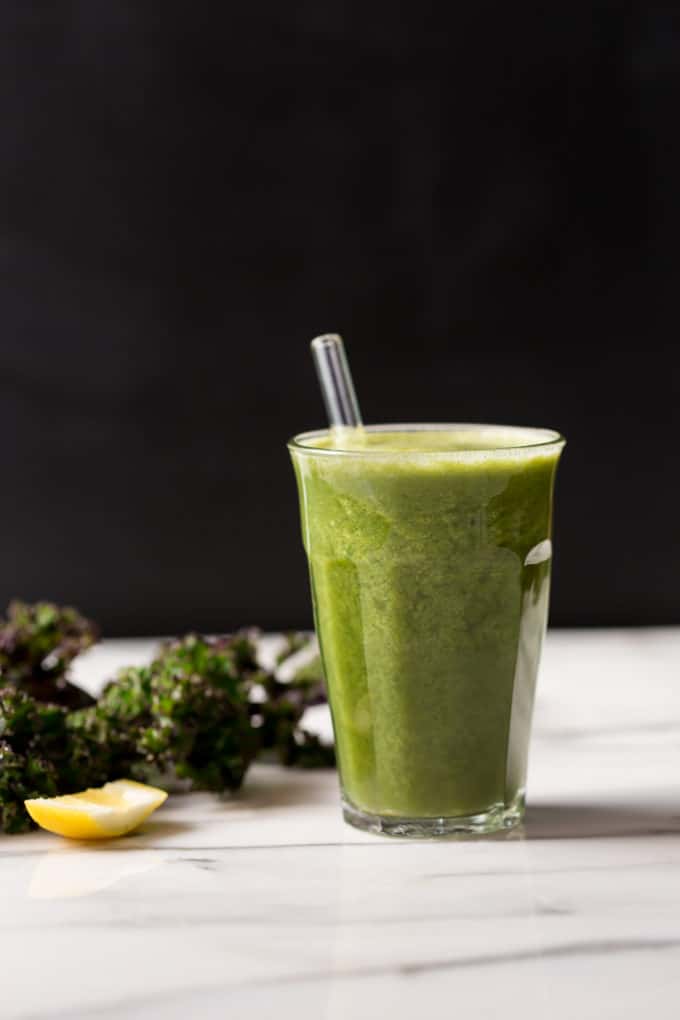 Between back to school/book/blog juggling, I had forgotten that I happily agreed to review Shauna Martin's book, Daily Greens 4-Day Cleanse, when it showed up at my door along with a handful of her Daily Greens juices on a day that I was feeling particularly frazzled (<-- I think that meets criteria for a run-on sentence). I had also been neglecting both my blender and juicer in hopes of saving a few extra minutes each day, but quickly felt the absence from the lack of green goodness in my diet (e.g., lethargy, mental fog).
So when I opened that box, I'm 99% certain there was an ethereal ray of sunshine beaming down on the book and juices. A gift from the universe (and Shauna/her publisher -- thank you!) that said something along the lines of, "Get your green [back] on, girl." Because the universe is just as full of wit and spunk as it is expertly-timed coincidences. I guzzled the juices down over the next two days and have been making Shauna's green juices over the last handful of weeks.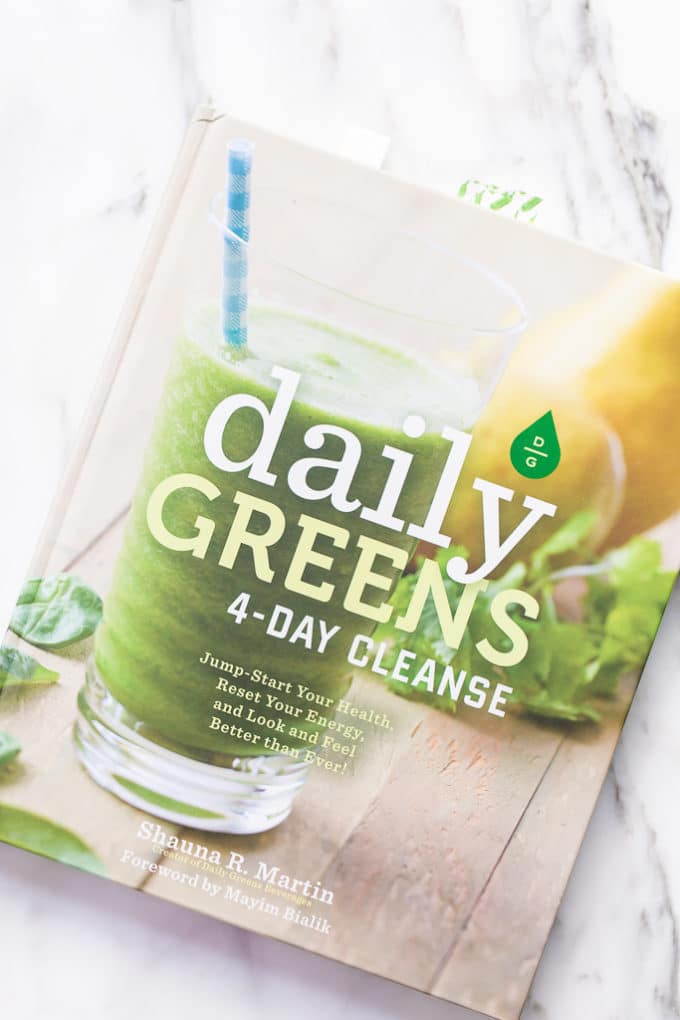 Current trendiness aside, there is something truly powerful about green smoothies/juices (at least in my experience). When I regularly drink them, I feel more focused, motivated, energized, and lighthearted. It's as if the mental fog and stress are cleared away by a potent dose of chlorophyll. I ♥ you, chlorophyll.
Daily Greens 4-Day Cleanse is bursting with Shauna's appealing and practical approach to fitting more green goodness into our days. After being diagnosed with breast cancer in 2004 at the age of 33, Shauna searched for answers to both the cause and the cure. With research and knowledge from leaders like Dr. T. Colin Campbell and Kris Carr as her guide, Shauna dove head first into a plant-powerful and green-juice-infused lifestyle to support her fight back to health. In the book, she recalls the perks of adding a simple daily green juice into her life...
"I had an incredible amount of energy all the time. My immune system -- which had been completely wiped out by the chemotherapy -- rebounded. My skin glowed, and my hair (which was finally growing back) was black and shiny once again. Mentally, I was sharp and clear. And I was happy. For me, the daily flush of nutrients from my green juice was like the fountain of youth." (Daily Greens 4-Day Cleanse, p. 12)
In 2012, Shauna paid the green goodness forward by getting green juice in as many hands as possible. She started by making and selling cold-pressed juices at her local farmers market and just five months later, her juice line, Daily Greens, launched at Whole Foods Markets.
And now she's sharing her wealth of knowledge through the thoughtful, inspired pages of her book, Daily Greens. The book is broken down into six chapters, including pre- and post-cleansing and four, seasonal green juice and raw food cleanses. Shauna starts by detailing the hows and the whys of juicing, cleansing, and eating seasonal, organic produce before diving into the four cleansing programs: New Year, Spring, Summer, and Fall. Each cleanse chapter includes two shopping lists; one for juicing and one for meals. Then, Shauna outlines the juices and raw meals for each day, including raw snack ideas that provide an energy boost when needed.
The juices are creative and flavorful (e.g., Kale Grape Melon, Pear-Vanilla Green, Strawberry Green Juice, Carrot-Cilantro Green, etc.) and the raw meals are drool-worthy whether you're on a cleanse or simply looking for a flavorful, nutrient-dense meal (e.g., Red Cabbage & Walnut Salad, Gazpacho, Vegan Caesar Salad, Raw Guacamole Tacos, etc.). If I would have had Raw Guacamole Tacos when I did a 3-day juice cleanse a couple years back, I might not have been such a B by the end of the first day.
I've been picking and choosing juices and meals to make from this book, and I've fallen in love with the recipe for Shauna's Daily Morning Greens Juice. It's a staple green juice and can be remixed to suit a variety of taste buds. Whether you like your greens sharp and grassy or softened by a bit of sweetness, there's a twist for everyone in this one recipe.
Be sure to scroll down to the bottom of this post for 1) the recipe and 2) to enter for a chance to win a copy of Daily Greens 4-Day Cleanse AND 3 Daily Greens juices (Renew, Elevate, and Purity). If you're eager to grab your very own copy of the book now, you can purchase it here!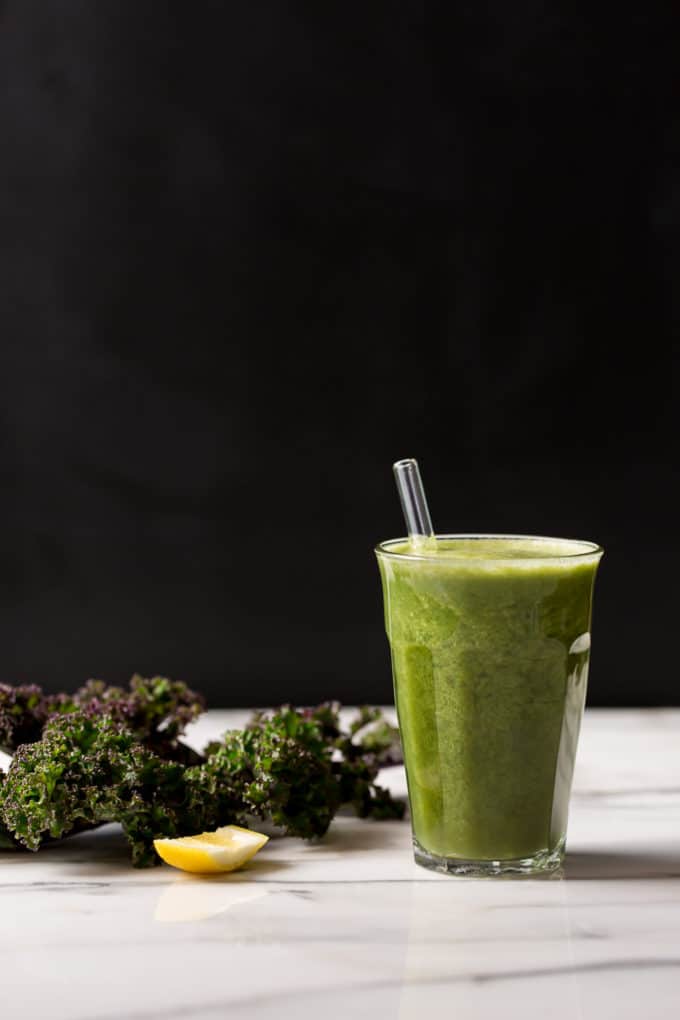 📖 Recipe
Shauna Martin's Daily Morning Greens Juice from Daily Greens: 4-Day Cleanse + A Giveaway!
"Unlike the other drinks featured in this chapter, this is a recipe for a green juice, as opposed to a smoothie. So you'll be using your juicer here -- not your high-speed blender. When I first began drinking green juices, I had to incorporate a substantial amount of apple to this one to make it appeal to my taste buds. But day after day, I noticed my palate being cleansed of my cravings for sugar, and the apple started to taste sickeningly sweet, so I removed the apple bit by bit until it was all greens. After several months of drinking this every morning, I could actually taste every single ingredient in it with a newly refreshed palate, similar to the one I had as a child. I started to really crave my Morning Greens." -- Shauna R. Martin
Ingredients
½

bunch of kale (or other dark greens)

1

cucumber

5

celery stalks or 1 head of romaine (I used romaine)
To Cut the Greenness
¼

lemon, peeled

¼-

inch

piece ginger root
To Add Flair
Handful for basil or mint (6 to 7 leaves)
To Add Sweetness
½

apple or pear, or ¼ of either or both, cored and cut into pieces
Instructions
Wash all ingredients except lemon (if using).

Cut and core the apple or pear (if using) and cut into pieces that will fit through your juicer. (I've been adding lemon, ginger, and ½ a pear to mine -- AM)

Run all ingredients through your juicer, scrape off foam (if desired), and enjoy!
Notes
Reprinted from Daily Greens: 4-Day Cleanse by arrangement of RacePoint Publishing. Copyright 2015, Shauna R. Martin
Daily Greens 4-Day Cleanse Giveaway
One winner will receive a copy of Shauna Martin's Daily Greens 4-Day Cleanse + 3 Daily Greens Juices (i.e., Renew, Elevate, and Purity). For a chance to win, simply enter the giveaway using the Rafflecopter widget below and comment on this post between October 13th and October 27th. Please note: this giveaway is only open to residents of the United States.