This crispy vegan and gluten-free coconut cauliflower with chile-mango sauce is warm and tender on the inside with a crisp, coconutty exterior. It's delicious all on its own yet its flavors come to life when dipped in a naturally sweetened, subtly spicy chile-mango sauce.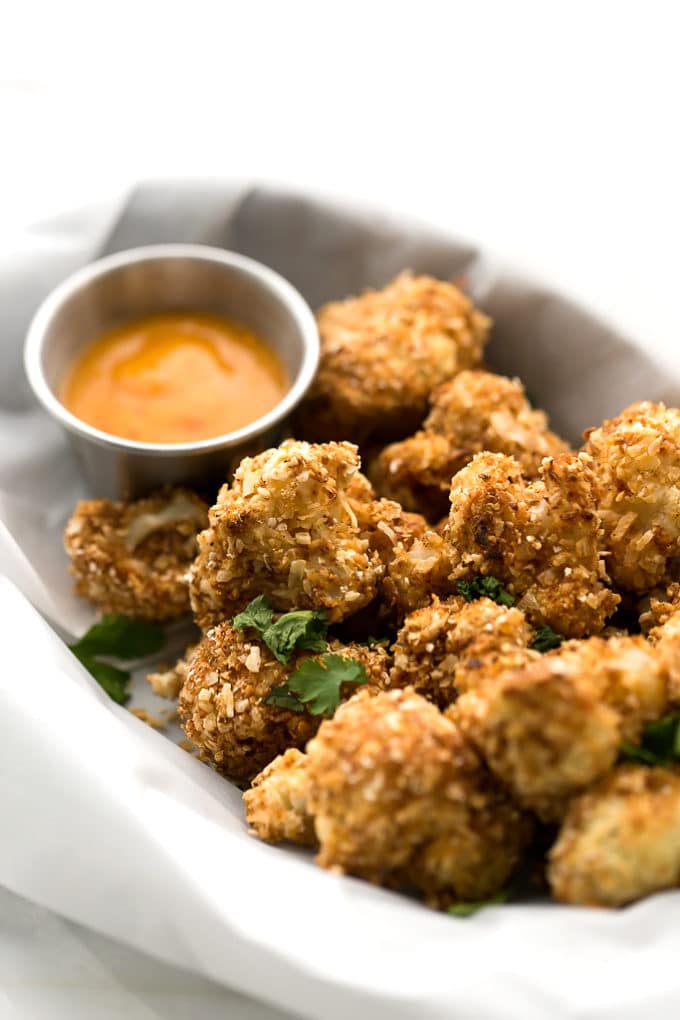 This post is sponsored by Silk.
One of my favorite parts about traveling is exploring the range of culinary styles within cities, regions, and countries. In many ways, food transcends the sometimes limiting boundaries of words, creating a common language of connection, and memories formed around the dinner table tend to stick with us better than most.
Just a week after I transitioned from vegetarian to vegan, Dan and I took a trip to St. Lucia. When a woman at our resort asked if we had any dietary restrictions, Dan jumped in to let her know I was vegan. Her eyes widened with curiosity as she said, "Vegan? Ooh, I've heard of vegans, but I've never met one before!" It initially made me feel a bit like an alien but lucky for me, she was one of the kindest, most compassionate people I've ever encountered and took it upon herself to ensure that I was well-fed throughout our stay. Their small dinner salad was transformed into an overflowing bed of greens fresh from their garden, soups and pastas were adapted, and the most wonderful nutmeg-kissed oats graced our breakfast table each morning.
Over time, I've learned the best approach to traveling as a vegan is to relinquish control and go with the flow. . . and always carry a stash of snacks just in case. When traveling as a vegan, it's tempting to want to plan out every last detail of the trip (e.g., book reservations exclusively at overtly vegan-friendly places, preview menus and pick out meals before arrival, notify every hotel that "a vegan is coming!", etc.). But over-planning and attempting to control every last detail takes the fun out of it and also limits the range of potential experiences. Flexibility is freedom.
Other than pre-reading a few menus and requesting vegan meals for flights, I approached dining in South Africa with the attitude that it would all work out. And it did. Here are a few of my favorite meals and food memories from the trip. . .
Pondoro Game Reserve
The game lodge we stayed at in Balule Nature Reserve, Pondoro, is known for their veg-friendly fare. They went above and beyond, creating inspiring, satiating vegan meals for breakfast, lunch, and dinner. They even went so far as to pack vegan snacks on our evening game drives. When we stopped for cocktails and snacks at the end of our first drive, I about did a dance when one of the guides said they specially packed veggie samosas. The great part about releasing expectations is that every little thing comes as a pleasant surprise and is accompanied by the secondary benefit of eliciting a sense of gratitude and appreciation.
La Colombe
Lunch at La Colombe in Constantia. This restaurant was recommended to us by everyone from friends to family to people we met during our trip. I was a little nervous going into the lunch given the pre-fixe nature of the menu, but it's important to me that my lifestyle choices not affect the natural inclinations or decisions of those around me. Plus, I wanted to get in on the fancy fun too. Let me tell you, this was one of the most special meals I've ever had, not only as a vegan but in general. They graciously (and on a whim) adapted their vegetarian menu and served up course after course of inspiring, colorful, mouth-watering goodness. It was wonderful to be able to fully partake in the meal, and it's an experience I'll always remember.
Masala Dosa
Dinner at Masala Dosa in Cape Town. This spot was recommended to us by the owner of a vegan-friendly gourmet shop in Camps Bay, and it did not disappoint. They have a separate (and lengthy) vegan menu, and the food was absolutely fabulous. Packed with warming spices, fresh herbs, and plant-based protein (e.g., Chana Masala, Mixed Bean Curry). I ordered the vegan Thali—small servings of various curries served with rice, puri, and coriander chutney, and I've been craving it every day since.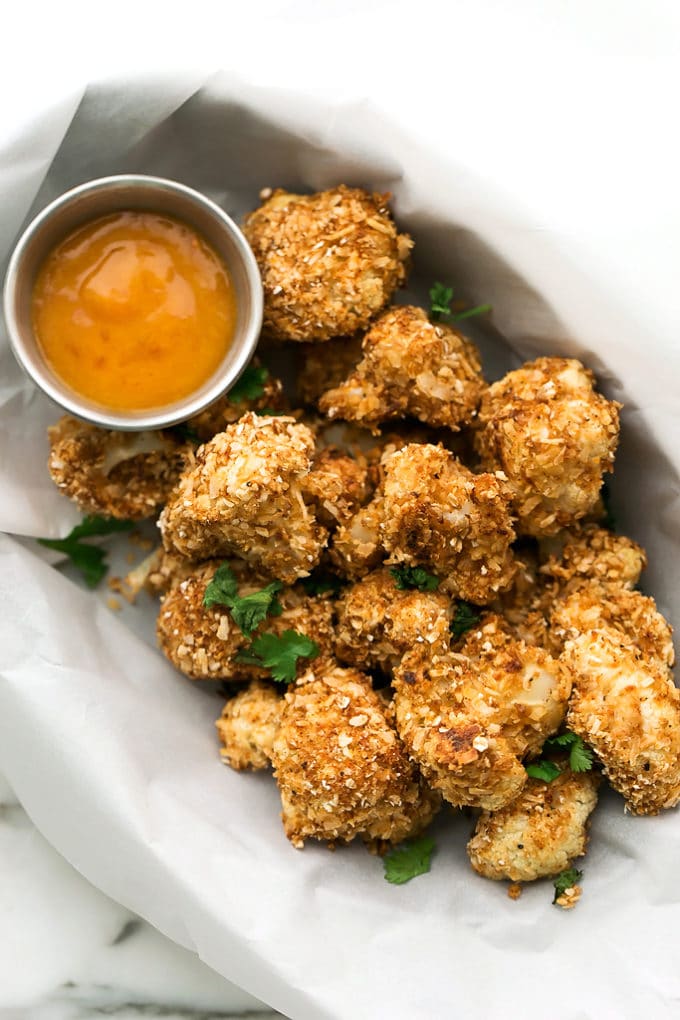 The recipe I'm sharing today embodies bits and pieces of my favorite things about the food in South Africa: simplicity, freshness, and just a touch of zingy spice. As a matter of fact, the idea for this sweet-and-spicy sauce was was the result of something that happened during our stay at Pondoro, proving yet again that inspiration comes from the strangest places. . .
Just before dinner one night, a Bush Baby, jumped onto the deck at the lodge, lapped up a small bowl of sauce, and flew off into the night.We were informed that this particular bush baby has a thing for sweet chile sauce and often zips down to the deck to enjoy a bit before quickly scampering back into the trees. As I drifted off to sleep later that night, the idea to use puréed fresh mango as the base for a sweet-and-spicy chile sauce came to mind.
This crispy coconut cauliflower reminds me of a veg-friendly version of coconut shrimp. The ingredients and method are similar to the ones used in my recipe for crispy cauliflower tacos, only the amount of oats is reduced to make way for a few generous heaps of shredded coconut.
First, the cauliflower florets are dipped in a light batter of Silk Unsweetened Original Almondmilk, brown rice flour, and lime juice. Then, they're tossed in a mixture of shredded coconut, oats, coconut sugar, smoked paprika, sea salt, and black pepper. . .
The coated florets are baked for 30 minutes, give or take a few, or until they take on a rich golden color and feel crisp to the touch.
As the cauliflower bakes, you'll make the chile-mango sauce, which requires all of four ingredients: fresh mango, chile-garlic sauce (or Sriracha), fresh lime juice, and a tiny splash of reduced-sodium tamari.
The mango is puréed in a blender until smooth and the remaining ingredients are whisked in. That's it. The result is a sauce that's sweet, spicy, and just the slightest bit savory with a lovely zing of brightness from the fresh lime juice.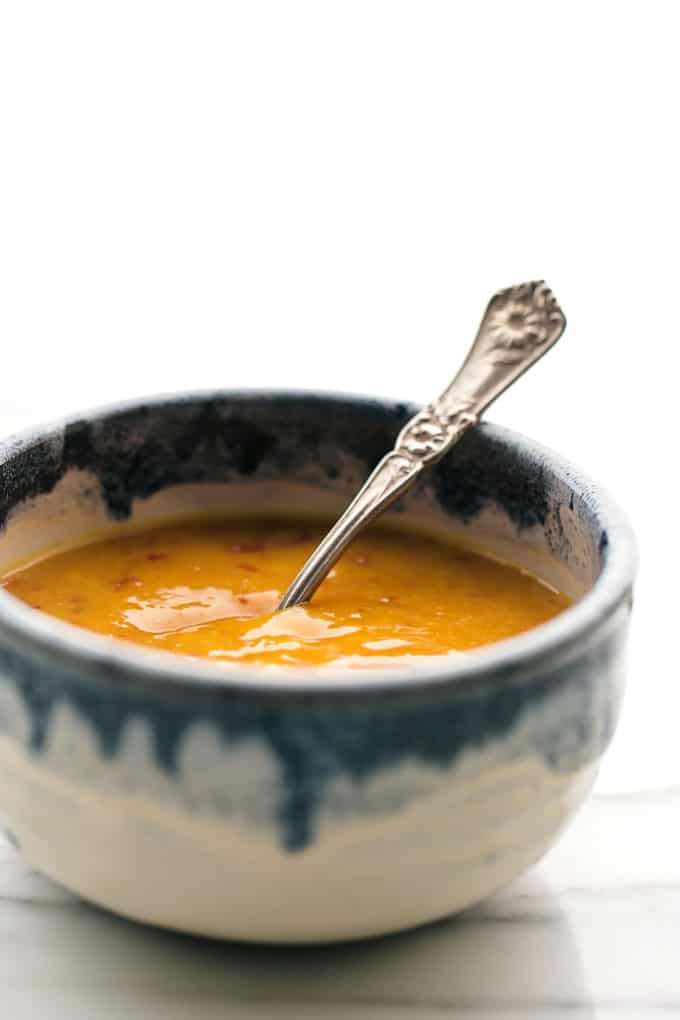 The cauliflower—warm and tender on the inside with crisp, coconutty exteriors—is delicious all on its own but its flavors come alive when dipped in that sweet, spicy sauce.
I hope you enjoy this recipe as well as the stories and travels that inspired it. Here's to going with the flow (and to bush babies, too)—have a beautiful weekend!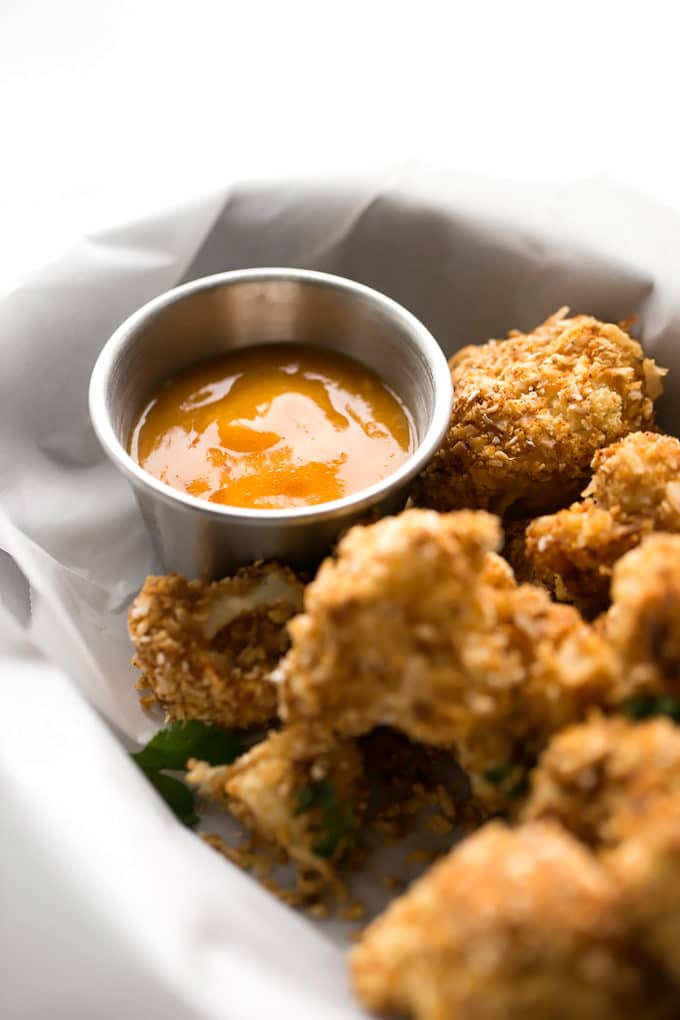 📖 Recipe
Crispy Coconut Cauliflower with Chili-Mango Sauce
This crispy vegan and gluten-free cauliflower is warm and tender on the inside with a crisp, coconutty exterior. It's delicious all on its own yet its flavors come to life when dipped in a naturally sweetened, subtly spicy chile-mango sauce.
Ingredients
Crispy Coconut Cauliflower
1

medium head of cauliflower (6" to 7" in diameter), outer leaves removed and cored

¾

cup

gluten-free rolled oats

1 ½

cups

unsweetened shredded coconut, divided

3

tablespoons

coconut sugar

1

teaspoon

fine grain sea salt

1

teaspoon

smoked paprika

¼

teaspoon

freshly ground black pepper

1 ¼

cups

Unsweetened Silk Original Cashewmilk or Almondmilk

¾

cup

brown rice flour

1

tablespoon

fresh lime juice

Small handful fresh cilantro, chopped (optional)
Chile-Mango Sauce
1 ½

cups

diced fresh mango (about 1 large mango peeled and diced)

1

tablespoons

to 2 filtered water, only if absolutely needed

2

tablespoons

chile-garlic sauce or Sriracha, more or less to taste*

1

tablespoon

fresh lime juice

½

teaspoon

reduced-sodium tamari
Instructions
To Make the Crispy Coconut Cauliflower
Preheat the oven to 400F. Line two large baking sheets with parchment paper.

Cut the cauliflower into bite-size florets and set aside.

Add the rolled oats to a food processor. Process for 20 seconds or until a coarse meal forms. You don't want the oats to be a fine flour, but rather a texture similar to panko bread crumbs. Then, add 1 cup of the shredded coconut, coconut sugar, sea salt, paprika, and black pepper. Pulse 10 to 15 times to roughly chop the coconut and incorporate the spices. Transfer to a large, shallow bowl or baking dish and stir in the remaining ½ cup shredded coconut.

In a medium mixing bowl, whisk together the the almond milk, brown rice flour, and lime juice until smooth.

Create an assembly line by lining up the cauliflower florets, almond milk mixture, coconut-oat mixture, and lined baking pans.

Place about a small handful of cauliflower florets into the almond milk batter and toss to coat. Use a slotted spoon to remove the florets, shaking off excess batter, and transfer to the coconut-oat mixture. Toss to thoroughly coat and transfer to the lined baking sheets. Repeat with all remaining cauliflower, evenly dividing between the two pans.

Bake the cauliflower for 26 to 32 minutes, or until crispy and golden, tossing at the 15-minute mark.

Remove from oven and cool slightly.
For the Chile-Mango Dipping Sauce
Prepare the sauce while the cauliflower bakes. Add the mango to a high-speed blender and blend until completely smooth. It should blend on its own without any problem but if absolutely needed, add the water, 1 tablespoon at a time, to encourage blending. Transfer to a medium bowl and whisk in the chile-garlic sauce, lime juice, and tamari. Keep chilled until ready to serve.
To Serve
If desired, sprinkle the cauliflower with cilantro. Serve warm from the oven alongside the sauce.**
Notes
*I use 2 tablespoons of chile-garlic sauce for a nice, slow-burning kick of heat. Feel free to use more or less to suit your tastes.
**The cauliflower is best served fresh from the oven.