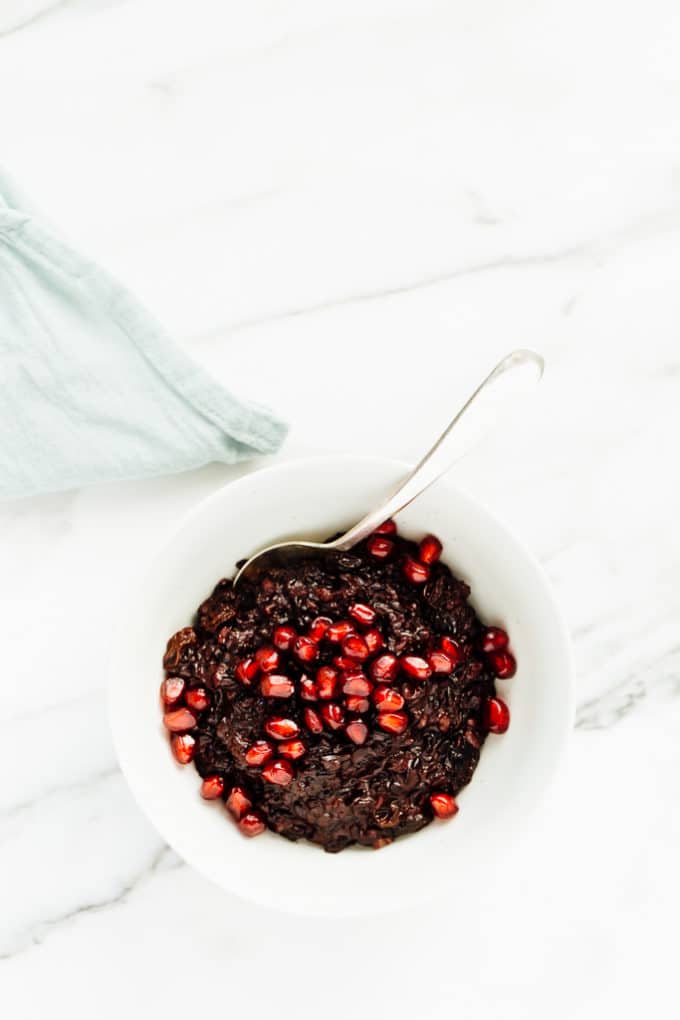 Hellooooo, world! It's been two long weeks without clacking away on these pixelated pages, and it feels good to be back. I'm so sorry to have left you for this long, but things will be getting back to normal around here over the next couple of weeks. Here is a brief rundown of what I've been up to since my last post...
1| I officially submitted the manuscript for my cookbook on the 31st. For the last 10 months, I had been envisioning that moment, so when I clicked 'send' it felt fantastic // surreal // slightly anticlimactic all at the same time. There's still plenty to do, but it feels so good to have met this milestone.
2| Dan and I spent a week in Whistler, BC skiing with friends to ring in the new year. I was still chipping away at bits and pieces of book work but managed to spend four days amidst the powdery snow. If you happened to read about my ski experiences in 2013 and/or 2014 then you might have noticed that they left an impact that extended well beyond the length of my skis and far wider than the billowy mountain powder. This year, I initially found myself a little less brave, and I'm not entirely sure why. Although, it's completely possible that there is a strong negative correlation between my bravery and the size of the mountains. Because dang, Whistler, your slopes don't lie.
Despite my initial wimpy attitude, I'm proud to say that after two lessons, a yard sale that literally scared the skis/poles off me, and reinstating those mantras from 2013, I went down my first real black run, and it felt truly awesome. If my 22-year-old self heard this story, she would have promptly punched my 32-year-old self in the face with a fistful of fear. And although I appreciate and respect her overly-protective ways, life's much more vibrant a few inches outside that tiny box of comfort.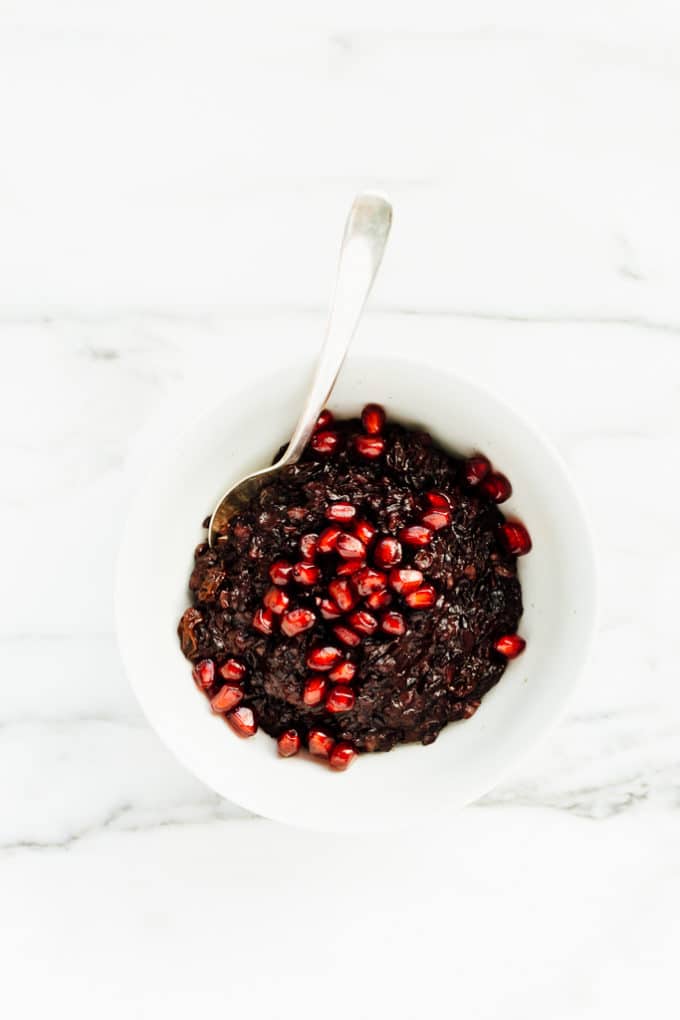 Yet again, skiing reminded me that, for better or for worse, I'm capable of just as much as I believe I am. We all are. When we're fearful and unwilling to trust ourselves, we tend to hesitate, lose our footing, and eventually tumble. However, when we're courageous and step confidently in the direction of our vulnerabilities, we often surprise ourselves by flying -- or at least turning our way steadily down the steep side of the mountain.
And when we fall despite being brave, it's our courageousness that swoops us up, brushes us off, and lovingly nudges us down that mountain once again, allowing us to recollect our confidence as we go.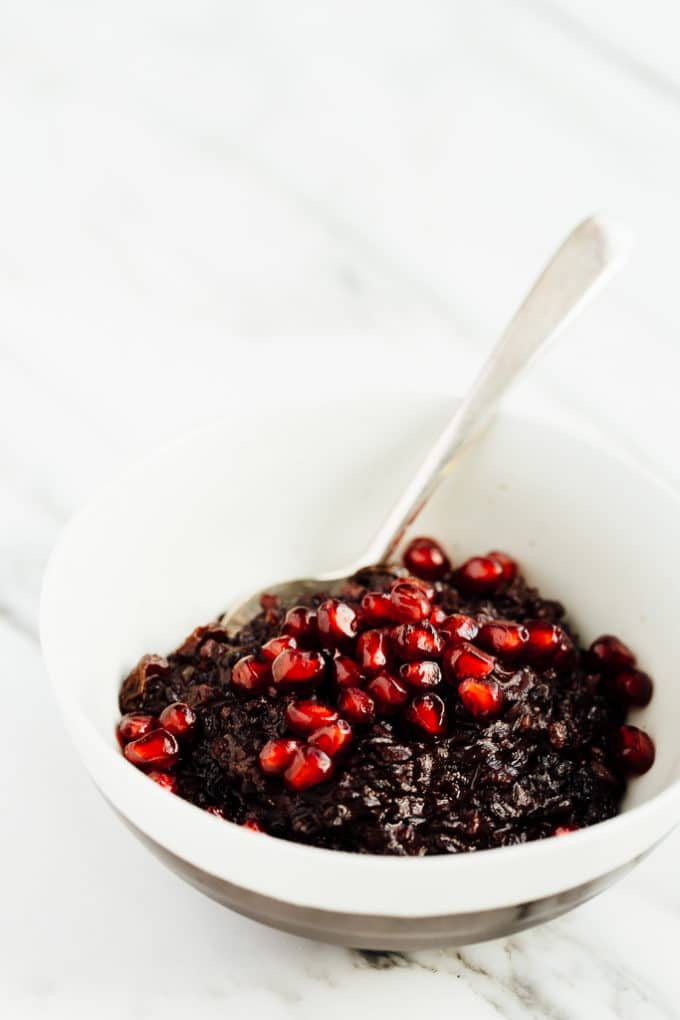 I hope you all had a wonderful holiday season and that your 2016 is off to a peaceful, self-compassionate, and vibrant start. I'm working on a New Years post full of tips, tricks, and resources that I'm planning to share later this week. But for now, let's talk pudding. Rice pudding, that is.
Over the last year or so, I've received a handful of requests for a vegan rice pudding recipe, and I'm not sure why in the world it took me so long to share one. I had originally planned to share this recipe before the holidays on the 23rd (hence its ruby red ornaments), but opted to spend the few book-free moments I had playing hide-and-seek with our sweet little niece instead. Thus, we'll have to use our imagination to transform this holiday-outfitted rice pudding into a New Year's rice pudding. Shouldn't be too hard -- it's simple, sweet, subtly spiced, and has a crisp pop of brightness from those ruby-hued pomegranate seeds.
To make it, you'll whisk cooked short-grain black rice (or brown rice) into a sweet mixture of coconut milk, water, vanilla, coconut oil, cinnamon, nutmeg, and a pinch of sea salt. Simmer that goodness for 10 minutes or until it's thick and pudding-like. Then, stir in a scoop of raisins (if you'd like or omit if you wouldn't) and simmer just a few more minutes. Divide between bowls and top with pomegranate seeds.
This pudding is delicious served warm or chilled, so feel free to serve as you please and step outside the bounds of your comfort zone when it comes to toppings -- coconut whipped cream, seeds, goji berries, fresh berries, etc. would all be welcome inhabitants on this creamy island of rice pudding. ♥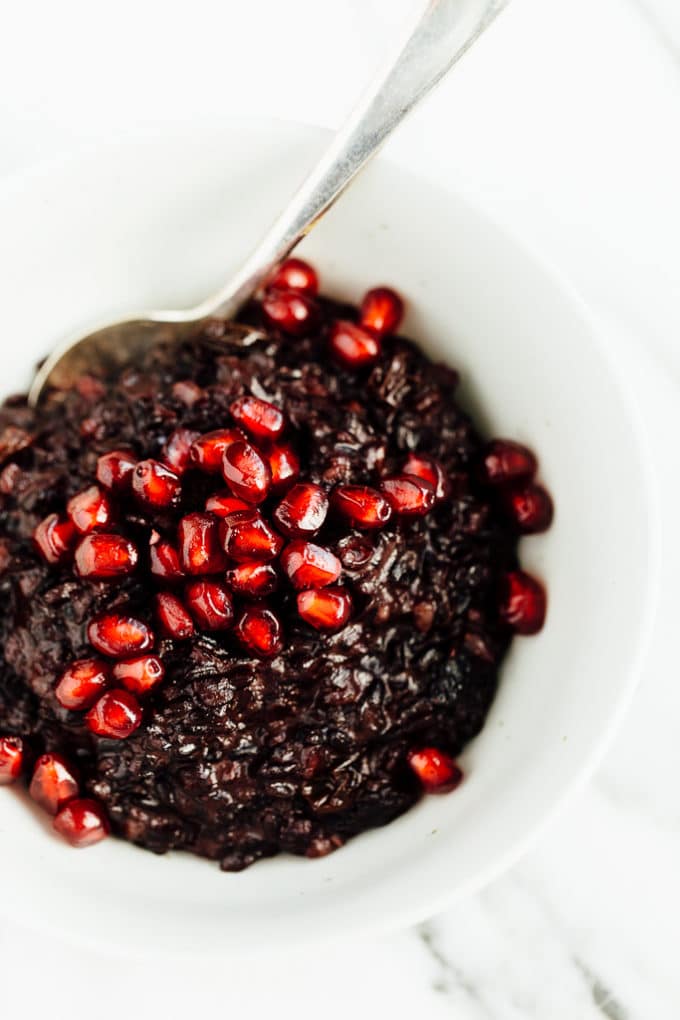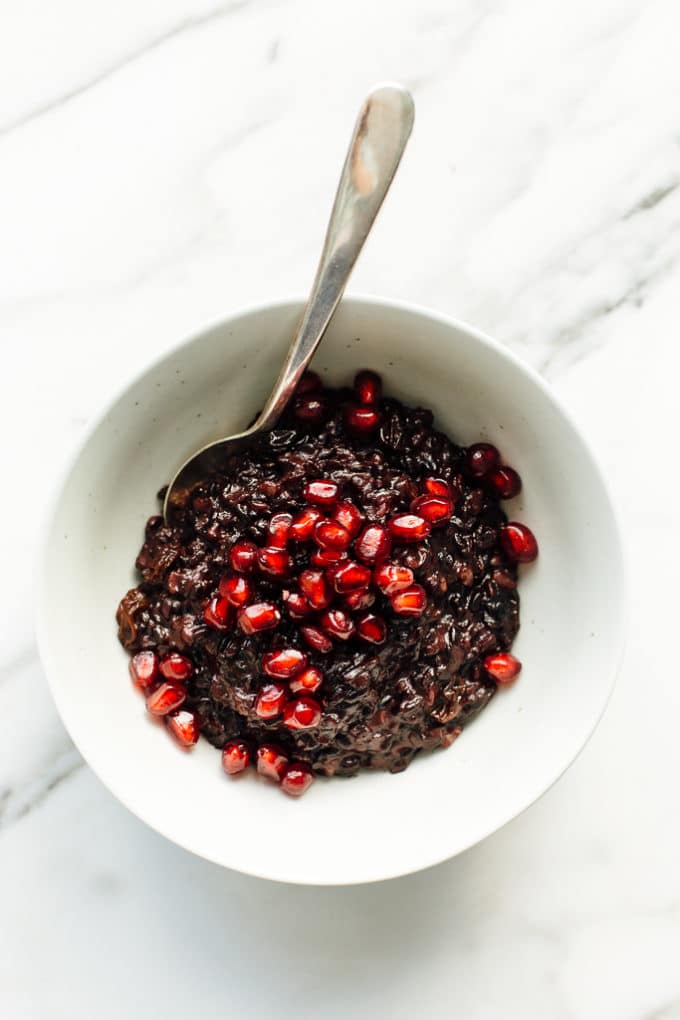 📖 Recipe
Vegan Creamy Coconut Black Rice Pudding
Sticky, nutty, and chewy black rice is simmered in a spice-kissed coconut milk broth until tender. Sweet raisins are stirred in to add chewy bits of texture, and the dish is finished with juicy pomegranate seeds for a fresh pop of flavor.
Ingredients
1

cup

uncooked short-grain black rice, cooked according to package instructions (do not season)*

¾

cup

full-fat canned coconut milk, scooped from the top of a can that has been chilled overnight

½

cup

filtered water

3 to 4

tablespoons

pure maple syrup, to taste

1

tablespoon

coconut oil

2

teaspoons

pure vanilla extract

1

teaspoon

ground cinnamon

½

teaspoon

freshly-ground nutmeg

Pinch of fine-grain sea salt

½

cup

raisins

(optional)

½

cup

pomegranate seeds//arils
Instructions
In a medium saucepan, whisk together the coconut milk, filtered water, maple syrup, coconut oil, cinnamon, nutmeg, and sea salt over medium-high heat until combined. Add the cooked black rice, and use a large wooden spoon to stir. Bring to a boil, reduce heat, and simmer, uncovered, for 10 minutes or until the about half of the liquid has been absorbed and the pudding is thick and creamy, stirring occasionally. Add the raisins (if using), and simmer another 3 minutes to soften.

Divide between 4 serving bowls or glasses and garnish with the pomegranate seeds. Serve warm or chilled.
Notes
*You can also use short-grain brown rice if it's what you have on hand.