I've sat down to write about these delicious pretzels five times now, and I've been completely stuck as to what I wanted to write. Then I realized that sometimes to become unstuck, you just have to get real. So, I'm getting real starting with an embarrassing confession...
Last night, in a fit of frustration and fury I inserted my opinion in a comment-war on an instagram photo of a celebrity. I have never done this before in my life, and I don't recommend it to others unless you enjoy being called a f-ing B by a complete and total stranger.
Here's what happened: A celebrity posted a photo where she was looking thinner than usual and people attacked her for it. One person that attacked her for being too thin did so quite hypocritically as she had literally hundreds of photos of very sickly looking women on her account and referenced "the perks of starvation" within her photo captions. When another commenter pointed out the hypocrisy between the first commenter's words and actions, she retaliated by calling her obese. Then, other commenters began taking the side of the bully and praising her for posting pictures of scantily-clad, underfed women because they motivate them to not eat when they are hungry.  And that's about when I had enough.
So I said something. I boldly typed and posted the following reply to the bully:
How about you stop pointing your finger at others and focus on what is healthy for you? I think you could benefit from a little self-evaluation. If you truly want to motivate women, why don't you start by praising them for who they are in the present moment rather than critiquing them for not fitting the mold of what you have delusionally deemed beautiful? There is enough pressure and criticism in the world. Do something more with your instagram account.
And then I deleted it after a few minutes because I realized that somewhere behind that woman's anger there is probably a lot of hurt, and she's not going to learn a life lesson from anyone but her own mistakes. I also feared that she might be a really smart hacker bully who would hijack all of my accounts and destroy my life in a fit of her fury.
Of course, she saw my comment before I deleted it and she tossed a few aggressive insults in my direction.
I then blocked her. I figure blocking is the best defense from a vengeful instagrammer.
This whole commenting ridiculousness peaked my interest regarding what, exactly, is going on in social media when it comes to women, weight, and fitness. I spent some time paging through Pinterest and Instragram , and I'm so disheartened by the words and photos that are strewn so carelessly across the internet. Words and pictures of "thinspiration" are posted with unbridled pride, and there are far too many women hiding unsorted emotions behind the guise of photos of stick-thin women and diet tricks. Beautiful women that have formed a protective layer out of the belief that if they were 10 pounds lighter or had a gap between their thighs that their lives would be perfect. What are we doing here, ladies? While it might be comforting to believe that happiness appears in the places that weight has been shed, it could not be further from the truth.
In my non-blogging life, I work with a small handful of these beautiful women. With lots of time and effort, most of them are beginning to form connections to the idea that behind their thin façade of protection, there are lots and lots of emotions that have been waiting for them for quite some time. By facing these tricky-to-navigate emotions head on, that happiness they had failed to find in "skinny" becomes actualized because they are finally dealing with the root of the problem.
I'm certainly not perfect, and I don't have a solution to this growing problem. But I do hope that we can push ourselves to be more conscious consumers of social media and more supportive of each of the women in our lives.
Okay, seriously, that rant has nothing to do with pretzels. And it certainly has nothing to do with Cinnamon Roll Soft Pretzels, but I figured the recipe might be delicious enough to trick you into reading through all of those paragraphs. Did it work?
These light and chewy whole-wheat soft pretzels are coated in cinnamon and sugar prior to baking and then drizzled with spoonfuls of cinnamon glaze. They boast breakfast appropriateness, yet are indulgent enough for dessert. Did I mention that they taste exactly like cinnamon rolls but require so much less work. Seriously, what's not to love?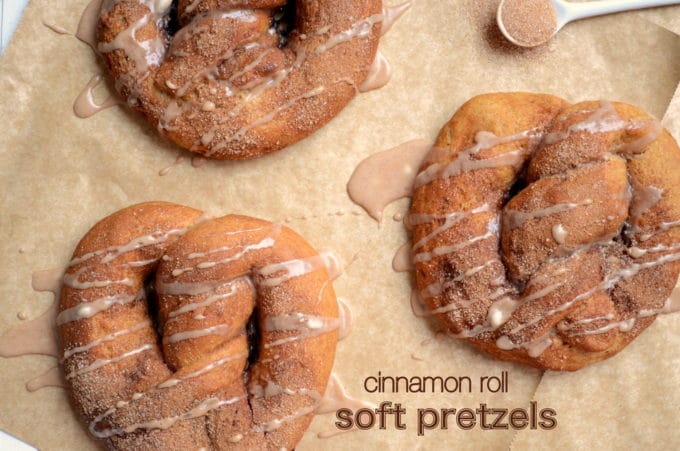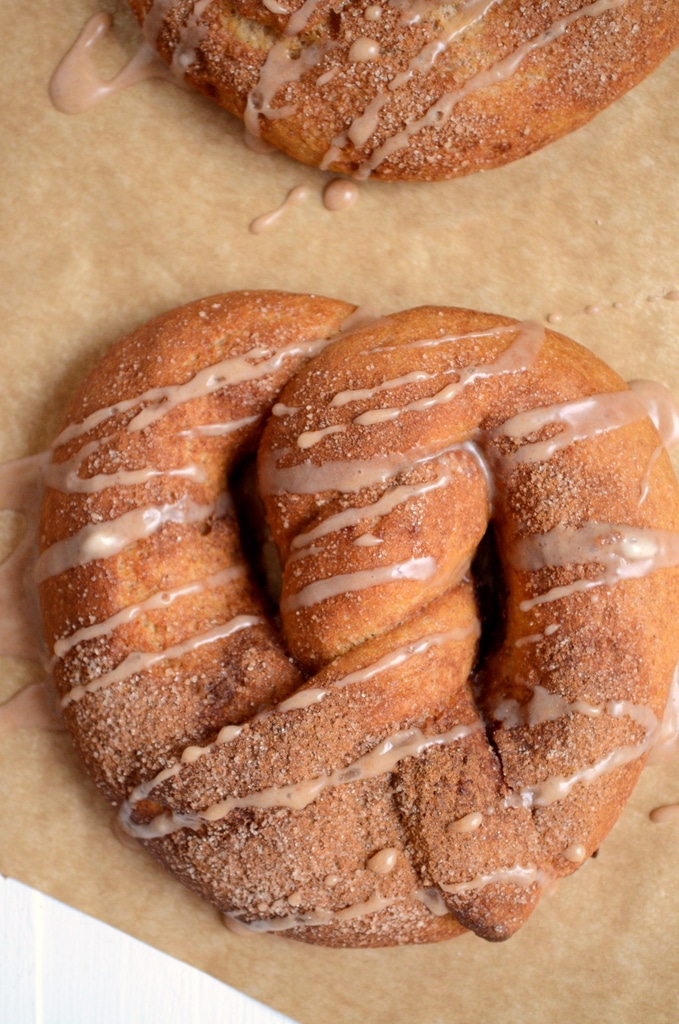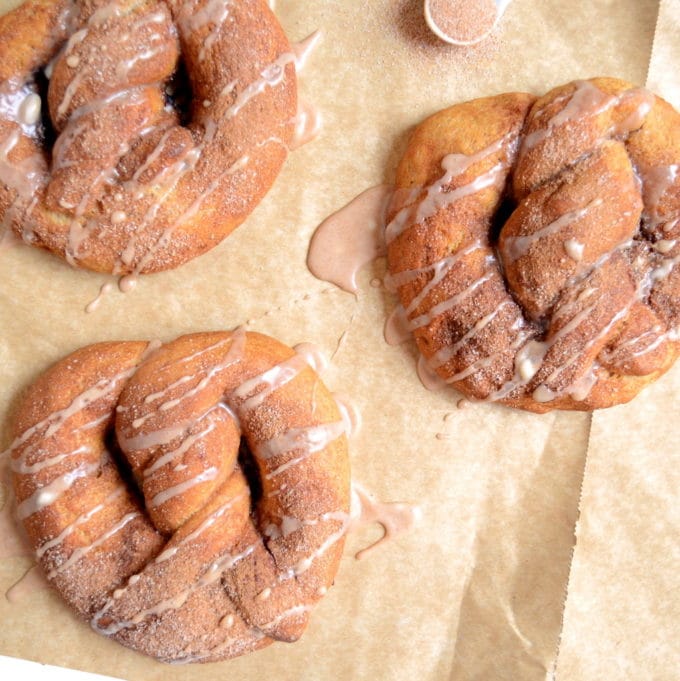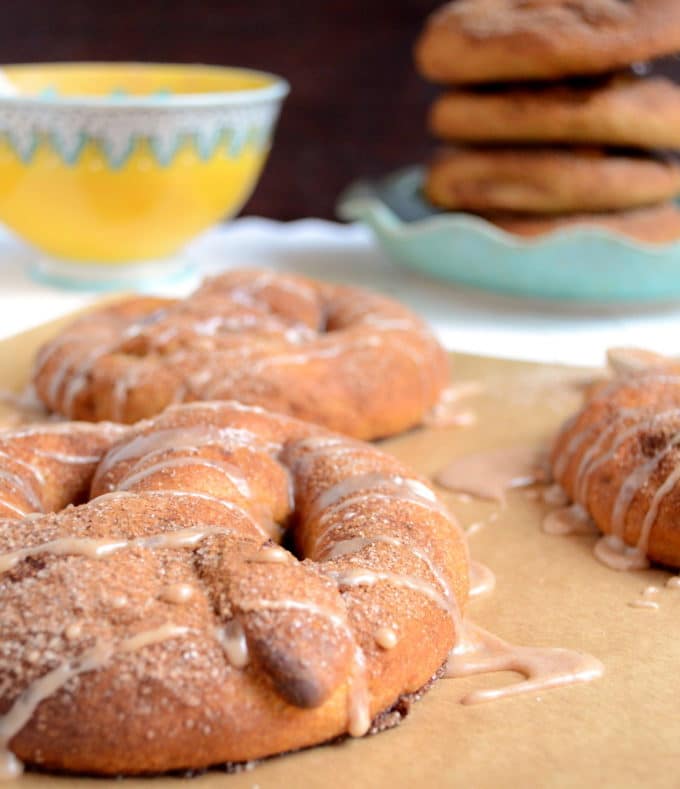 Cinnamon Roll Soft Pretzels
Super soft and chewy pretzels are infused with cinnamon and sugar and topped with a cinnamon-sugar glaze. These are cinnamon rolls in soft pretzel form and they are a-maz-ing.
Recipe type:
Snack or Dessert
Ingredients
1 ½ cups warm water
3 tablespoons brown sugar
1 teaspoon sea salt
1 package active dry yeast
3 cups whole-wheat flour
4 tablespoons butter, melted
1 teaspoon cinnamon
⅔ cup baking soda
10 cups water
⅔ cup granulated sugar
2 tablespoons cinnamon
1 cup powdered sugar
1 teaspoon cinnamon
5-6 tablespoons water
Instructions
Add water, brown sugar, and kosher salt to a large, glass mixing bowl. Stir gently and top with yeast. Let sit five minutes or until a foam appears on the surface of the water. Add in the flour, butter and 1 teaspoon cinnamon and stir for 2-3 minutes to mix. Take dough out of bowl and knead on a clean work surface for 5-7 minutes, until smooth and elastic. You might need to add in more flour if your dough is too sticky.
Coat glass bowl with vegetable oil and return dough to bowl. Let rise in a warm place for 1 to 1 ½ hours or until the dough has doubled in size.
Preheat oven to 425 degrees Fahrenheit.
Mix baking soda and water in a large, glass bowl. Set aside.
Mix together ⅔ cup granulated sugar and 2 tablespoons cinnamon in a wide but shallow bowl.
Punch down dough and cut into 8 equal-size pieces.
Roll each dough ball out into a ¾-inch-thin rope. Twist into pretzel shape and drop into baking soda water for 20 seconds. Dip top of pretzel into the cinnamon-sugar mixture and drop onto a baking sheet lined with parchment paper. Repeat with all 8 pieces of dough.
Bake pretzels for 8-10 minutes or until just beginning to turn golden in color.
While the pretzels bake, mix the glaze by adding powdered sugar, 1 teaspoon cinnamon, and 5-6 tablespoons water to a bowl. Whisk together and set aside.
Remove pretzels from oven.
To serve, spoon or drizzle cinnamon glaze over each of the pretzels.
Store leftovers in an airtight container at room temperature. These can be reheated in the microwave for 20-30 seconds.