Move over, Nutella. There's a new chocolaty, nutty, and ultra-creamy spread in town. Made with just 5 ingredients (salt included) and just 20 minutes of your time, this cacao-laden chocolate brazil nut + pecan butter is calling your name.
Loud. And. Clear.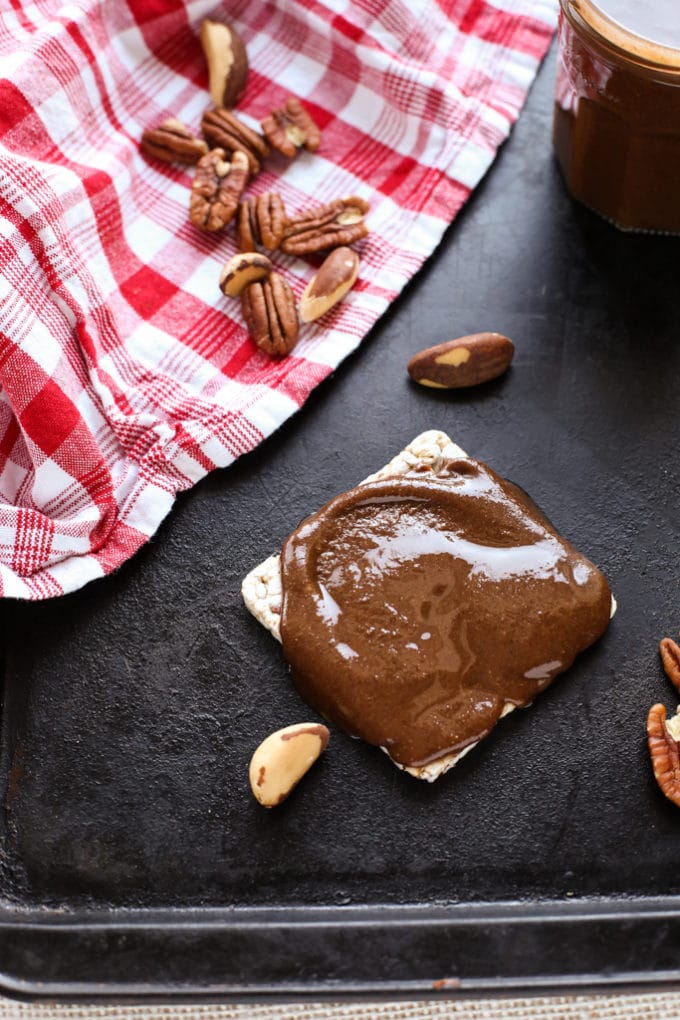 Toasty.
Chocolaty.
Savory.
Rich.
Salty.
Sweet.
Slather-worthy.
Spread it on crackers, sliced bananas, or apples. Drizzle it on ice cream or strawberries.
Or grab a spoon and sink it right into the jar. Yep, there you go...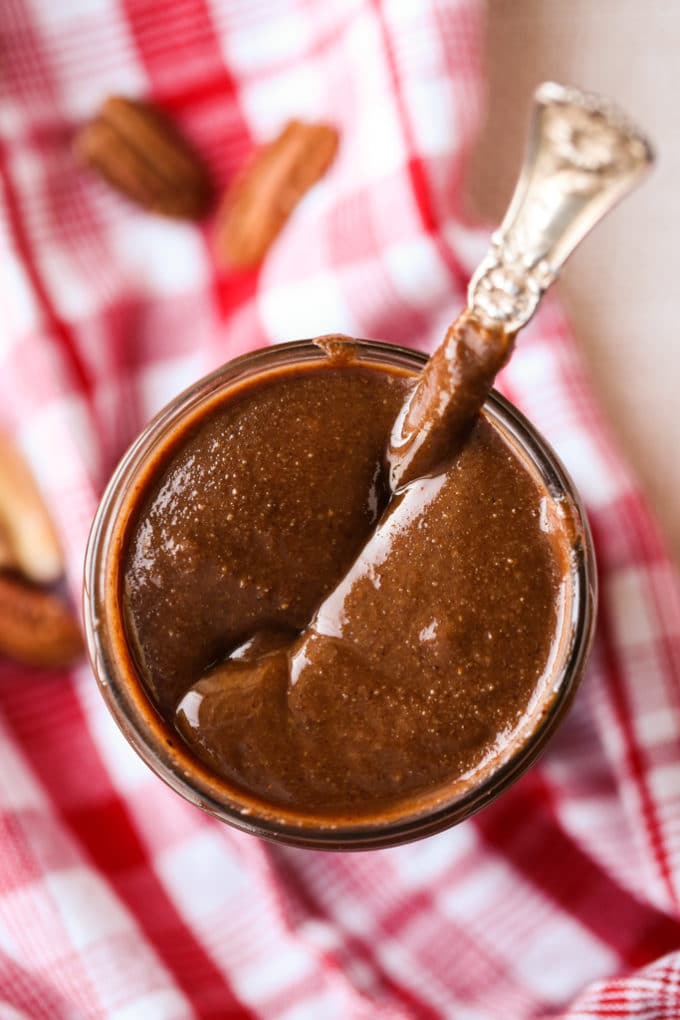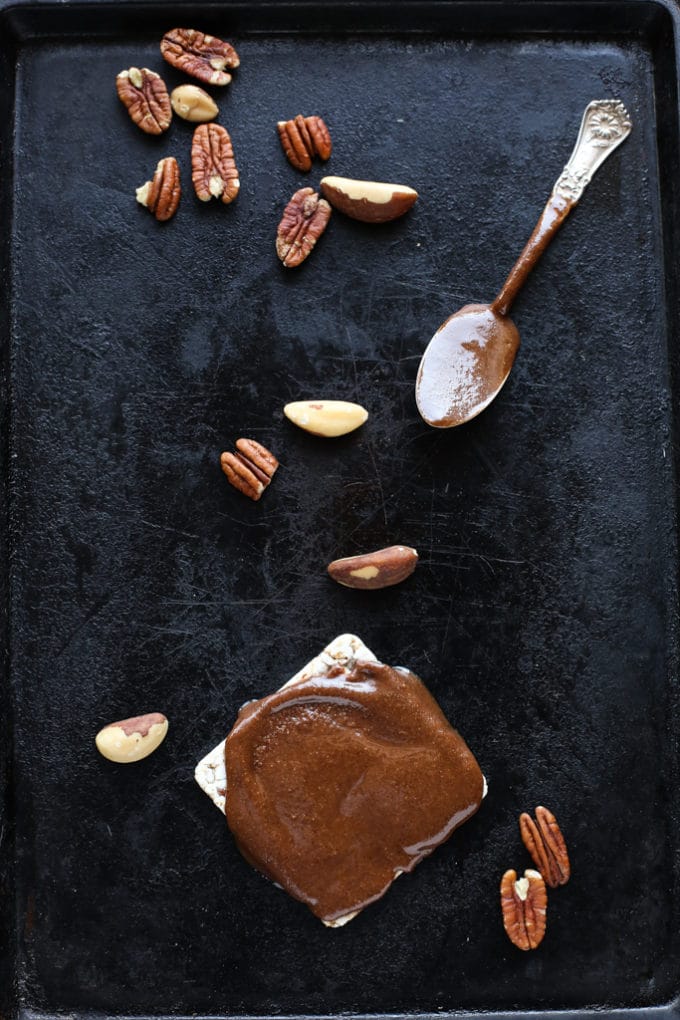 To make your own jar of goodness, simply spread 1 ½ cups raw brazil nuts (hello, alkalinity) and ½ cup raw pecans out over a baking tray.
Then, pop it in the oven and let the nuts bake until they're subtly golden and wafting a warm, toasty scent.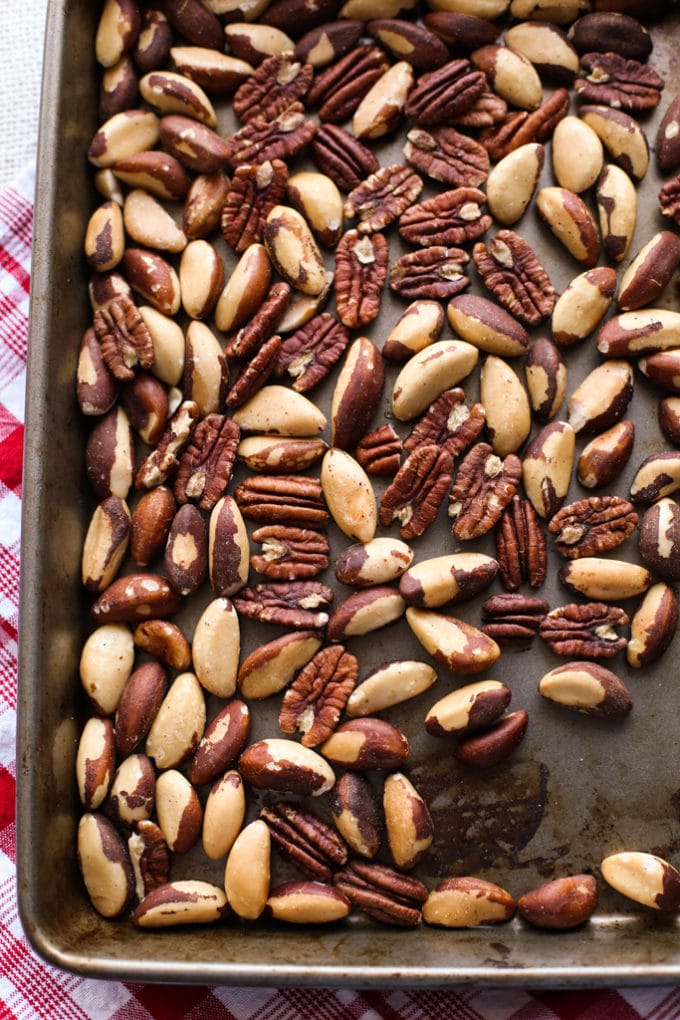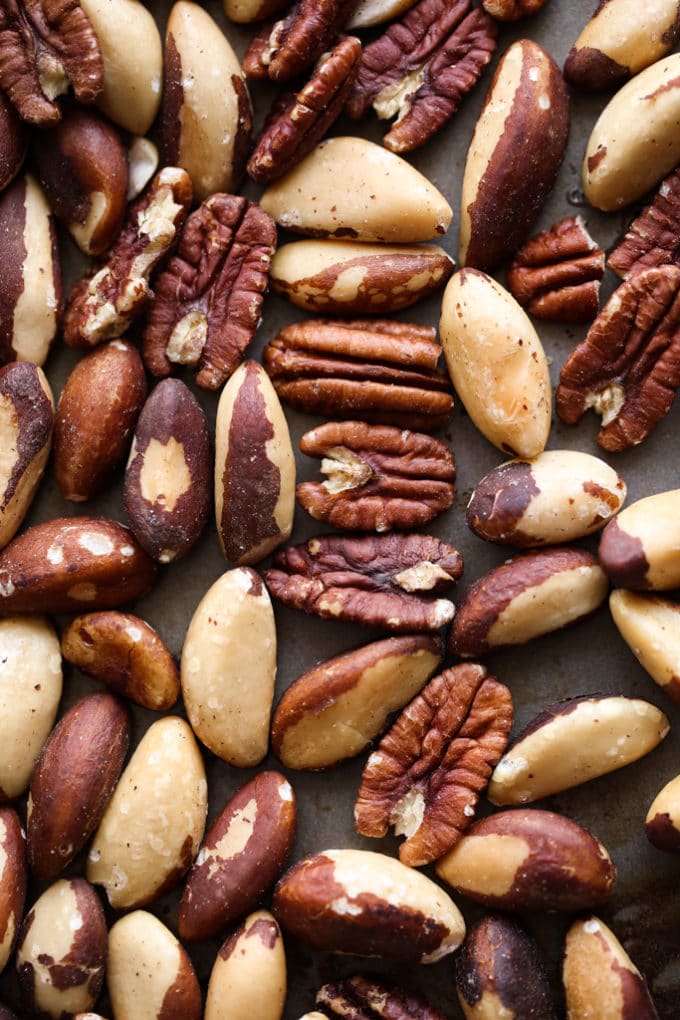 Once the nuts are toasted, add them to a food processor and process until a smooth and creamy nut butter develops. Pecans have more oil than most nuts, so this happens rather quickly in a high-powered food processor (just a few minutes).
Once you have a nut butter base, add in a couple tablespoons of raw cacao powder, a hefty drizzle of pure maple syrup, and a generous pinch of sea salt.
Then, give it another whirl until it has an eye-catching glossy shine and creamy texture.
And the last step? Scoop it into a cute little jar. The cute part is optional but why not, right? Go cute or go home.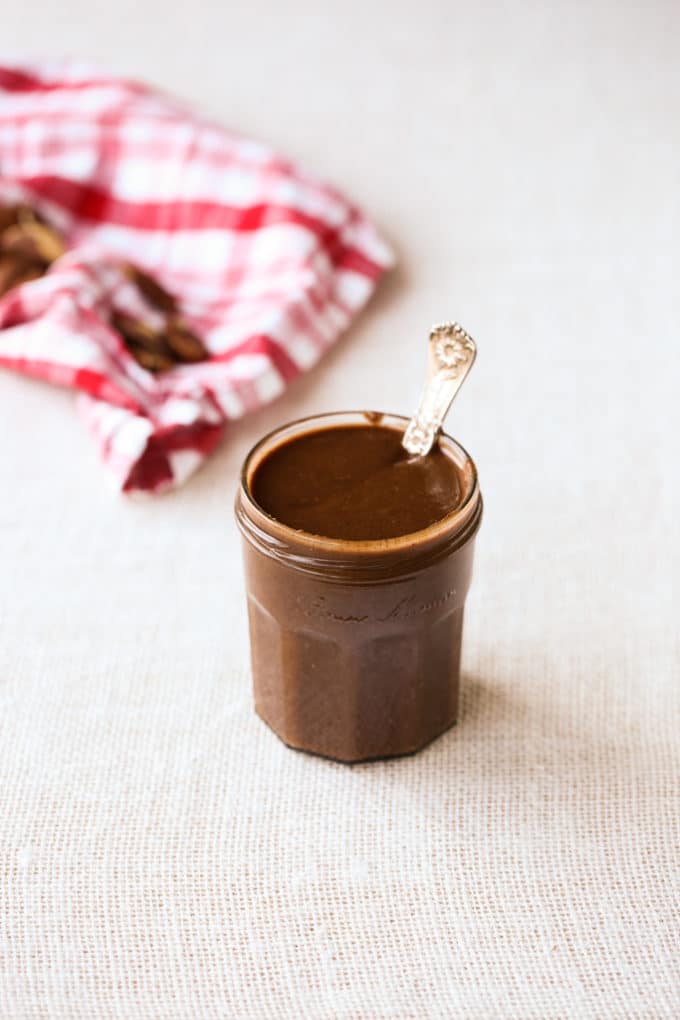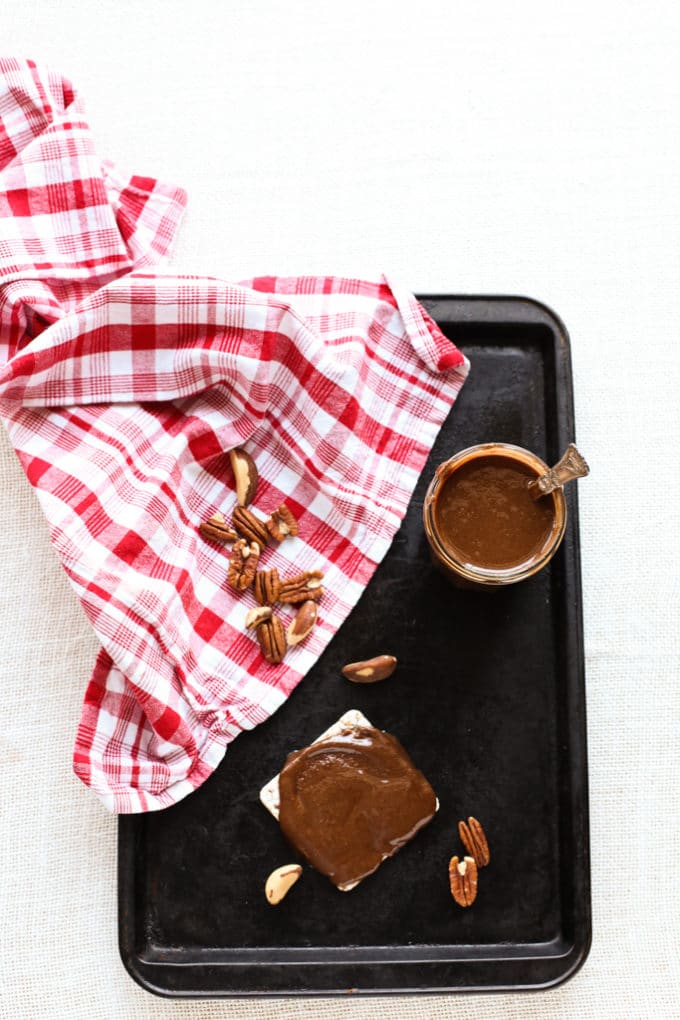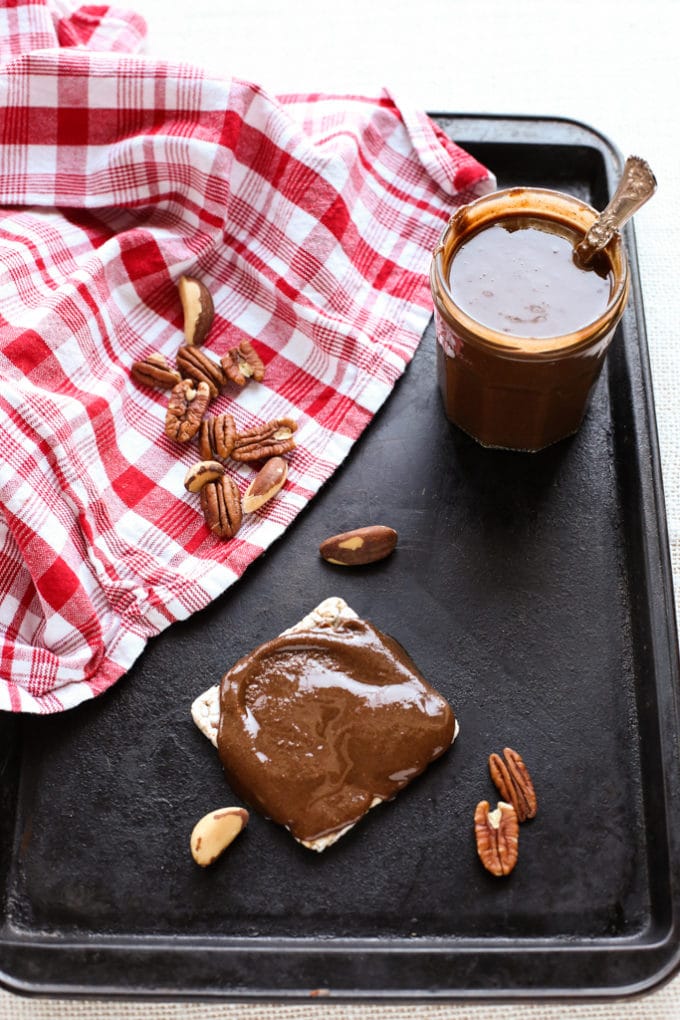 📖 Recipe
Creamy Chocolate Brazil Nut & Pecan Butter
Brazil nuts and pecans are toasted until golden brown and ultra nutty. Then, they're ground into a nut butter in a food processor. Cacao powder, pure maple syrup, and a pinch of sea salt and blended in to add chocolaty depth and sweetness. Serve this creamy chocolate brazil nut and pecan butter slathered on toast or enjoy it straight from the spoon.
Ingredients
1 ½

cups

raw brazil nuts

½

cup

raw pecans

2

tablespoons

raw cacao powder

1 ½

tablespoons

pure maple syrup

¾

teaspoon

sea salt (I love using pink himalayan)
Instructions
Preheat oven to 350F.

Spread the brazil nuts and pecans out over a small baking tray and toast in oven for 8 to 12 minutes or until fragrant and lightly golden.

Carefully add the toasted nuts to a food process and process for 4 to 5 minutes or until smooth and glossy, stopping to scrape down sides every few minutes. Then, add the cacao powder and maple syrup and process another 2 to 3 minutes or until smooth and glossy, stopping to scrape down the sides as needed. It won't be as smooth and glossy as it was before the maple syrup and cacao powder were added, but it will be close. Pour into an airtight jar and store in refrigerator.