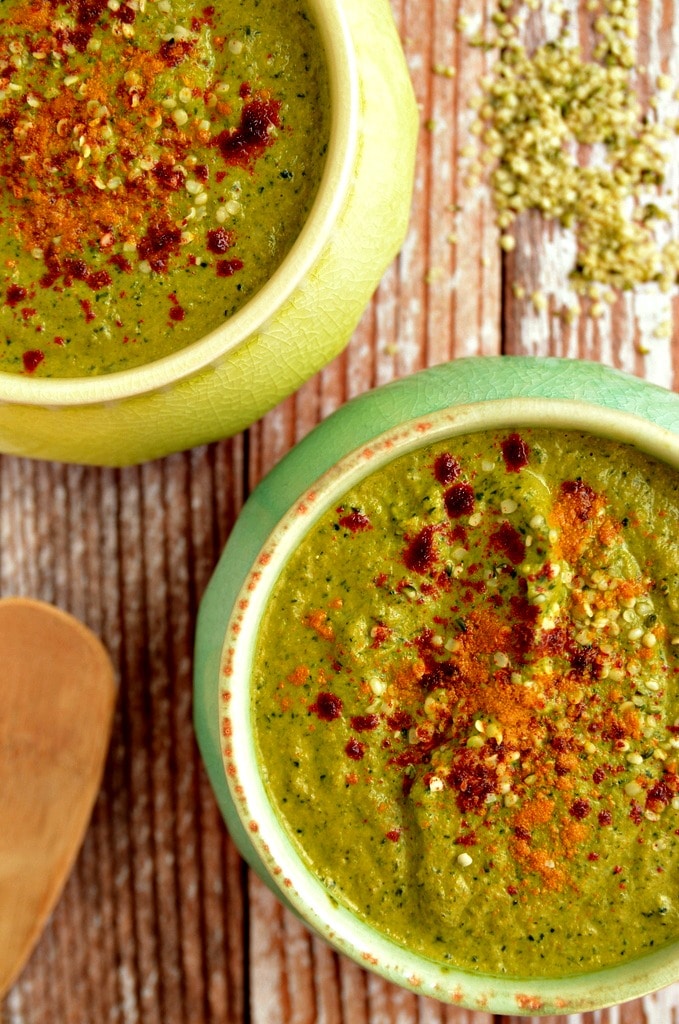 Remember that broccoli cheese soup you used to nosh on in a bread bowl from a lunch spot that starts with a P and ends with anera? That soup that, if you were in high school during the early 2000's, you likely slurped over conversations with friends that were filled with high school whimsy and belly-busting laughter? Well…………… this isn't quite that same cheesy broccoli soup, but I suppose you can consider it to be broccoli cheddar soup's grown-up, kale-loving alter ego. Unlike Broccoli Cheddar's propensity to max out her parents' credit card at Abercrombie & Fitch, Cheezy Broccoli  + Kale Soup would probably opt to put the bulk of her hard-earned paycheck in savings and split the remainder between Whole Foods and hot yoga classes. For all you little psychoanalysts out there, I may have just personified broccoli cheese soup to represent my personality evolution between the ages of 16 and 30. Do what you will with that odd nugget of information.
I've enjoyed big bowls of this soup on several occasions this week, and it hasn't failed to satisfy and warm me up in the latest cold snap we've been graced with in Chicago. Mother Nature must be conducting some sort of research on the effects of extreme weather on our behavior. My behaviors this winter have probably led her to the following conclusions: extreme winter weather 1) increases soup consumption, 2) increases peanut butter cookie consumption, 3) increases clumsiness on ice patches, and 4) decreases likelihood of showering on Sundays. Here's hoping that we all receive a pleasant spring and extra-sunny summer in return for our participation in this bone-chilling experiment.
This soup literally allows you to slurp several servings of veggies from one big, heartwarming bowl of soupy goodness. Broccoli, leeks, and lacinto kale are tossed in olive oil and roasted to add warmth and depth of flavor. After roasting, the veggies are blended and whisked into a luxuriously creamy base of almond milk, hemp seeds, nutritional yeast, and a handful of colorful spices. The nutritional yeast adds a zesty "cheezy" flavor and melds all of the flavors into a soup that will lovingly mingle with your taste buds.
"Cheezy" Broccoli + Kale Soup
Roasted broccoli, leeks, and dino kale are blended to smooth perfection and seasoned with a variety of spices to create a luxuriously rich, filling, and cheezy soup.
Ingredients
4 small heads broccoli, de-stemmed and chopped into 1-inch pieces (you should have approximately 8 cups of florets)
1 large leek, thoroughly cleaned, cut in half lengthwise and thinly sliced
1 head of lacinto kale, de-stemmed and chopped
2 1/2 tablespoons olive oil
4 cups plain, unsweetened almond milk, divided
3/4 cup hemp seeds
1/4 cup + 2 tablespoons nutritional yeast
1 clove garlic
2 teaspoons smoked paprika
1 teaspoon turmeric
1 1/2 - 2 teaspoons large grain sea salt, to taste
black pepper, to taste
Optional: dash of cayenne pepper
Instructions
Preheat oven to 400 degrees Fahrenheit.
Line a large baking sheet with parchment paper and line a small baking sheet with parchment paper.
Spread the broccoli florets and leeks over the large baking sheet. Drizzle with 2 tablespoons olive oil.
Roast the broccoli and leeks in the oven for 20-25 minutes or until just starting to turn golden and brown.
While the broccoli starts to roast, spread the lacinto kale over small baking sheet. Drizzle with 1/2 tablespoon olive oil and massage oil into kale.
Roast the kale in the oven along with the broccoli for 5-7 minutes or until just barely turning golden.
While the veggies are roasting, add 3 cups almond milk, hemp seeds, nutritional yeast, garlic, paprika, turmeric, salt, and black pepper to a high-powered blender. Blend for 1-2 minutes or until smooth.
Heat a dutch oven or large stock pot over medium-low heat. Add the almond milk soup base to the pot.
While the soup base starts to cook, add the broccoli, leeks, kale, and 1 cup almond milk to a very high-powered blender or food processor and process until as smooth as possible. This will take 10 minutes or so -- patience is a soup-making virtue!
Pour the blended broccoli mixture into the pot and whisk into the almond milk mixture.
Add in a pinch of cayenne if desired, and simmer for 15 minutes.
You may need to use an immersion blender to get the soup as smooth as desired.
Serve and enjoy.
Refrigerate leftovers.