Gena Hamshaw is the creative force, compassionate heart, and brilliant nutritionist behind The Full Helping (formerly known as Choosing Raw). She's also the brains behind the cookbook Food52 Vegan, a stunning, mouth-watering collection of "60 Vegetable-Driven Recipes for Any Kitchen".
Long before my vegan days and shortly after I made the vegetarian leap, I read about Gena's life-changing banana soft serve on Oh She Glows. I figured it was too good to be true but gave it a whirl (quite literally) in my tiny food processor purchased on a grad school budget. I remember being alarmed by how good it was and have been making it on a regular basis ever since. Banana soft serve, nice cream, banana ice cream -- no matter how you identify it, I think we can all agree that Gena's recipe was the best thing to ever happen to bananas.
But Gena's impact extends far beyond the reach of her innovate, perspective-shifting recipes. She has a knack for balancing vulnerability, courage, and lightheartedness through her written words. And she exudes an infectious warmth and kindness.
Her latest book is nothing short of amazing, and it's filled with simple, plant-focused recipes that feel and taste special. On my short list of must-makes (because the long list is literally the entire book): Peach Crumble Coffee Cake, Breakfast Tostadas with Refried Black Beans and Cabbage Slaw (goooood morning), Parsnip Fries with Spicy Harissa Mayonnaise, Smoky Tempeh and Hummus Sandwiches, and Mexican Chocolate Date Truffles.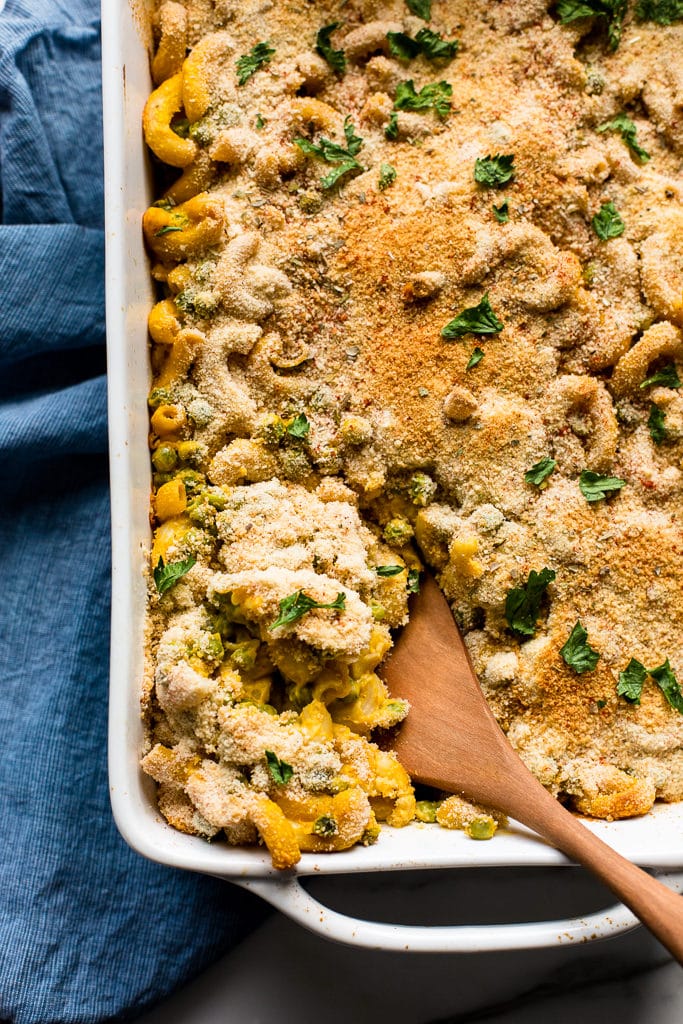 And it's impossible to forget Gena's squash-laden vegan twist on mac and cheese. Classic comfort food at its finest (and veggie-ist). This butternut squash mac and cheese recipe is one you'll want to find a permanent place for in your rotation. Double dog-ear it and don't fret if its pages fall prey to a butternut cheese splatter or two; all is fair in love and mac 'n' cheese.
And that butternut cheese sauce is a force to be reckoned with. It wafts the most mouthwatering scent as it simmers on the stove: buttery, savory, and rich. Buttery, unbuttered-ness unlike any vegan cheese sauce I've encountered. And there's no shame in eating a bit of it by the spoonful, sans noodles, if you feel compelled to do so.  I might have done just that...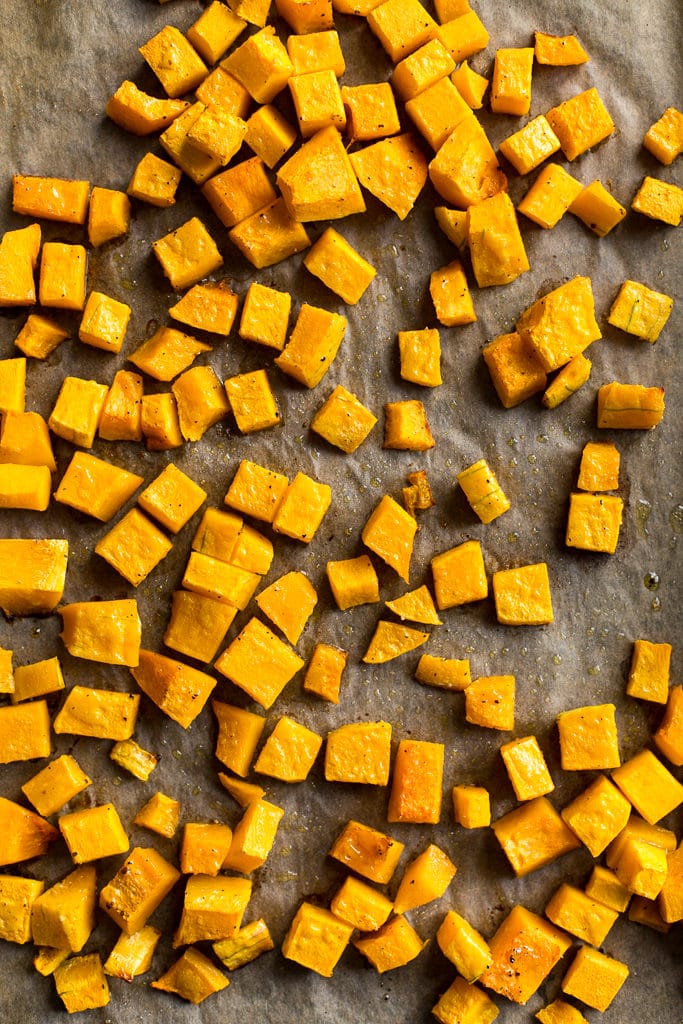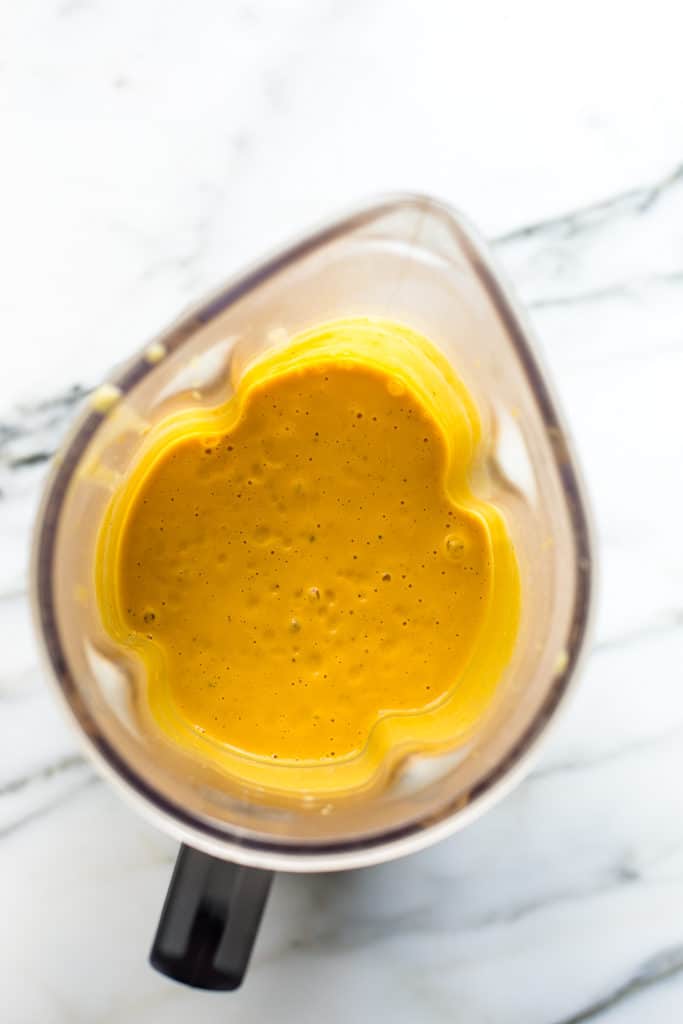 Once the sauce is made, you'll pour it over heaps of warm elbow pasta and your choice of green veggie -- I opted for blanched peas, but Gena notes that steamed spinach and broccoli florets are also great choices. Transfer all of that cheesy goodness to a baking dish, sprinkle with bread crumbs, and bake until the top has a warm golden hue to it.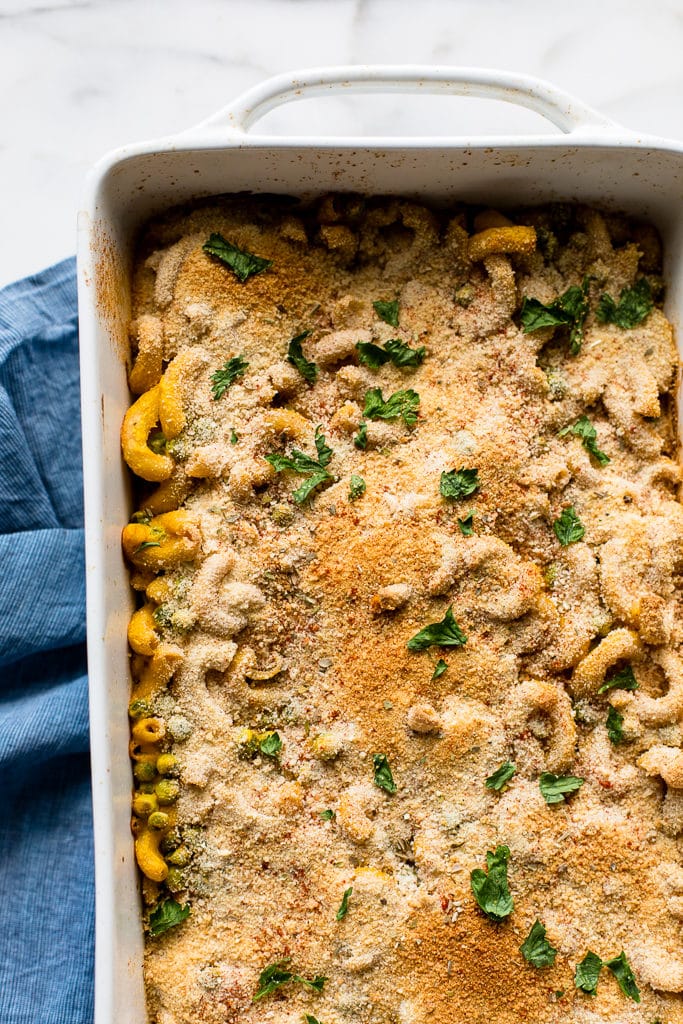 Then, scoop out a generous spoonful or three, cozy up, and enjoy.
Be sure to grab the full recipe below and scroll down to the very bottom to enter to win a copy of Food52 Vegan. You can also get your very own copy here.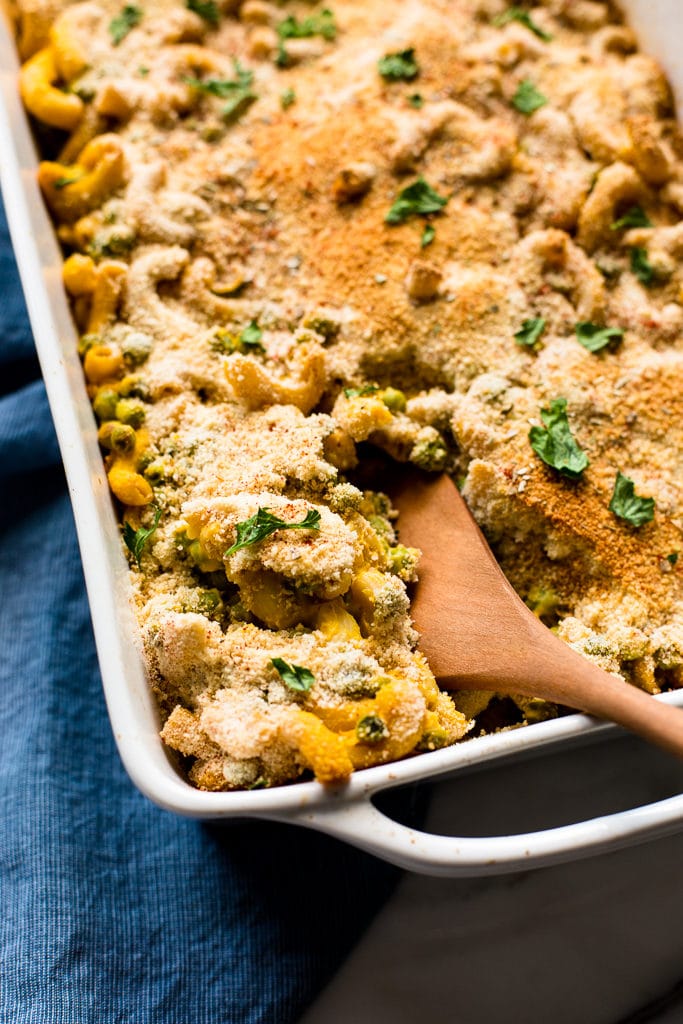 📖 Recipe
Butternut Squash Mac and Cheese from Food52 Vegan by Gena Hamshaw + A Giveaway!
"Everyone has a favorite mac and cheese recipe. This one, which uses sweet, creamy butternut squash in the sauce, is mine. To create an authentic cheese flavor, I use a combination of nutritional yeast, miso, smoked paprika, salt, and lemon juice. (You can use any leftover sauce as a cheese dip.) I highly recommend including the optional vegetables. In addition to providing some contrasting color and texture, they'll round out the meal, so you won't have to worry about making an extra side dish – win, win." -- Gena Hamshaw
Ingredients
1 ½ to 2

pounds

(680 to 900g) butternut squash (about 1 medium squash), peeled and cubed

2

tablespoons

olive oil, divided

Salt and pepper

3

cloves

garlic, coarsely chopped

½

cup

(120ml) coconut milk

1 ¼

cups

(300ml) unsweetened almond milk, homemade or store-bought

½

cup

plus 2 tablespoons (45g) large-flake nutritional yeast

1

tablespoon

arrowroot powder

¼

teaspoon

smoked paprika

2

tablespoons

freshly squeezed lemon juice

1

tablespoon

white miso

1

pound

(450g) elbow pasta*

2

cups

(about 475ml) cooked vegetables (optional), such as steamed chopped spinach, blanched peas, or lightly steamed broccoli florets

½

cup

(55g) dry breadcrumbs
Instructions
Preheat the oven to 400°F (230°C). Oil a 7 by 11-inch (18 by 28cm) pan.

Coat the squash with 1 tablespoon of the olive oil, then spread it evenly on a rimmed baking sheet. Sprinkle with salt and pepper.

Bake for 30 to 35 minutes, until very tender and just starting to brown. Remove from the oven. Decrease the oven temperature to 350°F (175°C).

Meanwhile, heat the remaining tablespoon of olive oil in a small saucepan over medium-low heat. Add the garlic and sauté for 2 to 3 minutes, until just starting to brown. Add the coconut milk and 3⁄4 cup (175ml) of the almond milk. Whisk in the nutritional yeast and arrowroot powder. Cook, whisking constantly, until nice and thick, about 5 minutes. Transfer the sauce to a large bowl and add the remaining 1⁄2 cup (120ml) of almond milk, the butternut squash, 1 teaspoon of salt, 1⁄4 teaspoon of pepper, and the paprika, lemon juice, and miso. Stir to distribute the ingredients somewhat evenly. Working in batches, transfer to a blender or food processor and process until totally smooth and creamy.

Bring a pot of salted water to boil over high heat. Add a drizzle of olive oil to prevent sticking. Stir in the pasta and adjust the heat to maintain a low boil. Cook, stirring occasionally, until the pasta is al dente. Drain well and let cool briefly.

Put the pasta in a large bowl and add the vegetables. Add the sauce, using only 2 cups (475ml) of it if not adding the optional vegetables. Stir gently until thoroughly combined. Spread the mixture evenly in the prepared pan and scatter the breadcrumbs evenly over the top.

Bake for 20 minutes, until the top is golden. Serve right away.
Notes
Reprinted with permission from Food52 Vegan, by Gena Hamshaw, copyright © 2015, published by Ten Speed Press, an imprint of Penguin Random House LLC.
*I used brown rice elbow pasta
Food52 Vegan Cookbook Giveaway
One winner will receive a copy of Food52 Vegan. For a chance to win, simply enter the giveaway using the Rafflecopter widget below and comment on this post between November 17th and November 30th. Please note: this giveaway is only open to residents of the US and Canada.