These are truly the best vegan energy balls I've ever tried. Unlike most vegan energy balls, they're surprisingly date-free, which makes them a bit lighter in density and texture. Best yet? They require a modest 15 minutes of active kitchen preparation.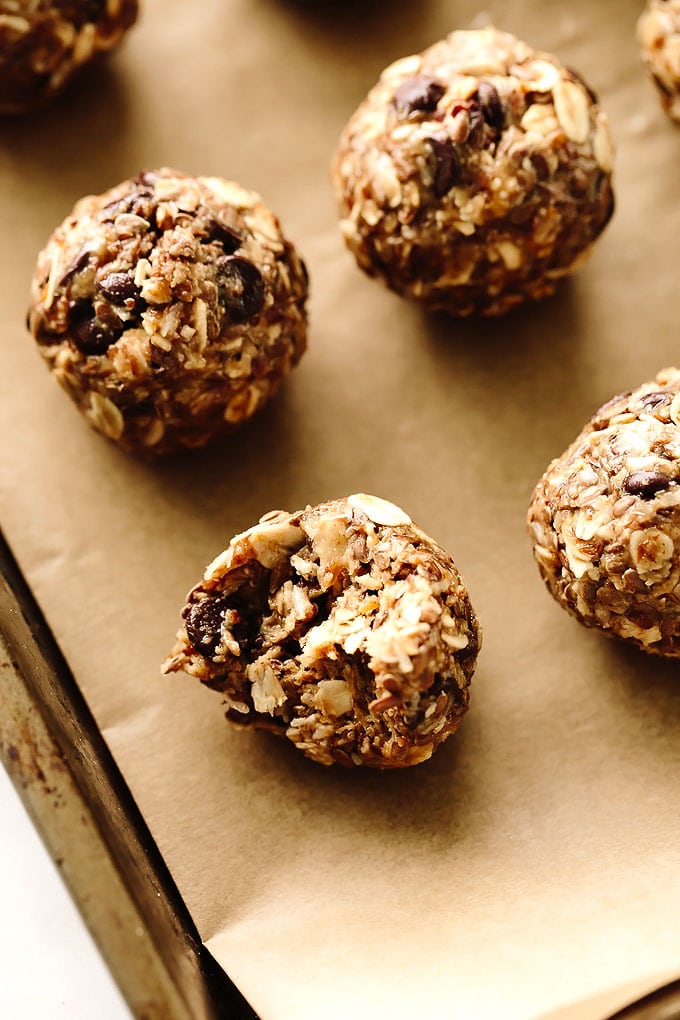 Since Sloane was born, my mom has been coming to visit every Wednesday.
During the first couple of months, we'd spend the days chatting about motherhood—postpartum recovery, nursing, parenting. As time has worn on, and I've settled into motherhood a bit more firmly, I've used the time to chip away on work and other important to-do's.
With rare exception, my mom, being the nurturing, generous woman that she is, has brought lunch and snacks for us every single week. One of her favorite spots to pickup pre-made food from is a little juice bar in our hometown. They have all sorts of  delightful raw and vegan dishes, treats, smoothies, etc.
One of my absolute favorite things she's brought over the course of the last few months are these energy balls filled with oats, lots of whole flaxseeds, coconut, and chocolate chips. The thing that struck me about these particular energy balls was their texture. They held together well, but didn't have that typical overly dense and gooey texture that date-based energy balls tend to have.
A few bites into my first one, it became clear to me that they were likely held together by brown rice syrup instead of dates. Brown rice syrup and nut butter was my guess, but I had no idea as to what sort of ratio was being used.
At $3 per ball, I assured my mom that I'd repay her by reverse engineering the recipe so she could make them from the comforts and conveniences of home.
My first trial was a gooey, pull-your-teeth-out sticky kind of disaster. I went way too heavy on the brown rice syrup and too light on the nut butter and the combination was all wrong. Granted, I ate every bit of those "all wrong" balls (😜), all the while assuring myself that it was in the name of boosting my milk supply (hellooo, oats).
But seriously, that first try was a mess, and I had no intentions of repeating that all-wrong version again.
And so back to the drawing board I went.
For the second trial, I did a bit of research and started perusing the internet for other date-free energy balls. I stumbled across this recipe and the look of those particular energy balls looked eerily similar to the ones from the juice bar.
That particular recipe calls for a combination of honey, peanut butter, and ground flaxseed, and I had a hunch that this was likely the base that the juice bar was using to hold the balls together.
And so I began to test the energy balls using a vegan-friendly base of brown rice syrup, peanut butter, and ground flaxseed.
The first trial with this combination was kind of good but not at all great. A little (okay, a lot) too dry and not quite chewy enough. I offered Dan one which he ate quietly. A few days later when I offered him another one, his response was, "Just thinking about those energy balls makes me thirsty." I didn't think they were that bad, but point taken. Back to the drawing board again.
The second trial got a little bit closer, but it wasn't until the third trial that the winning recipe was reached. I had Dan do a side-by-side comparison of all three, and he was blown away by the third and final version (and literally spit the first version out in the trash—again, point taken).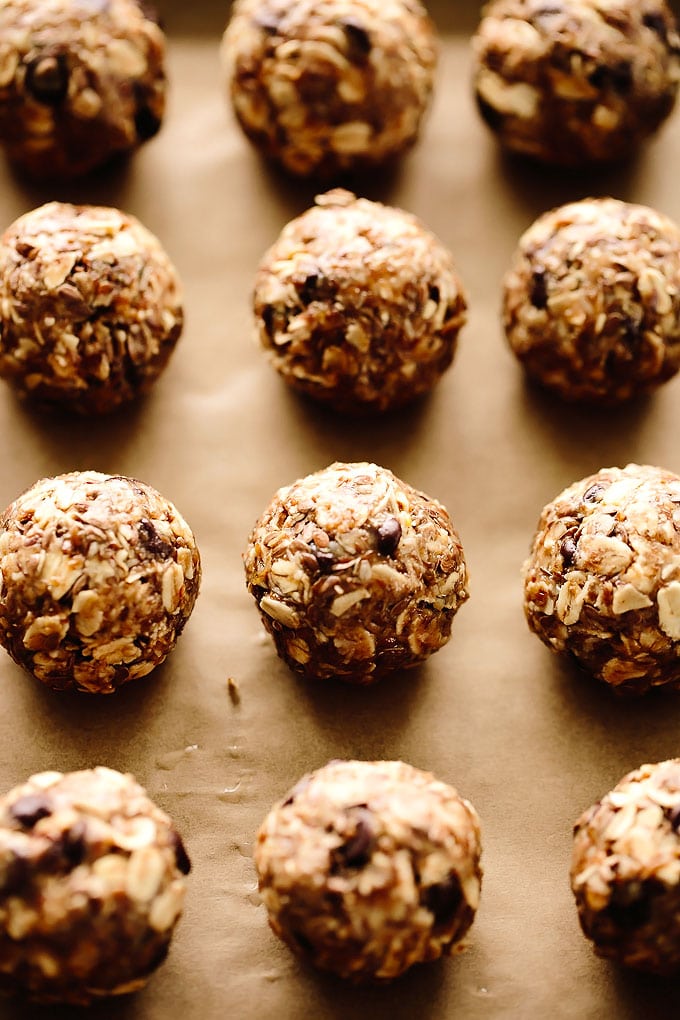 These super-seedy, nutty energy balls are my favorite, to date. They're chewy, but not too chewy. Sweet, but not too sweet. Chocolaty, but not too chocolaty. (If you happen to be nursing 🙋, you can take added comfort in the fact that the combination of oats and flaxseed is great for milk supply.)
They're also super easy to make.
Simply toss all the ingredients—brown rice syrup, peanut butter, ground flaxseed, whole flaxseed, shredded coconut, chocolate chips, sea salt, vanilla—in a bowl, mash it all together, form into balls, and freeze to set.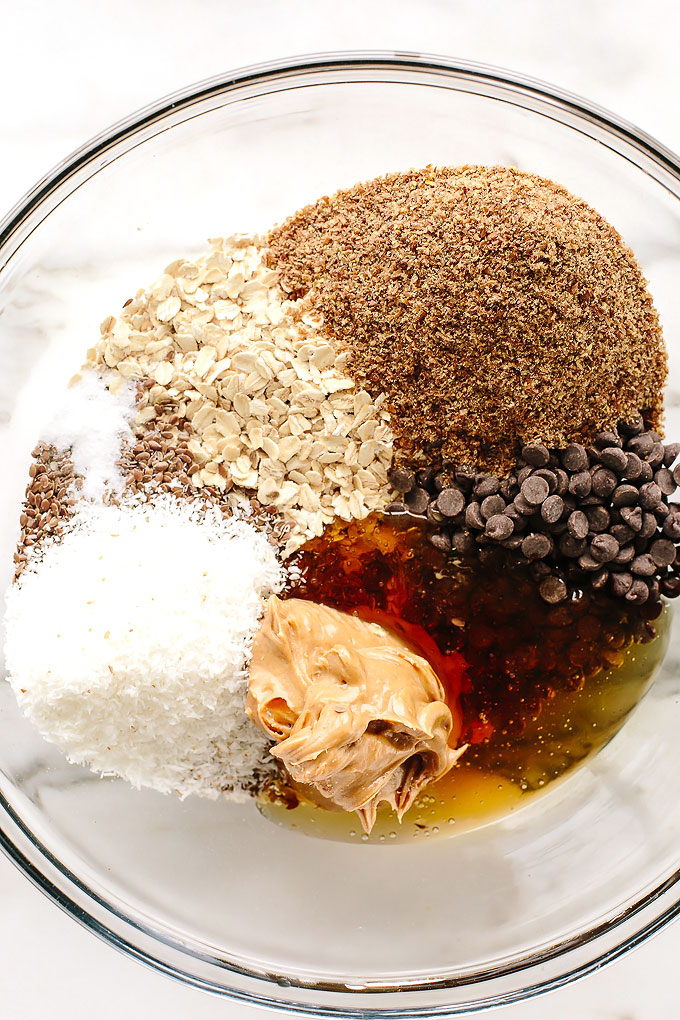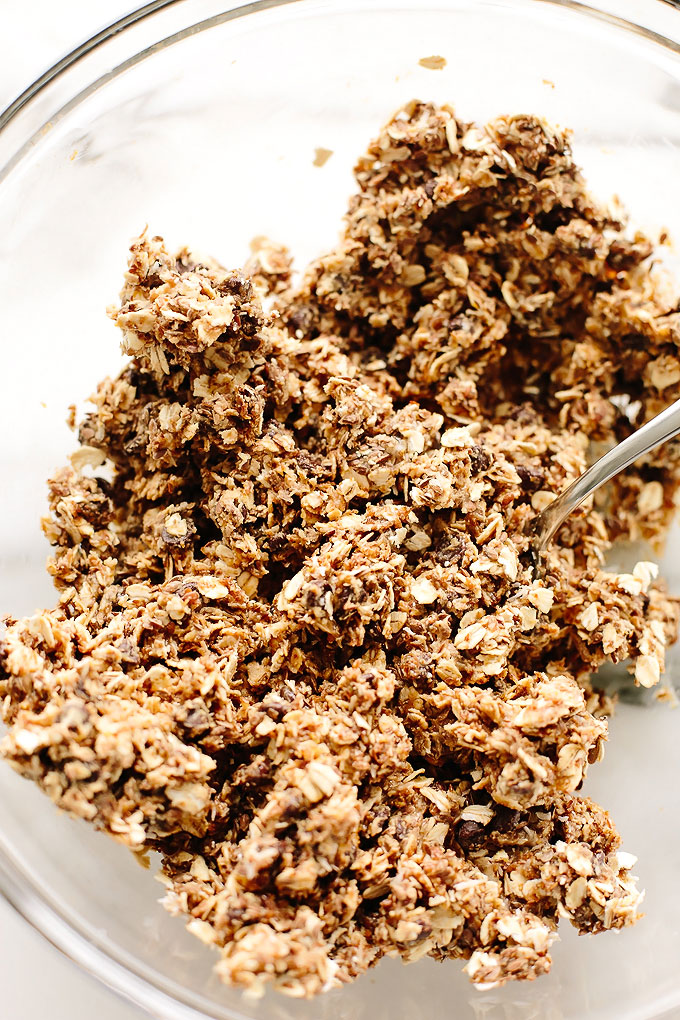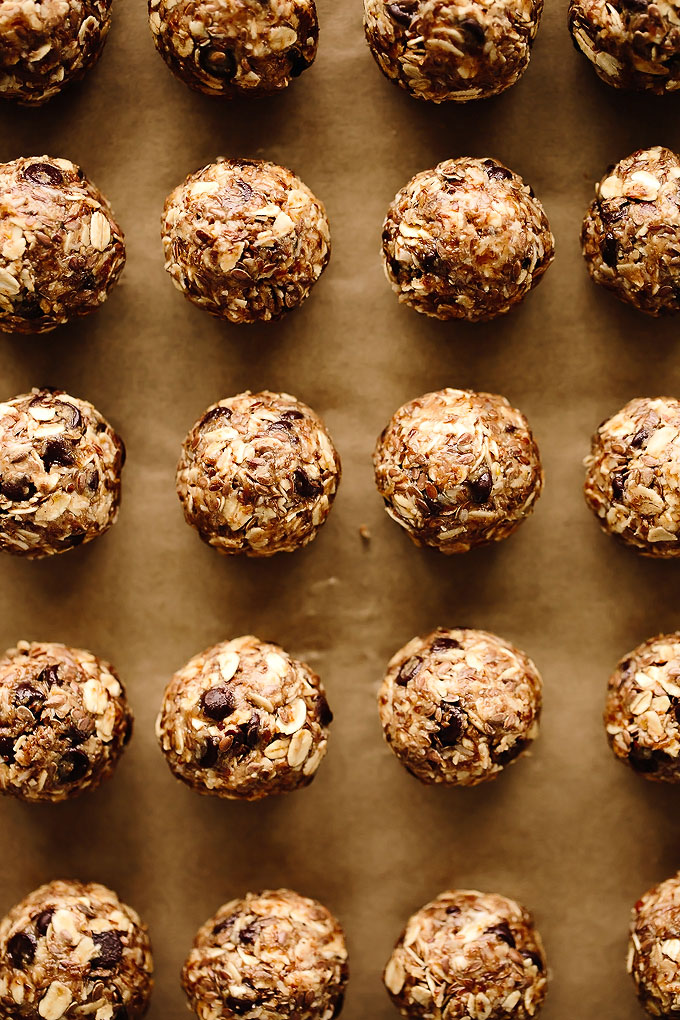 About 15 minutes of active kitchen time, and you've got yourself enough energy balls to last a week or two.
They're also versatile. Feel free to swap out the peanut butter for sunflower butter, tahini, or almond butter, and play around with the additions, too.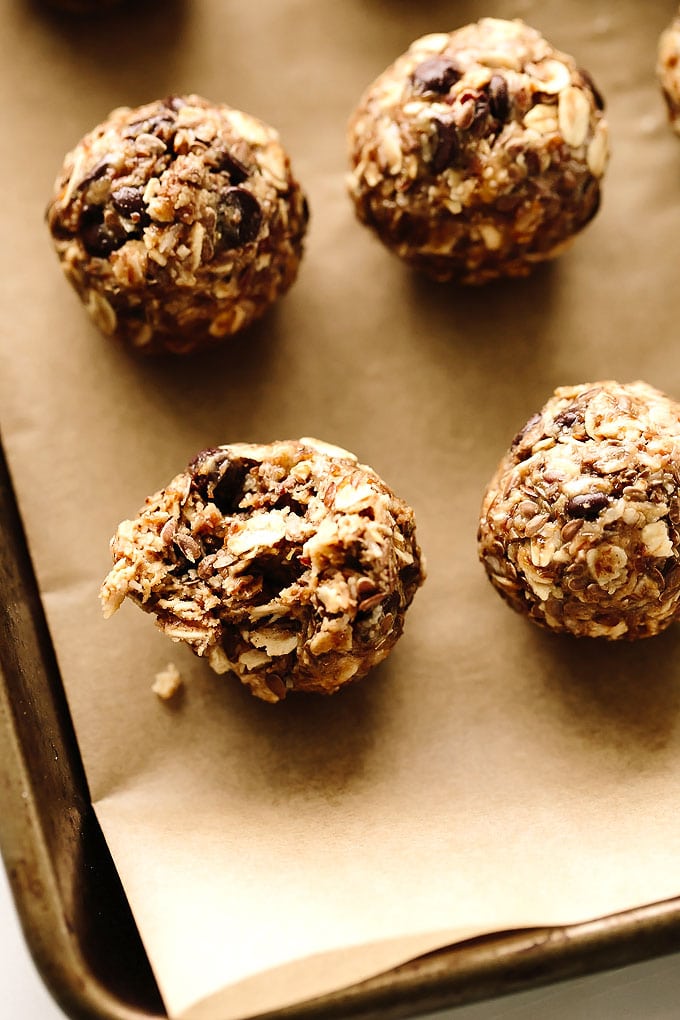 📖 Recipe
Best Vegan Energy Balls
These are truly the best vegan energy balls I've ever tried. Unlike most vegan energy balls, they're surprisingly date-free, which makes them a bit lighter in density and texture. Best yet? They require a modest 15 minutes of active kitchen preparation.
Ingredients
1

cup

old fashioned rolled oats

½

cup

mini dairy-free chocolate chips

½

cup

natural peanut butter

½

cup

ground flaxseed

⅓

cup

whole flaxseed

⅓

cup

brown rice syrup*

¼

cup

shredded coconut

1

teaspoon

pure vanilla extract

¼

teaspoon

sea salt
Instructions
Line a small baking tray with parchment paper.

Add all ingredients to a large mixing bowl, and stir and mash thoroughly to combine.

Use a 1 ½-tablespoon cookie scoop to scoop out mounds of the mixture. Roll each mound into a ball and transfer to the lined baking tray (it helps to wet your hands with water before rolling—I keep a small bowl of water within reach).

Freeze for 30 to 45 minutes, or until the energy balls lose their tackiness.

Transfer to an airtight container and store in the refrigerator for up to two weeks or freeze for up to one month.
Notes
*You can substitute the brown rice syrup with vegan "honey" (e.g., BeeFree Honee), but keep in mind that the energy balls will have a different flavor. I've tried substituting pure maple syrup, but the balls don't hold together properly. It really needs to be a thick, tacky syrup in order to achieve the right texture.