This baked vegan "goat cheese" with spiced cranberry spread is essentially this recipe all dressed up in a fancy holiday outfit.
During my vegetarian days, whenever someone would ask me if I'd considered going vegan, I'd quickly retort that I could never be vegan because I loved cheese too much. My oh my, how time changes us and opens our minds to new possibilities. Like the possibility reality that vegan cheese is delicious and so, well, cheese-like. From stretchy to creamy to spreadable to melt-able, non-dairy cheese delivers. My vegetarian self is off cringing in a moment of cheese-indulgence past, but let her cringe and bring on the vegan cheese.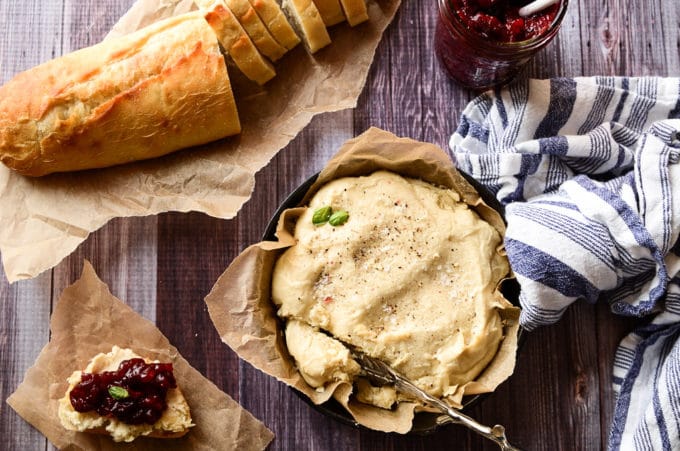 For this recipe, I took my previous cheese recipe, stripped away the garlic and herbs, added in a bit more tang, and baked it. The result is a tangy, spreadable or even slice-able (if you bake it long enough), creamy cheese that will make you feel all fancy at your holiday parties. Soaking and baking time aside, this cheese is super simple to prepare. Seriously! It's as simple as adding a short list of ingredients to your food processor, processing for a few minutes, and turning the cheese out into a baking dish.
Then, you'll bake the cheese at a low temperature for anywhere from 45 minutes to 2 hours depending on how firm you want it to be. The cheese in the photos was baked for the full 2 hours, so it's on the firmer side, yet still spreadable.
If the spiced cranberry sauce is giving you déjà vu, it's probably because you saw it in this recipe just last week. It, too, is incredibly simple to make requiring just a casual-cool toss of ingredients into a pan, 15-20 minutes of simmering and the occasional stir, and a swift transfer into a cutesy mason jar. The sweet, tangy flavor of the cranberry sauce balances the richness of the cheese and adds holiday flare.
This is a straightforward and undeniably tasty solution to those holiday cheese cravings. Go get your cheese on.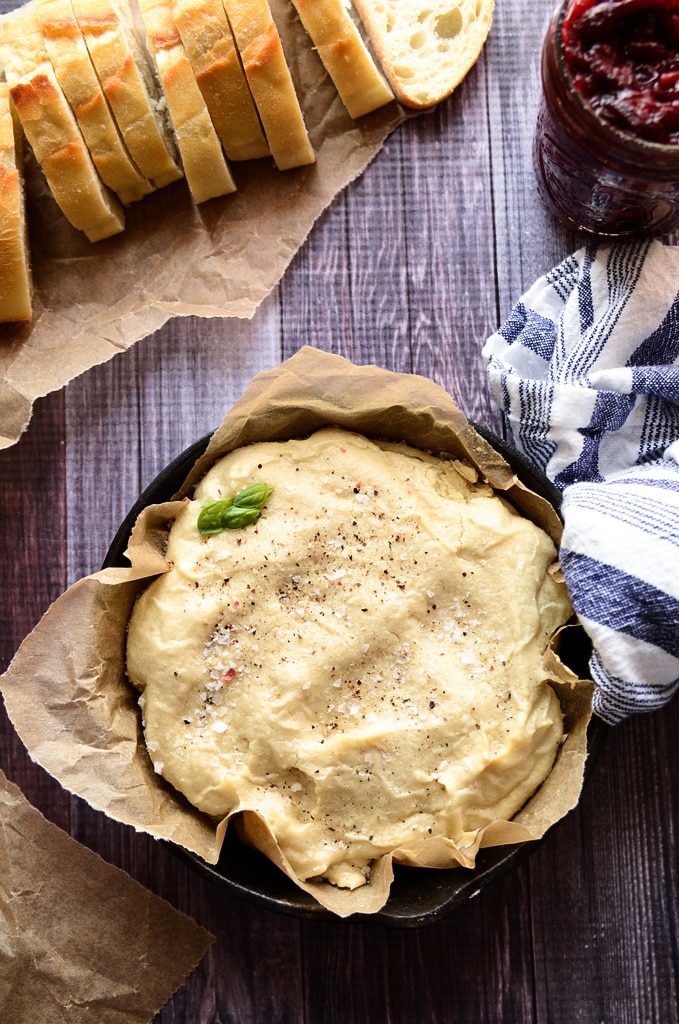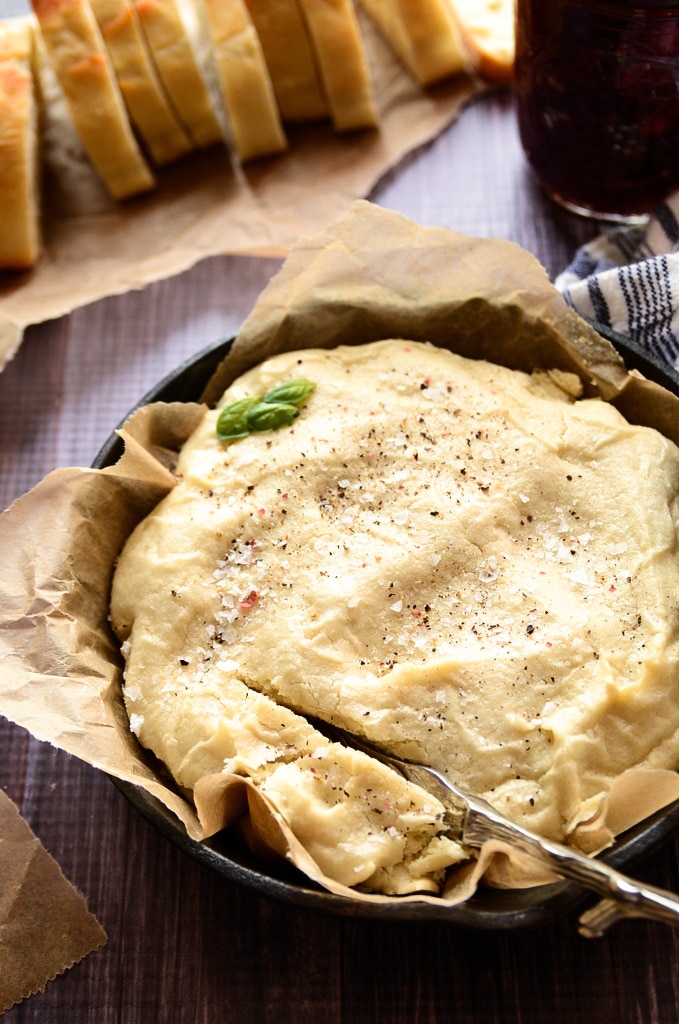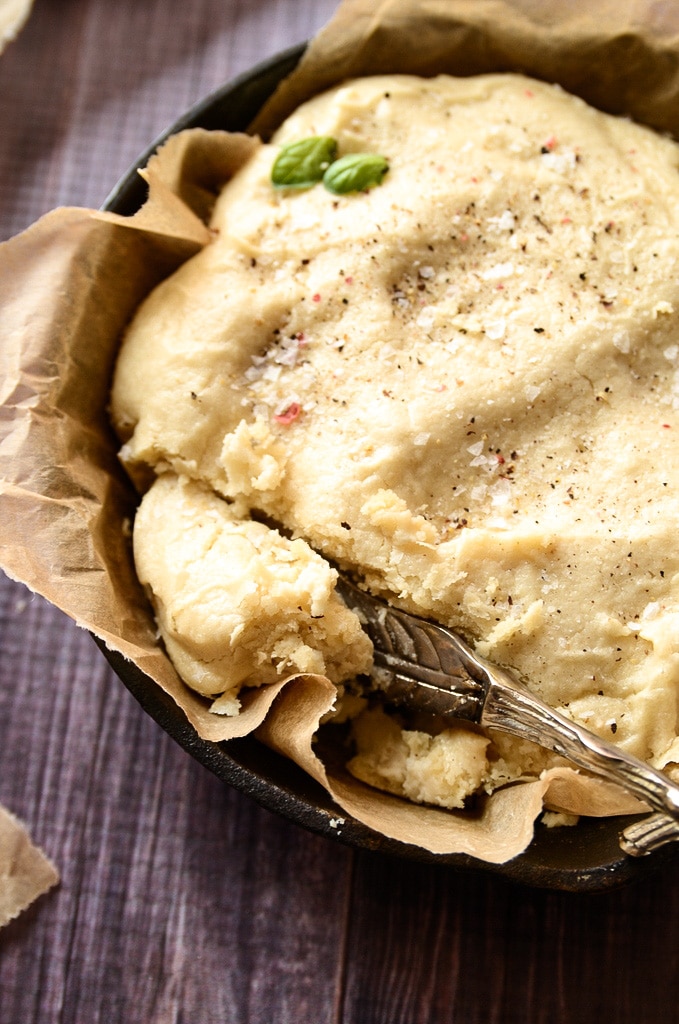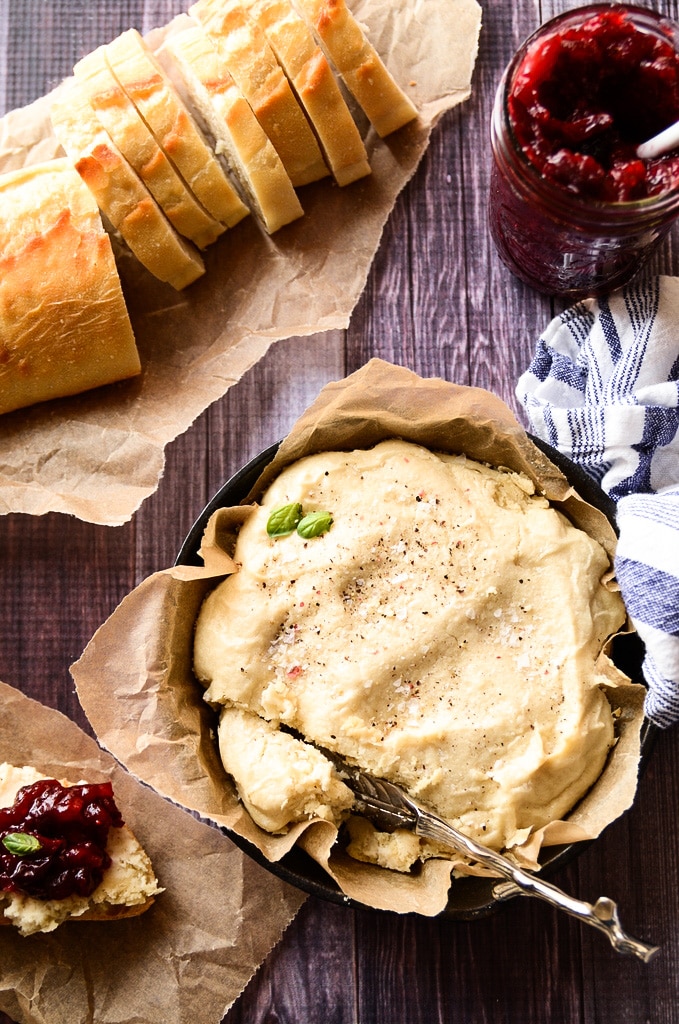 📖 Recipe
Baked Vegan "Goat Cheese" with Spiced Cranberry Spread
Tangy, cashew-based vegan cheese is baked until firm, dry, and nearly sliceable. The texture of this cheese is reminiscent of a classic goat's cheese log, and just like goat cheese, it pairs incredibly well with a sweet spread and fresh baguette slices.
Ingredients
For the Baked Goat Cheese
1 ½

cup

raw cashews

2-3

tablespoons

apple cider vinegar or to taste

2

tablespoons

fresh lemon juice

2

tablespoons

olive oil

2

tablespoons

water

¾

teaspoon

sea salt
For the Spiced Cranberry Sauce
12

ounces

fresh cranberries

½

cup

pure maple syrup

⅓

cup

water

½

teaspoon

ground cinnamon

¼

teaspoon

ground cardamom
Serving Ideas
Sliced baguette

Seeded crackers

Pita chips
Instructions
To Make the Baked Goat Cheese
Soak the cashews for at least two hours or overnight.

Preheat oven to 225F.

Add the soaked cashews, apple cider vinegar (adjust amount to desired level of tang), lemon juice, olive oil, water, and sea salt to a food processor. Pulse a few times and then process for 4-5 minutes, stopping occasionally to scrape down the sides as needed.

Transfer the cheese to a 6-inch cast iron skillet or small oven-safe baking dish that has been lined with parchment paper.

Bake for 45 minutes for a softer cheese and for up to 2 hours for a firmer, slice-able cheese. The cheese in the photographs was baked for 2 hours.

Serve alongside the spiced cranberry sauce.
To Make the Spiced Cranberry Sauce
Add the cranberries, maple syrup, water, cinnamon, and cardamom to a large sauce pan. Simmer for 15-20 minutes or until the cranberries have burst and broken down into a chunky sauce, stirring occasionally.

Let cool and transfer to a glass jar.

Refrigerate in an airtight container until ready to use.