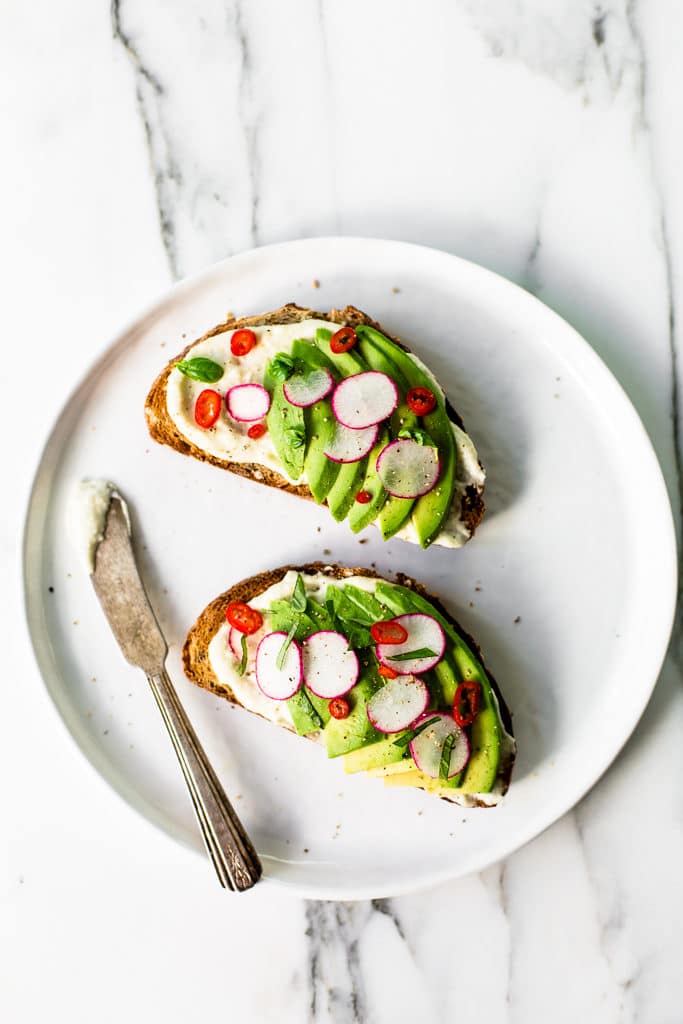 Of all the toasts, avocado toast is my favorite.
And of all the avocado toasts, this one from Meredith Baird's latest book, Coconut Kitchen, earns a top spot in my lineup of favorites.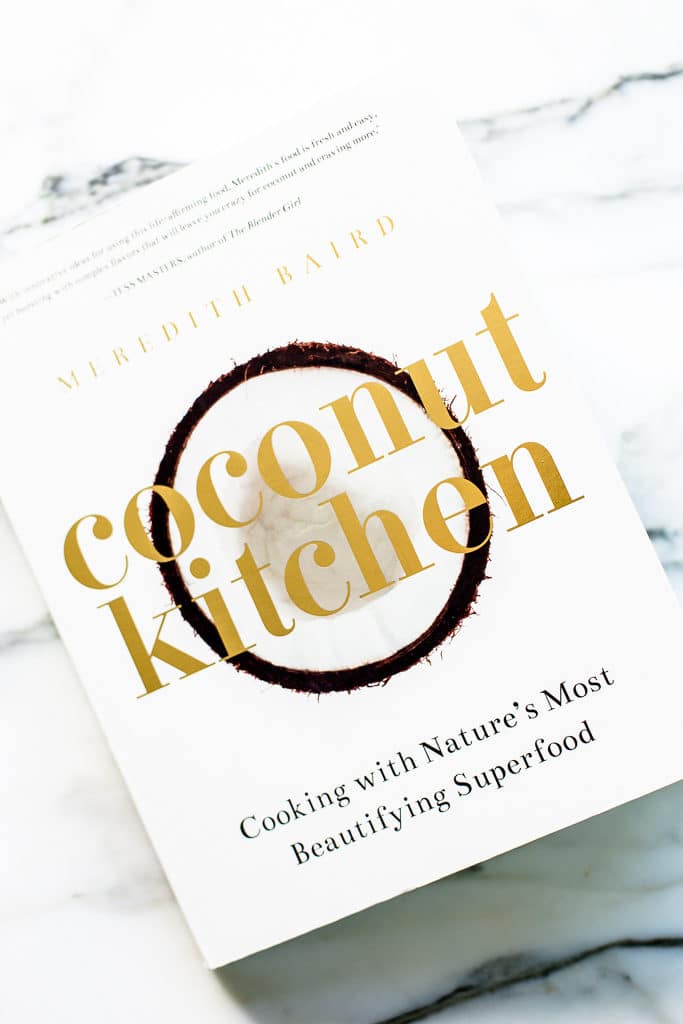 Toasted bread is slathered with creamy coconut mayonnaise and topped with sliced avocado, radishes, basil or mint micgrogreens (if you have them -- I didn't, so I used fresh basil). I also threw on a few rounds of sliced chili peppers for a kick of fresh heat.
I've never been much of a mayo fan, and I hesitated before diving into this recipe for that very reason, but I'm a sucker for both avocado toast + pretty food photos...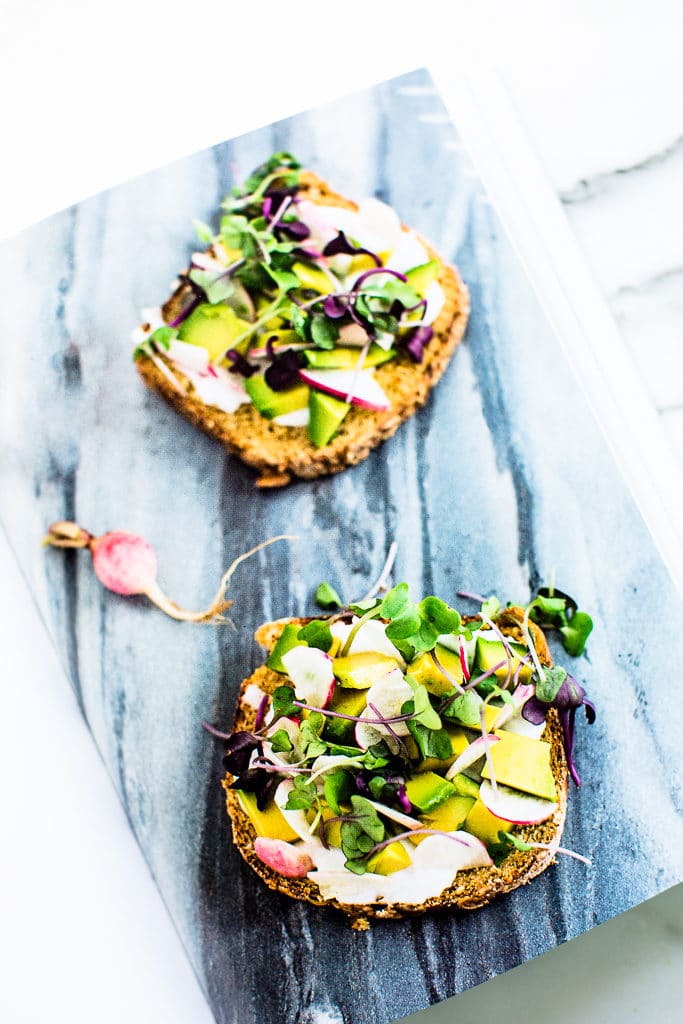 Good thing this book is full of the some of the prettiest food photos I've seen, because I was lured in and this ended up being the first mayo I wouldn't mind slathering on toast with reckless abandon.
To make the coconut mayo, I embarked on my first young-coconut-opening adventure. I was intimidated by the idea but figured if there was ever a reason to do it, this book was it. Meredith brilliantly outlines a step-by-step process for gracefully opening young coconuts (with photos for each step).
I wouldn't say my first go at it was graceful, but that was solely due to a dull chef's knife. After 40+ hacks and swallowing a few obsessive, what-if thoughts about the heightened possibility of chopping off my fingers, I cracked that nut.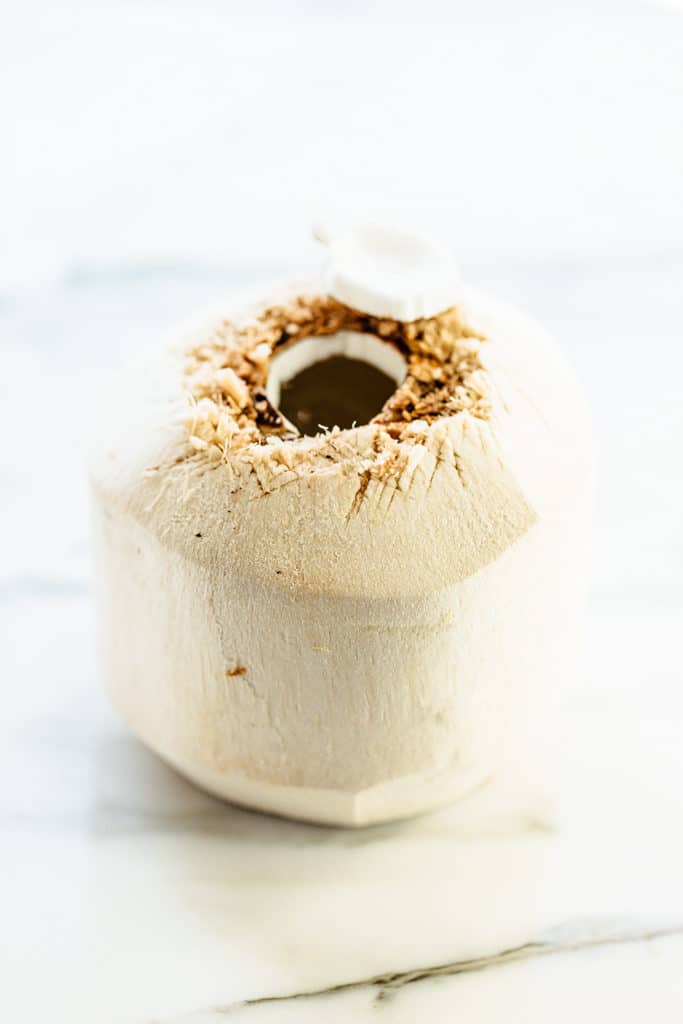 I think everyone should add opening a coconut to their bucket list. There is something intensely satisfying about seeing that first bit of bright white coconut meat as the outer shell cracks open. And the coconut water? It tasted extra divine after all that hard work. I mmmm-ed after every sip of it.
Once the coconut is open, you can scoop out the young coconut meat with a spoon. The flesh is the most pure, beautiful shade of white, and I think it's perfectly normal to ogle it a bit.
To make the mayo, you'll blend young coconut meat, coconut oil, olive oil, dijon mustard, lemon juice, sea salt, and black pepper until smooth. Then, make the toast by slathering seeded or gluten-free bread or toast (I opted for toast) with the mayo and then top with avocado, radishes, and mint/basil/microgreens. This toast is savory, satisfying, and comforting with brightness from the basil/mint and a bit of crunch.
Coconut Kitchen is a go-to guide for every and all things healthy coconut. It's packed with coconut basics (i.e., getting to know the coconut), offers a range of recipes from the simple staples (i.e., ferments) to creative main dishes (i.e., breakfast, lunch, dinner, dessert), and even has a chapter dedicated to skin + body products. Note: a few of the recipes in the book contain honey but seem like they would easily accommodate a pure maple syrup or Bee Free Honee swap.
Here are a few of the recipes/products that are on my must-make list:
Breakfast | 1. Mango Lassi with Turmeric, Rose, and Cardamom 2. Coconut Meat Crudités with Coconut Coffee Dip 3. Coconut Yogurt with Stone Fruit, Sprouted Buckwheat, and Lemon Zest.
Lunch | 1. CBLT (Coconut Bacon, Avocado, Romaine, and Tomato) 2. Coconut Curry Hummus
Dinner | 1. Parsnip Noodles with Coconut Alfredo 2. Coconut Ceviche with Tomatillo, Lime, and Cilantro 3. Pumpkin Seed and Brazil Nut Taco with Coconut Sour Cream 4. Carrot Coconut Wrapper with Pistachio Pea Hummus and Jalapeño Cilantro Oil
Dessert | 1. Coconut Cream Pie 2. Coconut Hibiscus Panna Cotta 3. Coconut Joys
You can grab your very own copy of Coconut Kitchen here and be sure to scroll down to the bottom of this post to 1| grab this recipe and 2| enter to win a copy of Coconut Kitchen.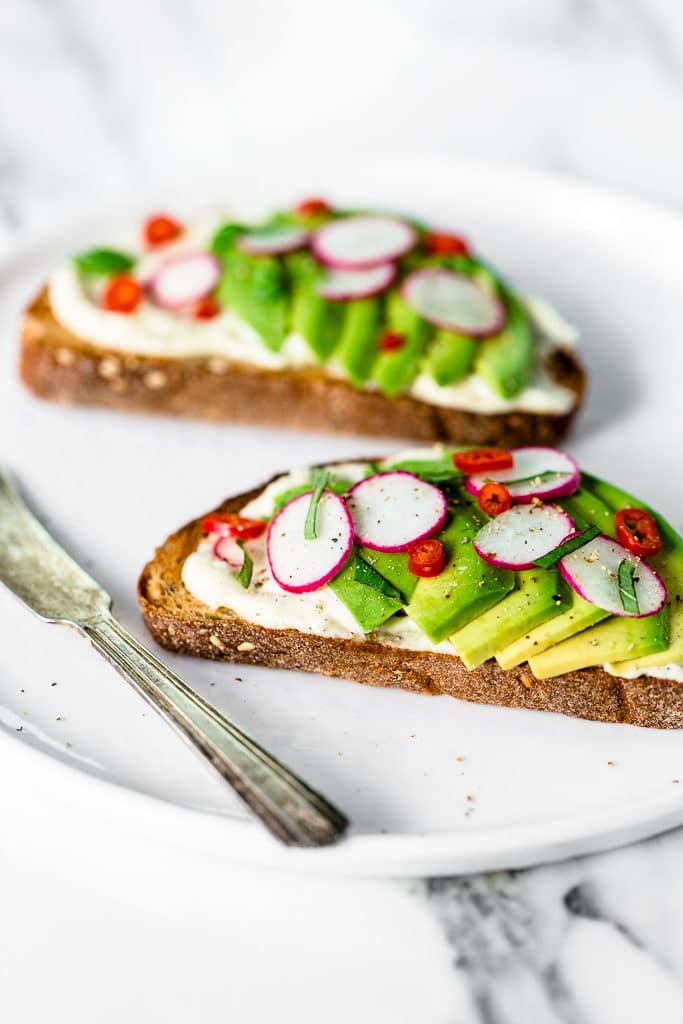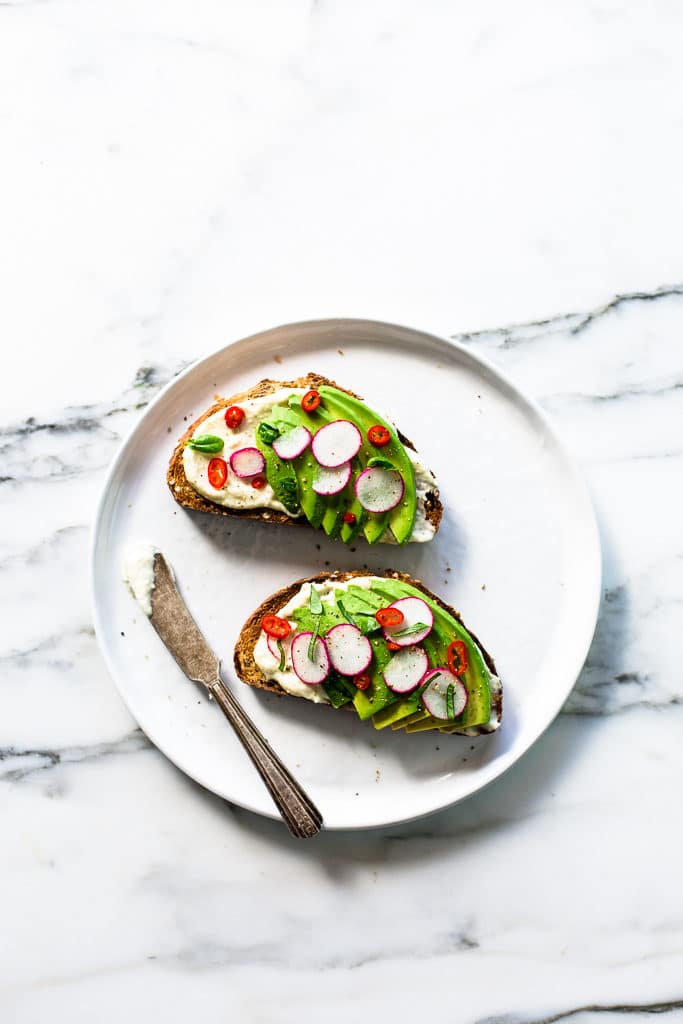 📖 Recipe
Manna Bread with Radish, Basil, and Coconut Mayonnaise from Coconut Kitchen + A Giveaway
"Open-faced radish sandwiches are the perfect excuse to use coconut mayonnaise. Use any bread that you like, but a sprouted or gluten-free bread option is preferred." - Meredith Baird
Ingredients
Coconut Mayonnaise
1

cup

young coconut meat

¼

cup

coconut oil

¼

cup

olive oil

1

tablespoon

fresh lemon juice

2

teaspoons

dijon mustard

Generous pinch of sea salt

Freshly ground black pepper
Manna Bread with Radish, Mint, and Coconut Mayonnaise
2 to 4

slices

of bread (I toasted my bread)

¼

cup

coconut mayonnaise

Several pinches of sea salt (a flaky salt like Maldon works best)

½

cup

sliced radishes, optionally tossed in a little lemon juice and olive oil

1

avocado, diced (I sliced mine)

Mint or basil microgreens (I used chopped fresh basil)
Instructions
Coconut Mayonnaise
Blend all ingredients until smooth, stopping to scrape down sides of blender as needed. Keeps well in the refrigerator for three to four days.
Manna Bread with Radish, Mint, and Coconut Mayonnaise
Spread a few tablespoons of mayonnaise on each slice of bread/toast. Add a few pinches of sea salt. Top with radishes, avocado, basil/mint/microgreens, and a few more pinches of sea salt.
Notes
Reprinted from Coconut Kitchen by arrangement of Familius publishing. Copyright 2015, Meredith Baird.
Coconut Kitchen Giveaway
One winner will receive a copy of Coconut Kitchen. For a chance to win, simply enter the giveaway using the Rafflecopter widget below and comment on this post between October 29th and November 12th. Please note: this giveaway is only open to residents of the United States and Canada.