This 5-ingredient mint matcha superfood fudge is creamy, cooling, and energizing.
With rains aplenty and creeping heat, the humidity in Chicago has left no hair un-frizzed nor starched shirt un-crisped over the past week. I would describe the balminess in the air as tropical, but that might imply a level of desirability. And unless you're a mosquito, I think that implication would be a bit misleading.
I enjoy dry heat but something about hot, humid weather draws out my feistier side. So, in an effort to spare the world from my sweaty wrath, I decided to keep my time spent outdoors to a minimum this past Sunday. After a quick trip to the grocery store and about 4 minutes of hauling groceries through the thick outdoor air, I lost my appetite for a large and/or hot meal. Chilled, minty fudge, on the other hand, sounded incredibly appealing.
Just the night before I had written out a recipe for matcha-tahini fudge, and I figured peppermint would be the perfect addition to complement the matcha. And so it seems I owe the humidity a bit of gratitude for this recipe idea. Thanks, sticky weather. You're not so bad after all.
To make this mint and matcha fudge, you'll need just five ingredients (most of which are superfoods): tahini, cacao butter, pure maple syrup, matcha powder, and a few drops of pure peppermint oil (or extract if you don't have oil). You'll add them all to a double boiler and whisk together over medium-low heat until you have a smooth, creamy mixture. Then, you'll pour it into a small, 3x5-inch pan or container (I use an airtight ziploc container) and refrigerate until firm.
Once it's set, flip the container over, give it a forceful tap to release, and slice into bite-sized pieces of fudge.
This fudge is perfectly smooth, creamy, rich, and matcha-kissed. It also offers an amazing cooling effect thanks to the peppermint. Summertime fudge at its finest.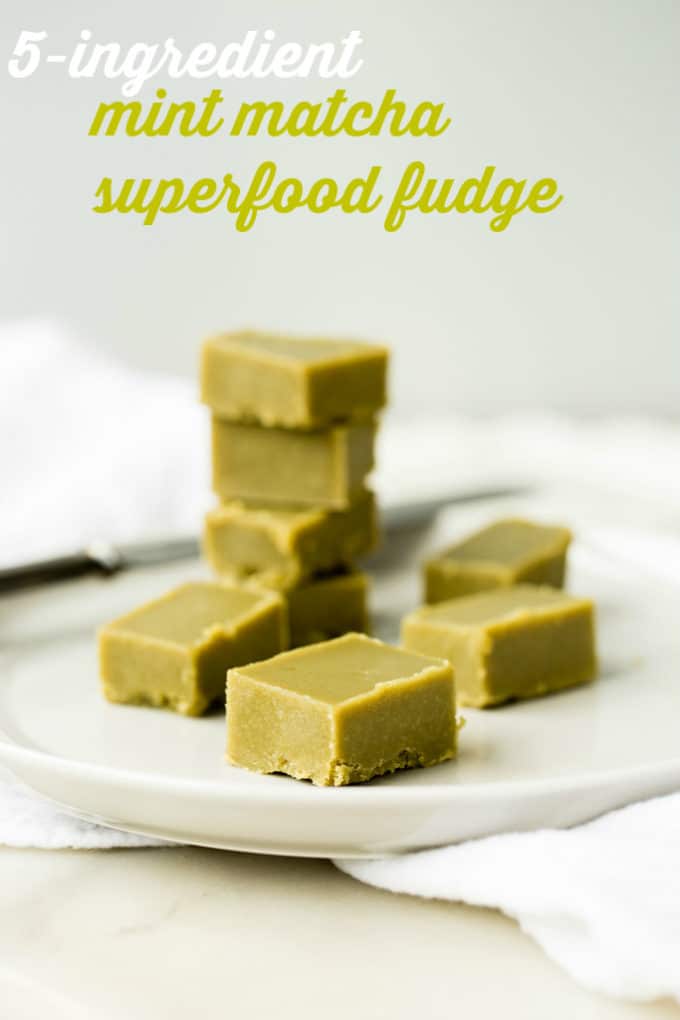 📖 Recipe
5-Ingredient Mint Matcha Superfood Fudge
This 5-ingredient mint matcha superfood fudge is rich, creamy, cooling, and energizing. Tahini and cacao butter serve as the fudge's base. Pure maple syrup is woven in for sweetness, while matcha adds a pop of green and pure peppermint oil adds a cooling bite.
Ingredients
½

cup

tahini

¼

cup

cacao butter

2

tablespoons

pure maple syrup

½

tablespoon

matcha powder

5 to 7

drops pure peppermint oil or peppermint extract to taste
Instructions
In a double boiler, combine all ingredients over medium-low heat. Whisk together for 3 to 5 minutes or until smooth.

Grease a small 5x3-inch pan or plastic container with coconut oil and pour the mixture into it. Refrigerate for 2 hours or until firm and completely set.

Once set, turn container over and tap to release the fudge. Slice. Store in refrigerator or freezer.