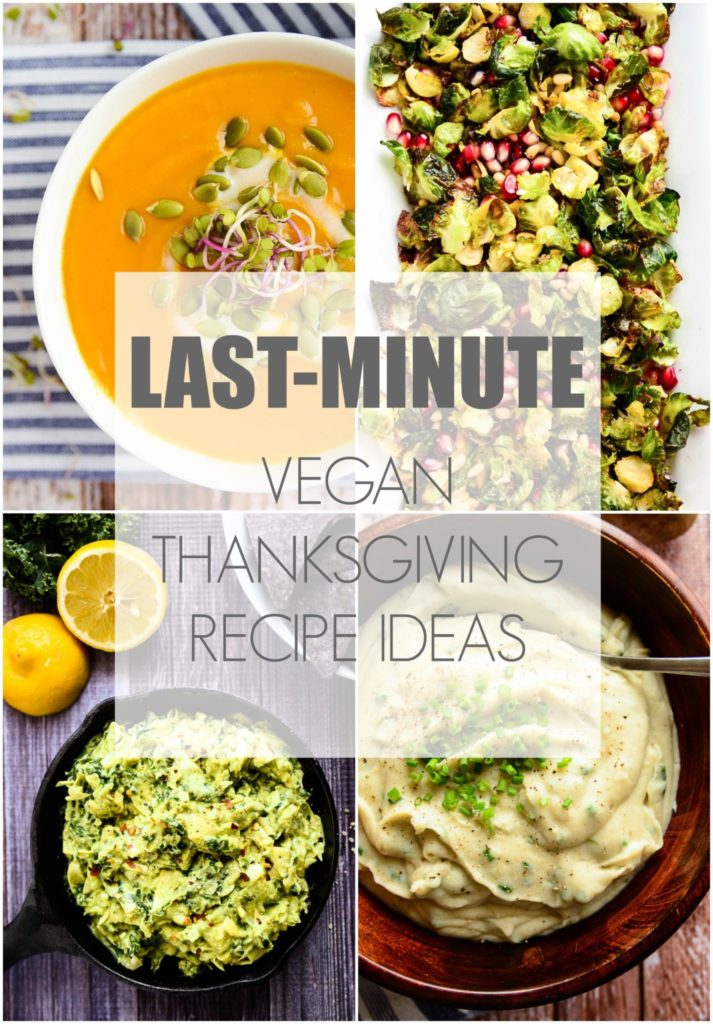 If your planning for a Thanksgiving meal is anything like my planning for a round-up post of Thanksgiving recipes -- in other words, you forgot to plan anything until this very moment -- then this post is for you.
Here is a quick and tasty round-up of vegan recipes that are:
1 | Thanksgiving appropriate.
2 | Contain simple and easy-to-find ingredients.
3 | Require little to no prep time (e.g., no excessive soaking or marinating).
4 | Delicious.
Note: A few of the below are my recipes, but most are drool-worthy creations from some of my favorite bloggers. Enjoy!
SMALL BITES + APPETIZERS
Thanksgiving Stuffing Poppers with Cranberry-Japeño Dipping Sauce -- Hold the freaking Thanksgiving phone. These gluten-free, vegan bites from Beard & Bonnet sound like the greatest idea ever.
Onion & Shiitake Tarts -- Shiitake mushrooms and sautéed red onion are wrapped in bundles of flaky pastry. These little bites from Milking Almonds are worthy of your Thanksgiving prep time.
Creamy Avocado, Artichoke + Kale Dip -- When you think about Thanksgiving foods, you probably don't think about artichoke dip; however, this is a simple, toss-together crowd-pleaser that is nearly fail-proof. Note: I recommend doubling or tripling the recipe for a crowd.
Stuffing Muffins with Mashed Potatoes + Gravy -- These delightful little bites from The Colorful Kitchen prove that vegan food is fun and pretty darn awesome.
SAVORY SIDES
Poblano Cornbread Stuffing -- This spicy twist on stuffing from Love & Lemons makes my heart beat a little bit faster.
Simple Vegan Stuffing -- This savory vegan stuffing with lentils is moist on the inside, crisp on the outside, and packed with herbs. This flavorful dish from Minimalist Baker does not disappoint.
Garlic Mushroom Quinoa -- I have a weakness for anything that combines garlic and mushrooms, and this savory side dish from Damn Delicious makes me a bit weak in the knees. Especially when it comes together in a hot 35 minutes. Note: To make it vegan, simply use vegan parmesan (make your own by pulsing together raw almonds, nutritional yeast, and sea salt in a food processor).
Healthy Green Bean Casserole -- Fork and Beans' vegan, gluten-free twist on a Thanksgiving classic comes together in 40 minutes and proves that plant-based and unprocessed > canned.
Saweet! Potato Casserole with A Crunchy Nut Crumble -- Crunchy nut crumble on top of sweet potato casserole? Enough said. Oh She Glows' healthy, creative spin takes the cake casserole.
Rosemary-Garlic Hasselback Potatoes -- Just the photos of this simple, satisfying dish from Feasting at Home make my heart feel warm and comforted. Plus, it requires just 6 ingredients, and that's including the salt and pepper.
Lemon Ginger Asparagus with Toasted Coconut -- Asparagus tossed in a tangy + bright combination of balsamic, dijon, garlic, ginger, and lemon zest, roasted to tender perfection, and topped with toasted coconut? Thank you, Lemons and Basil, for this quick and tasty recipe!
Butternut Squash + Sweet Potato Soup -- With 1 pot, 11 ingredients, and 45 minutes, you'll have a silky, savory, and subtly sweet soup that impresses.
The Best Damn Vegan Mashed Potatoes -- Buttery, garlicky, and fluffy mashed potatoes. Enough said. Yet another swoon-worthy creation from Minimalist Baker.
Crispy Brussels Sprout Salad with Pomegranate Seeds -- With just 8 ingredients and less than an hour's time, you'll have a festive salad that's easy on the eyes and downright addictive.
THE MAIN EVENT
Lentil Mushroom Walnut Balls with Cranberry-Pear Sauce -- I've made this recipe twice now, and it's an absolute crowd-pleaser and wows vegans, vegetarians, and meat-eaters alike. No palate goes unimpressed by this festive Oh She Glows masterpiece.
Roasted Butternut Squash Stuffed with Quinoa + Avocado-Basil Purée -- Deliciously Ella is full of simple, beautiful, and plant-powered recipes, and this one is no exception to the rule. I love the idea of pairing butternut squash with avocado and basil. Yum.
The Great Big Vegan Holiday Salad -- This filling salad from Choosing Raw has three amazing but simple components: marinated kale, broccoli-apple-cranberry slaw, and savory lentil, walnut, and sage crumbles. It's like a salad and side course wrapped up into one powerful main course.
Chanterelle Mushroom + Kale Salad with Lime-Tahini Sauce -- A festive bowl of goodness from Dishing Up The Dirt that comes together in less than an hour and makes for the perfect main course.
DECADENT DESSERTS
Vegan Pumpkin Pie Squares with Gluten-Free Graham Cracker Crust -- When vegan pumpkin pie filling meets graham cracker crust, there are no limits to the deliciousness. Yet another brilliant Oh She Glows recipe. Keep-It-Simple Tip: I use pre-made vegan graham crackers to cut down on the time for the crust. Also, cut down on the resting time by cooling in the freezer for an hour or two before transferring to the refrigerator.
Sweet Harvest Pumpkin Ice Cream -- Creamy pumpkin ice cream made with coconut milk and just four other ingredients? Yes. Yes. Yes. This simple, plant-based recipe is the genius work of Love & Lemons.
Wild Blueberry Crumble -- This gorgeous gluten-free creation from Eating Bird Food is packed with blueberries and comes together in under an hour. Perfection.
No-Bake Walnut Pumpkin Pie -- The phrase "no-bake" is music to my ears when in a time/efficiency pinch, especially when placed next to something as decadent sounding as "Walnut Pumpkin Pie". Yum times two. Thanks, Healthy. Happy. Life., for this no-bake deliciousness!
Pears with Cacao Ganache and Cinnamon -- These raw treats from Rawmazing are gorgeously-impressive looking but come together with the tiniest bit of time and energy.
Chocolate Bar Pie -- This list wouldn't be complete without one of Chocolate Covered Katie's decadent (and secretly healthy) desserts. This one requires just 7 ingredients and is so chocolaty and satisfying.