As some of you might know, my cookbook is coming out on December 20th—just a little over two months away! As a token of my sincerest appreciation and gratitude, I've put together a special bonus recipe bundle for anyone who pre-orders the book.
The bonus bundle includes 15 brand-new recipes (with accompanying full-page photos) ranging from vibrantly hued smoothies to decadent desserts with plenty of savory bites in between. The recipes are exclusive to this pre-order bonus e-book and can't and won't be found anywhere else. It's my hope that this special collection of recipes will nourish and inspire you throughout the months, weeks, and days (i.e., 74 but who's counting) leading up to the book's release in December.
To receive the Blissful Basil bonus recipe e-book. . .
Simply pre-order Blissful Basil through Amazon, Barnes & Noble, Indigo, Books-A-Million, or IndieBound before

December 20th

. (If you've already pre-ordered, you're still eligible to receive the pre-order bonus—skip to step 2!)
Forward your pre-order receipt/proof of purchase to 

[email protected]

.
Check your inbox. Once the purchase is verified, you'll receive an email link to access and download your copy of the bonus e-book!
Let's take a sneak peak at the recipes inside this bonus bundle, shall we?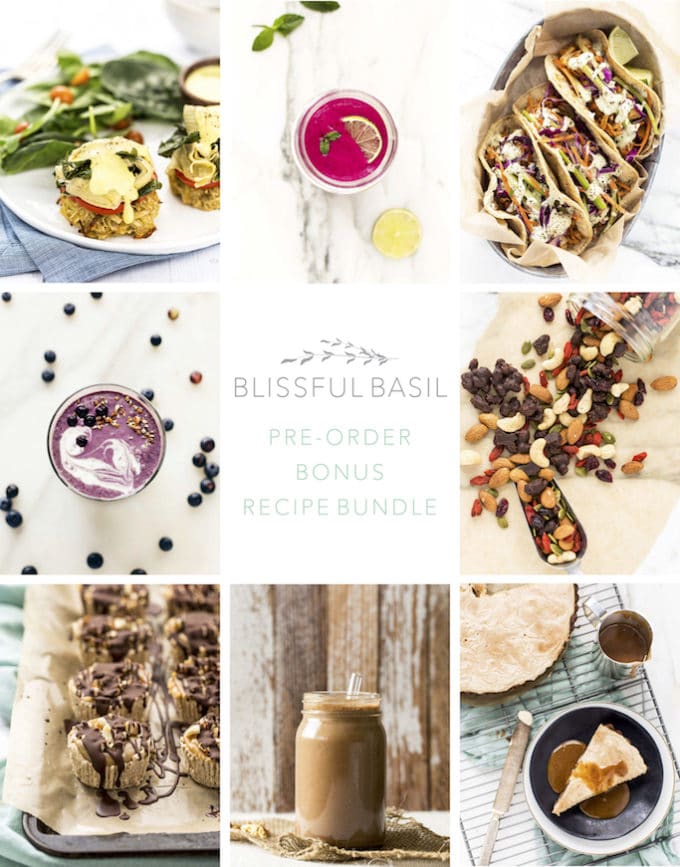 Smoothies
Blueberry, Coconut + Chia Breakfast Shake
Vivacious Strawberry, Cherry + Basil Refresher Smoothie
Rich Cinnamon-Chocolate Walnut Smoothie
Hot Pink Pitaya Smoothie
Breakfast + Brunch
Artichoke, Kale + Tomato Benedict with Rosemary Potato Pancakes + Cashew Hollandaise
Snacks + Appetizers
Blissed-Out Bounty Mix
Caramelized Onion, Brazil Nut + Kale Hummus
Salads, Sandwiches + Veggie-Centric Mains
Lentil, Hearts of Palm + Beet Panzanella Salad with Polenta Croutons
Pulled Buffalo Jackfruit Tacos with Hemp Seed Ranch + Celery Slaw
Zingy Sweet Potato Buffalo Sauce
Peppered Portobello Béarnaise with Garlic-Herb New Potatoes
Sophisticated Sweets + Simple Treats
Chewy Cardamom-Spiced Molasses Cookies
Salted Caramel Cheesecake with Pecan Crust
Go Nuts! Peanut Butter Caramel Ice Cream Cups with Chocolate Drizzle
Four Times the Fudge: Three-Ingredient Peanut Butter Fudge, Just Beet It Red Velvet Fudge, Cashew Cake Batter Fudge + Chocolate Mousse Fudge with Toasted Hazelnuts (have a look at the photo below)
Note: All recipes are vegan and gluten-free as well as refined-sugar-free, nut-free, and soy-free (or include substitutions to prepare them as such), and most are also grain-free.