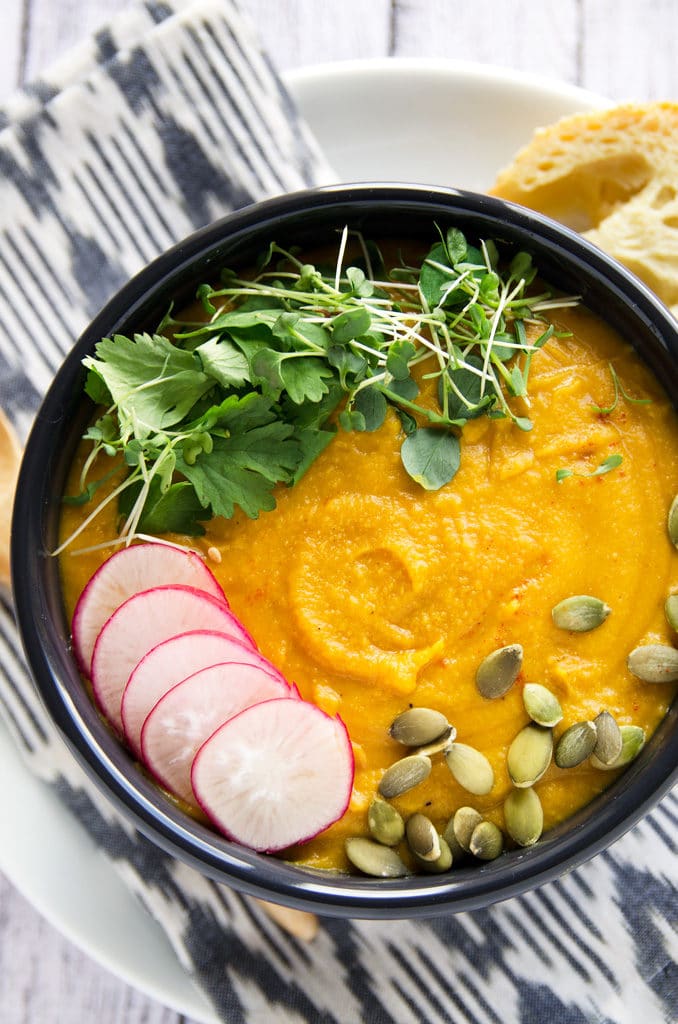 Vibrant.
Warm.
Spiced.
Protein-rich.
Slightly sweet.
Mostly savory.
Creamy.
Comforting.
This yellow split pea soup is a flavor and protein powerhouse. Just one small bowl offers 17 grams of plant-powered protein. Yellow peas are packed with fiber, protein, and oodles of micronutrients, and they're one of my favorite ingredients to add to winter stews and soups.  If the protein count doesn't entice you, the taste most certainly will. This soup uses rich, warming spices to yield layers of flavor that will keep your taste buds entertained. It's kind of like warm sunshine in soup form, and just looking at it perks up my energy level.
To make it, you'll start by cooking the spices in coconut oil in order to draw out their flavors. Then, you'll add in diced yellow onion and salt, and let the mixture sweat a bit (is it getting hot in here?). Next, you'll add in vegetable broth, water, yellow split peas, and diced carrots. Bring it all to a boil, reduce the heat, cover, and let the mixture simmer for just under an hour or until the peas are completely tender. Here comes the fun part: use an immersion (hand) blender to take the mixture from stew-like to creamy and smooth. To finish it off, you'll stir in lite coconut milk to add richness and depth and season with a bit more sea salt.
I love serving this soup with an abundant number of garnishes. The options are endless, but my favorites are microgreens, cilantro leaves, sliced radishes, and pepitas. I love the way the pink edges of the radishes pop against the yellow-orange hue of the soup, and the microgreens and cilantro lend a humbled, earthy vibe.
Warming Yellow Split Pea Soup
Author:
Ashley Melillo | Blissful Basil
Ingredients
1 tablespoon coconut oil
1 teaspoon ground coriander
1 teaspoon smoked paprika
1/2 teaspoon cumin
1/2 teaspoon turmeric
1/4 teaspoon ground ginger
1/8 teaspoon ground cinnamon
1/8 teaspoon cayenne pepper
1 yellow onion, diced (about 2 cups)
1 teaspoon sea salt
4 cups low-sodium vegetable broth
1 cup water
2 cups dried yellow split peas
1 cup diced carrots
1 1/2 cups lite coconut milk
Optional Garnishes
cilantro leaves
microgreens
sliced radishes
pepitas
Instructions
Add the coconut oil to a dutch oven or large stock pot over medium heat. Add in the coriander, paprika, cumin, turmeric, ginger, cinnamon, and cayenne pepper. Cook for 3-4 minutes, stirring occasionally, to draw out the flavors of the spices.
Add in the diced onion and sea salt. Cook for 7-8 minutes or until onions become translucent, stirring occasionally to scrape spices off pan.
Add in the vegetable broth, water, yellow split peas, and carrots. Bring to a boil, reduce heat, cover, and simmer for 50-55 minutes, stirring occasionally, or until yellow peas are very tender.
Turn off heat and use an immersion blender to purée the soup until smooth (about 3-4 minutes). Be careful as you're blending as the soup will be very hot. Stir in the coconut milk and season with additional sea salt, to taste (I usually add in a 1/2 teaspoon).
Ladle into bowl, garnish, and serve immediately.
Nutrition Information
Serving size:
1/6 of recipe
Calories:
330
Fat:
7 grams
Protein:
17 grams