When I submitted my cookbook manuscript in late December, I expected to feel an immense sense of relief and to uncover a shiny, new über-relaxed attitude. And my predictions held true at first. But although I believed the manuscript was the only thing standing between a stressed-out me and a carefree me, it turns out that I'm quite adept at finding new things to become stressed about.
The calmer waters I sailed on in January were churned into rough, choppy waters by February. At first, I blamed those stressful waters on external circumstances (an unusually busy month at work, lots of blog-related projects, and not nearly enough downtime over the last year) and kept chugging along.
But as I chugged along the other week, frazzled and frayed, I realized something: maybe, just maybe, I could choose to calm the waters myself. I could shift my perspective to align more closely with the present moment, cutting out regrets about what I didn't do yesterday and worries about what I need to do tomorrow in favor of fully utilizing the power and peace of the present moment. And I could shift my approach by not throwing so much darn stuff into the water to begin with.
The latter idea rang especially true. When I took a step back, it was clear that the choices I was making were influencing my stress levels far more than naturally occurring external circumstances. After skimming through old emails, analyzing to-do lists, and glancing at my monthly planner, it was painfully obvious that I had been saying "yes" to projects, work, etc. when I actually wanted to say "no". Pushed by my tendency to people-please first and care for myself second, I had been stretched thin and in far too many directions by a bad case of "the shoulds".
Somewhere in the midst of feeling genuinely grateful for opportunities and not wanting to disappoint others (and maybe even a bit of FOMO), I forgot to check-in with myself. With the writing on the wall (and my to-do list), I needed to embrace a new approach, one that involved stepping authentically into the power of NO.
As luck would have it, there's actually a book called The Power of No. It's about honoring the need to say "no" so that you can say "yes" to the things that really matter. I haven't read it yet, but I did listen to Tim Ferriss' interview with the author, James Altucher. It turned my case of "the shoulds" on its head, and it was empowering. I also read and reread Derek Siver's article, "No more yes. It's either HELL YEAH! or no." countless times over the last few weeks. Also incredibly empowering.
And I've started saying "no" (with gratitude) to opportunities I once gave a guilt-driven "yes" to in an effort to create more space and time for the things that matter most. It's been an incredibly freeing, unexpectedly joyful experience. And to my surprise, not one person has been disappointed or upset, rather they've been incredibly supportive and respectful. One lovely individual even replied to say, "Way to go! As they say, when we say no to things, it creates more room in our life, so props to you!" Amen to that.
With all these no's, I'm slowly but surely making more time for little life comforts and joy-generating moments (following my curiosity, working on new project ideas of my own, creating new recipes in the kitchen, an afternoon movie with Dan, a quick call to my mom that turns into a 2-hour chat about life, etc.).  And I can't think of a recipe that embodies the comfort and joy of those experiences quite like this one.
This warming tomato and lentil stew is nourishing, aromatic, and incredibly simple. So simple, in fact, that you can say "no" to unnecessary kitchen time and "yes" to whatever offers you a bit more joy as it simmers away on the stove.
French lentils are cooked in a comforting tomato broth until tender and plump. A base of onion, garlic, rosemary, and thyme offers an earthy, savory vibe that tames the acidity of the tomatoes and unites the flavors as one.
This stew comes together with just 40-ish minutes of time and a modest amount of stirring. Protein-packed lentils make it an incredibly satisfying dish, and you can bump the comfort up another notch by serving it over brown rice or alongside a warm baguette.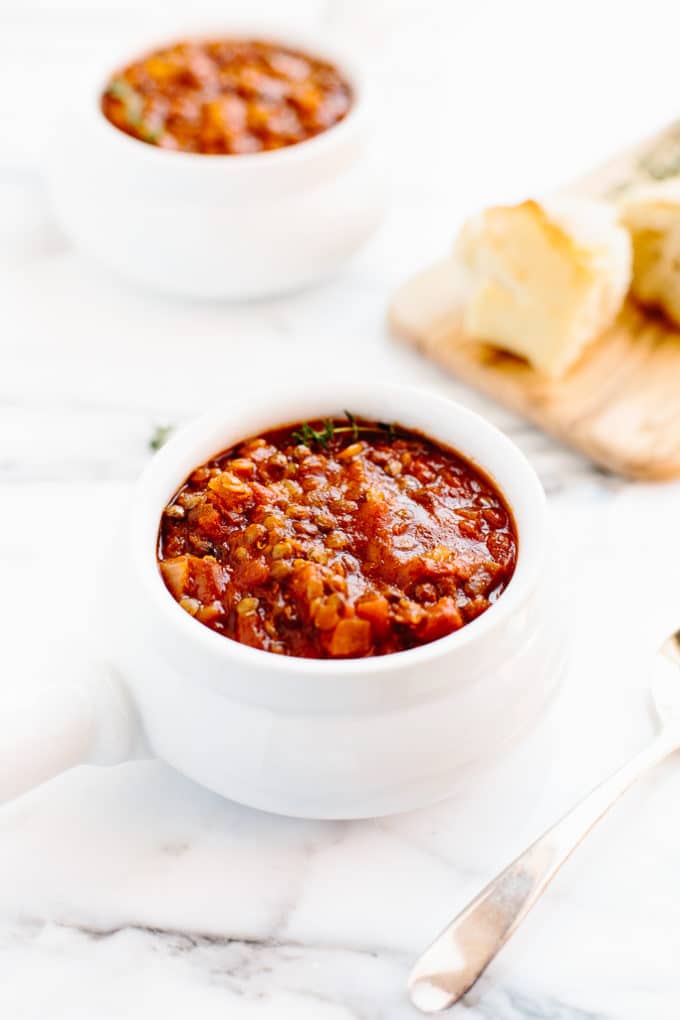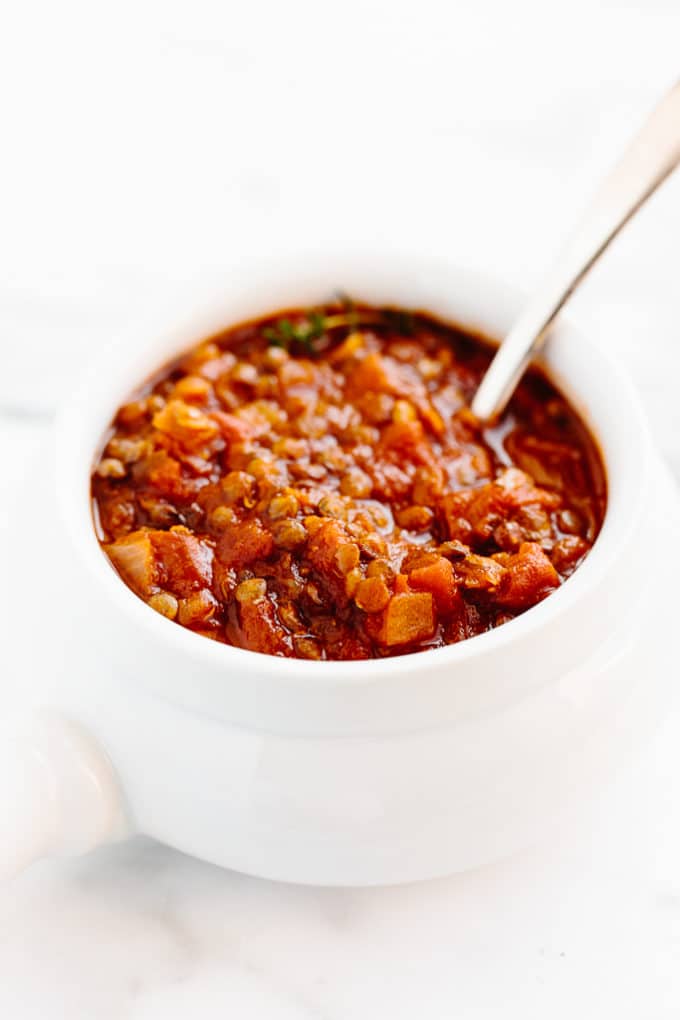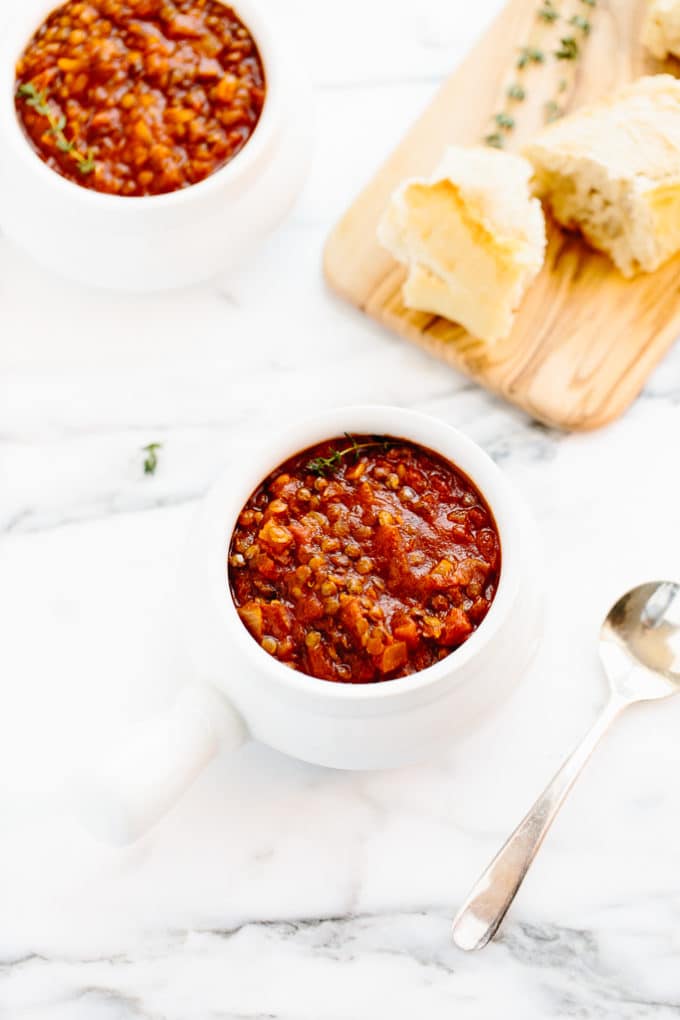 Quick & Easy Warming Tomato and Lentil Stew (Vegan)
Author:
Ashley Melillo | Blissful Basil
Ingredients
2 tablespoons extra-virgin olive oil
1 medium yellow onion, peeled and diced
2 garlic cloves, minced
1 1/2 teaspoons dried rosemary
1 teaspoon sea salt
1/4 teaspoon crushed red pepper flakes or to taste
1 cup uncooked french green lentils, thoroughly rinsed and picked through
1 (28-ounce) can no-salt-added crushed tomatoes
2 cups filtered water
1 1/2 tablespoons reduced-sodium tamari
2 teaspoons balsamic vinegar
2 sprigs of fresh thyme
Instructions
Heat the olive oil in a dutch oven or large stock pot over medium heat. Add the onion and cook for 6 minutes or until soft and translucent, stirring occasionally. Add the garlic, dried rosemary, sea salt, and red pepper flakes, and cook for another 1 to 2 minutes or until the garlic softens, stirring frequently.
Add the french lentils, crushed tomatoes, filtered water, tamari, and balsamic. Stir to combine and nestle the sprigs of thyme into the liquid. Increase heat to medium-high and bring to a rapid boil. Then, reduce heat to low, cover, and simmer for 30 to 35 minutes or until the lentils are tender.
Carefully remove the thyme sprigs. Taste and season with more sea salt, if desired. I typically don't add any additional salt; however, feel free to season as you wish.