Before I forget for, oh, about the seventh time, I've been meaning to let you know that I'll be doing a book signing at The Book Cellar in Chicago on Thursday, February 16th at 7p.m. If you're in the area, please, please, please stop by to say hello! It'd be an honor to see you // chat with you // sign your copy of the cookbook!
Now, let's chat pesto. Vegan Green Goddess Power Pesto, that is.
When I sat down to brainstorm January's recipes in late December, I went on a bit of a green goddess idea rant. Green Goddess Pasta, Green Goddess Pesto, Green Goddess Broth, even Green Goddess Cookies.
Just kidding about the cookies. Well… sort of. The thought staggered across my mind in some sort of wacky, post-holiday idea stupor, but I was wise enough not to follow after its crazy tail. Some recipe ideas are best left unexplored.
That said, if you'd like to take that one and run with it, by all means, please do. Perhaps one day GG cookies will be the new CC cookies.
So, despite the undetermined fate of our green-cookie dreamin', I can certainly get down with green goddess power pesto. The question is: can you?
Fingers crossed…
This protein-packed, plant-powered vegan pesto is an amped up, epically herbaceous twist on this superseed pesto recipe I shared nearly three years ago.
In addition to the classic punch of fresh basil, this pesto has all the classic green goddess elements: lots of fresh chives, a bit of flat-leaf parsley, and a smidgen of tarragon. Instead of anchovies, a small spoonful of capers adds depth of flavor and the slightest hint of brininess.
Looks like I have your attention.
But wait, there's more…
Fresh baby arugula plays up a peppery vibe while shelled hemp seeds offer an oomph of plant protein and Omega-3s.
And of course, there's garlic. Just a clove in this case but if you're a garlic lover, go on and add two. A hefty squeeze of fresh lemon juice adds brightness and zing, and a modest drizzle of olive oil pulls everything together.
To make this pesto, you'll simply add all the ingredients to a food processor and give it a whirl.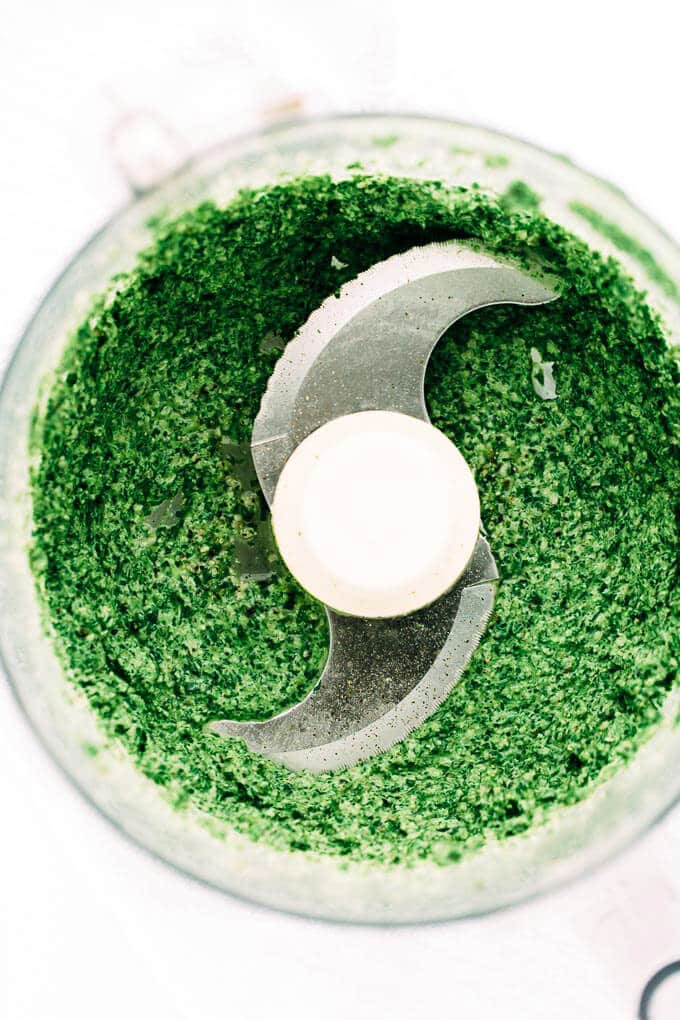 Once everything is finely chopped yet still has a bit of that desirable, pesto-perfect texture, spoon it over warm pasta and toss to coat.
Tagliatelle, spaghetti, fusilli, or rigatoni—just cook up about 12 ounces of your favorite pasta and get tossing. If you're craving something exceptionally light and fresh, toss it with zoodles (aka zucchini noodles).
Alternatively, slather this green goddess pesto over toasted baguette slices and top with sun-dried tomatoes or sliced grape tomatoes for a crisp crostini remix.
Or maybe you have a brilliant, never-before-seen pesto idea in mind.
This is your green goddess pesto playground. Dream big.
Vegan Green Goddess Power Pesto
This simple vegan green goddess pesto is packed with nourishing, whole food ingredients. Plus, it comes together in less than 10 minutes! To make it, you'll add fresh basil, arugula, hemp seeds, chives, parsley, tarragon, olive oil, lemon juice, garlic, capers, sea salt, and black pepper to a food processor. Process until ground into a coarse pesto and serve over heaps of warm pasta. For a raw vegan twist, serve this pesto over zucchini noodles!
Ingredients
1/2

cup

basil leaves

1/2

cup

baby arugula

1/3

cup

shelled hemp seeds or raw pepitas

1/3

cup

roughly chopped chives

1/4

cup

flatleaf parsley, stemmed

1

tablespoon

stemmed and roughly chopped tarragon

2

tablespoons

cold-pressed olive oil

1 to 1 1/2

tablespoons

fresh lemon juice, to taste

1

clove

garlic, peeled

1

teaspoon

jarred capers, drained

1/4

teaspoon

of the caper brine (i.e., liquid from jarred capers)

1/4

teaspoon

sea salt or to taste

Freshly-ground black pepper to taste
Instructions
Add all ingredients to a food processor and process for 1 to 2 minutes, or until just shy of smooth, stopping to scrape down sides as needed.

Serve the pesto over 12 ounces of warm pasta, adding pasta water as needed to thin.*
Recipe Notes
*For a raw vegan twist, serve the pesto over zoodles! For an appetizer remix, spread the pesto over toasted baguette slices and top with sun-dried tomatoes or sliced grape tomatoes.