First it was two smoothies in a row—one + two. Now we're doubling down on the pasta recipes.
I'm telling you, good things come in pairs.
Speaking of pairs…
For the sake of joy, flow, and honoring intuition, I've decided to scale back to two posts (a pair) per week from three. At least for most weeks. Not for any one reason in particular other than it's what feels right for me in this particular season of blogging. Admittedly, I've kind of been doing this in recent weeks anyway, but it always feels nice to share these thoughts with you.
As a blogger—heck, as a human being—it's easy to get caught up in the hustle that surrounds the online community. What begins as an innocent stroll around the blogosphere can quickly lead to the unintentional inheriting of another person's habits, values, or goals…
This person's posting every day, so should I be striving for that? Wait, but that person's posting three times a week, maybe it's best to stick with that approach. Ooh, and this person posts just one killer recipe a week, so maybe that's a good idea. Oh my, and this person has a blog, an eBook, an app, an online store, an apparel line, a podcast, a youtube channel, a branded mug line, a pop-up restaurant, a budding granola brand, an online course, and a puppy too! Surely this must be the right way to do it. 
I must be all of the things.
What I've realized, though, is that the "right" way is the one that lights up my heart with joy. Because when my heart is lit up, I'm able to fully be what no one else can be: ME. The same is true for you.
The world doesn't need more second-rate versions of some other fabulous person, the world needs more of us to come alive as our own fabulous selves so that we can be fully present in our work, our interactions, and our daily experiences. To embrace the strengths as well as the fears, quirks, and vulnerabilities that make us so uniquely ourselves. Now that's empowered living.
Don't ask yourself what the world needs. Ask yourself what makes you come alive and then go do that. Because what the world needs is people who have come alive. —Howard Thurman
The more I blog, the more I realize that the joy in it stems from deeply investing in myself and from being thoughtful, purposeful, and passionate about the topic, recipe, post, person, etc. at hand.
This year, I want to dive deep instead of casting wide. Here's what I'm thinking…
More open-hearted posts like this one. Creating more videos like this one to accompany some of your favorite recipes. Spending more time chatting with you in the comments section. Addressing complicated topics like mental wellness in brave new ways. Sharing more of what goes on behind the scenes of a blog post, photography, etc. (the good, the bad, and the straight-up ugly). Tackling the bigger ideas/projects I've been putting off for way too long. Bringing you the most creative, drool-worthy recipes possible.
Because this is the stuff that fills my heart with LOVE for this process. And a full heart always keeps tasty recipes in tow…
This carrot gnocchi recipe is a blissed-out, orange-hued, vegan, and gluten-free take on the classic.
Just 5 ingredients (plus salt) and the tiniest bit of endurance yields pillow-shaped pasta that plays nicely with many varieties of sauce. Think herb-infused vegan butter or olive oil, marinara, pesto, etc.
A heaping pound of carrots is diced, steamed, and puréed to perfection. The purée is folded into a mixture of blanched almond flour, arrowroot starch, nutritional yeast, and sea salt. Then, oat flour is slowly added in until the desired texture is reached.
The dough is gently formed into a disc and quartered (above photo). Then, each piece is softly kneaded, rolled into a 1-inch thick rope, and sliced into 1-inch pieces.
Each little pillow of dough is carefully rolled down the backside tines of a fork, leaving behind soft, sauce-snuggling indentations.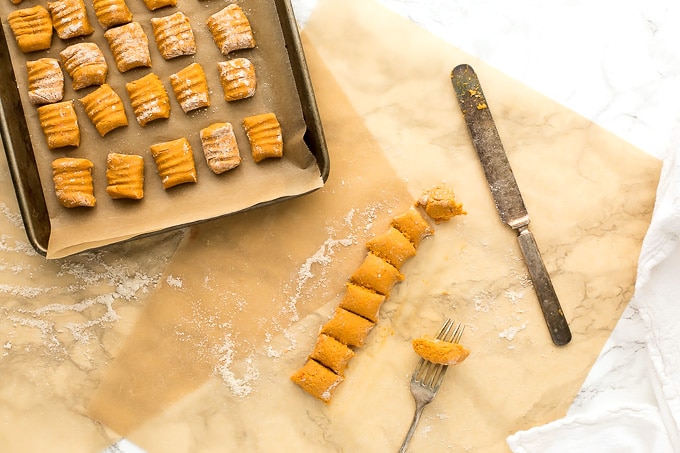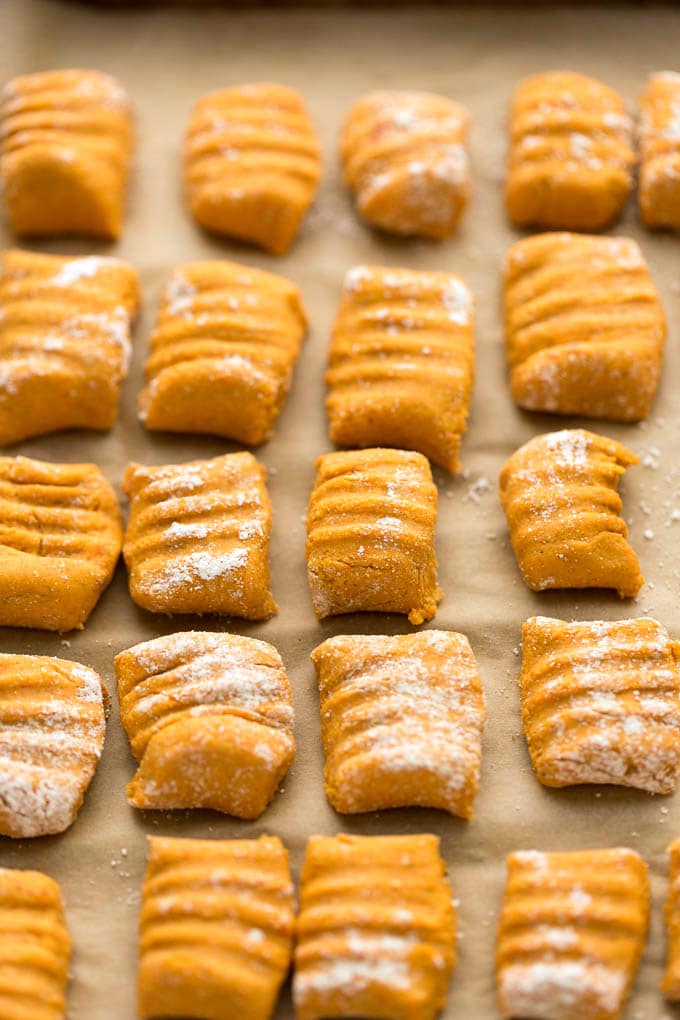 Once the gnocchi are formed, you'll drop them (in batches) into boiling water. They cook up quickly, averaging just 2 to 3 minutes, and you'll know they're done when they float to the surface.
Once they're done, skim them off the top, escort them to a proper serving bowl, and toss with your sauce of choice. I recommend an herb-infused olive oil or vegan butter sauce for a bright, complementary pop of flavor.
Once they're nice and saucy, there's just one thing left to do, and I think you know what it is…
Enjoy (with gratitude). ♥
VEGAN GLUTEN-FREE CARROT GNOCCHI
These vegan and gluten-free carrot gnocchi require just 5 simple ingredients (plus sea salt). Carrots are steamed and puréed. Then, they're folded into a mixture of almond flour, arrowroot starch, nutritional yeast, and sea salt. Oat flour is slowly mixed in until a firm-tender dough is formed. The dough is quartered, rolled into ropes, and sliced into bite-size pieces. Each piece is gently rolled down the back of a fork, leaving an imprint that allows sauce to cling to the gnocchi. I recommend pairing these delightful little pillows of pasta with herb-infused olive oil or vegan butter (see notes).
Ingredients
1

pound (454g)

carrots, peeled and diced

(about 2 1/4 cups)

1/3

cup

blanched almond flour*

1/4

cup

plus 2 tablespoons arrowroot starch

2

tablespoons

nutritional yeast flakes

1/2

teaspoon

sea salt

3/4 to 1

cup

oat flour, plus more as needed and for flouring**
Instructions
Steam the carrots in a steamer or steamer basket for 25 minutes, or until tender.

Meanwhile, in a large bowl, whisk together the almond flour, arrowroot, nutritional yeast, and sea salt. Form a shallow well in the middle.

Transfer the steamed carrots to a food processor and process for 30 seconds, or until puréed, stopping to scrape down the sides as needed. The texture won't be perfectly smooth but rather like a thorough mash.

Add the carrot purée to the center of the flour well. Use a spatula to mix until the dry ingredients have been incorporated, folding the flour mixture in to the carrots. Then, add the oat flour 1/4 cup at a time and mix. Repeat until 3/4 cup has been incorporated. Allow the dough rest for 5 to 10 minutes and then evaluate whether or not you need to add the additional 1/4 cup***. The dough should be tacky yet easy to handle when dusted with oat flour.

Line a baking tray with parchment paper, and bring a large stockpot of water to a vigorous boil.


Liberally flour a clean work surface with more oat flour and turn the dough out onto it.

Gently shape the dough into a disc, and slice into four equal pieces.

One at a time, gently knead each piece of dough for a few seconds to smooth out. Then, roll into a 1-inch thick rope. Slice the rope into equal 1-inch pieces. Gently roll each down the backside of a fork, allowing the tines to make soft imprints. Transfer to the lined baking tray. Repeat until all of the dough has been formed.

Add about 1/3 of the gnocchi to the boiling water. Boil for 2 to 3 minutes, or until they float to the surface. Do not overcook. Use a pasta scoop to remove from the water and transfer to a serving bowl.

Repeat until all of the gnocchi is cooked.

Serve the gnocchi warm with sauce of choice. I recommend making an herb-infused olive oil or herb-infused vegan butter, sea salt, and black pepper (see notes). They're also delicious when pan-fried in an herb-infused sauce.
Recipe Notes
*Blanched almond flour is different than almond meal. It's lighter and airer. If you substitute it with almond meal, do so at your own risk as I haven't tested the recipe with that swap.
**Please, for the sake of all things delicious, do not substitute the oat flour with coconut flour. Coconut flour isn't a suitable 1:1 replacement for oat flour (or any flour for that matter) and will result in dry, inedible rocks instead of pillowy pasta.
***Keep in mind that the more flour you add, the heavier/denser the gnocchi will become. I typically have to add just shy of 1 cup but go on look and feel of the dough.
To make an herb-infused olive oil or vegan butter: Add a few tablespoons of olive oil or vegan butter to a sauté pan along with chopped fresh parsley (or herbs of choice), fresh minced garlic or a few shakes of garlic powder, sea salt, black pepper, and red pepper flakes (if desired). Heat over medium-low for 2 to 4 minutes, or until hot and simmering. Spoon over the gnocchi.