You might be thinking one of two things after reading this post's title:
Wait!  Chicken isn't vegan!
Great, another recipe for processed vegan meat substitutes.
If you thought the first, then you're right. Chicken isn't vegan. No need to fret though, this isn't real chicken.
If you thought the second, then hopefully I'm going to pleasantly surprise you.
Almost a year to the date after I posted this vegan pulled pork recipe, Jackfruit is back with a spicy, buffalo-coated vengeance. You know what I have to say to that? Bring it on, Jackfruit, you're delicious.
If you want a quick lesson on jackfruit, be sure to checkout this link for a full explanation. However, the shorthand description is that jackfruit is a tree-grown fruit native to Southeast Asia that tastes like heart of palm in its unripened form and has a stringy, pull-apart texture similar to meat.
For this recipe, young jackfruit is shredded, simmered in tangy buffalo sauce, and baked to meat-like perfection in the oven. The chicken-esque "meat" is then mounded on top of an overflowing bed of vegetables and drizzled with a creamy, ranch-like dressing made from hemp seeds, pepitas, and chives. If you're feeling extra feisty, you can even add an extra drizzle or two of buffalo sauce to knock the heat up a few notches.
This song doesn't exactly have that ethereal, mellow vibe like the songs I usually link to for Sound Bites, but I couldn't help myself. This salad is a bit spicy, so it only seemed appropriate to include this fiery, beat-driven tune for your cooking and reading enjoyment: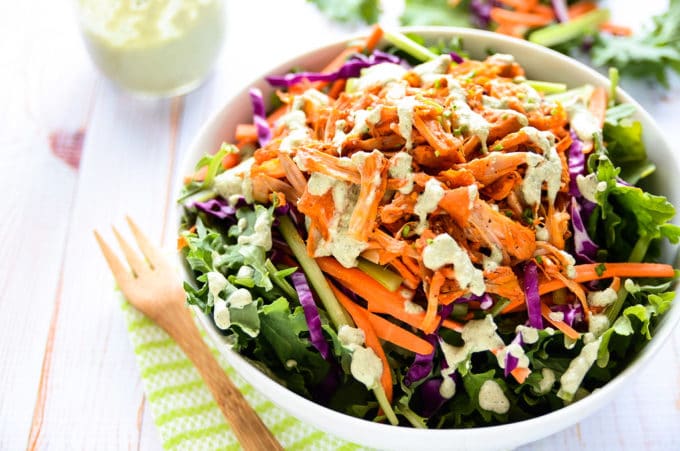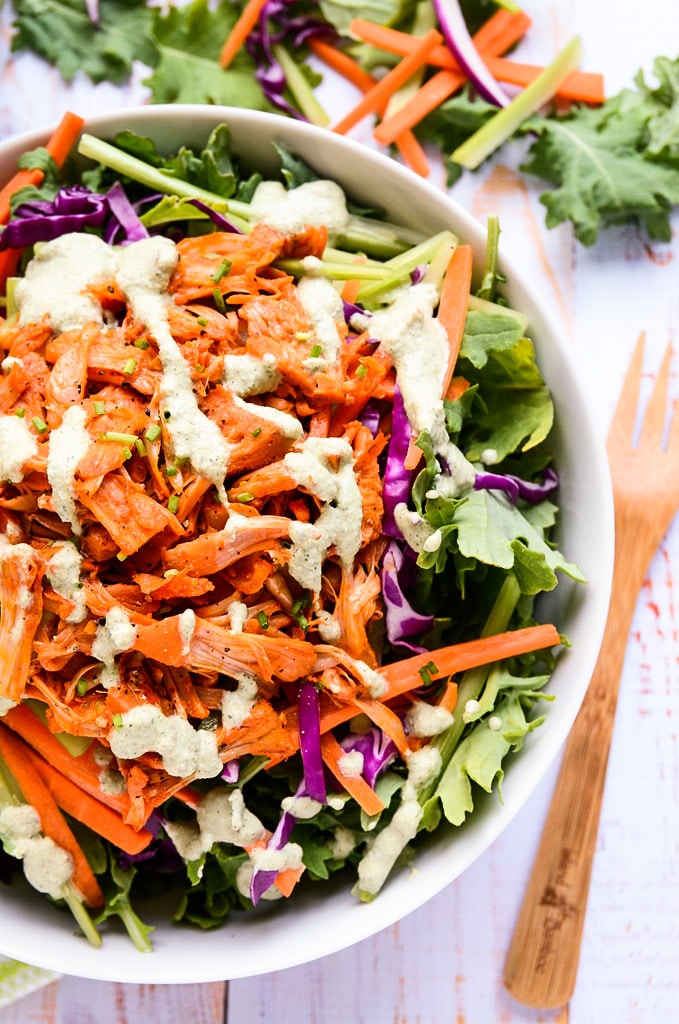 Vegan Buffalo Chicken Salad
Author:
Ashley Melillo | Blissful Basil
Ingredients
For the Buffalo "Chicken"
1 17-ounce can young green jackfruit in water or brine, drained and rinsed*
1/3 cup vegan buffalo sauce**
For the Dressing
1/4 cup hemp hearts
1/4 cup pepitas
1/2 cup + 2 tablespoons water
3 tablespoons chopped fresh chives
1 garlic clove, minced
2 teaspoons white wine vinegar
1/4-1/2 teaspoon salt or to taste
black pepper, to taste
For the Salad
6 cups mixed greens of choice (I use a baby kale blend)
1 large carrot, peeled and cut into matchsticks
1 large celery stalk, trimmed and cut into matchsticks
1/2 cup thinly sliced purple cabbage
Instructions
To Make the Buffalo "Chicken"
Preheat oven to 350 degrees Fahrenheit.
After you've drained and rinsed the jackfruit, trim the triangular tips off of each piece and shred the "meat" of the jackfruit with two forks.
Transfer the shredded jackfruit to a large skillet, pour the buffalo sauce over, and heat over medium-low heat. Let the jackfruit simmer for 12-15 minutes, stirring every few minutes.
Line a baking pan with parchment paper, and spread the jackfruit evenly over the pan. Bake the jackfruit for 18-20 minutes or until it has slightly dried out and taken on a more meat-like texture.
Remove from oven and let cool.
To Make the Dressing
Prepare the dressing while the jackfruit is cooking by adding the hemp seeds, pepitas, water, chives, garlic, white wine vinegar, salt, and black pepper to a high-powered blender. Blend on high for 2-3 minutes or until the dressing is smooth. Pour into jar or airtight container.
To Assemble the Salads
Divide greens between two large bowls and top with sliced veggies. Divide the buffalo "chicken" between each bowl and drizzle with dressing and additional buffalo sauce, if desired.
Serve immediately and refrigerate all leftovers.
Notes
*Be sure you're purchasing young, green jackfruit in water or brine and not ripe jackfruit in syrup. There is a big difference between the two and you want savory, not sweet!
**Some buffalo sauces contain egg, so be sure to read your label if you're trying to keep this dish vegan.