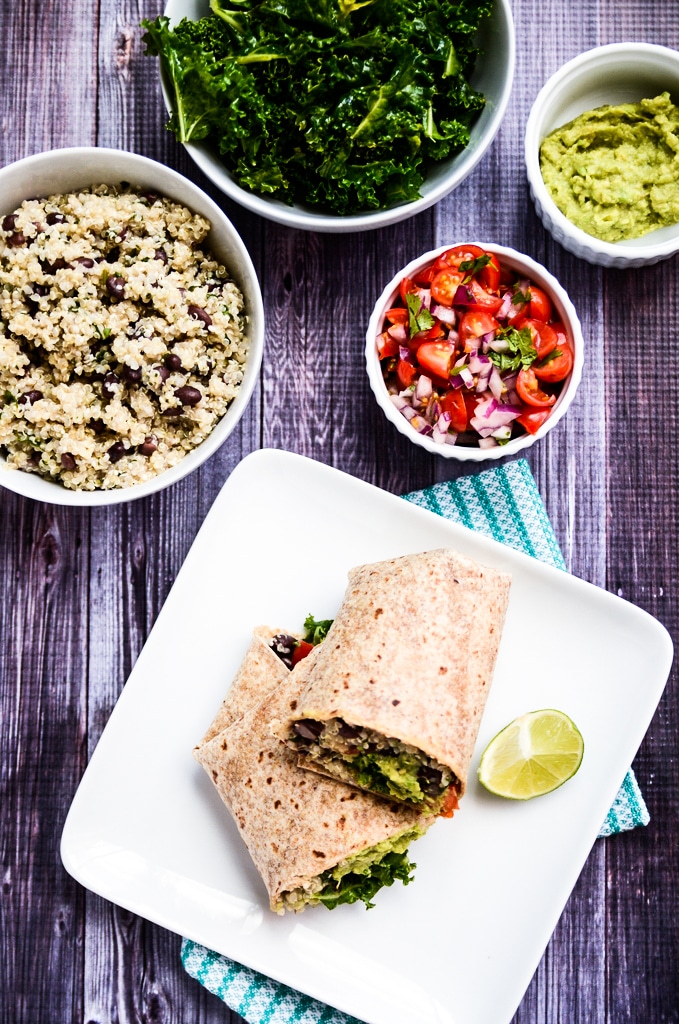 It's hard to call something "the ultimate" but this protein burrito is certainly worthy of the title. With 22 grams of protein, oodles of fiber, and plenty of other goodness (i.e., healthy fats, omegas, vitamins, and minerals), this burrito takes the vegan cake.
One of the most common questions that I've received over the last four years as a vegetarian and (now) vegan has been, "Where do you get your protein?" I think I should just start saying "Plants!!!" because despite answering the question so many times, it still catches me off guard as I don't wholeheartedly rely on any one source of plant-based protein. I like to eat a wide variety to ensure that I'm getting all of the essential amino acids to replenish my body's protein in the most efficient way possible. I'd say that my most common protein sources throughout any given week are beans, hemp seeds, almonds, cashews, kale, lentils, and quinoa. While tofu and meat substitutes are often protein-rich, I try to limit my intake of them  since they tend to be more processed.
Regardless of your lifestyle choices, as long as you're eating a wide variety of plant-based foods, you're likely getting more than enough protein. That being said, it's always nice to find a guaranteed protein-rich, plant-based meal to mix into your recipe regimen, which is the very reason this burrito was created.
The main protein providers in this handheld meal are quinoa, black beans, hemp seeds, kale, avocado, tomatoes, and sprouted grain tortillas, all of which bring the grand total to a whopping 22 grams. Plus, the quinoa, black beans, hemp seeds, and sprouted grain tortilla are each complete proteins, meaning that they contain all of the essential amino acids and in the correct proportions to provide the body with an optimal protein source.
And did I mention that this protein-packed meal also tastes amazing? It's packed with flavor and texture and is so satisfying. This burrito will delight your tastebuds, replenish your protein reserves, and keep you fueled for hours. Ultimate? I'd say so.
The Ultimate Vegan Protein Burrito
Author:
Ashley Melillo | Blissful Basil
Recipe type:
Burrito, Lunch, Dinner
Ingredients
For the Quinoa
3/4 cup white quinoa, thoroughly rinsed
1 1/2 cups water
1/4 teaspoon sea salt
1 can black beans, drained and rinsed
1/4 cup chopped fresh cilantro
3 tablespoons lime juice
3 tablespoons hemp seeds
1/4-1/2 teaspoon sea salt
black pepper, to taste
For Kale
3 cups destemmed and chopped kale
1 tablespoon lime juice
1/2 tablespoon olive oil
sea salt, to taste
black pepper, to taste
For the Pico de Gallo
1 cup quartered cherry tomatoes
1/4 cup finely diced red onion
2 tablespoons chopped cilantro
sea salt, to taste
For the Guacamole
1 avocado, pitted
1 lime, juiced
sea salt, to taste
Additional Ingredients
4 large sprouted-grain or gluten-free tortillas
Instructions
For the Quinoa
Add the quinoa and water to a small pot with 1/4 teaspoon sea salt. Heat over medium-high heat until boiling. Reduce heat, cover, and simmer for 10-14 minutes or until quinoa is tender and translucent. Fluff with a fork and transfer to a large bowl.
Add the black beans, chopped cilantro, lime juice, hemp seeds, sea salt, and black pepper to the quinoa and stir. Set aside.
For the Kale
Add the chopped kale, lime juice, olive oil, and sea salt to a bowl and massage the kale for 2-3 minutes or until tender. Set aside.
For the Pico de Gallo
Add the cherry tomatoes, red onion, cilantro, and sea salt to a bowl and stir to combine. Set aside.
For the Guacamole
Scoop the flesh of the avocado into a small bowl along with the juice of one lime and sea salt, to taste. Use the back of a fork to smash the avocado to desired consistency. Set aside.
To Assemble the Burritos
Lay one tortilla flat on a clean work surface. Fill the tortilla with the quinoa mixture, pico de gallo, guacamole, and kale. Begin rolling the burrito away from you, being sure to tuck the sides in as you go. Slice in half and serve immediately. Repeat.
Refrigerate all leftovers.
Nutrition Information
Serving size:
1 burrito
Calories:
522
Fat:
17 grams
Carbohydrates:
77 grams
Sugar:
7 grams
Sodium:
405 mg
Protein:
22 grams