I hope you are all having a wonderful start to your week! After a weekend filled with lots of tasty food, late night conversations with my family, red wine, and chocolate, I've been replenishing my energy sources with pints of green juice and this amazing detox salad. Can I just say that I'm obsessed with this salad? So obsessed that I've made it twice in the last four days. Cray.
Remember that time I talked about recipe ideas coming to me in the middle of the night? You know, the weird pancake-puddle and beet-cookie ideas? Well, this one came to me mid headstand in yoga class last week. Nothing like a headrush to get those creative ideas flowing. In reality, I think I was just really hungry because I went straight from work to yoga and missed my typical afternoon smoothie snack, but we can pretend that headstands = creative recipe thoughts. In fact, I'm actually writing this post while in a handstand. Ha. Not. That would be dangerous. Don't do that.
This detox salad is so delicious and nourishing. It's hearty, packed with flavor, and full of detoxifying ingredients like kale, apple cider vinegar, tahini, and lemon. Lacinto kale is massaged with a creamy lemon-shallot dressing to break down its tough exterior and infuse it with flavor. The kale mixture is then tossed with farro, tomatoes, and pickled red onions to create a salad that is both savory and bright. Roasted portobello mushrooms are served alongside to round everything out and add an earthy heartiness to this dish. Each and every ingredient in this salad is full of good-for-you vitamins and minerals to nourish your body from the inside out all while being incredibly flavorful. Tasty, detoxifying perfection.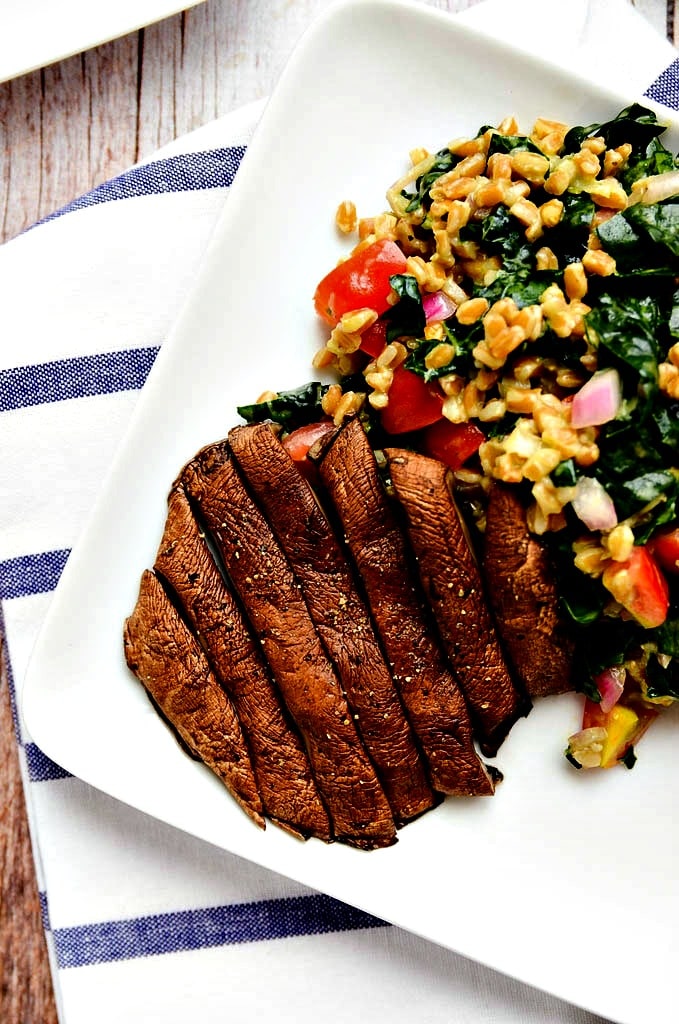 The Hearty Detox Salad | Vegan
Recipe type:
Salad, Entree
Ingredients
1/3 cup thinly-sliced red onion
3/4 cup apple cider vinegar
1 cup uncooked farro
4 medium portobellos
4 cups lacinto kale, de-stemmed and thinly sliced
1 cup cherry tomatoes, quartered
3 tablespoons minced shallots
1 tablespoon fresh lemon juice
2 tablespoons white wine vinegar
1 tablespoon tahini
1/4 cup extra-virgin olive oil
1/4 teaspoon sea salt
black pepper, to taste
1 tablespoons Bragg's Aminos or soy sauce
Instructions
Pickle the red onions overnight by adding them to an airtight jar and pouring the apple cider vinegar over top. Refrigerate for at least 4 hours or overnight. After they've pickled, chop the red onions and set aside.
Preheat oven to 400 degrees Fahrenheit.
Thoroughly rinse the farro and add to a medium pot along with three cups of water. Bring to a boil, reduce heat, cover, and simmer for 30-35 minutes or until tender. Drain and set aside.
Clean, de-stem, and scoop out the gills of the portobello mushrooms. Place all four, gill-side-down, on a large baking sheet lined with parchment pepper. Sprinkle with the tops with salt and pepper and roast for 20-25 minutes or until tender. Let cool and slice.
To make the dressing, add minced shallots, lemon juice, white wine vinegar, tahini, olive oil, sea salt, and black pepper to a bowl and whisk together.
To assemble the salad, add the sliced lacinto kale to a large bowl and pour the dressing over top. Massage the dressing into the kale for 1-2 minutes. It will seem like there is too much dressing, but there are plenty more ingredients to add!
Add in the cooked farro, cherry tomatoes, chopped red onion, and aminos or soy sauce. Toss the farro salad until the dressing is evenly distributed.
To plate, scoop a mound of the farro salad onto a plate and gently layer a sliced portobello alongside the salad. Serve and enjoy.
Refrigerate leftovers.