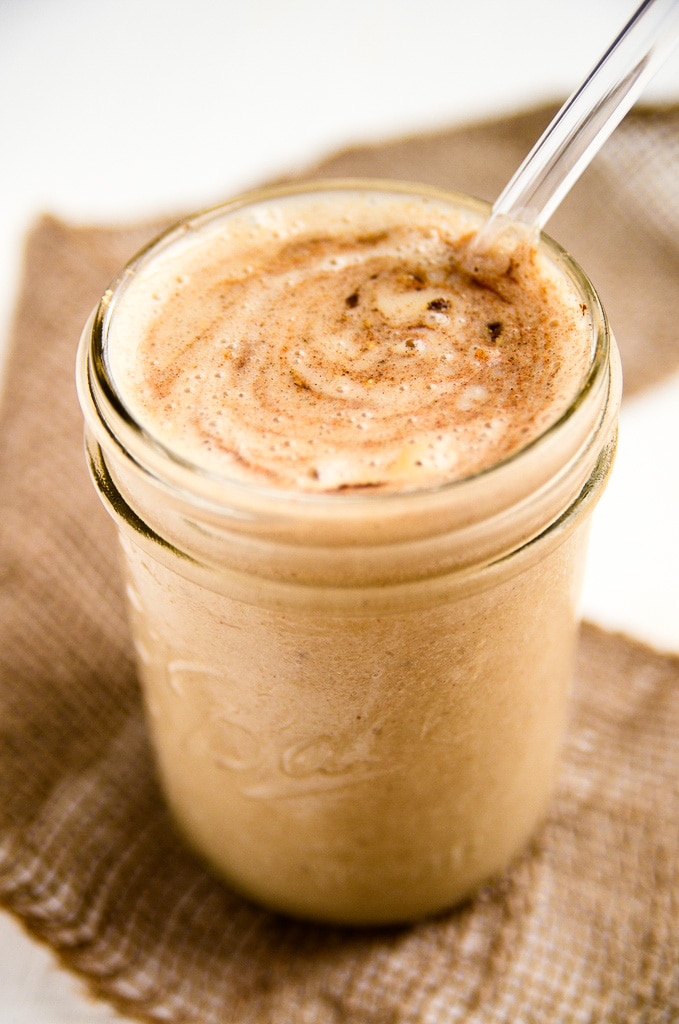 I've been doing a post-now-or-later dance with this recipe for the last week or so. Is it summery because it's a cold smoothie or fall-ish because it's spiced? The only answer I have: it's delicious.
Here's to tossing caution to the late summer breezes and hoping that the early fall winds catch it.
It's turned out to be the perfect breakfast for the cool August weather we've been having in Chicago (no joke: I just witnessed a flock of geese flying south in a V formation); warming spices plus a cold, vanilla smoothie feels like a combination that was created for an unexpected chilly spell in summer.
As with most smoothie recipes, this one is easy like Sunday morning. No fussiness or complications here, just simplicity at its creamiest. Frozen bananas are blended with a hearty splash of almond milk, vanilla extract, cinnamon, ginger, cardamom, and cloves. If you're a total chai fanatic, go on with your spicy self and double the amounts for each spice. The current ratio lends a light chai hue rather than a bold, in-your-face chai flavor.  Either way, the result is a dreamy, spicy, and sweet mixture that will have you making that obnoxious slurping sound through your straw. No judgment here; we're all friends, and I slurp hard.
Today's Sound Bite is a song that I've listened to countless times over the past few years. It's an easygoing, feel-good song, and it just feels right for this particular recipe.
Sweet + Spiced Vegan Vanilla Chai Smoothie
Author:
Ashley Melillo | Blissful Basil
Recipe type:
Smoothie, Breakfast, Snack
Ingredients
2 frozen bananas
3/4 cup almond milk
1 teaspoon vanilla extract
1/4 teaspoon ground cinnamon
1/4 teaspoon ground ginger
1/8 teaspoon ground cardamom
1/8 teaspoon ground cloves
Instructions
Add all ingredients to a high-speed blender.
Blend on high until smooth and creamy (approximately 2-3 minutes).
Pour into a glass and serve immediately.
Notes
As is, the recipe produces a smoothie with a light chai flavor. If you prefer an intense, spicy chai flavor, double the amount for each spice.