Sweet potato, sweet potahto. No matter your choice of pronunciation, sweet potatoes speak our bodies' health language. They're rich in Vitamins A, C, and B6, and packed with fiber, manganese, and potassium. Plus, they're absolutely delicious and rock that vivacious orange hue year-round. And who doesn't get down with vitamin-rich vivaciousness?
Over the last few years, the trend in pizza making has been to use veggies (e.g., cauliflower) and other unexpected ingredients (e.g., quinoa) as the base in pizza crust. I have recipes for cauliflower pizza crust and quinoa pizza crust on the blog, and both pleasantly surprise me time and time again. So, after going a little wild with my sweet potato purchases while grocery shopping the other week, I figured I best transform my favorite fall staple into something a bit out of the pizza box.
I'm willing to bet you've already made an educated guess based on the title of this post, but that pile of sweet potatoes was steamed, mashed, and mixed into the most delicious plant-based pizza crust I've evah tasted. Sweet potatoes are mixed with oat flour, a bit of almond meal, a chia egg, olive oil, apple cider vinegar, and a zesty array of spices. Then, the mixture is plopped on a pizza pan, spread into a circle, and nudged into a toasty oven.
The crust puffs as it bakes thanks to the apple cider vinegar, and the seasonings create the most wonderful aroma. The outer edges become subtly crispy while the interior is sturdy yet tender and oh-so-good. Although I love both cauliflower and quinoa crusts, sweet potato crust takes the cake pizza pie. You can honestly add whatever toppings your pizza-seeking soul desires, because just about anything is amazing nestled atop this flavorful crust. For the photos, I topped it with homemade pizza sauce, vegan parmesan, artichokes, cherry tomatoes, and basil before broiling it another 5 minutes to wilt the toppings ever so slightly. However, other combinations I've loved include 1) pizza sauce, vegan mozzarella, tomatoes, and basil, 2) vegan mozzarella, garlic, tomatoes, and chili flakes, and 3) pizza sauce, vegan mozzarella, portobello mushrooms, and arugula.
It's hard to go wrong with a crust that's so right. Oh yeah, I went there. It's the crust talking; its deliciousness has me all flustered.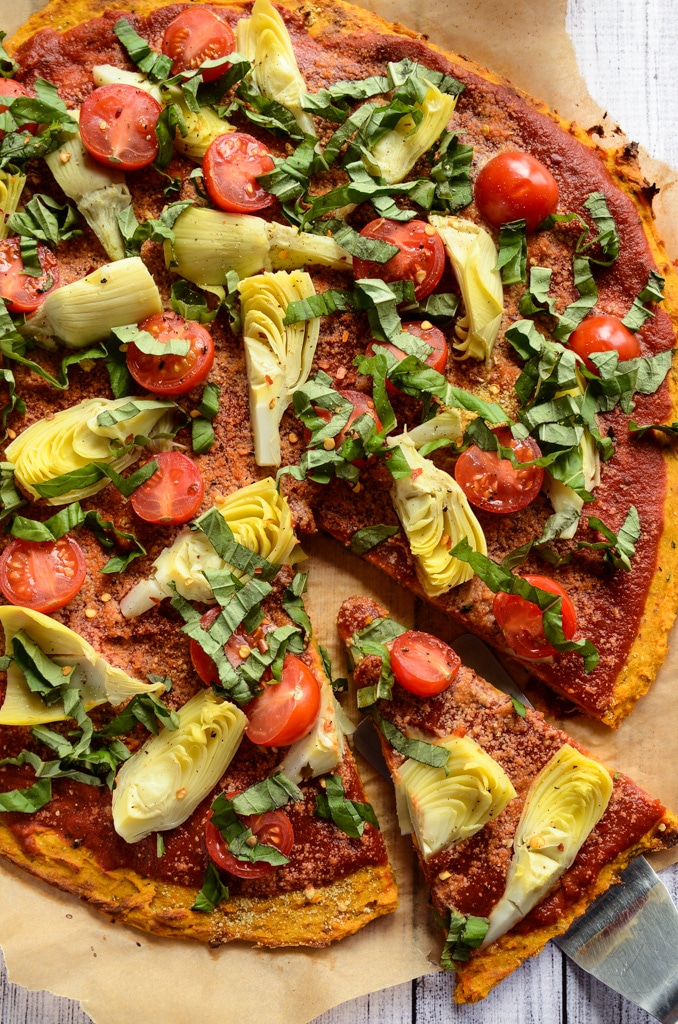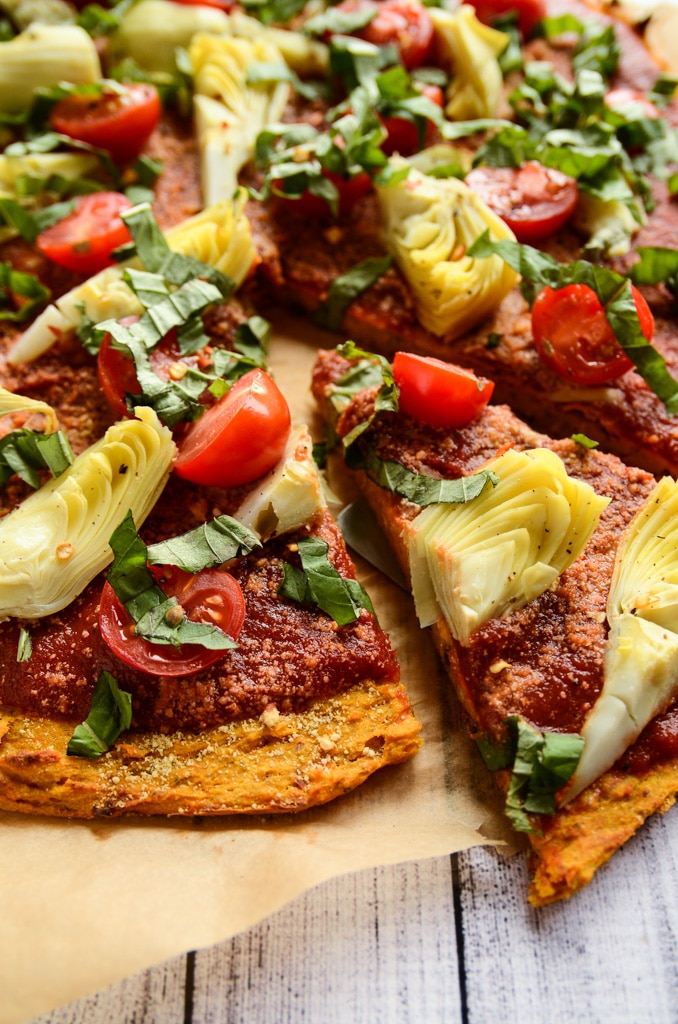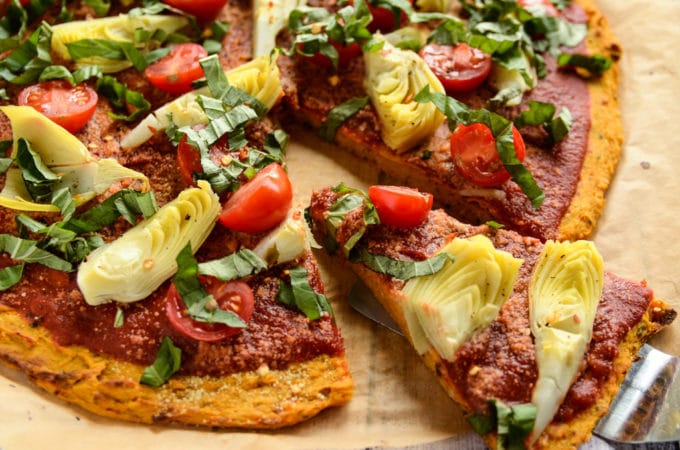 Sweet Potato Pizza Crust | Vegan & Gluten-Free
Author:
Ashley Melillo | Blissful Basil
Recipe type:
Pizza, Crust
Ingredients
5 1/2 cups peeled and small-cubed sweet potatoes (about 2 large sweet potatoes)
1 tablespoon chia seeds
3 tablespoons water
1 1/4 cup gluten-free oat flour
1/4 cup almond meal
1 tablespoon olive oil
1 tablespoon apple cider vinegar
1 teaspoon dried basil
1 teaspoon dried oregano
1 1/4 teaspoons garlic powder
1/2 teaspoon fine-grain sea salt
Pinch of chili flakes
Instructions
Be sure to measure out 5 1/2 cups of sweet potato cubes (i.e., don't estimate based on the number of potatoes). Steam the sweet potato cubes in a steamer or over the stove for 30 minutes or until fork-tender.
Add the chia seeds and water to a small bowl, whisk with a fork, and let stand at room temperature for 10 minutes to create a chia egg.
Preheat oven to 400F.
Add the steamed sweet potatoes to a large mixing bowl and mash them.
Add in the chia egg, oat flour, almond meal, olive oil, apple cider vinegar, basil, oregano, garlic powder, sea salt, and chili flakes. Stir together until combined and all of the oat flour has been incorporated. The mixture should resemble a loose bread dough—sticky and damp yet slightly stretchy.
Line a round perforated pizza pan (i.e., vented) with parchment paper.
Scoop the sweet potato dough onto the lined pizza pan, and use a spatula to spread it into a large 1/4-inch-thick to 1/3-inch-thick oval or circle. This process takes 5 minutes. If needed, lightly grease the spatula with olive oil to prevent the crust from sticking.
Bake for 25 to 35 minutes, or until the crust is well set and the edges are golden brown.
Remove from the oven and let cool slightly.
Add desired toppings (e.g., pizza sauce, vegan parmesan, artichokes, cherry tomatoes, basil) and return the pan to the oven and cook for another 5 to 10 minutes or broil for 5 minutes, until the toppings reach desired doneness.
Slice and serve immediately.
Refrigerate leftovers* for up to 4 days.
Notes
*There tends to be some variability in baking time across kitchens, so you may need to bake up to 40 minutes to ensure the center of the crust is set. Alternatively, divide the dough into two pieces, spread each mound of dough out into a 1/4-inch-thick to 1/3-inch-thick layer on two separate pizza pans (forming two crusts), and bake each for 22 to 25 minutes, or until the edges are light golden-brown and the center of the crust is set. Then, add toppings and bake another 5 to 10 minutes.
**To reheat leftovers: Preheat the oven to 400F. Spread the leftover pizza slices onto a parchment-lined baking pan, and bake for 8 to 10 minutes, or until warmed through and the bottom of the slices becomes slightly crisp.