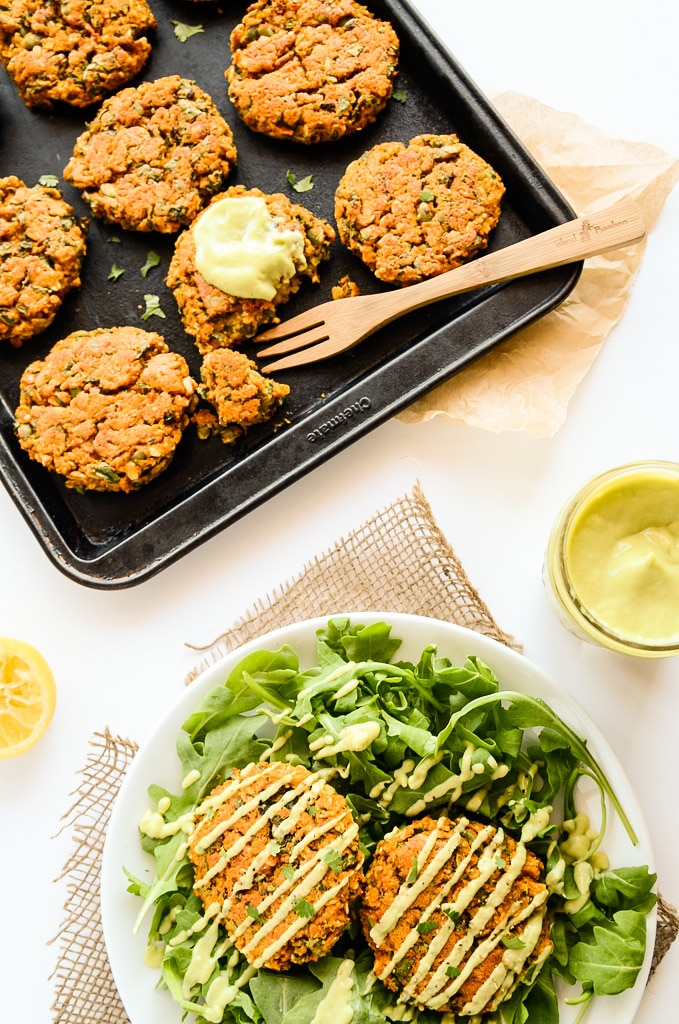 It seems I have a hankering for lentils lately. Don't worry, I'm not going to bore you with a list of lentil facts like I did in this post. This time, I think it's best that we go straight into the description, because it's a doozy in the most wonderful of ways.
Versatile.
Fresh.
Flavor-packed.
Light.
Protein-rich.
Savory.
Slightly sweet.
Nutty.
And covered in a creamy, lemony avocado sauce. In my books, this fact alone means end of story, game over, I'm making this recipe stat.
To make these blazing-orange veggie cakes (that color is so bright it almost hurts my eyes), you'll mix together steamed sweet potatoes, cooked red lentils, oats, kale, lemon juice, dried spices, fresh herbs, and just enough seasonings to make the flavors POP. Then, you'll form all that goodness into patties and bake them in the oven until their exteriors are crisp and just a touch golden. No need to add much more color to these bright beauties.
Then, the best part happens. The citrusy, creamy, garlicky deliciousness that is the Lemony Avocado Sauce. Really technical, snazzy name, huh? I thought of that one all on my own.
The avocado sauce is drizzled (or dumped… go on, don't be shy) on top of the crispy cakes and adds a splash of bright freshness to every bite.
The patties can be served on their own, over a bed of greens, in a pita pocket, or even on a hamburger bun. You can also freeze the cooked cakes and then thaw them as needed for quick, on-the-go meals. Each cake has 8 grams of protein, and I recommend enjoying two per serving, so a whopping 16 grams of plant-based protein in the cakes alone. Not too shabby.
Sweet Potato & Lentil Cakes with Lemony Avocado Sauce
Author:
Ashley Melillo | Blissful Basil
Recipe type:
Entree, Main
Ingredients
3 cups peeled and cubed sweet potatoes (about 2 medium sweet potatoes)
1 cup split red lentils, thoroughly rinsed
2 cups water
1 cup rolled oats, divided
2 garlic cloves, minced
1 tablespoon fresh lemon juice
1 tablespoon olive oil
1 teaspoon smoked paprika
1 teaspoon cumin powder
3/4 to 1 teaspoon sea salt or to taste
1/8 teaspoon cayenne pepper
black pepper, to taste
1 cup chopped dino or lacinto kale
1/2 cup shelled pumpkin seeds (pepitas)
1/4 cup shelled hemp seeds
1/4 cup chopped fresh cilantro leaves
2 tablespoons chopped fresh chives
1 batch Lemony Avocado Sauce (see recipe below)
Instructions
Steam the sweet potatoes in a steamer or over the stove for 25-35 minutes or until fork-tender. Set aside to cool.
While the potatoes are steaming, add the rinsed lentils and 2 cups water to a medium pan. Bring to a boil, reduce heat, and simmer uncovered for 20-25 minutes or until tender. Add in water as needed to keep the lentils submerged. Drain off excess water and set aside.
Preheat oven to 400 degrees Fahrenheit.
Add the steamed sweet potatoes, cooked lentils, 1/2 cup of the rolled oats, garlic, lemon juice, olive oil, paprika, cumin, sea salt, cayenne pepper, and black pepper to a food processor. Pulse 10-15 times or until the mixture is chunky but ingredients are incorporated.
Transfer the mixture to a large mixing bowl. Add in the reserved 1/2 cup rolled oats, kale, pepitas, hemp seeds, cilantro, and chives. Gently stir to incorporate.
Line a large baking sheet with parchment paper or a silpat.
Form the mixture into 12 3-inch patties. Place each on the baking sheet. Note: the uncooked mixture is very wet and a bit challenging to form into patties, but just be patient and they will come together. You can also try spraying your hands with cooking spray to keep the mixture from sticking.
Bake the patties for 25-30 minutes, being sure to flip them at the 15-minute mark. Your patties will be a light golden color when they're done.
Let them cool completely and serve alongside the Lemony Avocado Sauce.
Notes
These Sweet Potato & Lentil Cakes can be served on their own, over a bed of greens, in a pita pocket, or even on hamburger buns topped with the Lemony Avocado Sauce.
Nutrition Information
Serving size:
2 patties
Calories:
329
Fat:
10 g
Saturated fat:
2 g
Trans fat:
0 g
Carbohydrates:
46 g
Sugar:
10 g
Fiber:
9 g
Protein:
16 g
Cholesterol:
0 mg
Lemony Avocado Sauce
Author:
Ashley Melillo | Blissful Basil
Ingredients
1 avocado
1/2 cup water
2 tablespoons fresh lemon juice
1 garlic clove
1/4 teaspoon sea salt or more, to taste
black pepper, to taste
Instructions
Add the flesh of the avocado, water, lemon juice, garlic, salt, and pepper to a high-speed blender. Blend on high for 2-3 minutes or until the sauce is smooth and creamy. Pour in a glass jar and serve alongside the Sweet Potato + Red Lentil Cakes.
Notes
This recipe makes enough to serve alongside 6 Sweet Potato + Red Lentil Cakes. If you're going to be serving all 12 cakes at once, I recommend doubling the recipe.