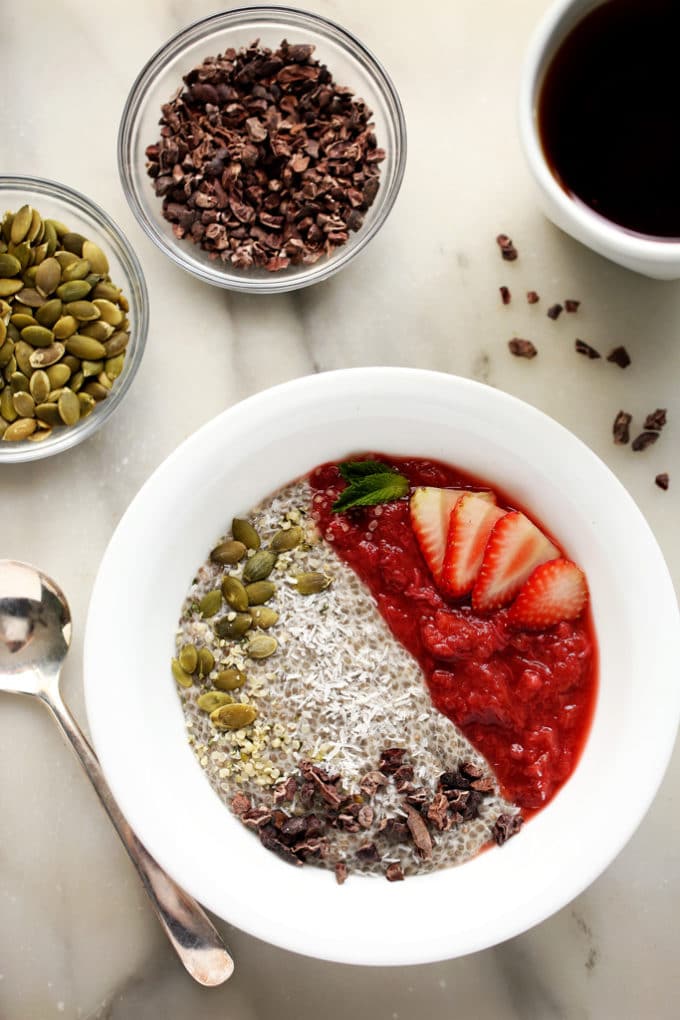 First and foremost, thank you for the outpouring of support in response to this news. Your comments, emails, and social media shout-outs touched my heart, and I'm feeling more grateful than ever to be part of such a positive and supportive community.
Second on the docket, this breakfast bowl.
Strawberry-rhubarb is my favorite fruit couple. The sweetness of the strawberries combined with the tartness of the rhubarb preys on the addiction-prone portion of my taste buds, and I can never seem to get enough. And it's difficult not to be enticed by that rich ruby color. It glows.
This breakfast bowl is energizing and versatile. It requires two basic components: vanilla chia pudding + stewed strawberry-rhubarb. Those two either get cozy in a bowl alongside one another or layered, one after the other, in an on-the-go-friendly jar. The toppings are left up to you, but I suggest a variety of energizing nuts, seeds, nibs, and fruit. And maybe even a mint leaf for a pop of green.
Here's another shot of the breakfast bowl option…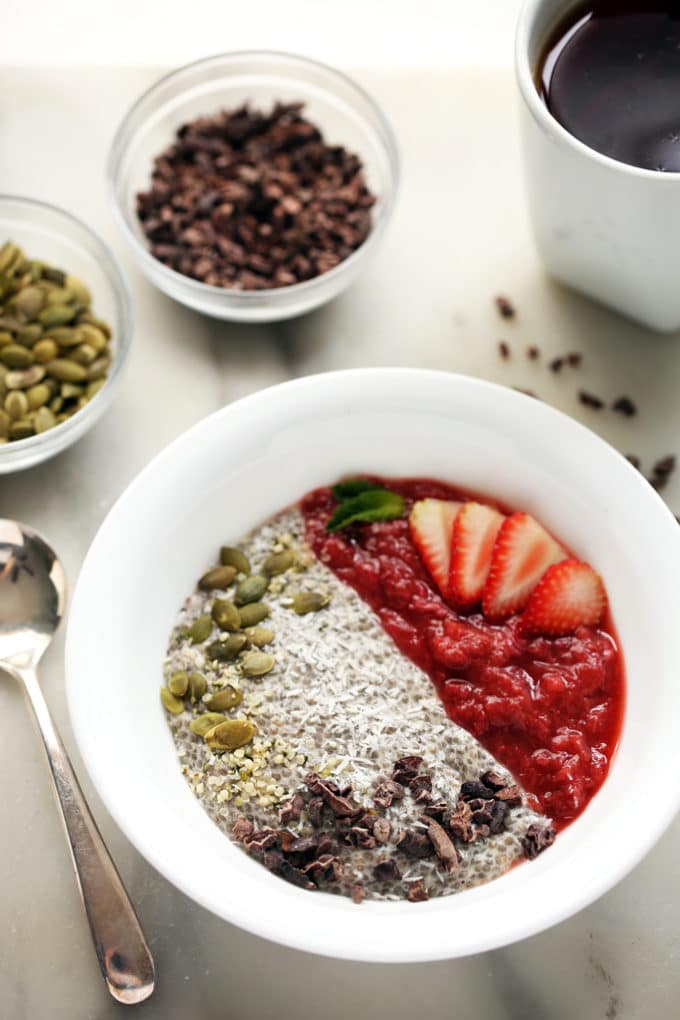 And here's a shot of the transportable jar option…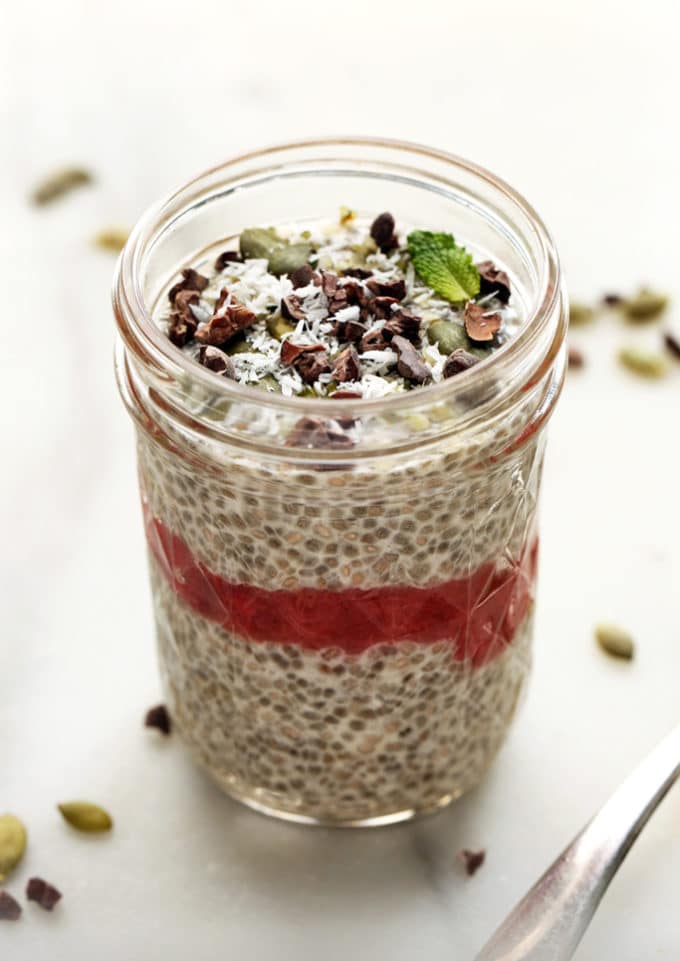 I like to make everything on Sunday morning, layer it in jars later that evening, and then add toppings each morning before heading off to work. The variety of textures and the brightness of the strawberry-rhubarb makes it a little more bearable to hop out of bed at the crack of dawn, and it always feels good to kick off the day with a healthy, nutrient-packed breakfast.
Also, that dark and mysterious cup of tea in the corner of the first and second photos is a chai tea, Portland Rose City Chai, to be exact. It's from a company called Plum Deluxe that was started by Andy Hayes after his mother lost a 5-year battle with cancer. She taught him that "no matter your circumstances, you can choose to create moments that matter, every day."
The tea is organic, fair trade, non-gmo, gluten-free, vegan, and free from harmful chemical flavorings. It's an honest tea, and it's seriously amazing. If you haven't had a chance to grab a mother's day gift for that special lady in your life, I definitely recommend checking out Plum Deluxe's teas. And I should probably state that this isn't a sponsored post or mention. I just happened to be lucky enough to try a sampling of this tea and quickly fell in love with it as well as the philosophy and heartfelt story behind it.
Strawberry-Rhubarb & Coconut Chia Pudding Breakfast Bowl
Author:
Ashley Melillo | Blissful Basil
Ingredients
Coconut Chia Pudding
1 1/2 cups coconut milk (from a carton not a can)
1/3 cup chia seeds
2 to 4 tablespoons pure maple syrup or to taste (I use 3 tablespoons)
2 teaspoons pure vanilla extract
Stewed Strawberry-Rhubarb*
1 1/2 cups quartered fresh strawberries
1 1/2 cups sliced rhubarb (about 1 large stalk)
3 to 4 tablespoons pure maple syrup, depending on the sweetness of your fruit
2 tablespoons filtered water
1/4 teaspoon cardamom, optional
Toppings
hemp hearts
pepitas
fresh strawberries
coconut flakes
cacao nibs
mint leaves
Instructions
Coconut Chia Pudding
In a medium-sized airtight container, whisk together the coconut milk, chia seeds, maple syrup,and vanilla all of the chia seeds are free-floating within the liquid and there are no lumps. Refrigerate for at least 8 hours or overnight. Thoroughly whisk after refrigerating.
Stewed Strawberry-Rhubarb
In a medium saucepan, combine the strawberries, rhubarb, maple syrup, water, and cardamom over medium-high heat. Bring to a simmer, reduce heat to medium-low, cover, and cook for 15 minutes or until the fruit has broken down, stirring occasionally. Let cool completely, transfer to an airtight jar, and refrigerate until ready to use.
To assemble breakfast bowls, scoop approximately a 1/2 cup of chia pudding into each bowl or jar, top with 1/3 cup of the stewed strawberry-rhubarb, and sprinkle with desired toppings.
Notes
*I recommend preparing the stewed strawberry-rhubarb ahead of time.