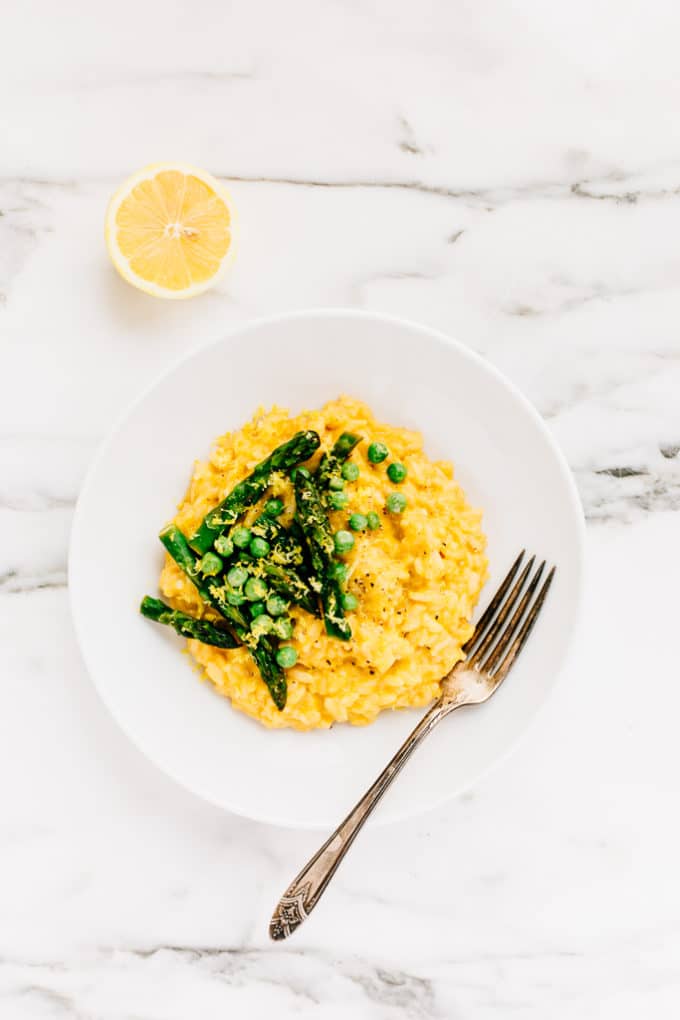 This is a sponsored post written by me for the #ThinkRice USA Rice campaign as a member of the Healthy Aperture Blogger Network. All opinions, thoughts, etc. are 100% my own.
Risotto has been a favorite of mine since I was a young, ever-so-slightly-feisty teenager. It was a dish that frequented our dinner table on Tuesday nights (aka "family dinner night"), and I loved watching the dedication that went into making it. Every time my mom and step dad (pops) would make it, that I-don't-care adolescent attitude would soften into gently enthused curiosity. Wait, you can't stop stirring it? Not ever until it's done? Why? What makes it so creamy? Do you think I could learn how to make it too?
Here's what I learned from all that awe-inspired questioning over the years…
Risotto doesn't ask for much; no fancy ingredients or expert chopping skills required. It does, however, demand a little love, a dose of patience, and enough arm endurance to get you through 20 to 25 minutes of nonstop stirring. But your efforts will always be rewarded, because risotto gives back the love it takes. If you lend it your undivided attention and promise not to leave its stoveside, you'll be comforted by the creamiest, dreamiest rice ever. But walk away from it or neglect it, and risotto will become your teacher, showing you exactly why you must never leave it. As it turns out, patience is a virtue in both life and risotto making. And a little steadfast determination doesn't hurt either.
Lessons in risotto and life from my kitchen to yours. ♥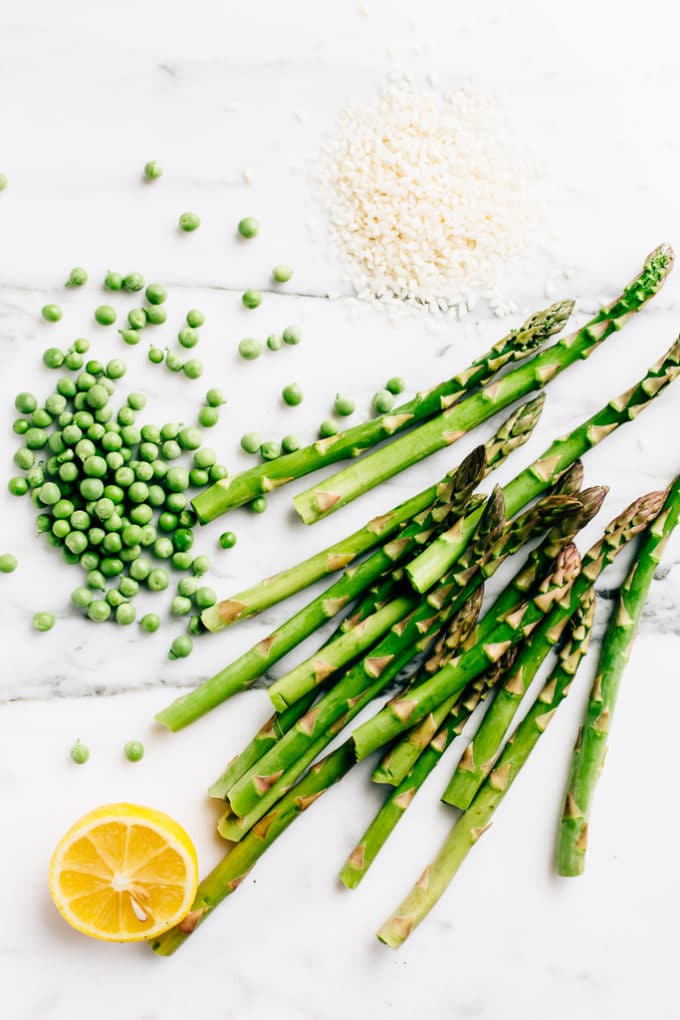 Although most short-grain varieties of rice work well in risotto, I kept it classic and used Arborio Rice for this recipe. It's gluten-free and considered to be one of the easier rice grains for the body to break down. Plus, like other rice, Arborio is packed with folic acid, B vitamins, potassium, magnesium, selenium, fiber, iron, and zinc. So you can have your vitamins + minerals and eat dreamy risotto too.
The constant stirring technique used to make risotto causes the Arborio Rice to release its starches as it cooks, lending an intense, creamy quality without the need for added cream. That being said, a little cashew cream takes a vegan risotto dish from good to excellent. I learned this while testing and re-testing a risotto dish for the cookbook, and I'll never make risotto without it again. It adds a luscious, silky touch that'll make your knees buckle — brace yourself. For this particular recipe, you have the option to finish the dish with a roasted garlic cashew cream. And let me tell you, it's worth the added roasting time and then some.
That ultra-creamy, garlicky risotto gets topped with an exceptionally spring-like array of sautéed veggies. Fresh asparagus and sweet peas are sautéed in a bit of olive oil for just five minutes or until crisp-tender. Then, they're seasoned with lemon zest (optional), fresh lemon juice, sea salt, and black pepper.
The lemon zest and lemon juice offer a bright spring flavor to the veggies, and their acidity balances that rich, savory risotto in the best of ways.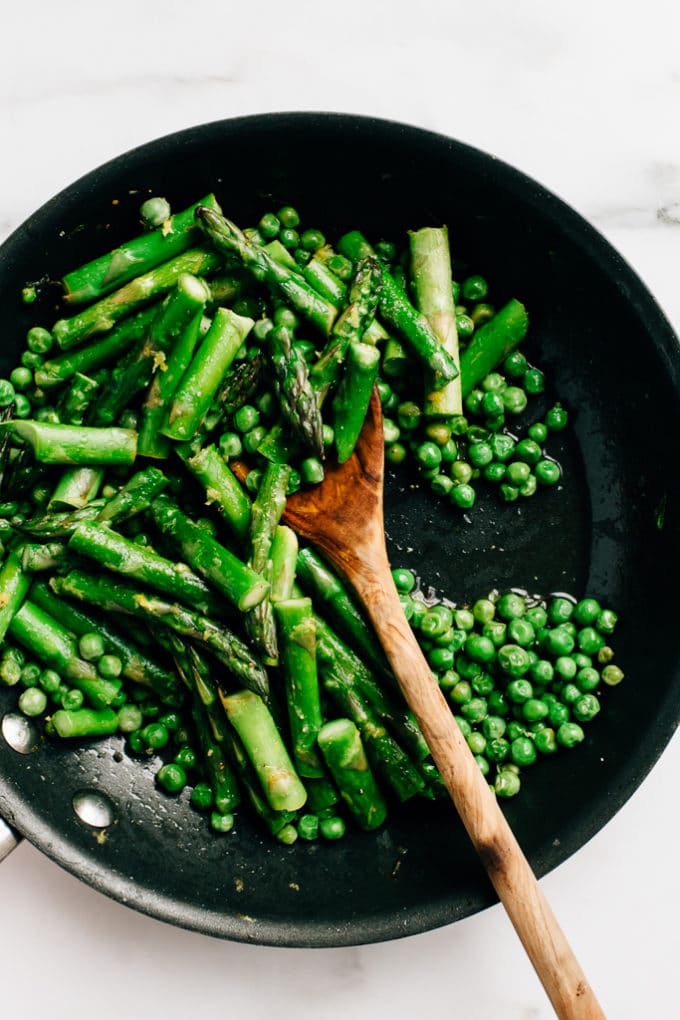 Alright, turn on some feel-good tunes, grab your favorite wooden spoon and a cupful of Arborio Rice, and let's get stirring.
Spring Risotto with Asparagus, Peas + Roasted Garlic Cashew Cream (Vegan)
Roasted garlic cashew cream is woven throughout an already creamy risotto, yielding a vegan risotto of epically creamy proportions. That creamy risotto is topped with a simple sauté of sweet peas and asparagus that gets finished with a squeeze of fresh lemon juice. The result is a risotto that's destined to be enjoyed in the midst of breezy spring weather.
Ingredients
Roasted Garlic Cashew Cream (optional but recommended)
1

head roasted garlic*

1/3

cup

raw cashews, soaked in water for at least 30 minutes, drained

1/3

cup

filtered water
Sauteed Spring Veggies
1

tablespoon

extra-virgin olive oil

12

ounces

fresh asparagus, ends snapped and cut into 2-inch pieces

1

cup

fresh raw shelled sweet peas

Zest of 1 lemon

(optional)

1

tablespoon

fresh lemon juice

Sea salt and freshly ground black pepper, to taste
Risotto
4

cups

low-sodium vegetable broth

2

cups

filtered water

1 1/2

tablespoons

extra-virgin olive oil

1

large shallot, minced (about 1/3 cup)

2

cloves

garlic, minced

1

cup

U.S.-Grown Arborio Rice**

1/2

cup

room-temperature dry white wine

1/2

tablespoon

fresh lemon juice

1 to 1 1/2

teaspoons

sea salt, to taste

Freshly ground black pepper, to taste
Instructions
Roasted Garlic Cashew Cream (Optional but recommended)
Preheat oven to 400F.

Start by roasting your garlic (see notes for a tutorial*) until soft and tender (about 40 minutes). Let cool. Squeeze the roasted garlic cloves into a high-speed blender (discard the tough skin from the bulb). Add the cashews and filtered water, and blend on high until completely smooth and creamy. Place within reach of stove.
Sautéed Spring Veggies
Meanwhile, heat the olive oil over medium in a large pan. Add the asparagus and cook for 3 minutes, stirring frequently. Then add the peas and cook another 2 minutes or until the asparagus is crisp-tender. Remove from heat and stir in the lemon zest and fresh lemon juice. Generously season with sea salt and black pepper. Set aside.
Risotto
Once both the cashew cream and spring veggies are completely prepared, heat the vegetable broth and water in a large stock pot over low heat until hot and simmering. It's important to keep the broth hot throughout the cooking process.

Add the olive oil, shallots, and garlic to a large sauté pan and turn the heat on medium-low. Cook for 2 to 4 minutes or until the shallots are just starting to turn translucent, stirring occasionally.

From here on out, no straying from the stove. Risotto requires constant stirring and your complete and undivided attention. Throw on some energizing beats and let's get to it.

Add the arborio rice to the pan and toast for 4 minutes or until the rice is pale golden and mostly translucent with just a small fleck of white in the center, stirring constantly. Take your time with this step as it's important to break down the wall of the grain so that it can absorb liquid as it cooks.

Add the white wine and cook for 2 minutes or until almost absorbed, stirring constantly.

Increase the heat to medium, and use a ladle to add approximately ½ a cup of the hot vegetable broth to the pan. Use figure-eight motions to stir the rice constantly as it absorbs the broth. When nearly all of the broth has been absorbed, add in another ½ cup of vegetable broth. Repeat this process, adding broth, stirring constantly, and never leaving the pan, until all of the broth has been used or until the risotto is thick, creamy, and tender. You may not need to use all of the broth. This typically takes about 20 to 25 minutes.

Turn off the heat and stir in the roasted garlic cashew cream, lemon juice, sea salt, and black pepper. Divide between plates or bowls and top with the spring veggies. Serve immediately.
Recipe Notes
*Approximately two 1-ounce heads of garlic. Oh She Glows has a great tutorial on roasting garlic.
**March is National Nutrition Month, making it the perfect time to Think US-Grown Rice. Albeit a tiny grain, rice is nothing short of mighty, offering more than 15 essential vitamins and minerals, including folic acid, B vitamins, potassium, magnesium, selenium, fiber, iron, and zinc. Eating U.S.-grown rice also helps the environment by reducing food miles. A win-win.