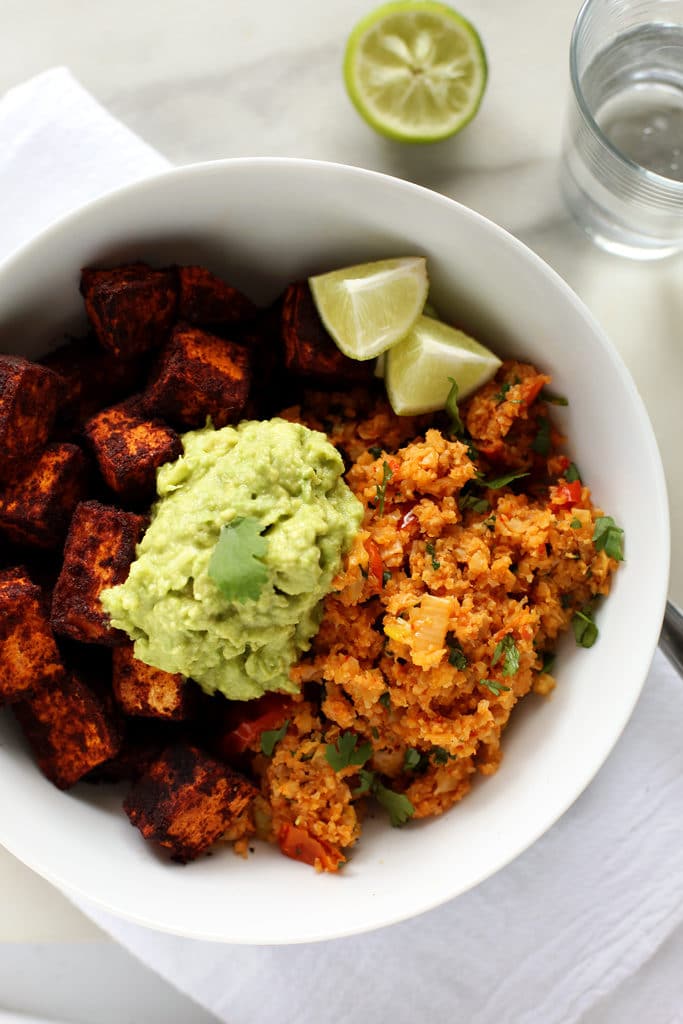 A few weeks ago, I posted a photo of the above meal to Instagram and Facebook without giving much thought to it. It was a combination of two different recipes from the blog with a few twists and adjustments, and I had thrown it together in a pinch before Dan and I settled in to watch a movie. It appeased my inattentive taste buds but I thought the combination was a bit random to appeal to the masses.
I should probably stop making assumptions because a few days later while I was catching up on social media, I noticed that my Facebook post had garnered a handful enthusiastic requests for the recipe. There were even a few comments with kindly-conveyed undertones of frustration because I hadn't shared the details of what was in my haphazardly-concocted meal. I got the message, and I figured I better do something about it.
In response to all the hubbub, I decided to remake the combination and share the exact recipe on the blog. It's a modified combination of this rice and this power bowl with adjustments to the rice to pair better with the spiced sweet potatoes and a kick of garlic in the avocado mash because why not? Garlic is awesome.
The result is a bit of a hodgepodge of flavors, textures, and colors, and I love it. The spicy cauliflower rice warms and entices; the cinnamon-paprika sweet potatoes comfort and soothe; and the avocado mash seamlessly unites two elements that might otherwise taste chaotic and incoherent when nestled up in the same bowl.
I can't get enough of this meal right now, and I've made it four times in the last two weeks. There's something a little magical and swoon-worthy about its randomness. I hope it was worth the wait and that you enjoy it as much as I do!
Spicy Cauliflower Rice, Cinnamon-Paprika Sweet Potatoes & Avocado Mash
Author:
Ashley Melillo | Blissful Basil
Recipe type:
Entree, Power Bowl
Ingredients
Roasted Cinnamon-Paprika Sweet Potatoes
2 medium sweet potatoes, peeled and cut into 1-inch cubes (about 4 cups)
2 tablespoons grapeseed oil or other high-heat oil
1 tablespoon ground cinnamon
1 tablespoon smoked paprika
sea salt, to taste (I use 1/4 to 1/2 teaspoon)
Spicy Cauliflower Rice
1 head medium cauliflower, cut into florets
1 tablespoon toasted sesame oil
5 scallions, thinly sliced (white and light green parts only)
1 cup cherry tomatoes, quartered
2 to 3 tablespoons rice wine vinegar
1 to 2 tablespoons reduced-sodium tamari or soy sauce
1 to 2 tablespoons chili-garlic paste or sriracha
1/4 cup chopped chives
1/4 cup chopped cilantro leaves
Avocado Mash
1 avocado, pitted and peeled
1 tablespoon fresh lime juice or to taste
1 garlic clove, minced
sea salt, to taste
Instructions
Roasted Cinnamon-Paprika Sweet Potatoes
Preheat your oven to 425F.
Line a large baking sheet with parchment paper.
Place the sweet potatoes on the baking sheet, drizzle with the oil, and sprinkle on the cinnamon, paprika, and sea salt. Use your hands to toss to coat the potatoes with the oil and spices.
Roast for 25 to 30 minutes or until fork-tender and golden, flipping at the 15-minute mark.
Spicy Cauliflower Rice
Rice the cauliflower florets by either processing in a food processor with a grater attachment, pulsing in a food processor with a s-blade, or grating by hand with a grater.
Add the sesame oil to a large skillet and heat over medium heat.
Add in the cauliflower, scallions and tomatoes and cook for 8 to 10 minutes, stirring occasionally.
In a small bowl, whisk together the rice vinegar, tamari or soy sauce, and chili-garlic paste. Adjust according to preferences.
Add the sauce to the pan and cook for 6 to 8 minutes or until the "rice" develops a slight golden color throughout and the liquid has cooked off, stirring frequently. Remove from heat and stir in the chives and cilantro.
Avocado Mash
In a small bowl, combine the avocado, lime juice, garlic, and sea salt. Use the back of a fork to mash the avocado.