A case of food blogger writer's block is a bit like getting all sparkly and shiny for a big event and having that event canceled at the last minute; I've got the dress photos, I've got the hot date recipe, but the main event writing  is just. not. happening.
When faced with writer's block, my default solution is to think of every funny/embarrassing thing that has ever happened to me in hopes of narrowing that large pool of silliness down to one story that might grab your attention (prime example: the post about losing my shoe on an interview). After nixing all of my funny/embarrassing stories for this post [e.g., the time I thought my 6th grade crush finally realized I existed when it turned out that my fly was down and he felt compelled to inform me  (cares about others well-being: check) or the time I asked one of the most popular boys in my high school class to the Turnabout Dance over the phone and he responded, "Hold on, let me get my yearbook out so I can see who you are…" Thankfully he followed that statement with a "yes"], I'm left with a blank screen and the realization that although those stories still make me blush, they also make me laugh. Hindsight is 20/20, and the passage of time has the power to transform memories from mildly devastating to pretty darn hilarious.
Now that I've aired a few of my teenage grievances, I suppose it's time to describe this breakfast recipe. Dan recently informed me that I don't have enough savory breakfast recipes on Blissful Basil, and he's right. I only have a handful, and the bulk of them were written during my first year of blogging. So, this southwest sweet potato hash was created as the first of many savory breakfast building blocks, and its sturdy, reliable nature serves the purpose well.
Sweet potatoes, yellow onions, and garlic are cooked to slightly-caramelized perfection along with smoked paprika, cumin, and turmeric. A handful of fresh cilantro is folded in to add brightness and balance. The toppings on this dish are truly what takes it from good to delicious; fresh pico de gallo, poblano-spiced guacamole, and a chipotle cream are layered on top of the hash to create a mountain of goodness.
This breakfast contains a wide array of nutrition and although hearty, it's also incredibly energizing. Rather than weighing you down or giving you a case of post-brunch drowsiness, this breakfast will fuel you far into your day. I love the way all of the flavors (sweet, spicy, citrusy) come together to create such a vibrant and well-balanced dish. This is definitely a new go-to special breakfast in our home, and I hope it becomes one in yours, too.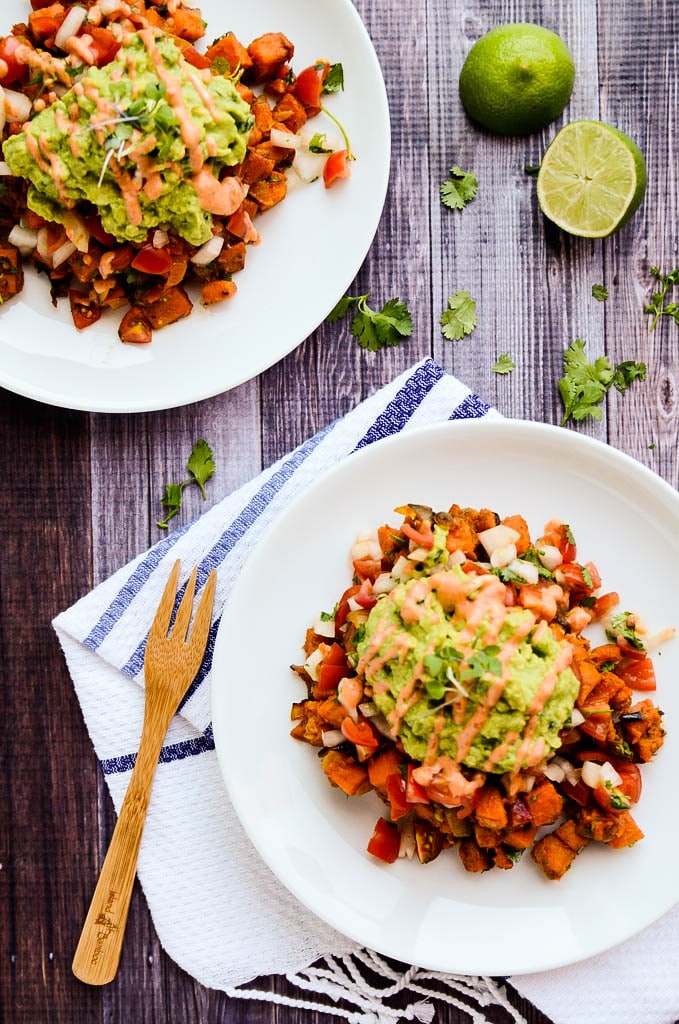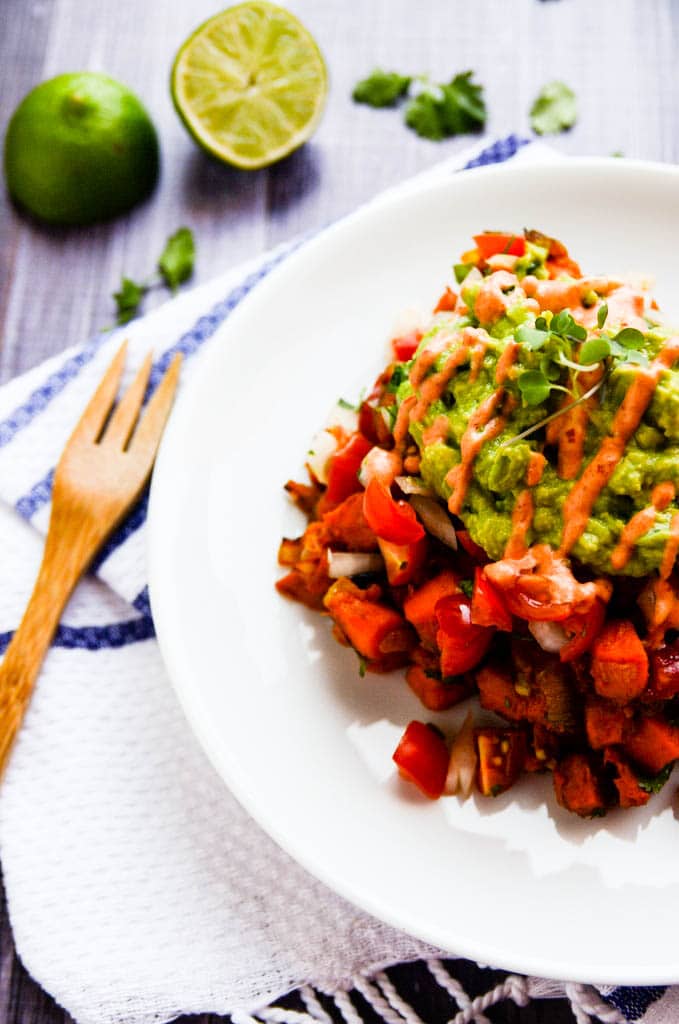 Southwest Sweet Potato Breakfast Hash
Author:
Ashley Melillo | Blissful Basil
Ingredients
For the Sweet Potato Hash
1 tablespoon virgin coconut oil or olive oil
2 garlic cloves, minced
1 medium yellow onion, diced (about 2 cups)
4 cups peeled and cubed sweet potatoes
1 teaspoon smoked paprika
1/2 teaspoon cumin
1/2 teaspoon turmeric
1/4-1/2 teaspoon sea salt or to taste
1/4 cup chopped fresh cilantro
For the Guacamole
1 avocado
1/2 to 1 lime
1/2 poblano pepper, deseeded and finely diced
sea salt, to taste
For the Pico de Gallo
1 cup diced grape tomatoes
1/2 cup finely diced white onion
1/4 cup chopped fresh cilantro
sea salt, to taste
For Chipotle Cream (Optional)
1/2 cup coconut cream
1 tablespoon minced chipotle peppers in adobo sauce
1 tablespoon water
1/4 teaspoon sea salt or to taste
Instructions
For the Sweet Potato Hash
Heat the coconut oil in a large skillet over medium heat. Add in the garlic, yellow onion, sweet potatoes, paprika, cumin, turmeric, and sea salt. Let the mixture cook for 20-25 minutes, stirring just every few minutes so that the potatoes have a chance to develop a slight caramelization.
Once the sweet potatoes are tender, turn off the heat and stir in the fresh cilantro.
For the Guacamole
As the sweet potato hash cooks, scoop the flesh of one avocado into a bowl and mash it with a fork. Stir in the juice of 1/2 to one lime (or to taste), the diced poblano pepper, and sea salt, to taste.
For the Pico de Gallo
Add the tomatoes, white onion, cilantro, and sea salt to a small bowl and stir.
For the Chipotle Cream
Add the coconut cream, chipotle peppers, water, and sea salt to a blender. Blend on high for 1-2 minutes or until the mixture is almost completely smooth.
To Assemble
Scoop the sweet potato hash onto plates and top with the pico de gallo, guacamole, and a drizzle of the chipotle cream.