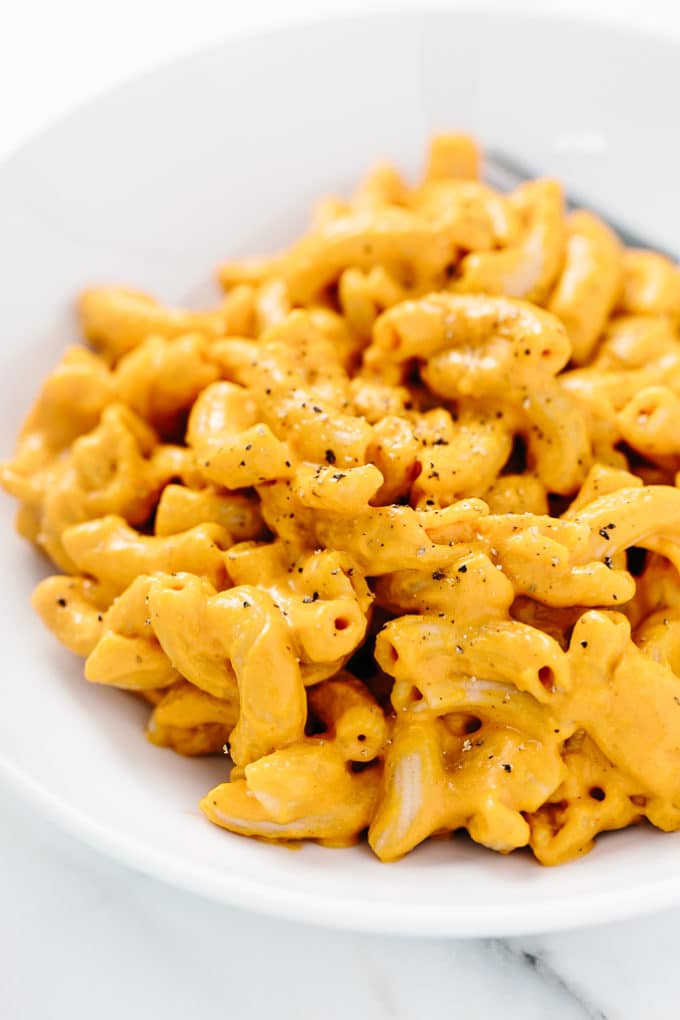 Heaps of warm elbow pasta tossed in spoonful after spoonful of gooey cashew cheddar cheese. It's hard to compete with this deeply comforting dish when faced with icy cold winter weather and snow.
Other than sharing Gena's lovely butternut squash mac 'n' cheese recipe back in the fall, this is actually the first vegan mac and cheese dish I've ever shared. It was worth the wait for me, and I have a hunch you'll feel the same (or at least I hope).
To make it, you'll start by cooking up a bit batch of elbow pasta. I use brown rice pasta, but feel free to use whichever kind your mac 'n' cheese heart desires.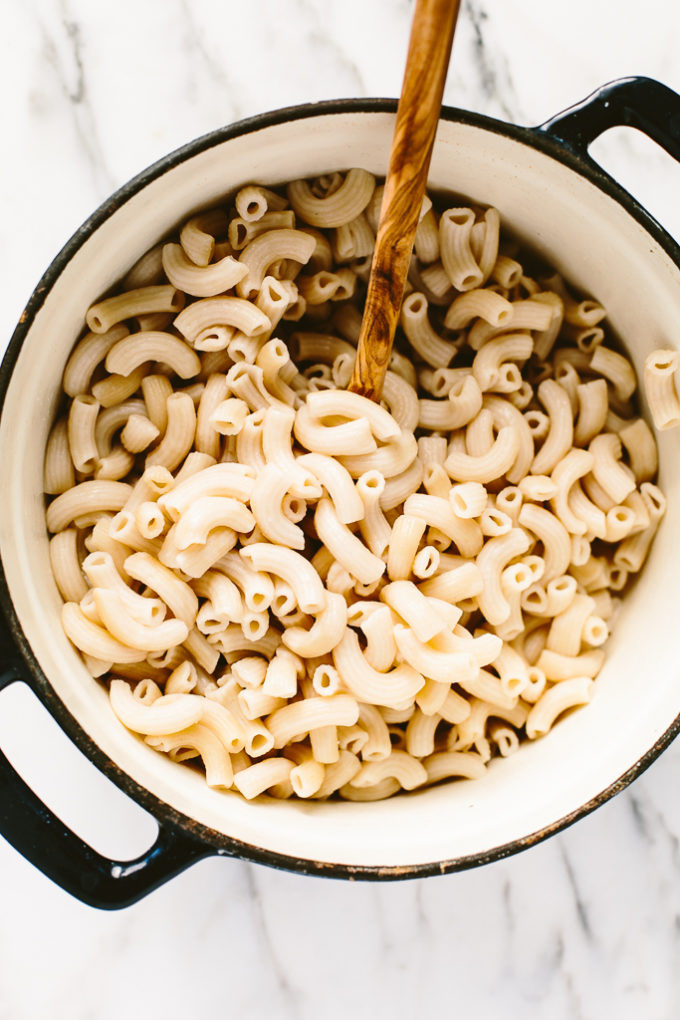 While the pasta is cooking, you'll get to work on the cashew cheddar cheese sauce. You'll blend together soaked raw cashews, filtered water, roasted red peppers, nutritional yeast, arrowroot powder (a root-derived thickening agent), apple cider vinegar, lots of smoked paprika, sea salt, black pepper, and an optional dash of both cayenne and hot sauce.
Once everything is blended into a smooth liquid, you'll pour it into a saucepan and whisk over medium heat for 5 minutes or until the sauce thickens like so…
Then, spoon all of that gooey, nearly stretchy cheddar cheese sauce over the warm elbow pasta and get stirring…
It will initially seem like there is wayyyy too much sauce, but the noodles will draw it in as you stir and trust me, you'll want every bit of it.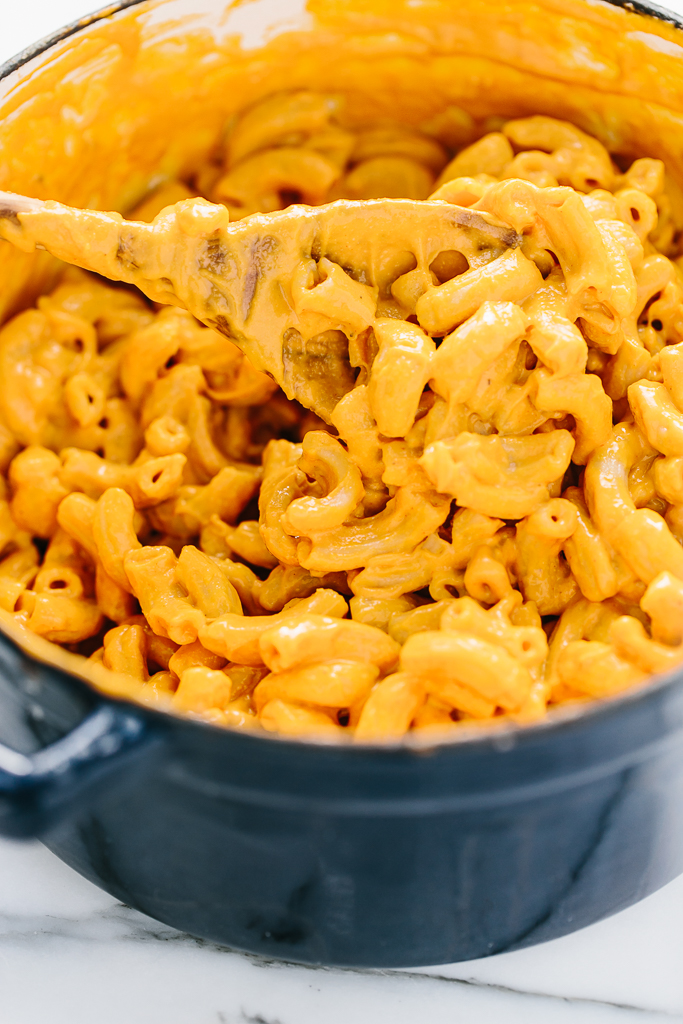 The final step: taste and season with a bit more sea salt, black pepper, and smoked paprika. The smoked paprika weaves a savory smoky flavor throughout, so if you want to up the smokiness even more, go on and get shaking. I usually add a few more dashes along with a bit more sea salt and black pepper.
Then, serve yourself a generous mound of that cheesy goodness and get cozy.
Smoky Vegan Macaroni and Cheese
Author:
Ashley Melillo | Blissful Basil
Ingredients
12 to 16 ounces brown rice elbow pasta, depending on desired level of cheesiness (I use 12 ounces for a cheesier mac 'n' cheese)
Smoky Cashew Cheddar Cheese
2/3 cup raw cashews, soaked in boiling water for 10 minutes and drained (to soften)
1 1/3 cups filtered water
1/3 cup chopped and seeded roasted red peppers
2 tablespoons nutritional yeast
2 tablespoons arrowroot powder/flour/starch
2 tablespoons apple cider vinegar
2 teaspoons smoked paprika or to taste
1 teaspoon sea salt, plus more to taste
Freshly ground black pepper, to taste
Pinch of cayenne pepper (optional)
Dash of hot sauce (optional)
Instructions
Bring a large pot of salted water to a boil. Add the pasta and cook until al dente and drain, reserving 1 cup of the pasta water. Return the pasta to the pan.
Meanwhile, make the Smoky Cashew Cheddar Cheese by adding the soaked and drained cashews, filtered water, roasted red peppers, nutritional yeast, arrowroot, apple cider vinegar, smoked paprika, sea salt, black pepper, cayenne (if using), and hot sauce (if using) to a high-speed blender. Blend on high for 2 to 3 minutes or until completely smooth, stopping to scrape down the sides as needed.
Once the pasta is ready, pour the Smoky Cashew Cheddar Cheese mixture into a medium saucepan. Heat over medium for 5 minutes or until very thick and just shy of stretchy, whisking constantly. Once thickened, immediately turn off the heat to avoid overheating. Arrowroot loses its thickening power if overheated, so be attentive to it.
Spoon the cheese over the pasta and toss to coat, adding pasta water, a few tablespoons at a time, as needed to thin the sauce. Season with more sea salt, smoked paprika, and black pepper, to taste. I usually add another 1/2 teaspoon sea salt, another dash or two of smoked paprika, and a few grinds of black pepper; however, seasoning will vary depending on the amount of pasta you used and how salty your pasta water was, so adjust according to your tastes.