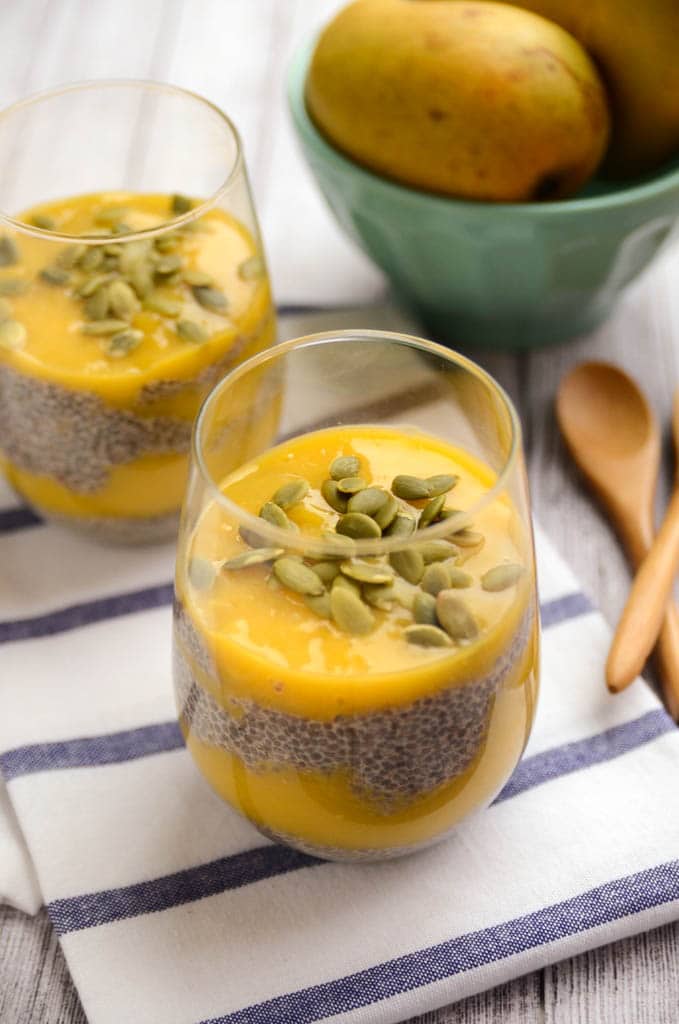 In addition to craving greens like crazy since returning home from vacation last week, Dan and I have also been consuming mangoes like it's our part-time job. While in St. Lucia, we made friends with one of the workers at the resort, and he was kind enough to bring us bags of fresh fruit from his garden twice during our trip. His generous offerings included mangoes, guavas, cocoa fruit, and coconuts, and it was some of the most delicious fruit I've ever tasted from one of the kindest human beings I have ever met.
We haven't been able to locate any guava yet, but Whole Foods seems to have purchased a few too many crates of mangoes, because they're currently selling them for 69 cents a piece. Pretty snazzy deal and even sweeter for those who might consider themselves to be mango addicts like yours truly. I made sure to gather plenty of the yellow-orange hued beauties while shopping the other day, and whipped up a mango chia pudding yesterday morning.
This mango chia pudding is truly divine. Layers of vanilla-infused chia pudding are draped in a sweet mango cream to create a dessert (or snack) that will have you furiously scooping, scraping, and mmm-ing. It has a perfectly balanced sweet-to-tart ratio, and the texture is absolutely addictive. If it were possible for a dessert to reach enlightenment, this one would be the first to do it. Sweet. Tangy. Creamy. Bright. Amazing.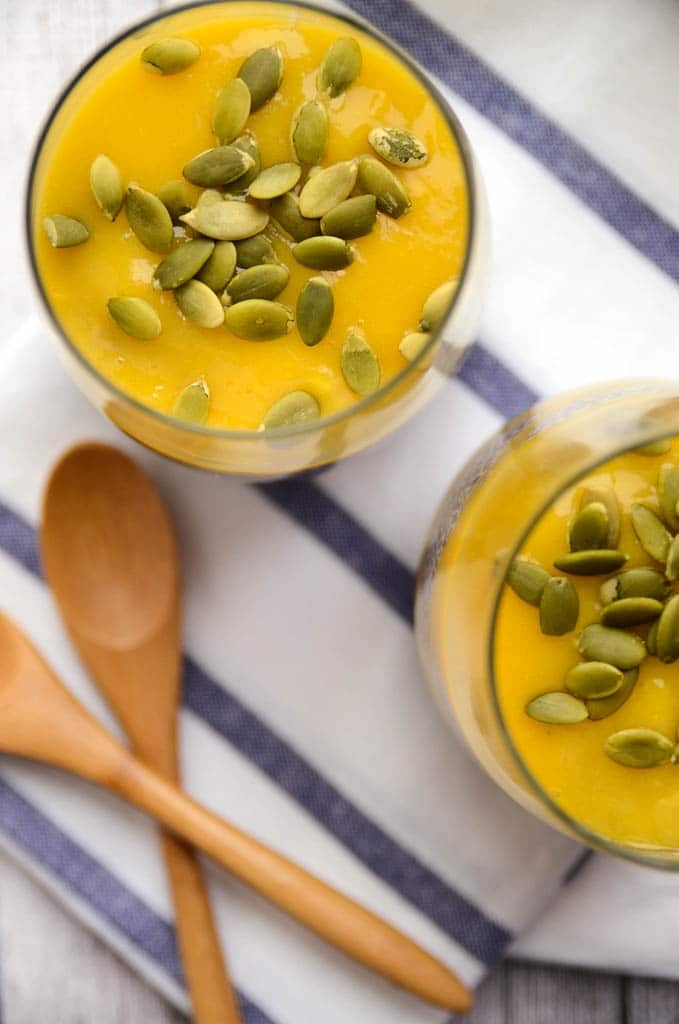 Simple and Sweet Mango Chia Pudding
Recipe type:
Dessert, Snack
Ingredients
2 cups vanilla coconut milk or almond milk
1/2 cup + 2 tablespoons chia seeds
1 vanilla bean or 1 1/2 teaspoons vanilla extract
3 1/2 tablespoons pure maple syrup, divided
1/2 teaspoon cinnamon
pinch cardamom
1 large mango or 2 small mangoes
Instructions
Add coconut milk, chia seeds, vanilla bean seeds or extract, 2 1/2 tablespoons maple syrup, cinnamon, and cardamom to an airtight container. Whisk and refrigerate overnight or for at least 8 hours.
Once your chia pudding is ready, slice your mango and scoop the flesh into a food processor. Add in 1 tablespoon maple syrup and process into a smooth mango cream.
In four small glasses or two larger glasses, create layers of chia pudding and mango cream starting with the pudding. I did 6 total layers or 3 layers of each.
Enjoy and refrigerate leftovers!