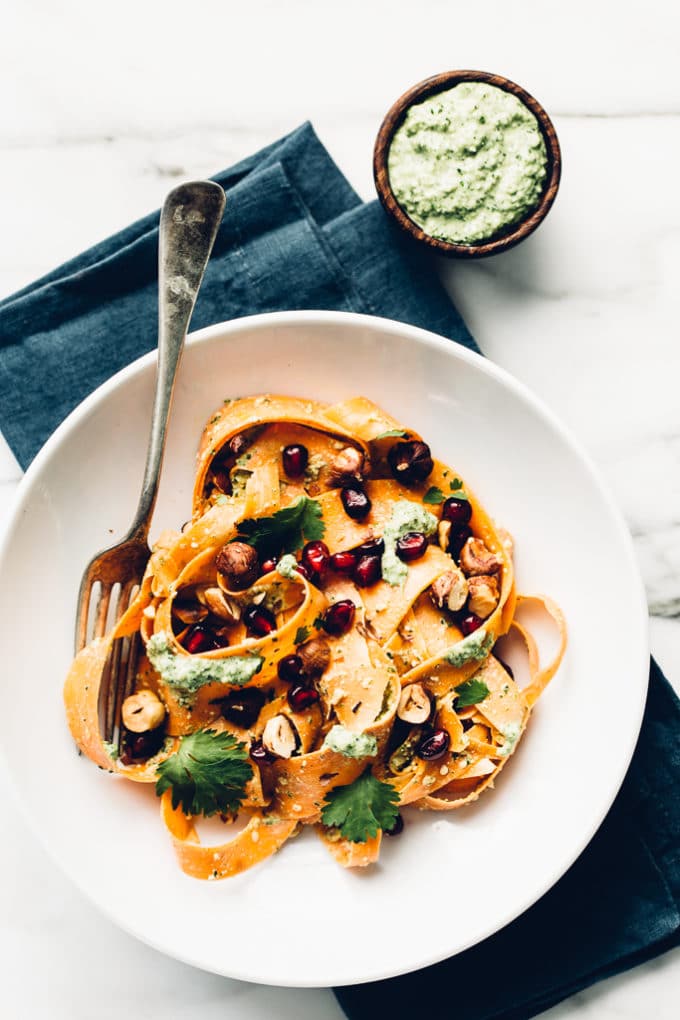 This simple salad is outfitted in holiday flair and packed with antioxidants, vitamins, and minerals. But for the sake of the holidays, we can just focus on the fact that it tastes like a plant party in your mouth. Strange description, yet so true.
Carrots are shaved into long, ribbon-like strips before being tossed in a cilantro and lime version of this superseed pesto I shared a couple years back. Once the carrots are coated in a generous slather of pesto, you'll plate them and top with pomegranate seeds//arils, and toasted hazelnuts. I also like to garnish with a few cilantro leaves and a sprinkling of large-flake sea salt, but garnish as you see fit.
The carrot ribbons are fun to eat — anything that can be twirled around a fork like pasta gets extra points in my book. Juicy pomegranate seeds offer a burst of sweetness while the toasted hazelnuts offer a nutty, holiday warmth that makes this quick and easy dish feel special. The superseed cilantro pesto — made with both shelled hemp seeds + pepitas — is packed with Omega-3 and even offers a boost of complete plant-based protein. Plus, it's just as good slathered over warm pasta as it is this salad, so feel free to repurpose this pesto.
This salad takes all of 15 minutes to make, give or take a couple of minutes depending on the deftness of your carrot shaving skills. It makes the perfect holiday side salad but can also be tossed together for a light winter lunch.
If you're planning to make it for a gathering, I recommend preparing the pesto, carrot ribbons, and pomegranate seeds and storing them separately in the refrigerator. You can also toast and chop the hazelnuts ahead of time and store them at room temperature. Once you're ready to serve, tossed the carrot ribbons in the pesto and sprinkle on the toppings.
I'm planning to circle back with one more recipe before this Friday. However, if cookbook writing takes over as my 12/31 deadline approaches and you don't hear from me before, I hope you have a wonderful holiday season. ♥ Safe travels + lots of love and joy.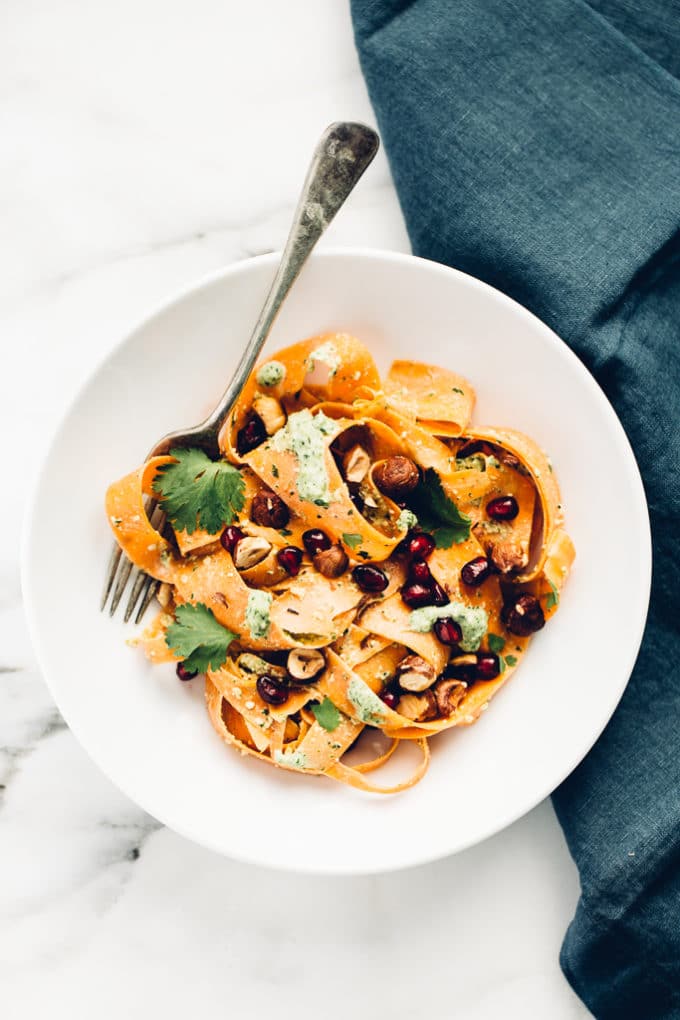 Shaved Carrot Salad with Superseed Cilantro Pesto, Pomegranate Seeds & Toasted Hazelnuts
Author:
Ashley Melillo | Blissful Basil
Recipe type:
Salad, Side Dish, Holiday
Serves:
6 to 8 side servings
Ingredients
1 pound (16 ounces) carrots, peeled
1 batch SuperSeed Cilantro Pesto (recipe follows)
1/2 cup pomegranate seeds//arils
1/3 cup toasted hazelnuts, roughly chopped*
Large flake sea salt or regular sea salt, for seasoning
Instructions
Use a vegetable peeler to shave the carrots lengthwise into long, ribbon-like strips. Transfer the carrot ribbons to a salad bowl and add as much of the pesto as desired. Toss to coat. Divide between bowls//plates or you can divide the carrots up between bowls//plates and then spoon a bit of the pesto over top.
Top each salad with a sprinkling of the pomegranate seeds and chopped hazelnuts. Season with a pinch of large-flake sea salt of regular sea salt. If desiredServed immediately.
Notes
*To toast the hazelnuts, preheat oven to 400F. Spread the hazelnuts out over a small baking tray and bake for 6 to 8 minutes or until golden-brown and wafting a rich, toasted scent.
Superseed Cilantro Pesto
Author:
Ashley Melillo | Blissful Basil
Recipe type:
Sauce, Pesto
Ingredients
1 cup loosely-packed cilantro leaves, tough stems removed
1/2 cup baby arugula (optional)
1/4 cup shelled hemp seeds
1/4 cup raw pepitas (pumpkin seeds)
2 tablespoons cold-pressed olive oil
2 tablespoons filtered water*
1 1/2 tablespoons fresh lime juice
1 garlic clove, peeled
1/4 plus 1/8 teaspoon sea salt or to taste
Pinch of crushed red pepper flakes (optional)
Instructions
Add all ingredients to a food processor and process for 1 minute or until a thick and creamy pesto develops, stopping to scrape down the sides as needed.
Notes
*For a richer pesto, swap the filtered water for olive oil, and use a total of 1/4 cup olive oil in the pesto.