This post is written by me in partnership with Silk. All thoughts and opinions are 100% my own.
As you've probably noticed, it's looking a bit different around here lately.
The site is in the midst of a makeover, and it feels good.  There's still plenty of tweaks and adjustments to be made, so please pardon any virtual construction dust or debris. Loose ends should be tied and tidied by the end of next week, so keep a watchful eye around that time.
Until then, I suggest you direct your gaze toward this savory holiday tart. Better yet, make it. Then, enjoy it one slice at a time…
It's rare that a recipe turns out even better than I had hoped (I'm a gal of high hopes), but when it happens, a special kind of kitchen dance is warranted. One that signifies both excitement and glory. A first pump, a shimmy-shake-shuffle trifecta, and sometimes even a twirl.
This savory vegan holiday tart elicited all three of those extra special dance moves. And lemme tell you, my hips don't lie.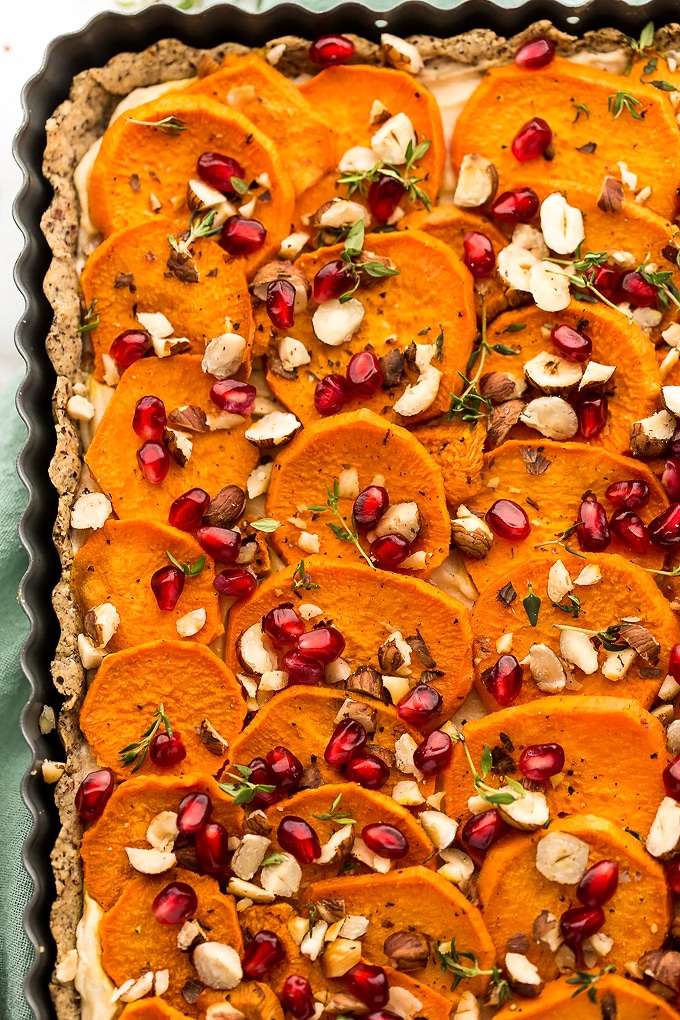 So what's all the shimmy-shakin' fuss about? Well, let's just say that if a vegan quiche and a savory tart had a baby (in December), this holiday beauty would be the result.
Crisp, nutty, and buttery hazelnut crust is slathered with tangy vegan "goat" cheese that's been dotted with thyme and minced shallot. Rows of roasted sweet potato rounds are layered on top, and the tart is baked until warm and toasty.
Once baked, pomegranate seeds are sprinkled on top to offer a juicy burst of acidity that balances and brightens the savory base. Chopped toasted hazelnuts provide one last layer of texture and warmth. The finishing touch? A sprinkle of fresh thyme leaves for a pop of green that rounds out the festive flair.
The result is a pure vegan (and gluten-free) holiday delight. The crust is nutty and crisp, the cheese is tangy and super savory, the sweet potatoes are tender and subtly sweet, and the pomegranate seeds and hazelnuts offer a final texture-rich touch.
There are many ways to enjoy this savory holiday tart. Here are a few ideas to get you started:
Serve it as the main course for a luncheon gathering with friends.
Pair it with a side or two to enjoy as the main course on Christmas Eve // Christmas.
Slice it into small, bite-size pieces and serve it at an NYE party. Epic plant-powered hors d'oeuvres.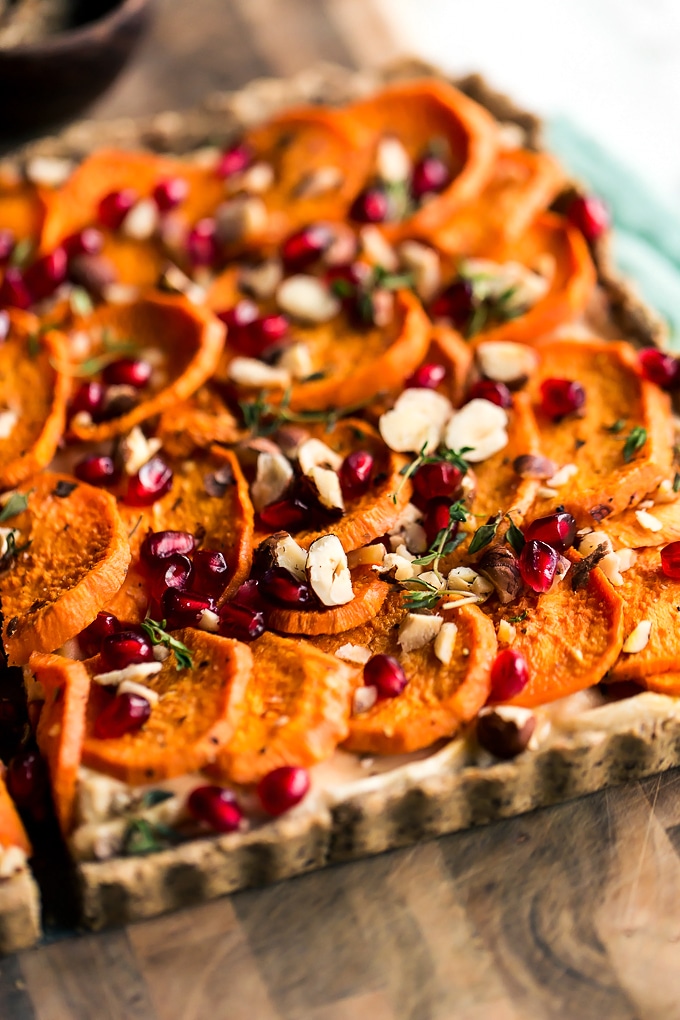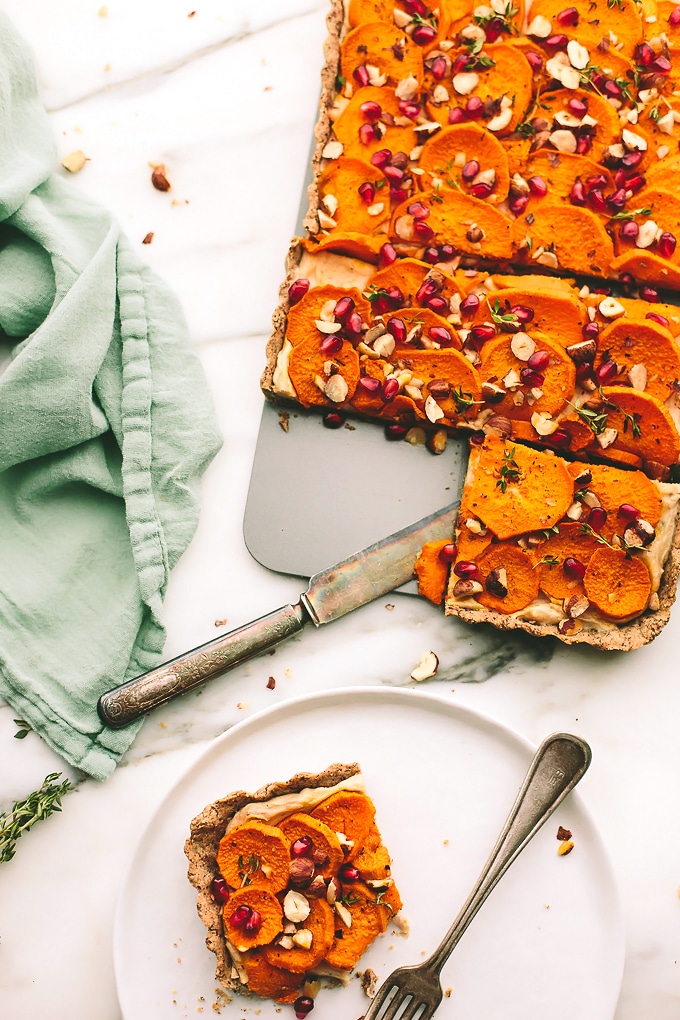 Savory Vegan Goat Cheese, Sweet Potato, and Hazelnut Holiday Tart
Crisp, savory hazelnut crust is slathered with tangy shallot-thyme vegan "goat" cheese and topped with roasted sweet potatoes, toasted hazelnuts, and pomegranate seeds. This festive tart makes a great main when paired with sides, a light lunch for a holiday gathering, or a colorful NYE hors d'oeuvres when sliced into bite-size squares. The crust recipe was inspired by Oh She Glow's brilliant
quiche crust
.
Total Time
1
hour
10
minutes
Ingredients
Sweet Potatoes
1

pound

sweet potatoes, peeled and sliced into 1/4-inch-thick rounds (about 2 medium sweet potatoes)

1

tablespoon

olive oil

Sea salt and black pepper
Savory Hazelnut Crust
1 1/2

tablespoons

ground flaxseed

3

tablespoons

filtered water

1 1/2

cups

hazelnut meal*

1

cup

oat flour

3/4

teaspoon

fine sea salt

1/2

teaspoon

garlic powder

1 1/2

tablespoons

olive oil

3

tablespoons

Silk Unsweetened Original Cashewmilk, Soymilk, or Almondmilk
Herbed Vegan Goat Cheese
1 1/2

cups

raw cashews

soaked overnight

1/4

cup

Silk Unsweetened Original Cashewmilk

Soymilk, or Almondmilk

2 1/2

tablespoons

fresh lemon juice

2

tablespoons

apple cider vinegar

3/4

teaspoon

sea salt, plus more to taste

3

tablespoons

minced shallot (about 1 small shallot)

1

teaspoon

fresh thyme, stemmed

Freshly ground black pepper, to taste
Toppings
1/4

cup

toasted hazelnuts, chopped

1/4

cup

to 1/3 pomegranate seeds

Fresh thyme leaves (optional garnish)
Instructions
For the Sweet Potatoes
Preheat the oven to 350F and place one rack in the center of the oven and another rack several inches above it. Line a large baking tray with parchment paper.

Drizzle the sweet potato rounds with the olive oil, season with salt and pepper, and toss to coat. Spread the rounds out in a single layer across the lined baking tray.

Bake on the top rack for 20 to 25 minutes, or until tender and light golden.
For the Savory Hazelnut Crust + Toppings
Meanwhile, get to work on the crust. In a small mixing bowl, whisk together the ground flaxseed and water. Set aside for 5 minutes to thicken.

Lightly grease a rectangular tart pan (8 x 11 1/2) with olive oil.

In a large mixing bowl, whisk together the hazelnut meal, oat flour, sea salt, and garlic powder. Add the flaxseed mixture, olive oil, and cashewmilk, and stir until combined. The dough will be damp, in large crumbles, and should hold together when pressed between your fingers.

Transfer the dough to the prepared tart pan and use your fingers to press evenly into the bottom of the pan and up the sides. At first it will seem like there isn't enough dough, but just keep working it into an even layer. Use a fork to poke several holes across the surface to vent while baking.

Bake on the center rack for 20 to 24 minutes, or until the crust is light golden and feels firm to the touch. Let cool. Leave the oven on.
For the Herbed Vegan Goat Cheese
Add the cashews, plant-based milk, apple cider vinegar, lemon juice, and sea salt to a food processor. Process for 4 to 6 minutes, or until completely smooth, stopping to scrape down the sides as needed.

Stir in the shallot and thyme. Season to taste with black pepper and more sea salt (I usually add another 1/4 teaspoon).
To Assemble
Spread the cheese into the cooled crust. Arrange the sweet potato rounds in rows, allowing their edges to overlap.

Bake for another 15 minutes, or until the cheese just begins to develop a crust.

Garnish with the hazelnuts, pomegranate seeds, and thyme (if using). Slice and serve. Refrigerate leftovers.
Recipe Notes
*Almond meal can be substituted. Bob's Red Mill sells hazelnut meal. To make your own, add a few cups of raw hazelnuts to a food process and process into a fine meal. Then, measure off amount needed for recipe.