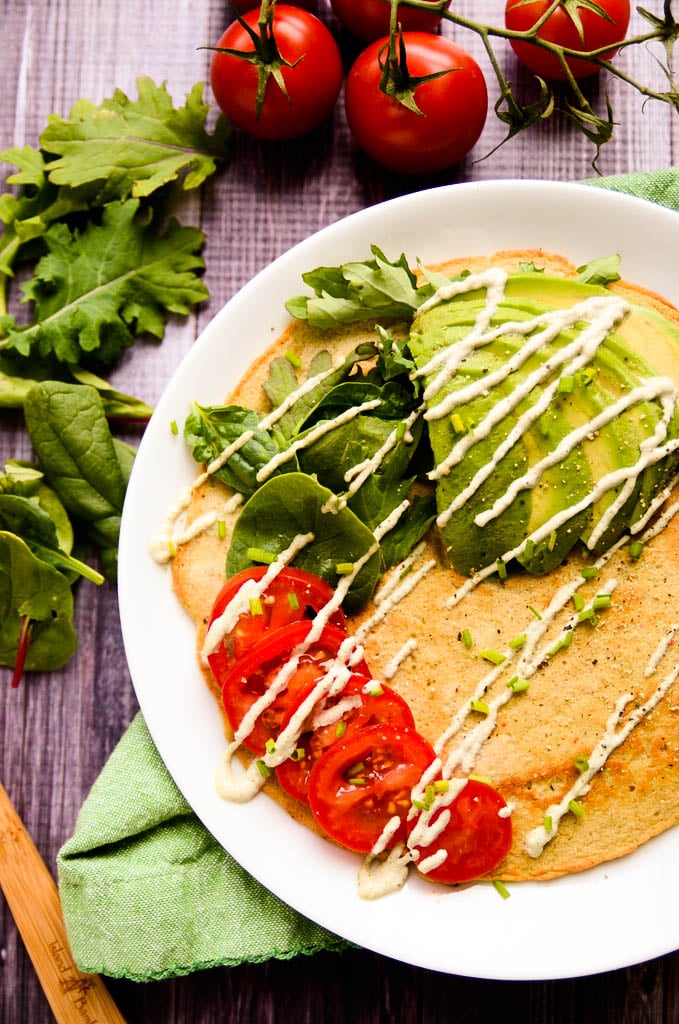 Every now and then something comes over me, and I start feeling fancy in the kitchen. I release the tight grip I usually have on order and procedure, throw my cautions to the wind, and act like a chef while developing recipes.
A dash of this, a dash of that. 
A pinch of this, a pinch of that.
A mince of this, a mince of that.
And just when my ego peeks over the edge into the land of overconfidence…
SQUIRT!
Hot pepper juice in my eye.
Nothing grounds the ego quite like a spicy shot of fury straight to the eyeball.
After making this quinoa pizza crust a few months back and realizing how pancake-battery it is in its pre-baked state (sounds like a crime, not a food), I had been thinking about ways to turn it into savory pancakes (especially after falling in love with Angela Liddon's Chickpea Pancakes last fall). After a few brainstorming sessions, I landed on the idea of blending lentils into the quinoa batter to add an even bigger oomph of protein. When I finally got cooking on Saturday morning, I just went for it; I added in more spices than originally planned (good idea), dropped in some unplanned pinches of salt (much needed), and minced up some spicy veggies to add a touch of heat (see above).
I'm happy to say that my eye is just fine, and my overly confident ego was washed down the drain along with the spicy pepper juice. Even more importantly, these pancakes were completely worth the fuss, and they're one of my new favorite recipes.
Red lentils and white quinoa are soaked overnight to soften. They're added to a food processor along with a variety of spices, seasonings, and other baking necessities and then whirled together to create a savory pancake batter. Minced serrano peppers (watch yourself) and shallots are gently folded in to add a subtle kick and zing. The batter is then poured, flipped, and cooked to perfection and topped with a variety of vegetables. These pancakes are delicious, filling, and packed with protein. As you've probably noticed, I typically don't include nutrition information for my recipes but I did add it in for this one simply to showcase the protein count. If you make five medium-sized pancakes, each one has a whopping 13 grams of protein. Protein-packed, pancake-y awesomeness.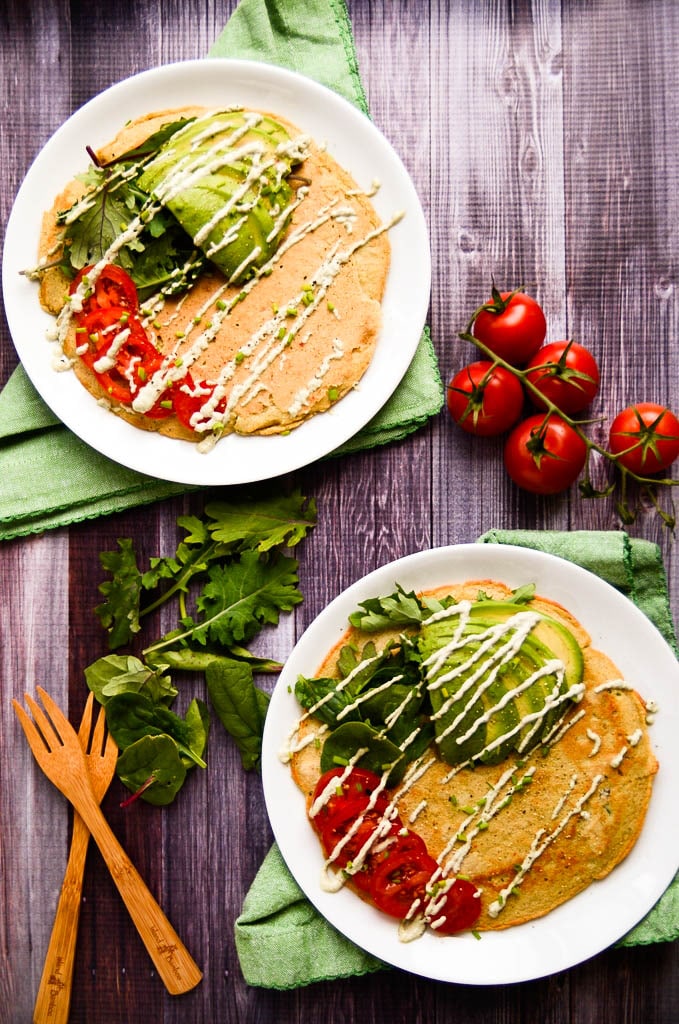 Savory Lentil + Quinoa Protein Pancakes
Red lentils and white quinoa are soaked overnight and blended with a mixture of spices to create a savory and protein-packed pancake batter. Minced serrano peppers and shallots are folded in to add a subtle kick, and the batter is cooked to perfection in a pan. The topping ideas for these savory pancakes are endless, but I highly recommend you start with tomatoes, avocado, and
this hemp seed + pepita dressing
drizzled on top.
Recipe type:
Breakfast, Lunch, Dinner
Ingredients
For the Pancakes
1 cup red lentils
1 cup white quinoa
1 1/4 cup water
1 garlic clove, minced
1/4 cup fresh cilantro leaves
1 tablespoon coconut oil
1 tablespoon fresh lemon juice
1 tablespoon apple cider vinegar
3/4 teaspoon baking powder
1/2 teaspoon garlic powder
1/2 teaspoon coriander
1 to 1 1/2 teaspoons large grain sea salt or to taste (I used 1 1/2 teaspoons)
black pepper, to taste
1 serrano pepper, de-seeded, de-veined, and minced
3 tablespoons minced shallots
Topping Ideas
sliced avocado
sliced cherry tomatoes
greens
Instructions
Add the lentils and quinoa to two separate airtight containers. Pour tap water into both containers until it completely covers the lentils and quinoa. I like to have an extra two inches or more water on top because it will be absorbed overnight. Refrigerate both containers overnight or for at least 8 hours.
Drain and thoroughly rinse both the lentils and quinoa.
Add the lentils and quinoa to a food processor along with the 1 1/4 cup water, minced garlic, cilantro leaves, coconut oil, lemon juice, apple cider vinegar, baking powder, garlic powder, coriander, salt, and pepper. Process for 2-3 minutes or until the batter is completely smooth.
Transfer the batter to a large mixing bowl and gently fold in the serrano peppers and shallots.
Heat a medium skillet or griddle pan over medium heat. Spray or rub the pan with coconut oil. Once the pan is hot, drop a full ladle of batter into the skillet and cook for 2 to 2 1/2 minutes on one side. Flip and cook another 2 to 2 1/2 minutes on the other side. You want the pancake to just be turning golden in color. Transfer the cooked pancake to a plate and repeat with the remainder of batter, making 4 large or 5-6 medium pancakes.
Serve slightly warm topped with fresh veggies of your choosing.
Refrigerate leftover pancakes.
Notes
*Nutrition information is for 1 pancake without toppings.
Nutrition Information
Serving size:
1 pancake
Calories:
261
Fat:
6
Carbohydrates:
40
Sugar:
2
Sodium:
375
Protein:
13