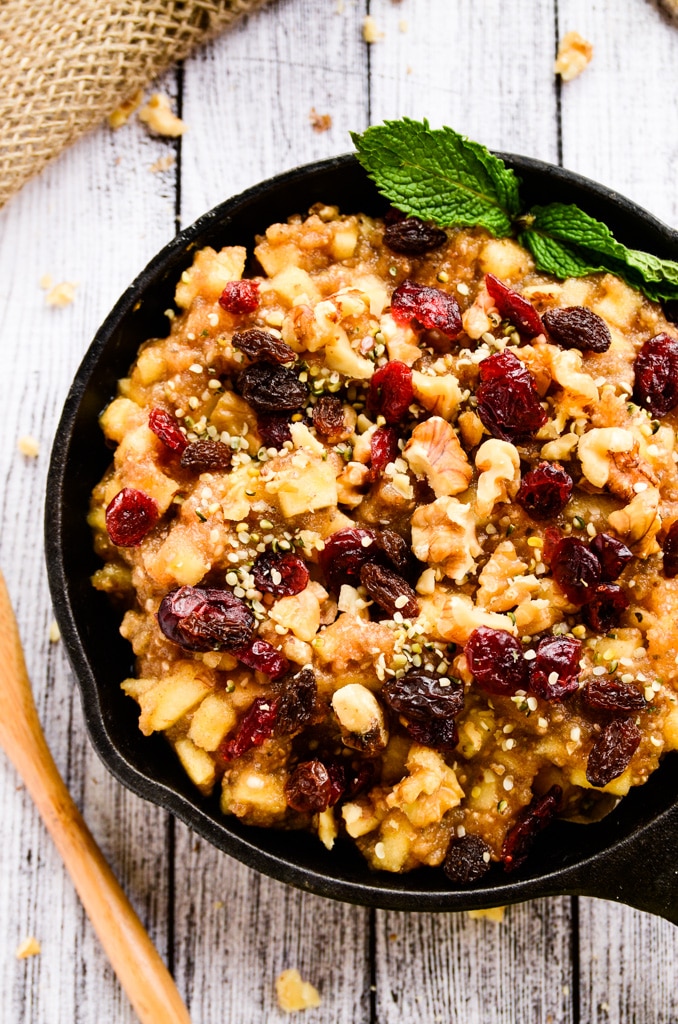 What do you get when you combine apples, dates, cinnamon, nutmeg, and chia seeds?
A big bowl of breakfast wonder.
While making this apple pie a few weeks back, I fell head-over-heels for the raw apple filling. It's cinnamony, sweetened with dates, and the apples maintain their crispness in the most perfect way. Not too long after posting that recipe, I came up with a way to repurpose the pie filling as the focal point in this delicious breakfast bowl. Take a gander…
Although this dish looks like a big bowl of oatmeal, there isn't an oat or a grain in sight. Honeycrisp apples, medjool dates, cinnamon, and nutmeg are tossed into a food processor and whirled to sweet perfection. Then, another honeycrisp apple is finely diced and stirred into the apple-date mixture along with two tablespoons of chia seeds. After chilling in the refrigerator for at least one hour (or overnight), the apple-cinnamon deliciousness is scooped into two bowls and topped with raw walnuts, raisins, dried cranberries, and hemp seeds.
The result is a light, energizing, and satisfying breakfast bowl that will power you through your morning rather than slowing you down. This breakfast is so easy to throw together, and it's the perfect pick when you're looking for something fresh to mix into your weekly oatmeal routine. Plus, it's packed with nutritional goodness thanks to… well, thanks to every ingredient. Each has an empowered purpose in this breakfast, and the combination will help you get your nutritional glow on in the morning. What can I say? This breakfast has talent.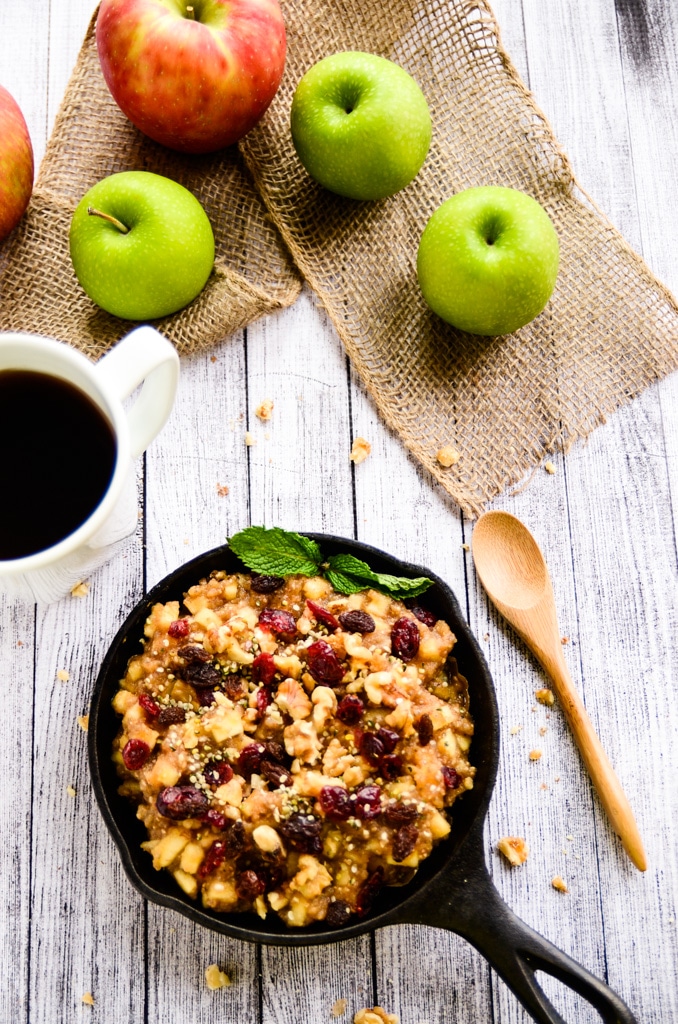 Raw Apple-Cinnamon & Chia Breakfast Bowl
Author:
Ashley Melillo | Blissful Basil
Recipe type:
Breakfast, Snack
Ingredients
3 honeycrisp apples, peeled and cored, divided
4-5 medjool dates, pitted
1/2 teaspoon ground cinnamon
pinch nutmeg
2 tablespoons chia seeds
Toppings
raw walnuts
raisins
dried cranberries
hemp seeds
Instructions
Finely diced one of the honeycrisp apples and add to an airtight container.
Take two of the honeycrisp apples and cut them into large pieces. Add the apple pieces to a food processor along with the dates, cinnamon, and nutmeg. Pulse the mixture several times and then let it process for 2-3 minutes, stopping occasionally to scrape the mixture down the sides. Pour the apple-date mixture into the container with the diced apple and stir in the chia seeds.
Refrigerate for at least 1 hour or overnight.
Divide the apple mixture between two bowls and top with raw walnuts, raisins, cranberries, and hemp seeds.
Serve and enjoy.
Refrigerate leftovers.