Being on the flip side of my full-time job and in the midst of summer all-the-time-blogger mode affords me a few extra moments to breathe and soak up the awesome things in life.
What I've been enjoying lately: a quick coffee shop trip with my step dad pops, a leisurely lunch with my sister, a warm summer evening with friends + creamy artichoke dip, gardening with Dan, reading a meditation book in the thin of our city garden (aka our 4th floor balcony with tiny tomato plants, basil sprigs, and an awkwardly high ratio of patio furniture to open deck space), and even trying out new morning smoothie combinations. It's these moments that provide perspective and serve as reminders to cherish the little things because hindsight always seems to color them in the sweetest light.
Since this summer has brought more dreary, rainy days than sunny ones, I figured I'd seek sunshine in a smoothie when it's unavailable in the sky (the obvious answer, right?). Thus, this smoothie is one that came to be in a moment of morning rainspiration this past Tuesday, because there's no room for rain when you have sunshine in a glass.
A banana, orange, and cup of fresh mango are blended with maca and baobab powder to create a sunshiny hue, an ultra-bright taste, and an energizing breakfast. Something about the color of this smoothie really does make me happy; it's hard not to feel lighter and more optimistic when you're staring into a golden abyss of blended fruit…
See what I mean? I bet you're feeling at least a pinch happier after that view.
This smoothie not only looks and tastes great, it also fuels and cares for your body from the inside out thanks to the additions of maca and baobab. Here is the nutritional* rundown on these two superfoods:
Maca | strengthens the body + increases stamina, acts as a caffeine-free energizer, and boosts sexual desire without any adverse effects on hormones.
Baobab | contains 6 times more Vitamin C than oranges (gram for gram), contains 5 times more Potassium than bananas (gram for gram) enhances energy + alertness, hydrates, boosts iron levels in the body, and strengthens the immune system.
Sound Bite | An ethereal, shimmery song by Future Islands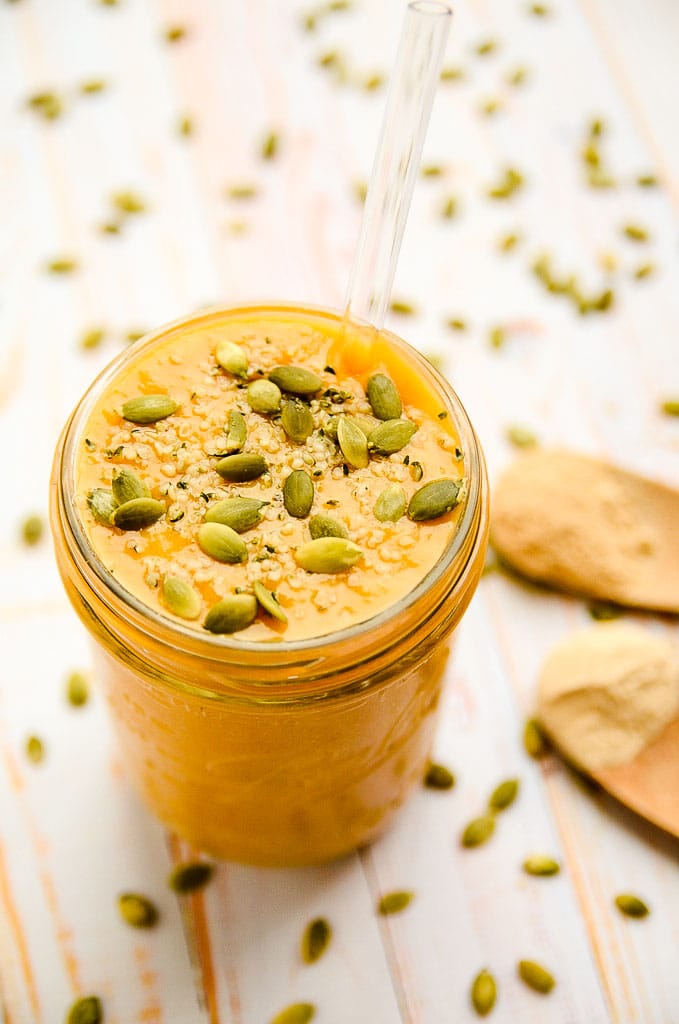 Orange Sunshine Super Powered Smoothie
Author:
Ashley Melillo | Blissful Basil
Ingredients
1 frozen banana
1 orange, peeled and de-seeded
1 cup fresh mango chunks
1 tablespoon maca powder
1 tablespoon baobab powder
Instructions
Add all ingredients to a high-powered blender.
Blend on high for 2-3 minutes.
Pour into a glass and enjoy.