These cookie bars – chocolate chips + raisins + cinnamon = x
Solve for x.
Mmmhmm, you got it. x = oatmeal-raisin cookie bars.
These bars are made with the same delectable cookie base as those beloved chocolate chip cookie bars, only they're outfitted in a new wardrobe of cinnamon and raisins. Sweet and spiced and everrrrything nice.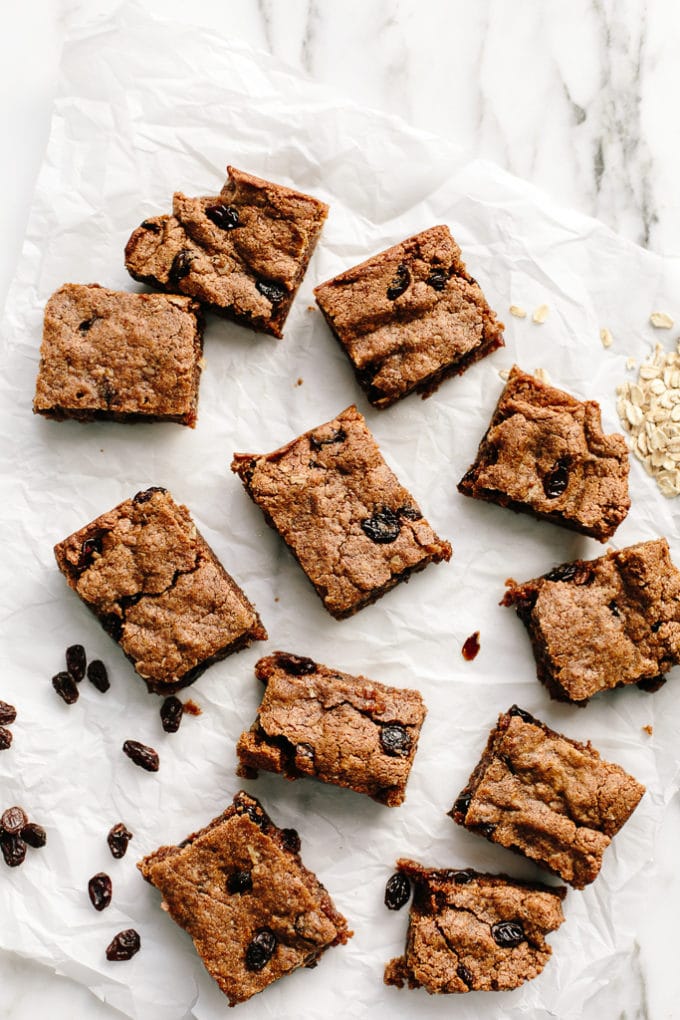 They're just as gooey, dense, and sink-your-teeth-in delicious as their chocolaty predecessors, and that sweet cinnamon-raisin touch makes them feel almost breakfast appropriate. "Almost" as in I had one for breakfast yesterday. And "almost" as in I'm predicting I probably had one for breakfast this morning too, only I'm not 100% certain because I wrote this post yesterday. Fingers crossed that my current self is as fancy free as my former self because if she is, my Monday is off to a good start.
Because that gooey stack of deliciousness colliding with a Monday can only mean good things.
These bars require just 10 ingredients — pinch of salt and cinnamon included — and 10 minutes of prep + 25 minutes of baking. To make them, you'll start by creaming together natural almond butter, coconut sugar, and pure vanilla extract for a full minute (go on and time it — I certainly do).
Then, you'll whisk together oat flour, rolled oats, baking powder, cinnamon, and sea salt until well combined. Add the oat flour mixture to the creamed almond butter mixture, and before you start beating, pour in a bit of unsweetened almond milk. Then, turn your mixer on and beat until combined. Add in a generous scoop of raisins and beat again until the cookie dough is dotted with those wrinkled gems.
Scoop the dough into a lined 8×8 baking pan (double-check that your pan is 8×8 because 9×9 will negatively affect the texture and moisture of the bars), and bake until crisp and chewy on the outside and tender and gooey on the inside.
Easy as pie cookie bars.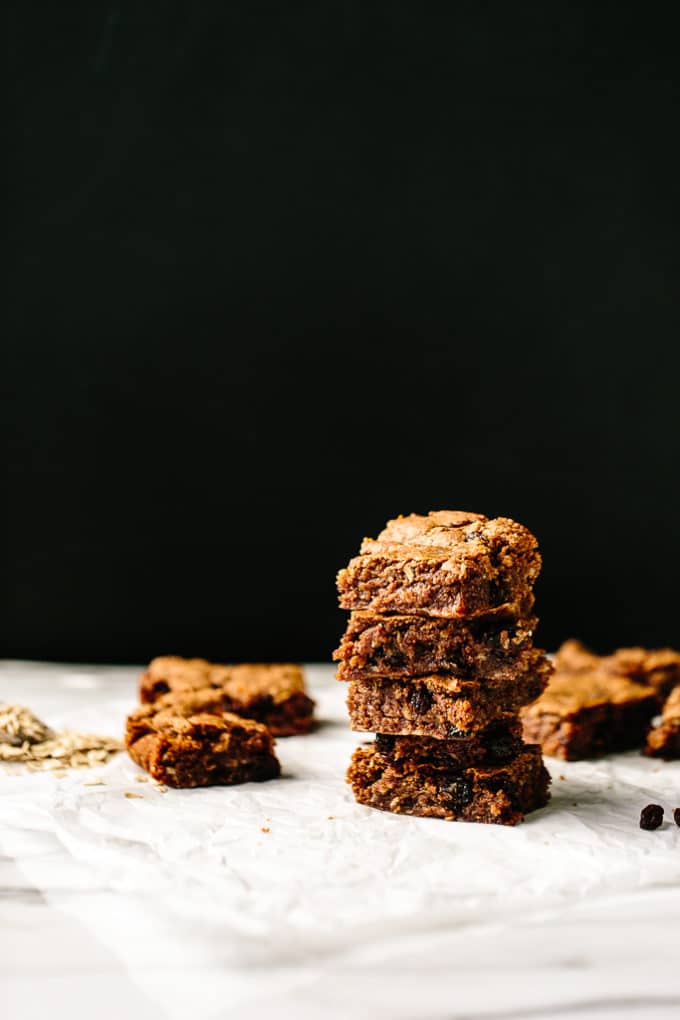 Oatmeal Raisin Cookie Bars
Author:
Ashley Melillo | Blissful Basil
Recipe type:
Cookies, Dessert, Bars
Ingredients
1 cup coconut sugar
1 cup natural almond butter
2 teaspoons pure vanilla extract
1 1/4 cups oat flour
1/4 cup rolled oats*
1 1/2 teaspoons aluminum-free baking powder
1 teaspoon ground cinnamon
1/4 teaspoon fine sea salt
1/4 cup + 2 tablespoons unsweetened almond milk
1/2 cup raisins
Instructions
Preheat oven to 350F. Line an 8x8-inch square pan with parchment paper (check your pan size, because 9x9-inch won't work for this recipe).
In a large mixing bowl, cream together the coconut sugar, almond butter, and vanilla on high for 1 minute using a stand mixer with paddle attachment. It should pull together into large mounds as it moves around the mixing bowl.
Meanwhile, in a small mixing bowl, whisk together the oat flour, rolled oats, baking powder, cinnamon, and sea salt. Place the bowl next to the mixer.
With the mixer off, add the oat flour mixture. Then, pour the almond milk over the oat mixture and begin beating on low and increase speed to medium. Beat for 15 seconds or until just incorporated. The dough should pull together into large, moist mounds as it moves around the mixing bowl. If the dough is dry and broken into small crumbles, add more almond milk, 1 tablespoon at a time, and beat until it pulls together until large moist mounds within the mixing bowl. Add the raisins and briefly beat to incorporate.
Transfer the dough to the lined pan and use your fingers to press evenly into the bottom and outwards until it's nearly touching the sides of the pan.
Bake for 25 to 28 minutes or until the edges are golden and crackled and a toothpick inserted into the center comes out mostly clean with a bit of moist crumb at the tip. Don't overbake.
Let cool completely in pan. Grasp the edges of the parchment to gently remove the bar from the pan. Slice into 12 to 16 bars.
Notes
*You can probably tell from the pictures, but these bars aren't exceptionally oat-y in terms of the amount of whole, old-fashioned rolled oats they contain. If you want more of an oatmeal-raisin cookie texture, increase the rolled oats to 1/3 cup or 1/2 cup.