I believe that…
There's far more that binds us than separates us.
Hate echoes loudly but hollowly, and love whispers convincingly.
We must do our best to lift each other up. No matter who, no matter where.
Goodness, peace, and hope reside within all of us, yet sometimes the world cloaks our shoulders so heavily in fear that we can no longer see our own light.
We don't resolve opposing views by condemning them but by giving them the space to be heard.
If we don't stand firmly for love, we easily fall for hate.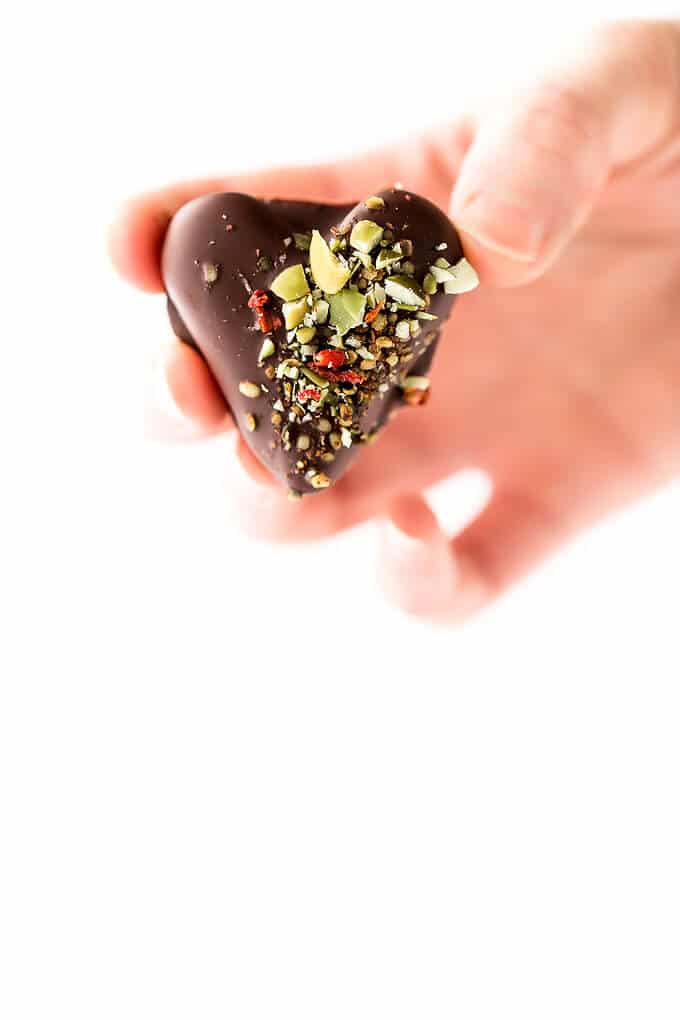 Yesterday, I woke up angry and fearful at 4am. Angry at the current state of political affairs and fearful about what it all means. I couldn't fall back asleep, so I showered. As rivers of warm water trickled down my back, fear spoke loudly, spewing angry words through my typically kind-hearted lips.
Shoulders tightened, fists clenched, I reached for a towel and caught the gaze of my own reflection glistening off the steam-kissed mirror. I looked unlike myself, eyes entangled with fear and fury.
The sight caught me off guard. I took a deep breath in and then released it. Then did it again… and again… and again.
Rise above the fear. Inhale love, exhale peace. Inhale love, exhale hope. Inhale love, exhale LOVE. 
As I dried my hair, pulling a worn round brush through its ends, I repeated this mantra over and over to myself until I once again believed it. I felt the love return to my bones and welcomed it to stay. You can do this, I remembered.
Then, I groggily meandered down the hallway to our kitchen and decided on my next course of action: hearts. Chocolate-covered caramel hearts.
Why? Because love wins.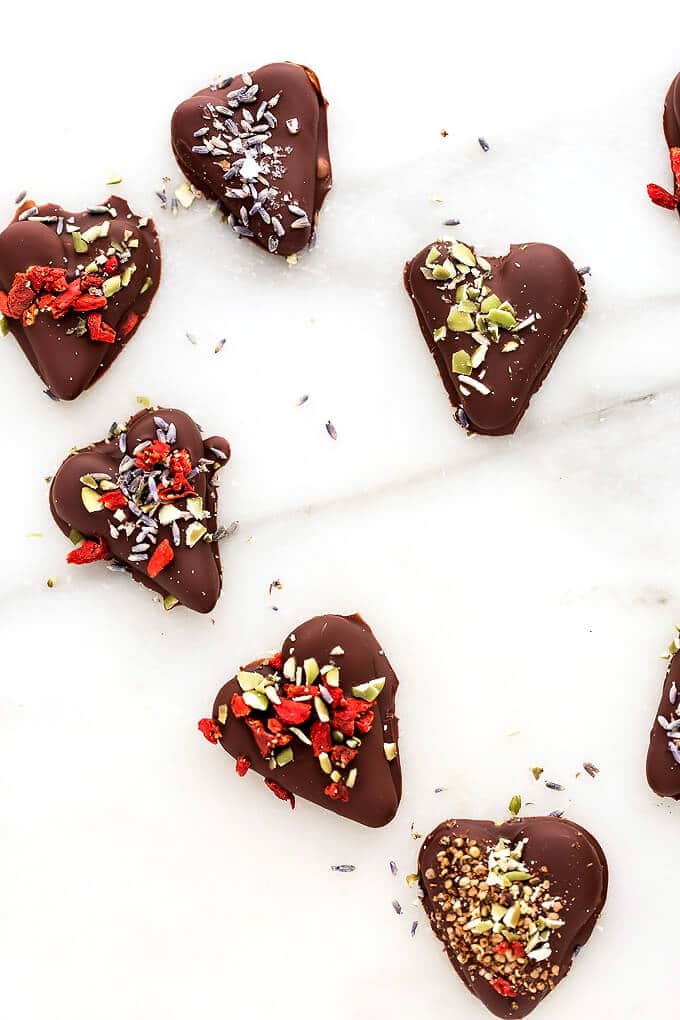 Make these hearts for someone who could use some just-because warmth and compassion.
Maybe right now that's you or maybe it's the neighbor you so rarely speak to, a family member you've been wanting to make peace with, or a friend you've lost touch with.
Really feel the love as you mindfully shape, dip, and sprinkle.
No act is too small. Not now. We could use all the love we can give.
To make these chocolate-kissed date caramel hearts, you'll lovingly toss a pound of soft, sticky, pitted Medjool dates into a food processor along with two tablespoons of virgin coconut oil, a splash of vanilla, and a pinch of sea salt.
Process the mixture for about two minutes, or until the dates are ground smooth and the mixture begins to clump together on one side of the food processor like so…
Unlike most date caramel, this version can be easily handled. Thanks to the coconut oil it won't coat your fingers in a sticky, gooey mess. The coconut oil also weaves itself throughout, yielding an irresistibly soft, subtly chewy, melt-in-your mouth date caramel.
The caramel is malleable, which makes it perfect for forming into shapes like hearts, squares, etc.
Once the caramel is prepared, you'll form it into hearts. The shaping process takes a little love and extra effort, but it's totally worth it. If you have a small, heart-shaped cookie cutter, you're in luck as that will quicken the process. However, it's totally possible to form hearts without one—I did! See the recipe notes for links to two helpful heart-shaping tutorials.
Of course, if you're in a hurry, feel free to form the caramels into whatever shape comes easiest. For balls, I recommend forming the caramel into a rope on a piece of parchment paper, cutting it into about 22 equal pieces, and rolling into balls.
For squares, place the caramel between two sheets of parchment paper, use a rolling pin to roll into a 1/2-inch-thick square, and slice into 1 × 1-inch pieces.
Once the caramels are formed, they're chilled in the freezer for about 15 minutes to set and firm.
While they chill, you'll get to work on the chocolate coating and toppings.
For the chocolate, you'll heat about one cup of vegan chocolate chips or chopped dark chocolate and a spoonful or two of coconut oil in a double-boiler or bain marie. Whisk together until melted, smooth, and glossy.
Next, gather and prepare whichever toppings your heart desires. I used a combination of chopped pepitas, goji berries, culinary grade lavender, hemp seeds, and large flake sea salt. That said, the sky's the limit. Think chopped pecans or hazelnuts, freeze-dried berries, chia seeds, flaked coconut, etc.
Finally, dip those hearts in chocolate and top, top, top away, infusing a bit more love along with every sprinkle.
I hope these hearts bring a bit of hope to you—even if it's tiny and fleeting, it's something.
Sending love, peace, and gratitude, too.
LOVE WINS VEGAN CHOCOLATE-COVERED DATE CARAMEL HEARTS
These vegan chocolate-covered date caramel hearts require just four ingredients (plus sea salt and toppings). The date caramel is made with a combination of Medjool dates, coconut oil, vanilla, and sea salt. Unlike most date caramels, this one won't stick to your hands. The coconut oil yields a caramel that's soft, subtly chewy, and bendable. I recommend forming it into heart-shaped pieces but feel free to make squares if you're in a rush. Once the caramels are formed, dip them into melted chocolate and top as desired.
Ingredients
Salted Date Caramel
1

pound

firm Medjool dates*

2

tablespoons

virgin coconut oil

1

teaspoon

pure vanilla extract

1/4 to 1/2

teaspoon

fine sea salt, to taste
Chocolate Coating
1

cup

vegan chocolate chips or chopped dark chocolate

1 to 2

tablespoons

virgin coconut oil, as needed to thin the chocolate
Optional Topping Ideas
Chopped goji berries

Chopped pepitas

Culinary grade lavendar

Shelled hemp seeds

Chopped freeze-dried strawberries, blueberries, or raspberries

Large-flake sea salt
Instructions
For the Date Caramel
Line a baking tray with parchment paper.

Firm (i.e., old) dates work best for this recipe. If you use fresh dates, the caramel texture will not be the same, so keep this in mind. Add the dates to a microwave-safe dish and microwave for 20 to 30 seconds, or until soft and warm. Let cool slightly and then pit the dates.

Add the pitted dates, coconut oil, vanilla, and sea salt to a food processor. Process for 2 minutes, or until the dates are ground smooth and the mixture rolls into a smooth, slightly oily ball within the food processor. You may need to stop and scrape down the sides a few times to encourage even processing.

If you have a small (1 to 1 1/2 inches), heart-shaped cookie cutter: place the caramel between two sheets of parchment paper, roll out into 1/2- to 3/4-inch thickness, and use the cookie cutter to punch out heart shaped caramels. Repeat with the scraps. If you don't have a heart-shaped cookie cutter: scoop out about one tablespoon of caramel and form into a heart** (see notes for links to tutorials). (Alternatively, form into squares, balls, etc. to quicken the process).

Transfer the caramel hearts to the lined baking sheet. Repeat with the remaining caramel. You should have about 22 to 24 caramels.

Freeze for at least 15 minutes to firm.
For the Chocolate Coating
Meanwhile, prepare the chocolate coating.

Whisk together the chocolate and coconut oil over low heat in a double-boiler or ban marie until melted, smooth, and glossy. Be careful not to overheat or the chocolate will seize and take on a gritty texture.
To Assemble
One at a time, use a fork to dip the hearts into the chocolate to evenly coat.

Shake off excess chocolate, return to the lined tray, and sprinkle with toppings, as desired. (Alternatively, generously drizzle the chocolate over the caramel hearts and sprinkle with toppings.) See notes for leftover chocolate tips***.


Transfer the tray to the freezer and chill for 15 minutes, or until the chocolate has set.

Store the hearts in the refrigerator for up to 1 week or in the freezer for up to 1 month. If you store in the freezer, allow the caramels to sit at room temperature for 10 to 15 minutes to soften before enjoying.
Recipe Notes
*TIP: Older, firmer Medjool dates work best for this recipe. If you use fresh/very soft, sticky dates, the caramel will not be easy to handle as pictured, so keep this in mind.
**Checkout this tutorial and/or this tutorial for tips on forming hearts by hand.
***If you have leftover chocolate, I recommend making small chocolates. Pour the chocolate into molds, top as desired, and freeze. Alternatively, make a small batch of chocolate bark. Pour the chocolate into a small lined loaf pan, top, freeze, and break into pieces.