I hope you all had a wonderful weekend! We spent ours working and getting things done around the house. Said housework included installing a new kitchen faucet because our old one fell apart while I was recipe-testing on Saturday. Apparently my Popeye-like strength — must be all the avocado-spinach pesto I've been eating — was too much for our faucet to withstand, because I went to turn off the water and the handle broke right off into the sink.
Dan and I pretended to be mildly dismayed as we confusedly eyed the detached faucet handle; however, we both later admitted to our happiness about the mishap because we had been wanting a snazzier faucet anyway. I woke up yesterday excited to do dishes while I worked in the kitchen. What? So strange but so true. New faucet = newfound appreciation for dishes.
I've been pretty much obsessed with recipe creation since we returned from Lake Tahoe, and I've spent three of the last seven days in the kitchen <– this makes me super happy. It's amazing what some time off can offer us in terms of creativity, energy, and inspiration. Yet another reminder of the necessity of relaxation.
This pasta recipe stemmed from something I threw together for dinner last week at the end of a busy day. After posting this photo on Instagram and having a handful of people ask for the recipe, I spent time remaking, adjusting, and photographing so that I could officially share it on the blog.
Because I'm incredibly indecisive and couldn't decide on which pasta base to use, I ended up using two. Thus, you can pick your pasta path to dinner enlightenment by opting for either of these two beauts:
Option 1 | zucchini noodles
Option 2 | brown rice pasta
Both yield an equally-delicious result, but the zucchini noodles are obviously a bit lighter and less filling. On the other hand, the brown rice pasta is a heartier, more filling meal.
To make this versatile dish, you'll sauté baby bella mushrooms in olive oil until they're golden brown. If the mushrooms look familiar, it's because they're made using the same approach as the ones in this avocado toast from last week.
As your mushrooms are cooking, you'll make the pesto by adding avocado, baby spinach, raw almonds, garlic, lime juice, sea salt, and chili flakes to a food processor. Then, you'll process until you have a silky-smooth and creamy pesto sauce.
To assemble this dish, you'll add your zoodles or brown rice pasta to a large bowl, dollop on a generous amount of pesto, and toss to coat. Once you've divvied up the green goodness between two plates, you'll artfully scatter the mushrooms across the top of your pasta.
The result? A simple but flavor-packed pasta. The mushrooms add a heartiness that's comforting on a cold winter day, and the pesto is chock full of micronutrients thanks to the avocado, spinach, and almonds.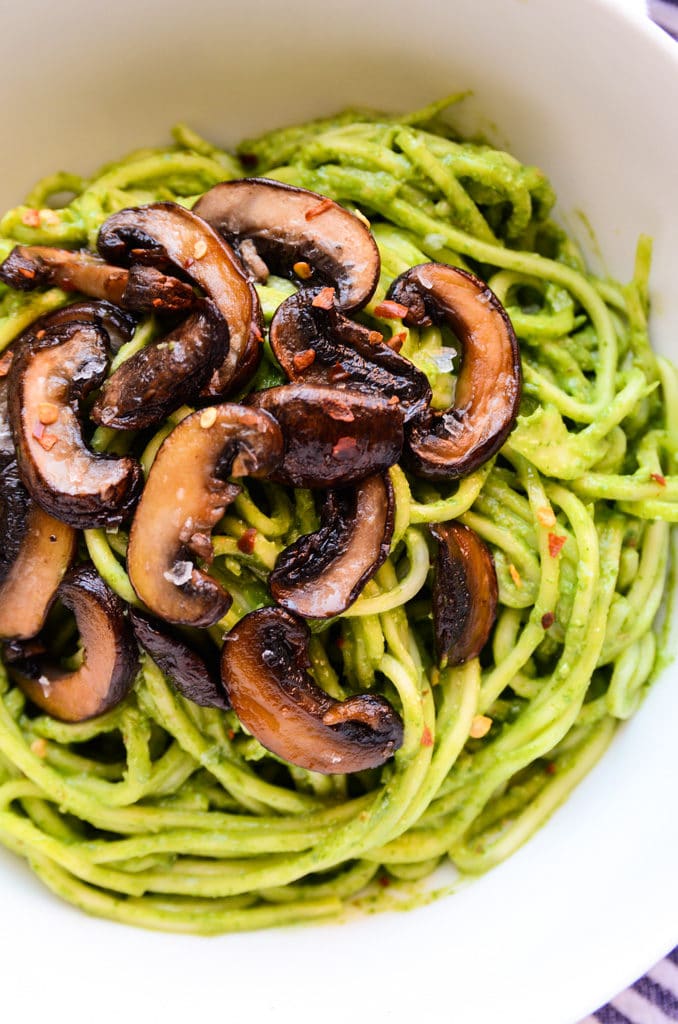 Lean Green Avocado-Spinach Pesto Pasta with Sautéed Mushrooms (vegan, gf)
Author:
Ashley Melillo | Blissful Basil
Ingredients
For the Mushrooms
1 tablespoon olive oil
8 ounces baby bella mushrooms, de-stemmed and thickly sliced
For the Avocado-Spinach Pesto
1 avocado, halved and pitted
3 cups baby spinach
1 tablespoons raw almonds
2 garlic cloves
1 lime, halved
1/4 to 1/2 teaspoon sea salt (I use 1/4 + 1/8 teaspoon)
chili flakes, to taste
For Pasta
4 large zucchini (spiralized) or 8 ounces brown rice fusilli or penne
Garnish
large flake sea salt (optional)
Instructions
To Make the Mushrooms
Add the olive oil to a large skillet over medium-high heat. Add in the mushrooms and saute for 8-12 minutes, stirring infrequently to allow the mushrooms to turn golden-brown. Remove from stove and set aside.
To Make the Avocado-Spinach Pesto
Add the flesh of the avocado, spinach, almonds, garlic, juice of the lime, sea salt, and chili flakes to a food processor. Process for 2-3 minutes, stopping to scrape down sides as needed, or until smooth and creamy.
To Assemble
If you opt for zucchini noodles, you can serve them raw or cooked. If you want to cook them, simply add them to a large skillet over medium heat, and cook for 5-6 minutes, stirring frequently.
Add your zucchini noodles or brown rice pasta to a large bowl. Top with desired amount of pesto (I usually have about 1/4 cup of leftover pesto), toss to coat, and divide between plates.
Top with mushrooms and a sprinkle of sea salt.
Serve immediately.