The last week of summer break is always a bittersweet time. On the one hand, I'm happy to return to a wonderful and fulfilling job. On the other hand, I have the back-to-school butterflies.
I don't think any of us, working in a school or not, fully relinquish the back-to-school jitters even if we're working the 9-to-5 year round. Something about the overflowing aisles of unblemished notebooks and the sight of squeaky-clean backpacks incites a twinge of nervous excitement in each of us.
Whether we're experiencing it firsthand, for a sibling, or for a child, August is the month of change. A time that beckons us to leave our summer souls on the beach and call upon our courage to nudge us in the routine-filled direction. Summer isn't gone forever, but it's on its way out for now. It's offered us moments of relaxation, balmy nights, and sun-kissed cheeks. But good times aren't great times until they've been gone for a moment. For that reason, we part ways with summer so that those special times can settle within our hearts and develop into the memories that we want to wrap our arms around forever.
While summer says its slow goodbye over the next month, we're graced with the fruits of its labor. The sun, the warmth, and the rains of late summer yield some of the most flavorful and colorful fruits and veggies of the season. No need to complicate our plates — or our lives for that matter — let's live it up by keeping it simple and fresh.
Dewy peaches and apricots are sliced and layered over a bed of marinated kale and crunchy romaine. Shelled pumpkin seeds are sprinkled across, and a creamy balsamic, basil and peach dressing is drizzled over this summer-blessed salad.
And the perfect song? "Seasons" by Future Islands sums it up perfectly…
A special thanks goes out to Irv & Shelly's Fresh Picks for providing the awesome produce for this post.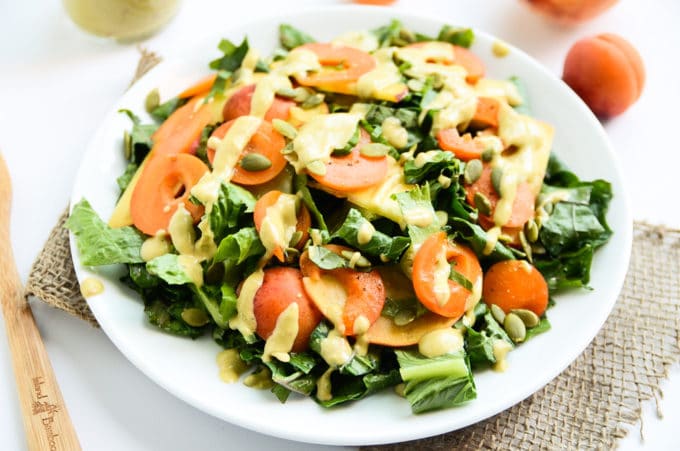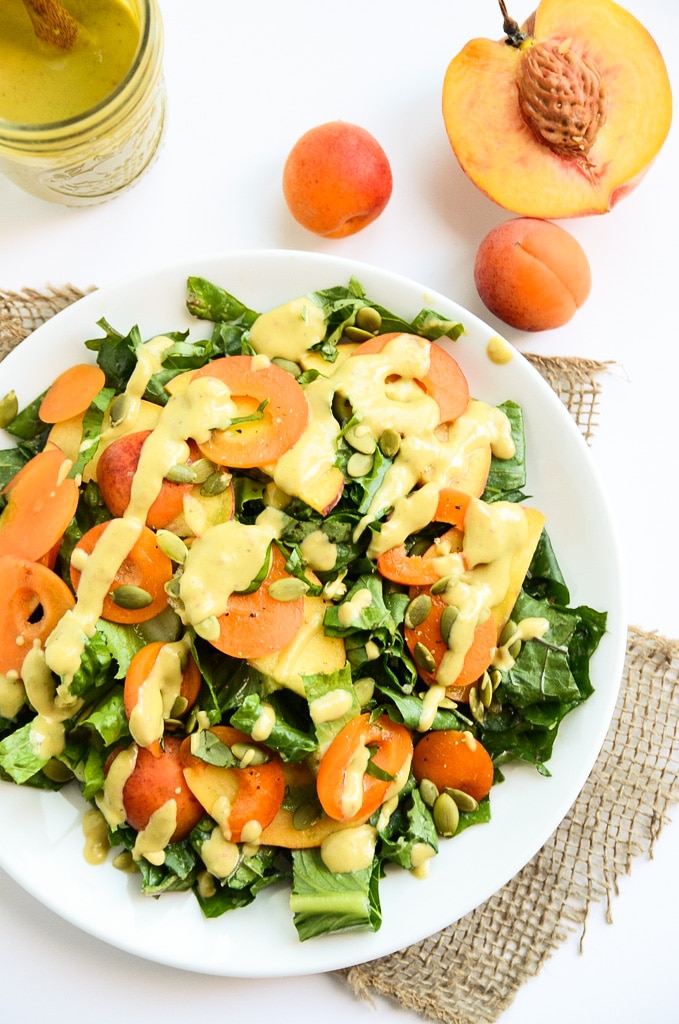 Kale & Stone Fruit Salad with Balsamic-Peach Vinaigrette
Author:
Ashley Melillo | Blissful Basil
Ingredients
1 bunch kale, washed and chopped
1 head romaine, washed and chopped
¼ cup fresh basil leaves, shredded
8 apricots, halved and thinly sliced
2 peaches, halved and thinly sliced
2 tablespoons shelled pumpkin seeds (pepitas)
1 batch balsamic-peach dressing (see recipe below)
Extra chopped basil for garnishing
Instructions
Add the chopped kale to a large bowl. Pour in ¼ of the dressing (see below) and massage the dressing into the kale leaves for 2-3 minutes. This helps tenderize the kale.
Just before serving, add the chopped romaine and basil to the bowl and toss. Divide the greens between four plates. Top each bed of greens with 2 sliced apricots and ½ a sliced peach. Sprinkle with pepitas, drizzle with dressing, garnish with basil, and serve immediately.
Creamy Balsamic-Peach Vinaigrette
Author:
Ashley Melillo | Blissful Basil
Ingredients
½ cup cubed fresh peaches
¼ cup cubed fresh apricots
¼ cup basil leaves
2 ½ tablespoons white balsamic vinegar
2 tablespoons extra-virgin olive oil
1 tablespoon tahini
1 teaspoon pure maple syrup
1/8 teaspoon sea salt
Black pepper, to taste
Instructions
Add all ingredients to a high-speed blender. Blend on high for 1-2 minutes, occasionally stopping to scrape down the sides. Pour into a jar and refrigerate. If needed, add in water, 1 tablespoon at a time, to thin.