With Memorial Day weekend just around the corner, we're within days of grill gear, patio furniture, and white pants. Although they'll be missed, it's time to bid adieu to the hearty recipes of colder days and welcome everything grilled and laden with farmers' market veggies.
Dan will be out of town this weekend visiting a few "bros" on the west coast, and I'll be visiting the fruits and veggies at Green City Market for the first time this season. I always get a bit carried away with my first farmers' market adventure of the season and wind up purchasing enough rhubarb to make 11 pies and 4 crumbles. I'm pretty sure that at one point I actually crossed the line between rhubarb purchasing and rhubarb hoarding, so I'll have to keep myself in check and go easy on the ruby-hued stalks. There's a fine line between affinity and obsession and sometimes I like to teeter on the edge.
…and I'm off on a tangent. It's like a stream of rhubarb consciousness up in here.
Deep breath. Count to three.
Back to burgers.
These burgers are the perfect way to kick off summer. They're marinated in a zippy mixture of balsamic vinegar, tahini, olive oil, shallots, garlic, and chives for a solid 30 minutes (or more if it suits your fancy). Then, they're grilled until tender, nestled between crusty bread, and topped with caramelized onions + a heaping dollop of vegan blue cheese. The "blue cheese" is a different take on the traditional vegan approach in that it doesn't contain vegan mayo. Instead, firm tofu is crumbled and coated with a mixture of hemp seeds (seriously, I can never get enough of these), almond milk, white wine vinegar, lemon juice, garlic powder, tahini, and nutritional yeast. Does it taste exactly like blue cheese? Absolutely not. Does it taste amazing and add a tangy zest that balances the richness of the Portobello? Yes. 100% yes. Let's not forget about the ingredient that takes these burgers home: the caramelized red onions. Red onions are sliced into rounds and caramelized in coconut oil until they're golden-brown and incredibly tender + sweet. The entire combination is so satisfying and heart-warming in that summery, sun-doused kind of way.
Sound Bite | Romanticise by Chela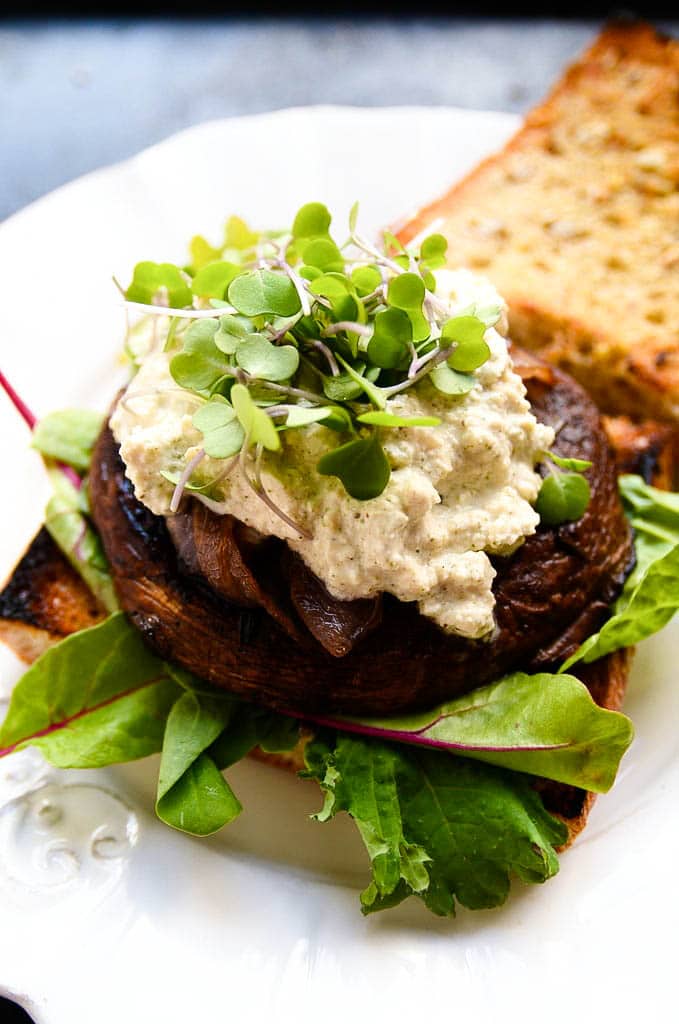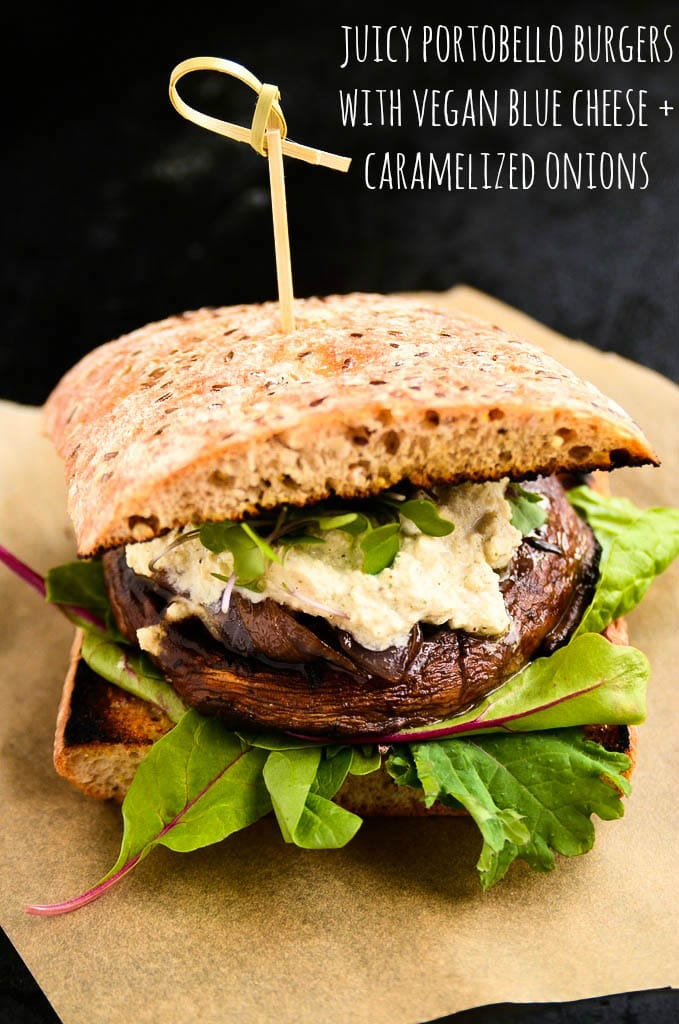 Juicy Portobello Burgers with Vegan Blue Cheese & Caramelized Onions
Recipe type:
Burger, Sandwich
Ingredients
For the Portobellos
2 medium or large portobello mushrooms, washed
1/3 cup balsamic vinegar
4 tablespoons chopped fresh chives
2 tablespoons minced shallots
2 tablespoons olive oil
1 tablespoon tahini
1 garlic clove, minced
1/4 teaspoon sea salt
black pepper, to taste
For the Blue Cheese
1/3 cup hemp seeds
1/4 cup plain, unsweetened almond milk
2 1/2 tablespoons white wine vinegar
1 1/2 tablespoons fresh lemon juice
1 teaspoon nutritional yeast
1/2 teaspoon garlic powder
1/2 teaspoon tahini
1/2 teaspoon sea salt
1/2 block firm or extra firm tofu (I use sprouted tofu)
For the Caramelized Onions
1 red onion, sliced into 1/4-inch thick rings
1 tablespoon coconut oil
1/2 tablespoon agave nectar
Additional Ingredients + Garnishes
2 hearty burger buns, toasted
sprouts
greens
Instructions
For the Portobellos
Remove the stems of the portobellos. Then, use a spoon to scoop out the gills and discard. Add both portobellos to a large ziploc bag or container.
Add the balsamic, chives, shallots, olive oil, tahini, garlic, salt, and pepper to a bowl and whisk together. Pour the marinade into the bag and toss to coat the mushrooms.
Let the mushrooms marinate for at least 30 minutes, tossing every 10-15 minutes.
Heat a grill pan or grill over high heat. Place the mushrooms on the grill and grill for 5-6 minutes on each side. Remove from grill and let cool slightly.
For the Blue Cheese
While the mushrooms marinate, make the blue cheese by adding the hemp seeds, almond milk, white wine vinegar, lemon juice, nutritional yeast, garlic powder, tahini, and sea salt to a blender. Blend on high for 2 minutes.
While the mixture is blending, crumble the tofu in a bowl.
Pour the hemp seed mixture over the tofu and toss to coat. Refrigerate until ready to use.
For the Caramelized Onions
Melt coconut oil in a skillet over medium heat. Add in the onions and agave nectar and cook for 10-15 minutes or until caramelized, stirring occasionally.
To Assemble the Burgers
Place a portobello on each bun, top with caramelized onions, blue cheese, and sprouts. Serve immediately.