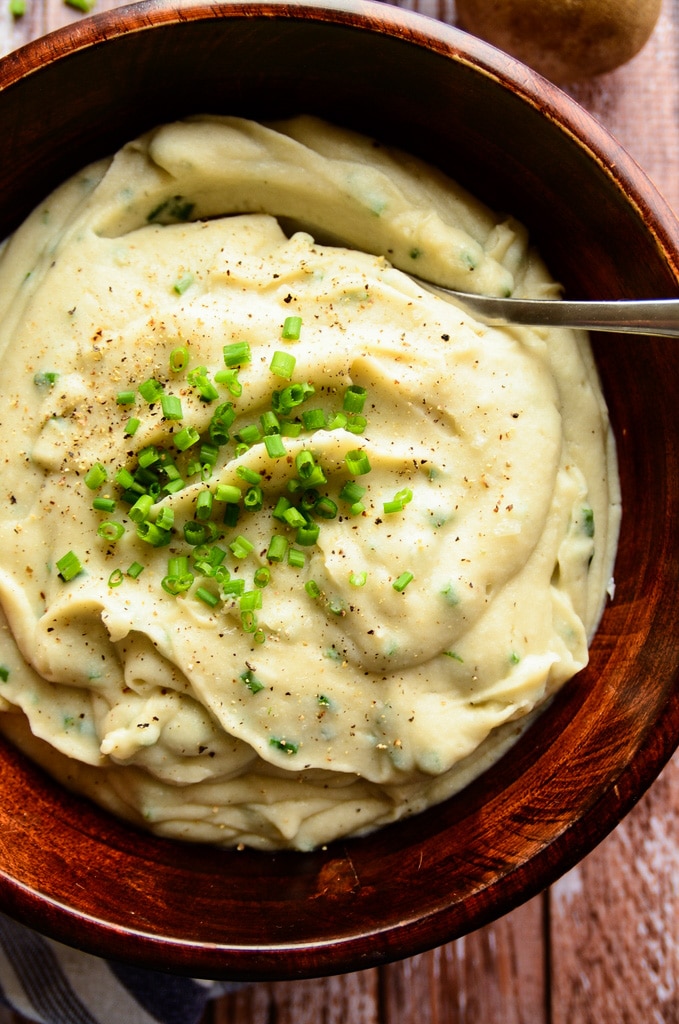 I might be dreaming, but I'm pretty sure these are the most amazing mashed potatoes ever.
Silky.
Smooth.
Creamy.
Smoky.
Cloud-like.
Heavenly.
Life-changing.
This is a far cry from your typical bland mash of lonely potatoes. This is a mash of potatoes, cauliflower, and something altogether unexpected and secret: smoked eggplant. All credit for this secret (and genius) trick goes to Maria Elia, author of The Modern Vegetarian. Her book was my first vegetarian cookbook purchase, and she uses vegetables in the most beautiful way. Her smoky mash contains potatoes, smoked eggplant, and lots of cream, so I figured it was time to veganize it. The original recipe also creates a dense, heavy mash, so I transformed the texture into a lighter, airier one with the addition of cauliflower.
To make this savory mash, you'll start by pricking two whole eggplants with a fork. You'll then toss them on a grill pan or grill, turn them every few minutes, and cook them until their entire exterior is charred.
Sounds odd so far, but trust me on this one. There is something undeniably special about these mashed potatoes.
While you let those piping-hot, purple veggies cool, you'll add peeled and cubed russet potatoes and one head of cauliflower florets to a pot. Turn your heat on high, and cook your tater-flower combo until tender. Once the eggplants have cooled, you'll slice each in half, scoop out the smoky flesh, and discard the charred skin. You'll then return the cooked cauliflower, potatoes, and smoky eggplant to the pot, add in a generous pour of cashew cream, and get mashing (or in this case, blending). I use an immersion blender to create a silky texture, but you can also use a potato masher or hand mixer if you prefer a sturdier mash. Then, you'll season with salt, pepper, and white wine vinegar (for a sour-cream-like tang) and stir in a sprinkling of chopped chives.
This is the kind of dish I get so excited to make for Thanksgiving. There's something amazing about warming the hearts, comforting the souls, and nourishing the bodies of loved ones with a meal that you've poured a little love into.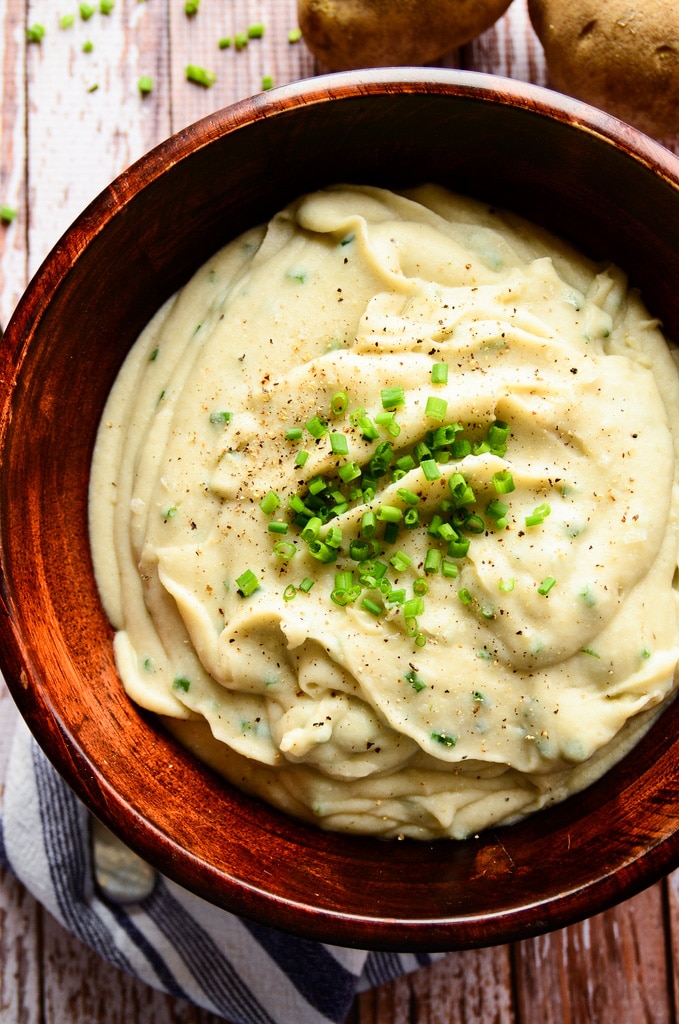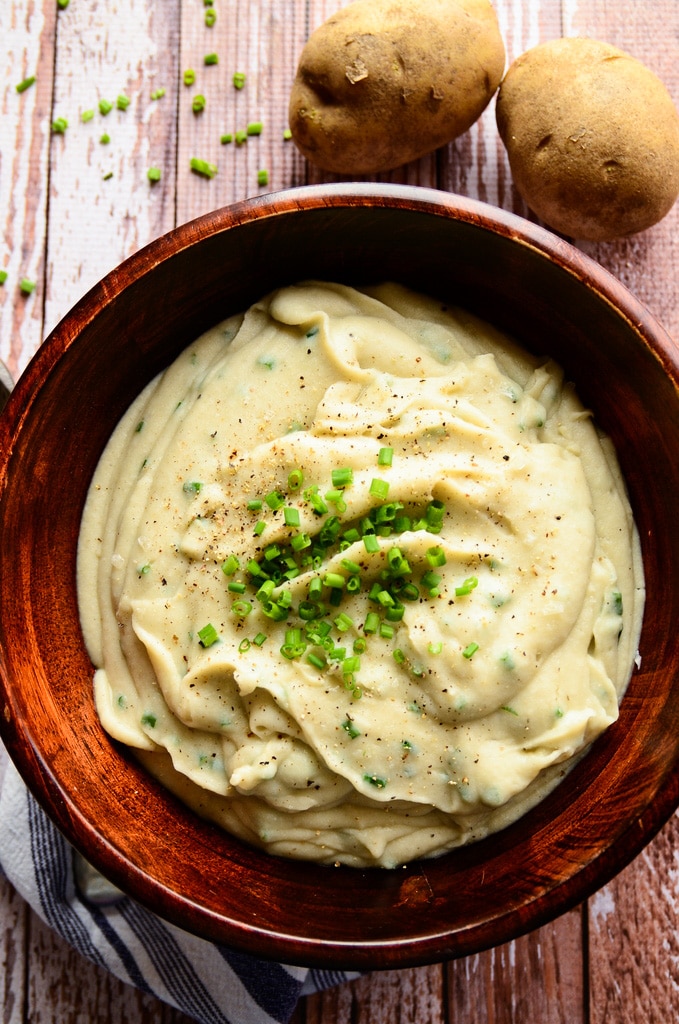 I'm-On-Cloud-9 Dreamy Vegan Mashed Potatoes
Author:
Ashley Melillo | Blissful Basil
Recipe type:
Side, Potatoes
Ingredients
1/3 cup raw cashews
2/3 cup water
2 medium to large eggplants
2 pounds russet potatoes (about 4 medium), peeled and cut into chunks
1 head of cauliflower, cut into florets
1 1/2 - 1 3/4 teaspoons sea salt or to taste
black pepper, to taste
optional: 1/2 tablespoon white wine vinegar
1/2 cup finely chopped chives
Instructions
Add the cashews and water to a bowl and set aside to soak.
Heat a large grill pan or grill.
Prick the eggplants all over with a fork and place on the grill or grill pan. Char on all sides, turning every few minutes, until blackened. This process takes 15-20 minutes. Place the eggplants in a colander and let cool.
Once the eggplants have cooled, cut them in half lengthwise and, using a spoon, scoop out the flesh. Place the flesh in a bowl and set aside.
Add the potatoes and cauliflower florets to a large stock pan that has been filled with cold water. Cover and heat on high for 25-30 minutes or until the potatoes are fork-tender. Drain and return the cauliflower and potatoes to the pot.
Add the raw cashews and soaking water to a high-powered blender. Blend on high for 1-2 minutes or until completely smooth.
Add the cashew cream and the eggplant flesh to the pot with the potatoes and cauliflower. If you want a super smooth mash, use an immersion blender to puree the mash (this is what I do). If you want a thicker mash, beat the mashed potatoes with a hand mixer until smooth. Add in the sea salt, black pepper, and white wine vinegar (if desired) and continue to blend or mash.
Stir in the chopped chives.
Serve warm.
Refrigerate leftovers.