I'm having one of those moments where I can't think of what to write so I opt to tell a silly story about my life, only I can't think of a decent story. Perhaps I've shared all of my embarrassing life moments already? Surely this isn't possible, but I'm drawing a blank, so instead of a story you get some cold, hard facts about… lentils.
Lentils are your friends. <– That? That right there substantiates my statement about having writer's block. I'm sorry, but you're about to get more legume factoids than you bargained for this Friday…
1| Compared to other legumes, they're quite quick and simple to prepare. All you need is an easy-to-remember 2:1, water-lentils ratio and about 25 minutes.
2| They're full of soluble fibers that help capture and escort unwanted cholesterol out of your body.
3| Lentils are packed with Folate + Magnesium, which help keep your heart happy and healthy.
4| Thanks (again) to their high level of soluble fiber, lentils slow down digestion and stabilize blood sugar levels, which is especially helpful for those with diabetes or insulin resistance.
5| They keep you full and fueled for hours. 1 cup of lentils has 18 grams of protein and only 230 calories, so you're getting a lot of protein bang for your buck.
6| They're high in iron, which is always a good thing to be on the lookout for if you're vegetarian or vegan.
7| They're cute + delicious. I mean, let's be honest. Lentils are kind of cute, right? Tiny. Round. Precious.
8| Most importantly, lentils are delicious. Especially in this salad…
This salad has four delectable layers. The first layer is a bed of baby arugula. Peppery, bright, and such a pretty shade of green. The lentil layer is minimalistic in the most perfect way. French lentils are simmered in water until they're tender and plump. They have a wonderful peppery flavor to them and require very little seasoning if any. In this case, we've walked the season-less path. The next layer is roasted delicata squash (the BEST), roma tomatoes, portobello mushrooms, and leeks. The delicata squash and leeks are sweet, the mushrooms are savory, and the tomatoes lend a bright acidity. It's a simple but balanced combination of veggies. Lastly, a creamy tahini dressing is drizzled over top.
Similar to zucchini pasta, this salad provides hours of fuel without igniting a case of post-lunch sleepies. I've enjoyed it 1, 2, 3… three times for lunch this week, and I've been brimming with energy.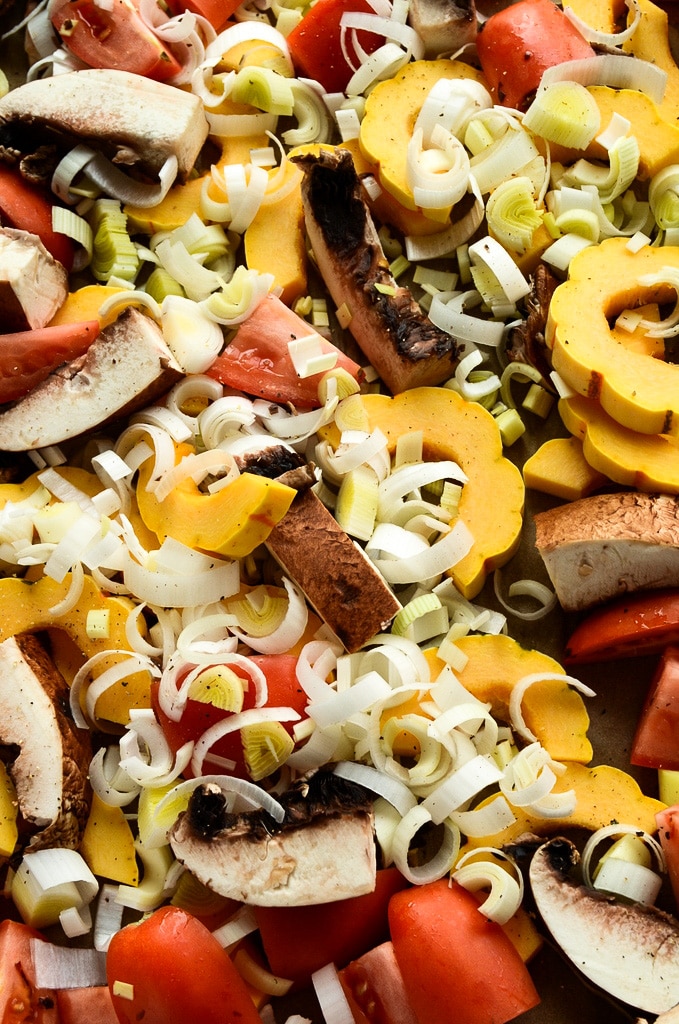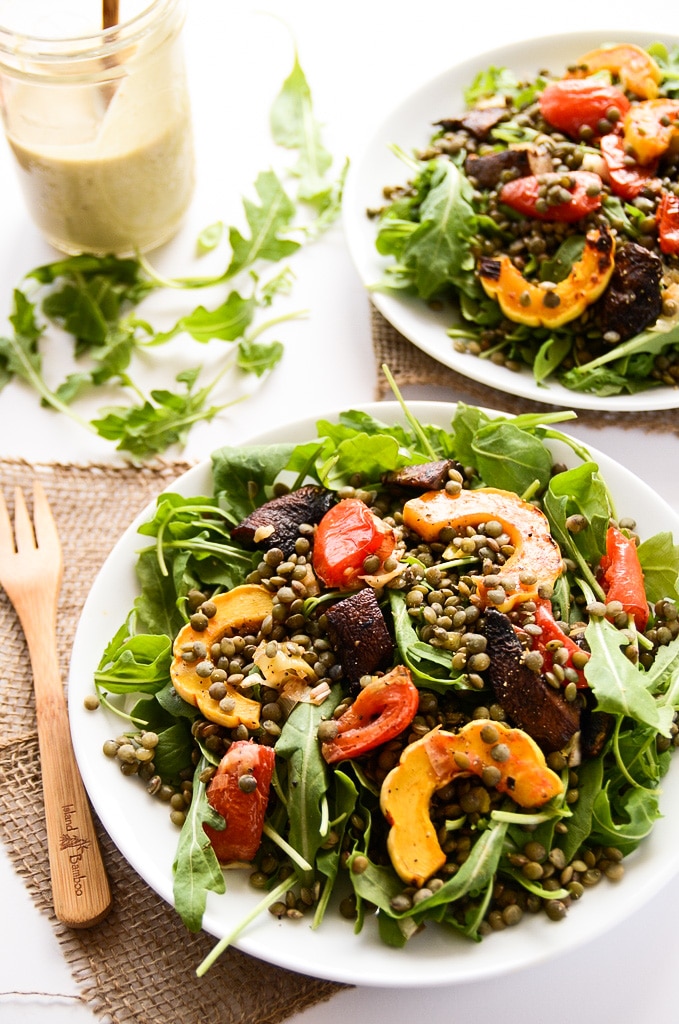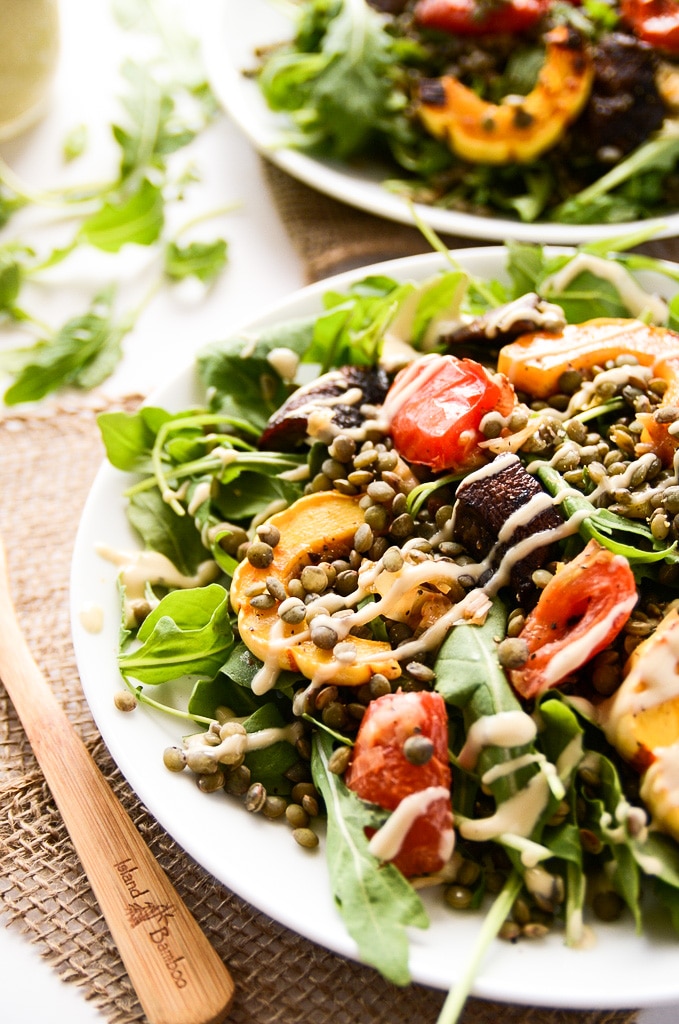 French Lentil & Roasted Vegetable Salad
Author:
Ashley Melillo | Blissful Basil
Ingredients
For the Lentils
1 cup french lentils
2 cups water
For the Roasted Vegetables
1 medium delicata squash
3 roma tomatoes, cut into eighths
2 portobello mushroom caps, gills removed and cut into 1-inch pieces
2 leeks, washed, halved lengthwise, and thinly sliced
1 tablespoon olive oil
1/2 teaspoon salt
black pepper
To Assemble
8 cups arugula
1 batch tahini vinaigrette (see recipe below)
Instructions
For the lentils
Thoroughly rinse the lentils.
Add the lentils and water to a medium saucepan over medium-high heat. Bring to a rapid simmer, reduce heat, and simmer uncovered for 20-30 minutes (mine usually take 20 minutes). If needed, add in more water to ensure that the lentils are slightly covered by the water throughout cooking. They're done once they've become tender but not mushy.
Once the lentils have finished cooking, strain off any excess water, transfer to a bowl, and let cool.
For the Roasted Vegetables
While the lentils are cooking, preheat your oven to 400 degrees Fahrenheit.
Slice the ends off of the delicata squash and cut it in half lengthwise. Use a spoon to scoop our the seeds and discard them. Leaving the skin on, slice the squash into 1/2-inch-thick pieces.
Line a baking pan with parchment paper. Spread the squash, tomatoes, mushrooms, and leeks out across the pan. Drizzle with the olive oil, and sprinkle with salt and pepper.
Roast the vegetables for 30-35 minutes, tossing halfway through.
To Assemble
Spread out a bed of 2 cups of arugula on a plate. Top with a 1/2 cup of the cooked lentils, 1/4 of the roasted vegetables, and a drizzle of tahini dressing.
This recipe makes 4 servings. If you have leftovers, store each part (i.e., lentils, vegetables, arugula, dressing) within its own container and refrigerate.
Creamy Tahini Dressing
Author:
Ashley Melillo | Blissful Basil
Ingredients
2 tablespoons tahini
2 tablespoons olive oil
2 tablespoons white wine vinegar
1-2 tablespoons water or more as needed to thin the dressing
1/4 teaspoon sea salt
black pepper to taste
Instructions
Add all ingredients to a mixing bowl and whisk for 30 seconds.
Notes
If you prefer more than 2 tablespoons of dressing on your salad, I recommend doubling the dressing recipe. As is, it makes enough for a light drizzle on each salad; however, if you're anything like me, you'll want to double it!