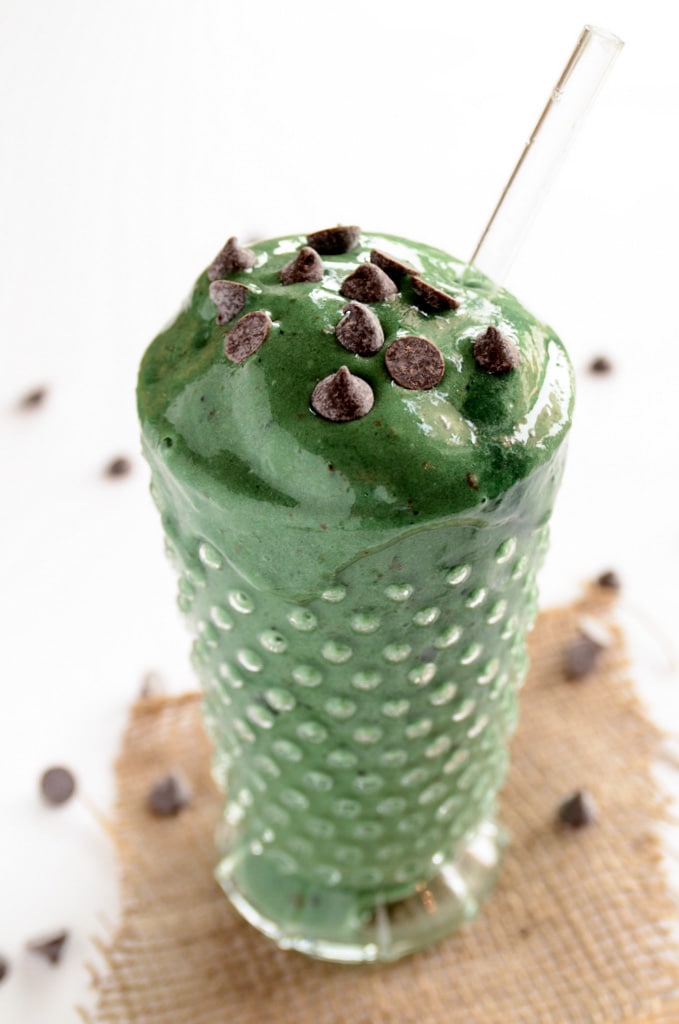 First of all, I'm so sorry for the wacky posting schedule this week! Between the holiday weekend, the start of the school year, a nasty case of fall allergies, and some major building-repair planning for our condo association (note: the repairs will affect our kitchen. wah.), this week has been a bit of a whirlwind. That being said, I already have next week's M-W-F posts lined up, so we'll be back to business as usual.
Until then, my plan is to chill out with this thick, creamy, minty, and chocolaty smoothie in my hands forever and for always.
Similar to the Chocolate Malt Superfood Smoothie I posted a few months back, this smoothie garners its thick consistency from the use of a food processor with a minimal amount of liquid. While an incredibly high-powered blender can also do the trick, your Average Joe blender will require too much liquid, and you'll end up with a thinner smoothie.
This mint chip smoothie gets its emerald hue from the amazing spirulina. Spirulina is a blue-green algae that forms in warm, fresh water bodies. It's also a super food. But why?
1| It's about 65% protein and a complete protein at that.
2| It has potent anti-inflammatory properties.
3| It contains Omega-3, 6 + 9, but is especially high in Omega-3s.
4| Its high levels of chlorophyll aid in detoxification and boost immunity.
5| It's packed with calcium (26 times the calcium found in milk, to be exact).
6| It's. So. Green.
So, back to this minty, chocolaty delight. Frozen bananas, a splash of hemp milk, hemp seeds, spirulina, and peppermint oil are whirled in a food processor to a thick and creamy consistency. A sprinkling of cocoa nibs or chocolate chips are tossed in and pulsed into the smoothie. Then, the deliciousness is scooped into a glass and topped with just a little bit more chocolate. The result is an energizing, detoxifying, minty, cooling, refreshing, dreamy glass of wonderful.
Mint Chip Superfood Smoothie
Author:
Ashley Melillo | Blissful Basil
Recipe type:
Smoothie, Breakfast
Ingredients
2-3 frozen bananas
1-2 tablespoons hemp milk or other non-dairy milk
1 tablespoon hemp seeds
1/2 to 1 teaspoon spirulina powder
2 drops peppermint oil*
1 1/2 tablespoons dark chocolate chips or cocoa nibs, divided
Instructions
Add the frozen bananas, hemp seeds, and hemp milk to a food processor. Process until smooth.
Add in the spirulina and peppermint oil and process another 15 seconds.
Add in 1 tbsp chocolate chips or cocoa nibs and pulse to chop.
Scoop the smoothie into a glass and top with the additional chocolate chips or cocoa nibs.
Notes
*I use the same peppermint oil that I put on my skin. Sounds crazy, but it's pure and delicious. If you don't have peppermint oil, you can substitute peppermint extract, but you'll want to add a bit more because it isn't as potent.