Only five more early wake-ups until summer break. Something about the end of a school year coupled with the shift from spring to summer consistently provokes a whole lot of nervous pondering in my mind. I trend toward overly-contemplative and even a bit restless as I trade in my 7:00am-3:30pm work schedule and business casual wardrobe for a ?-? schedule and comfortable summer shorts. Don't get me wrong, I love my comfortable summer shorts and summers "off," but I've realized that I also love a consistent schedule.
It seems that somewhere in the midst of becoming a 30-year-old adult, I also became a creature of habit.
Each and every day, I arrive at work at the same time, park in the same place, and take the exact same path as I make my way to my office. The strange thing is that I don't find this routine monotonous or boring; I find it comforting and cozy. I like knowing who I'll pass as I walk to the staff dining room, saying hi to a group of students that has taken ownership of their own morning routine right outside my office (i.e., listening to a variety of pop songs from the 80's + 90's + 00's), and having the minutes of the day defined by a school bell.
In previous years, this abrupt shift from structure to summer would initially leave me paralyzed by choice and freedom. Within about 2 seconds of waking up each morning, a slew of questions as to what I should spend my day doing would rush through my head in a flurry.
Should I go shopping? Should I read a book? Should I write a blog post? Should I go to yoga? Should I sleep in? Should I watch TV? Should I take a walk? Should I do laundry? No, definitely not laundry. Should I meet Dan for lunch? Should I go the farmer's market? Should I paint my nails? Should I sit here and keep thinking of questions all day???
And it stressed me out! Sometimes I would end up doing nothing for hours before I finally did something. Too many choices placed in the hands of an indecisive person = no choice at all. Anyone else experience this dance of indecision?
This summer, I've decided to take an entirely different approach to my "free time." Since I'm dedicating my weekdays to full-time work on the blog, I've carved out a detailed schedule for myself. It includes everything from practicing yoga to hitting up local farmer's markets to recipe development sessions to doing one thing I fear each week to blogger conferences and back again. It feels like just the right balance of summer and structure, and I'm excited to throw on my comfy shorts and embrace a new routine.
My plan was to weave the above into some profound statement about this kale salad, but I'm stumped as to where I thought I was going with that one. Let's just cut to the tasty details, shall we?
Kale yeah.
This kale salad is so awesome that it will enlighten the taste buds of even those who have a serious distaste for this dark, leafy green. One bunch of curly kale is washed, patted dry, and torn into bite-size pieces. A simple dressing is made from raw almond butter, bragg's aminos or soy sauce, apple cider vinegar, and agave nectar. The savory-sweet vinaigrette is poured over the kale leaves, and then it's time to roll up your sleeves and get a little dirty. In order to tenderize the kale and pull in all of the flavors from the dressing, you'll massage the kale with your hands for 2-3 minutes. There is probably a scientific way to explain this process of transforming the kale but who has time for that after you've spent so much time reading about my indecisive nature? So let's just say this process = magic. What were once bitter and tough leaves will be transformed into tender, sweet + tangy amazingness.
Prior to trying this salad, the only way Dan ate kale was crisped up in chip form. Raw kale? Umm, no. One night when he was feeling wildly adventurous, he asked for a bowl of this salad as I was preparing it. After just one bite he was hooked. He ate the entire salad, neglected his grilled chicken, and asked for more kale. So, fear not kale-wary friends. I think you're going to like this one.
Today's Sound Bite has an enlightened, airy vibe to it. The perfect match for this salad.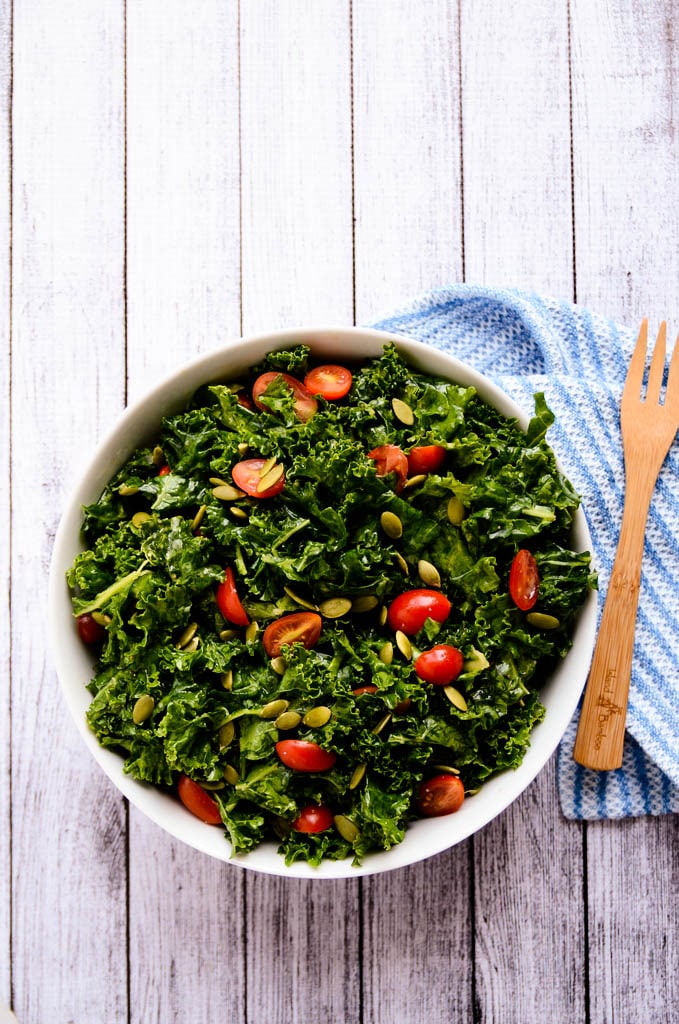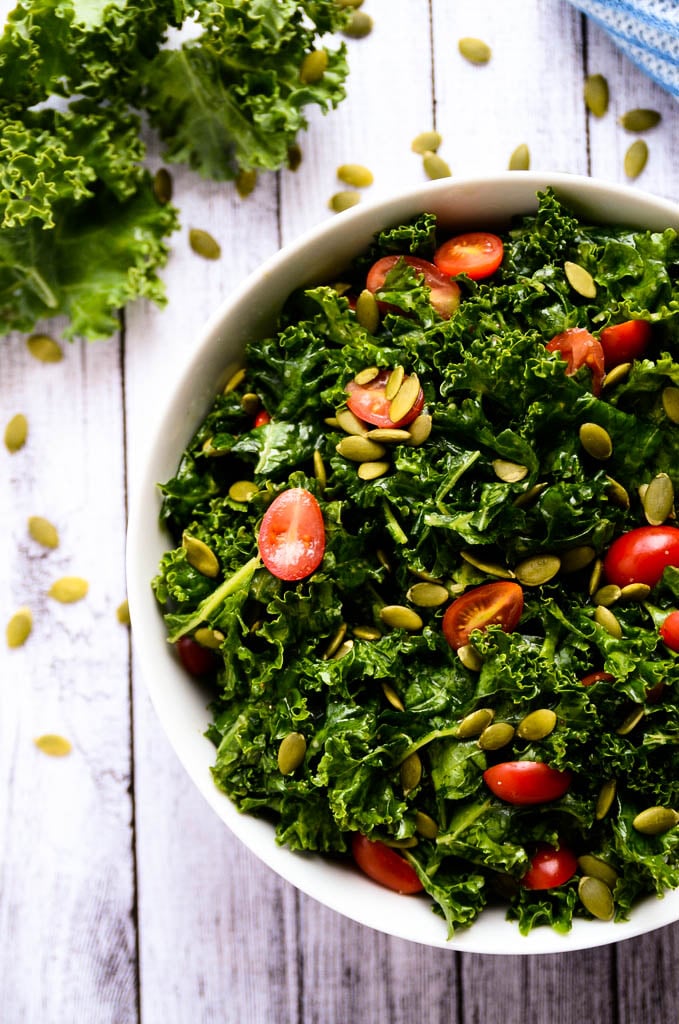 Enlightening Marinated Kale Salad
Author:
Ashley Melillo | Blissful Basil
Ingredients
1 bunch curly kale, thoroughly washed
1 tablespoon raw almond butter
2 1/2 tablespoons apple cider vinegar
1 - 2 tablespoons Braggs Liquid Aminos, Tamari or Soy Sauce
1 tablespoon agave nectar
Optional Garnishes
pepitas
cherry tomatoes
diced avocado
goji berries
Instructions
Gently pat the kale leaves dry.
De-stem the kale and tear into pieces of desired size. Add the kale to a large bowl.
Add the almond butter, apple cider vinegar, liquid aminos, and agave nectar to a small bowl and whisk together for 30 seconds.
Pour the dressing over the kale leaves, roll up your sleeves, and massage the kale with your hands for 2-3 minutes. The more you massage the kale, the more tender and flavorful the leaves will become.*
Transfer the kale to one large or two small salad bowls and top with desired garnishes.
Serve and enjoy.
Notes
*This salad can be made up to one day ahead of time and refrigerated prior to adding the garnishes. I love making it before I go to bed so that I can take it to work for lunch the following day.