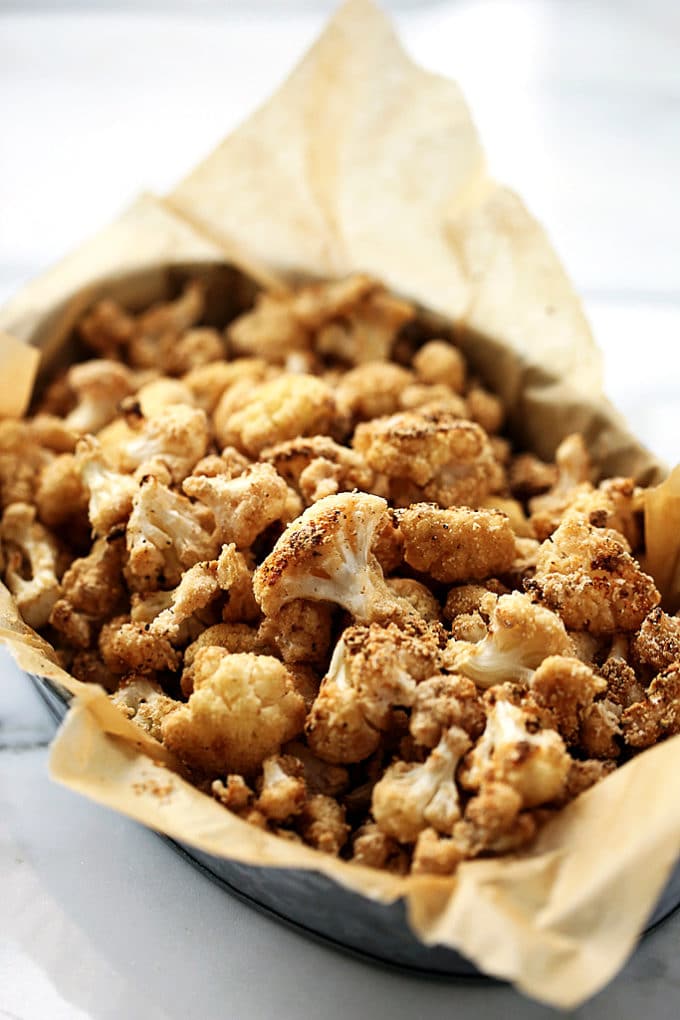 With just 3 ingredients + a little salt and pepper, you can have yourself a basket of healthy, snack-able, pop-able, love-able cauliflower goodness.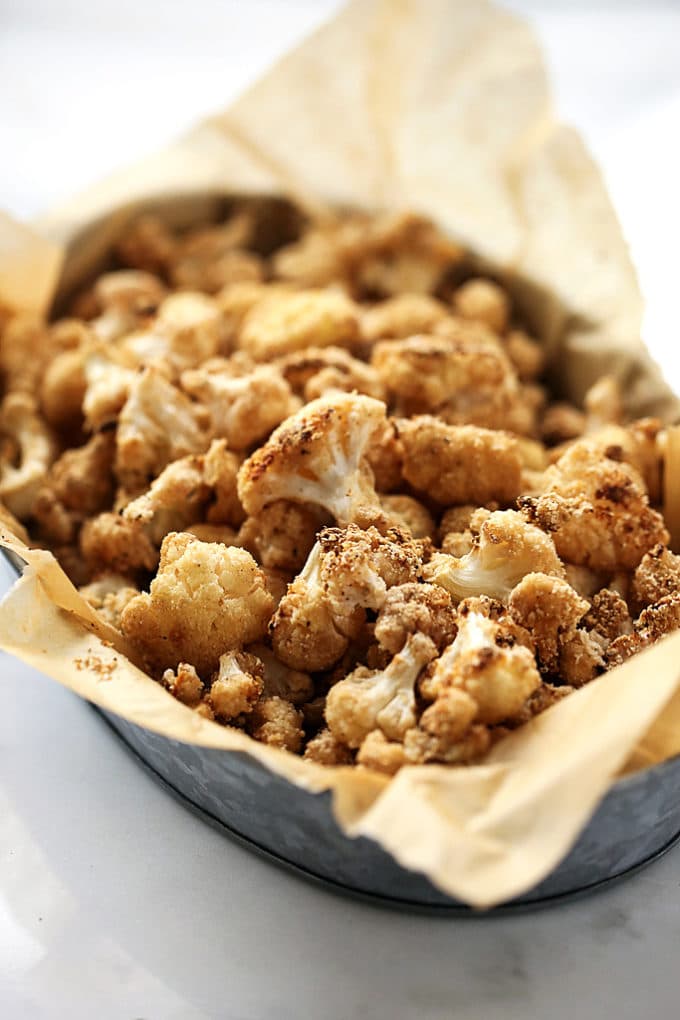 I consider myself a sort of salt & vinegar chip connoisseur, and if chips offered a bit more in the vitamins/minerals department, I'd eat my weight in ridged salt & vinegar kettle chips annually.
Although that thought is entertaining, I'm 99% certain it's not the most responsible idea I've ever had. The jury is still out on that last 1%.
Since the craving for that tangy, salty flavor strikes on an almost daily basis, I've figured out a few ways to get a salt & vinegar fix that also offers a bit of nutritional oomph.
And this crispy cauliflower variation is a force to be reckoned with.
Nutritional perks of cauliflower | rich in vitamin c, vitamin k, folate, and B6. Plus, as a member of the cruciferous vegetable family, it's been linked to cancer prevention as it helps support the body's detox system, antioxidant system, and inflammatory/anti-inflammatory system. *see below for source.
To make this dual-purpose snack, you'll start by cleaning up a large head of cauliflower. Trim away those outer leaves and cut the cauliflower into small, bite-sized florets. Then, pour a generous amount of apple cider vinegar over the florets and toss to coat. Whisk together a bit of oat flour, sea salt, and black pepper in an airtight container, add the florets, cover, and shake to evenly coat the cauliflower in an oat crust. Bake for 30 minutes or until crisp and golden.
You can enjoy the florets as is or give them an extra punch of tang by seasoning them with more apple cider vinegar and sea salt. They'll maintain their crispness better if you don't add more vinegar; however, I happily trade a bit of crunch for more of that vinegar zing.
This crispy sea salt & vinegar cauliflower "popcorn" makes an excellent snack, but it would also be great served as a side dish or appetizer.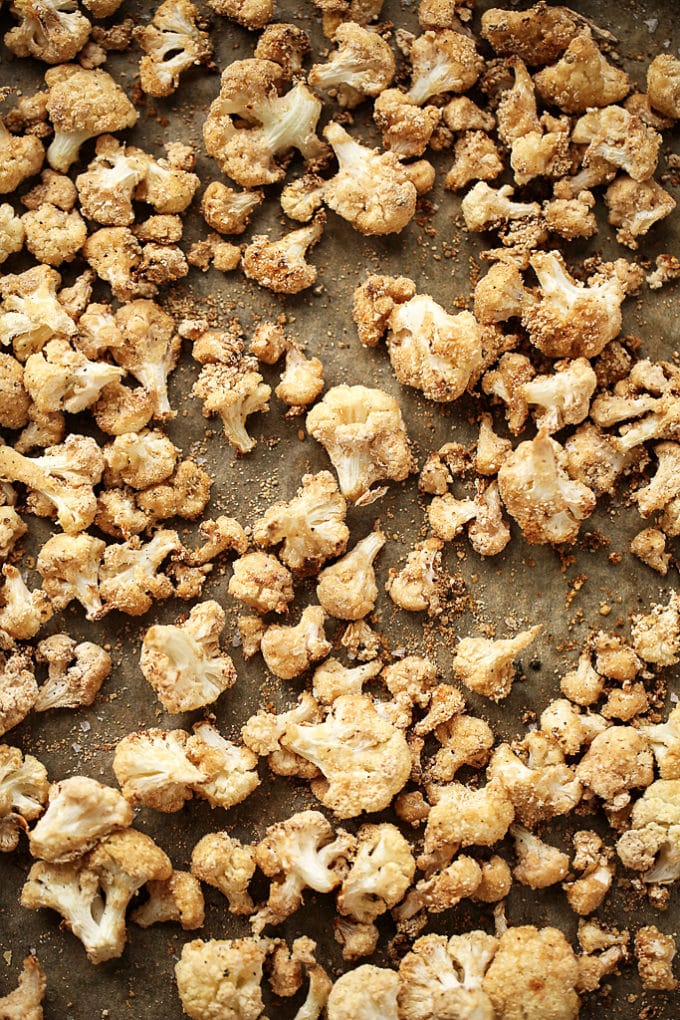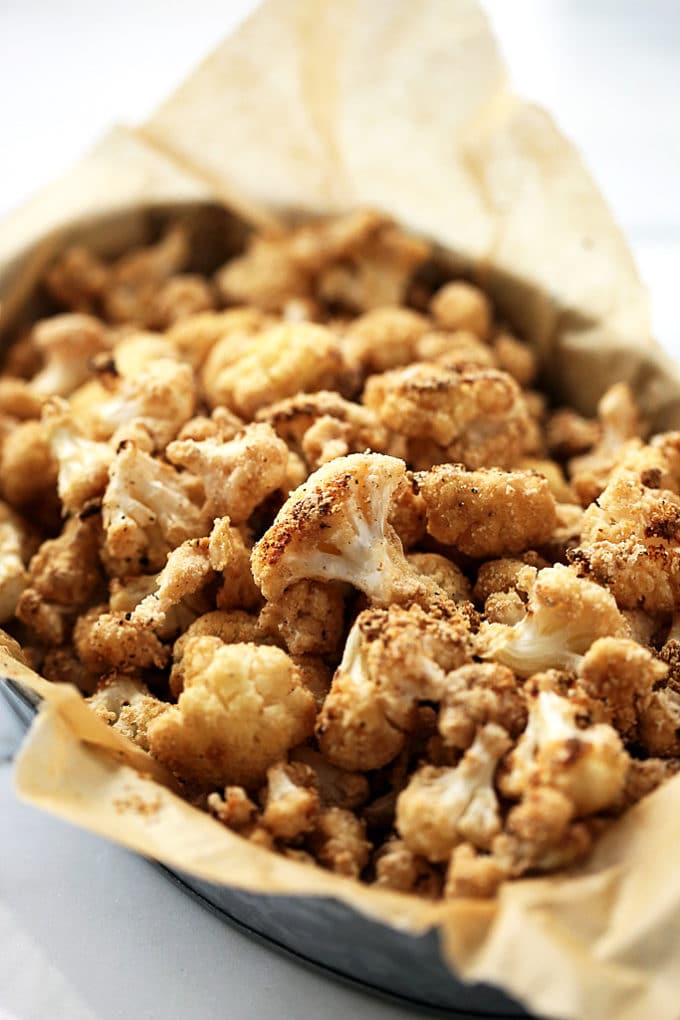 Crispy Sea Salt & Vinegar Cauliflower "Popcorn"
Author:
Ashley Melillo | Blissful Basil
Recipe type:
Side, Snack, Appetizer
Ingredients
1 large head cauliflower, outer leaves removed
1/2 cup oat flour
1/2 teaspoon sea salt
Freshly ground black pepper, to taste
1/4 cup + 1 tablespoon apple cider vinegar, divided
Instructions
Preheat oven to 425F. Line a large baking tray with parchment paper.
Cut the head of cauliflower into small, bite-sized florets (approximately 1 inch across or smaller).
Whisk together the oat flour, sea salt, and black pepper in a large airtight container.
Add the cauliflower florets to a large, nonreactive mixing bowl. Pour 1/4 cup of the apple cider vinegar over the florets and toss to coat. If you have an extra 15 to 30 minutes, let it marinate in the vinegar. If not, no worries, you can move straight to the next step!
Use a slotted spoon to transfer the cauliflower florets into the container with the oat flour. Secure the lid and vigorously shake the container to coat the florets. Dump the florets onto the lined pan and spread them out into a single layer.
Bake for 15 minutes, flip the florets over as best you can, and bake another 15 to 17 minutes or until crisp and golden.
If you want a bit more vinegar tang, use your fingers to spritz the cauliflower with the remaining tablespoon of apple cider vinegar. Season with a bit more sea salt and black pepper, if desired.
Serve warm.
*Cauliflower health benefits source: World's Healthiest Foods