This post is sponsored by Mutti. All thoughts and opinions are 100% my own.
I'd be hard pressed to find a dish that radiates cozy winter vibes more than tomato bisque. It's the richer, more luxurious cousin of tomato soup, and I never tire of the stuff.
Growing up, my mom made big batches of tomato bisque throughout the winter. It offered a slow warming kick of heat thanks to a few gentle shakes of hot sauce and had bits of chopped tomatoes strewn throughout its smooth, creamy base. It made the perfect weeknight meal, and I often slurped back a bowl after arriving home from a long night of dance classes.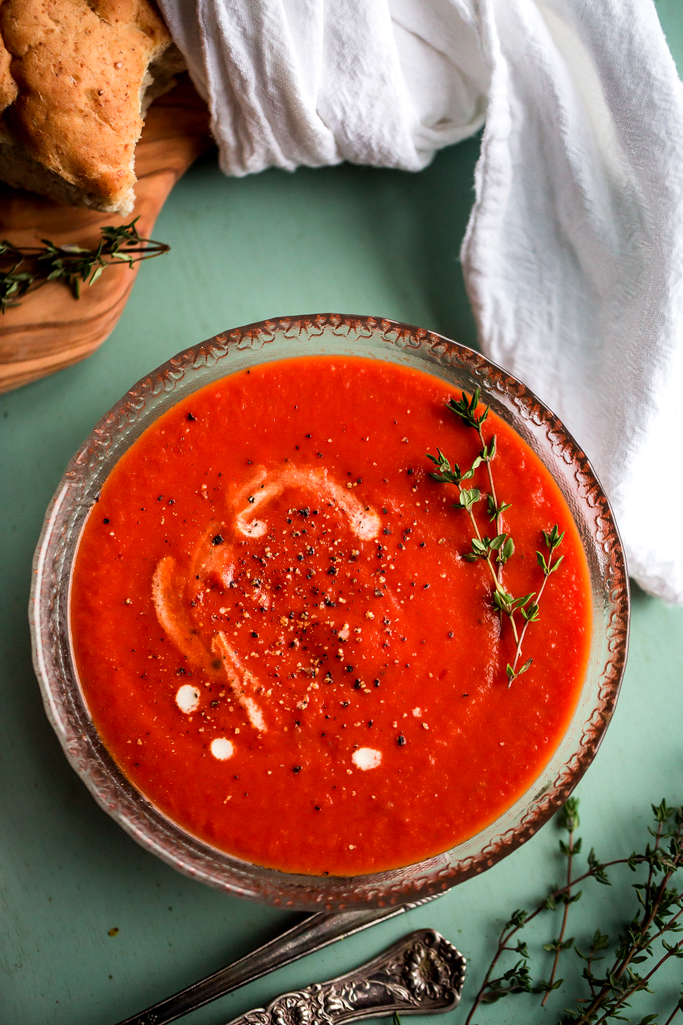 This creamy vegan tomato bisque is a plant-based take on that childhood favorite. It offers a slow-warming kick of heat, has a ripple of cashew cream strewn throughout, and is puréed just long enough to smooth it out yet still retains a bit of texture.
It's incredibly simple to make, requiring no more than some minimal vegetable prepping (slice an onion, roughly chop some garlic, and grate a carrot), a few pours of tomato purée, some stirring, a dash or two, some simmer time, and a quick blend.
Despite its humble beginnings, the end result is incredibly special. This bisque is comforting, nourishing, warm, and rustic. Just be sure to arm your pantry with a fresh baguette so that you can tear off a piece and use it to sop up every last drop that lingers in your bowl. It'd be a mistake not to.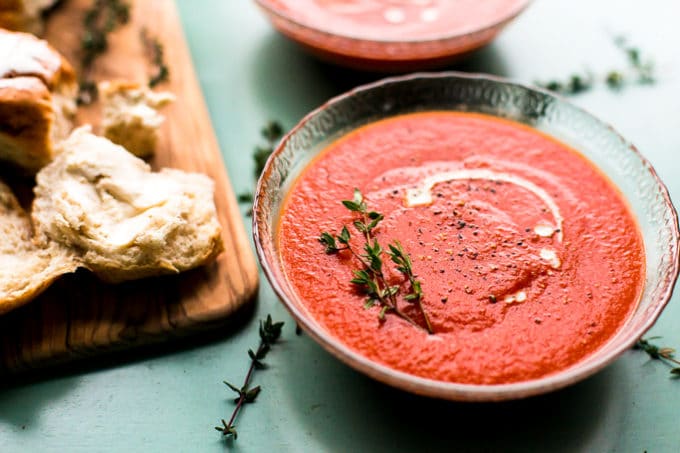 To make this vegan tomato bisque, you'll start by sautéing thinly sliced onion, grated carrots (adds sweetness to balance the acidity of the tomatoes), a whopping four cloves of garlic, and a bundle of fresh thyme sprigs.
Once the onions are soft and translucent, you'll stir in a couple tablespoons of Mutti Tomato Paste and crushed red peppers flakes. Turn up the heat and cook until the tomato paste begins to caramelize in a few spots. Then, stir in two jars of Mutti Tomato Purée and a few cups of filtered water. Both the paste and the purée are made with pure and simple ingredients (i.e., Italian tomatoes, salt) and have the prettiest bright red hue.
Give it all a good stir. Then, bring the mixture to a boil, reduce the heat, and simmer for about 20 minutes.
While the soup simmers, add one-quarter cup soaked raw cashews to a blender along with a bit of filtered water. Blend until you have a completely smooth cashew cream.
Once the soup is reduced by about one-sixth and the flavors begin to meld, turn off the heat. Then, carefully remove the thyme sprigs and use an immersion blender to purée the soup. Alternatively, you can transfer the soup to a blender and blend in batches. Just be sure to return it to the pot after blending.
I like my tomato bisque to have a bit of texture, so I blend it for just a minute or two. However, if you prefer a silky smooth bisque, feel free to blend to your heart's content.
Next, add sea salt, a few dashes of hot sauce, and the reserved cashew cream. Then, stir, stir, stir into that dreamy, tomato-y goodness.
Tomato bisque tie dye like whoa.
Or is it more like a tomato galaxy riddled with shimmering interstellar cashew stardust?
Pardon my mind, I've seen one too many documentaries on the cosmos as of late.
But seriously, it kind of looks like a tomato bisque galaxy, doesn't it? Or a nebula. Speaking of, if you want to throttle yourself into some deep existential pondering, take a gander at these nebulae that look almost exactly like eyes. Beautiful but meaningless coincidence or universal synchronicity?
I digress. Back to soup it is.
Once you've swirled in the cashew cream, you'll turn the heat back on and simmer the soup for another five to ten minutes to pull all of those lovely flavors together. Then, taste and season with more sea salt and lots of freshly ground black pepper.
Finally, add a pinch of baking soda (to cut the acid) and give it one last stir. Serve warm with a hunk of hearty bread (for dipping).
Creamy Vegan Tomato Bisque with a Kick
This creamy vegan tomato bisque offers a slow-warming kick of heat, has a ripple of cashew cream strewn throughout, and is puréed just long enough to smooth it out yet still retains a bit of texture. Recipe inspired by this lovely creamy tomato soup from Bon Appétit.
Ingredients
2

tablespoons

extra-virgin olive oil

1

large yellow onion, thinly sliced

1/4

cup

peeled and finely grated carrot (about 1 medium carrot)

4

cloves

garlic, roughly chopped

5

sprigs thyme, tied together with kitchen twine

2

tablespoons

Mutti Double Concentrated Tomato Paste*

1/4

teaspoon

to 1 crushed red pepper flakes, to taste**

2

24.5-ounce

jars Mutti Tomato Purée (Passata)*

4

cups

filtered water, divided

1/4

cup

raw cashews, soaked for at least two hours and drained

Few to several dashes of red pepper hot sauce (e.g., Tabasco), to taste

1

teaspoon

sea salt, plus more to taste

Freshly ground black pepper

Pinch baking soda (to balance acidity)
Instructions
Heat the olive oil in a large stock pot over medium-low heat. Add the onion, grated carrot, garlic, and thyme, and cook for 6 minutes, or until the onion is soft and translucent, stirring occasionally.

Increase the heat to medium and whisk in the tomato paste and crushed red pepper flakes. Cook for 2 minutes, or until the paste begins to caramelize ever so slightly in spots, stirring frequently.

Stir in the tomato purée and 3 1/2 cups of the filtered water. Increase the heat to high and bring to a boil. Then, reduce the heat to medium-low and simmer, uncovered, for 20 to 25 minutes, or until the soup is reduced by about 1/6, stirring occasionally.

Meanwhile, prepare the cashew cream. Add the cashews and the remaining 1/2 cup filtered water to a high-speed blender and blend on high for 2 minutes, or until completely smooth. Set aside.

Turn off the heat and discard the thyme sprigs. Purée the soup with an immersion blender*** for 2 minutes, or until completely smooth.

Stir in the cashew cream, hot sauce, and sea salt. Then, turn the heat on low and simmer for another 5 to 10 minutes, stirring occasionally. If desired, season to taste with more sea salt (I usually add another 1/2 teaspoon) and freshly ground black pepper. Stir in the baking soda.

Ladle the soup into bowls and serve warm. Refrigerate leftovers, covered, for up to 5 days or freeze for up to 1 month.
Recipe Notes
*Mutti is Italy's #1 canned tomato and all Mutti tomatoes are grown in Italy from the best producers/farmers. Their tomatoes are canned fresh and boast a rich color, flavor, and aroma.
**1 teaspoon offers a swift kick of heat, so I recommend starting with 1/4 or 1/2 teaspoon and working your way up from there.
***If you don't have an immersion blender, use a regular blender to carefully purée the soup in batches. Then, return the soup to the pot.
****For an ultra rich and creamy variation, double the cashew cream (i.e., 1/2 cup raw cashews and 1 cup filtered water). Just be sure to adjust the seasoning by adding more sea salt and black pepper to balance out the sweetness of the cashews.