In just a little over a week, I'll be embarking on a Colorado vacation with a group of vacationers that hasn't been brought together since November of 1999. Crazy? Yes. Especially considering that this group of people is family. Although I've mentioned things here and there about the logistics of my life, I don't think I've ever fully explained that I have two immediate families. Despite nearly four years of blogging, I'm still slowly peeling back the layers of my life onion, and I hope you don't mind my sharing because it's both scary and relieving to be slightly vulnerable.
If you have a few extra moments, read on. If not, scroll on down to the last paragraph before the photos for some tasty adjectives about this pasta.
Way back when I was 8 and my brother, Brad, was 6, our mom and dad decided to part ways. No sap stories here, hindsight is 20/20 and this decision was for the best. Brad and I spent the majority of time with our mom and weekends with our dad, and not too far down the road each of them met someone new. After a few years, those new people become permanent fixtures in our lives as stepmom and stepdad. However, there will be no prefixing their titles with the word "evil" because these two are the farthest thing from the stereotype. They are my reason for viewing my parents' divorce in a completely positive light, and my life wouldn't be complete without them.
My dad and stepmom also decided to have two little ones, so our family of two kids doubled to four. Technically, I have a brother, a half brother, and a half sister, but actually, I have two brothers and a sister. Half schmalf. My younger brother and sister live with my dad and step mom and are 10 and 11 years my juniors, so it's been incredible to witness their progression from infancy to young adulthood. They, too, make life more complete.
Each of us is grateful that our parents get along with one another, which we know is a rare and precious thing. I had a father on each arm walking me down the aisle at our wedding, we've spent the last 12+ Christmas Eves together as one, big, happy family, and we even come together on holidays like Father's Day.
There's no denying that there were potholes in the road early on in the journey, but we've reached a special destination as a family. A place where we can come together, differences aside, and create happy memories.
Although Brad and I have been on more recent family trips with our mom and stepdad pops, the last time we vacationed with my dad, stepmom, little brother, and little sister was nearly 15 years ago. I had braces and a wardrobe made up of 40% American Eagle, 55% Abercrombie & Fitch, and 5% teenage awkwardness. It was a lonnnnnnng time ago.
After 15 years, we finally decided to get the travel crew back together for a 10-day trip to Colorado (significant others included, too), and we'll be heading to Steamboat Springs for some outdoorsy adventure time. I'm really looking forward to the trip and will be sure to include vacation stories in posts that week.
I know that life story has nothing to do with this pasta, but I've been planning for the trip and realized that talking about it on the blog warranted a bit of background information. So now, this pasta.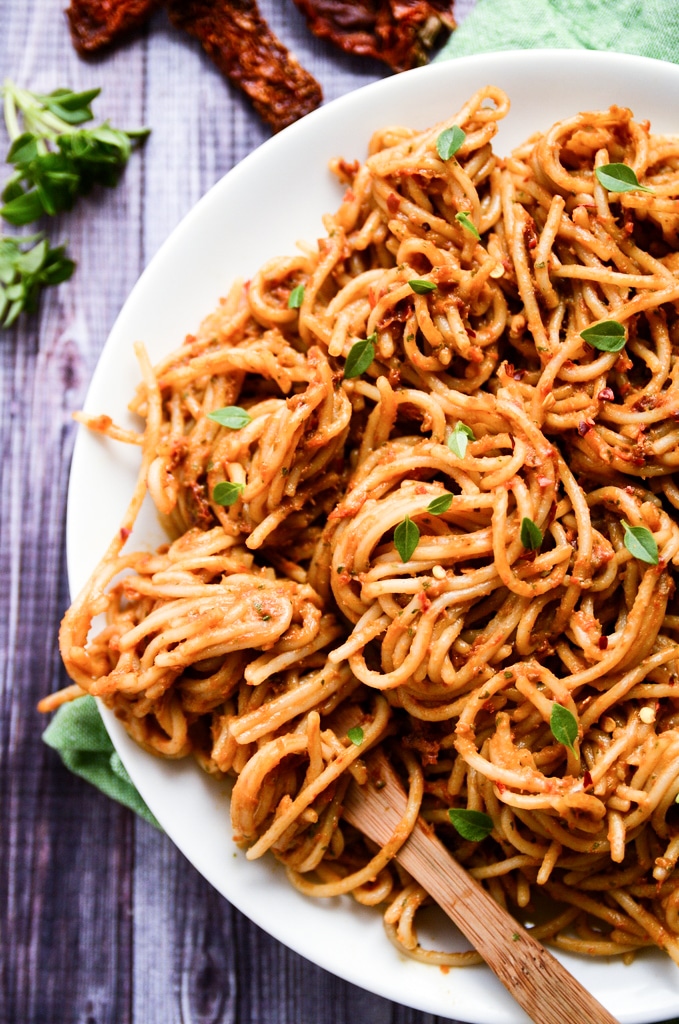 Dan and I are only a few weeks into our urban garden growing, and we already have enough basil to make pesto for days. I think the only thing I have a green thumb for is basil, which is both coincidental and slightly embarrassing. I'm not terrible with other plants, but basil seems to grow like weeds from our 4th-floor window boxes. This year, we have a city-friendly varietal called "Windowbox" Basil, and it's the cutest thing I've ever seen. It looks like tiny boxwood bushes and has the most incredible flavor. We also have two Italian Sweet Basil plants that are perfect for making pesto, so I've been making plenty of this to keep the plants from flowering.
The only ingredients in this pesto recipe are avocado, sundried tomatoes, basil, lemon juice, garlic, salt, and red pepper flakes, and they blend together in just a few minutes in a food processor. I served this creamy sauce over brown rice spaghetti, but any type of pasta would be wonderful. This is one of those basic meals that you can make again and again when in a time crunch or craving a comforting, fresh, and summery pasta dish. I love that the creaminess of the sauce comes from fresh avocado, and the sundried tomatoes add a touch of sweetness and a lovely pop of red. This is the perfect way to put your garden basil to use when your go-to homemade pesto recipe is feeling a bit stale.
Creamy Sundried Tomato & Avocado Pesto
Author:
Ashley Melillo | Blissful Basil
Recipe type:
Pasta, Sauce, Main
Ingredients
12 ounces spaghetti (I used brown rice pasta), cooked according to package instructions with 1/2 cup cooking water reserved
1 avocado, pitted and peeled
1/2 cup sliced sundried tomatoes
1/4 cup packed basil leaves
2 garlic cloves, peeled
2 tablespoons fresh lemon juice
1/4-1/2 teaspoon sea salt or to taste
1/4 teaspoon red pepper flakes
Optional Garnishes
basil
drizzle of olive oil
sprinkle of malden sea salt
Instructions
Begin by soaking the sundried tomatoes in warm water for 10-15 minutes to soften. Drain and set aside.
Add the avocado, sundried tomatoes, basil, garlic, lemon juice, sea salt, and red pepper to a food processor. Process for 2-3 minutes or until smooth.
Add your cooked spaghetti noodles to a large bowl, pour the sauce over the noodles, and toss to coat. If your noodles are sticking, add in some of the pasta water 1 tablespoon at a time.
Divide your pasta amongst 3-4 plates, add garnishes, and serve.