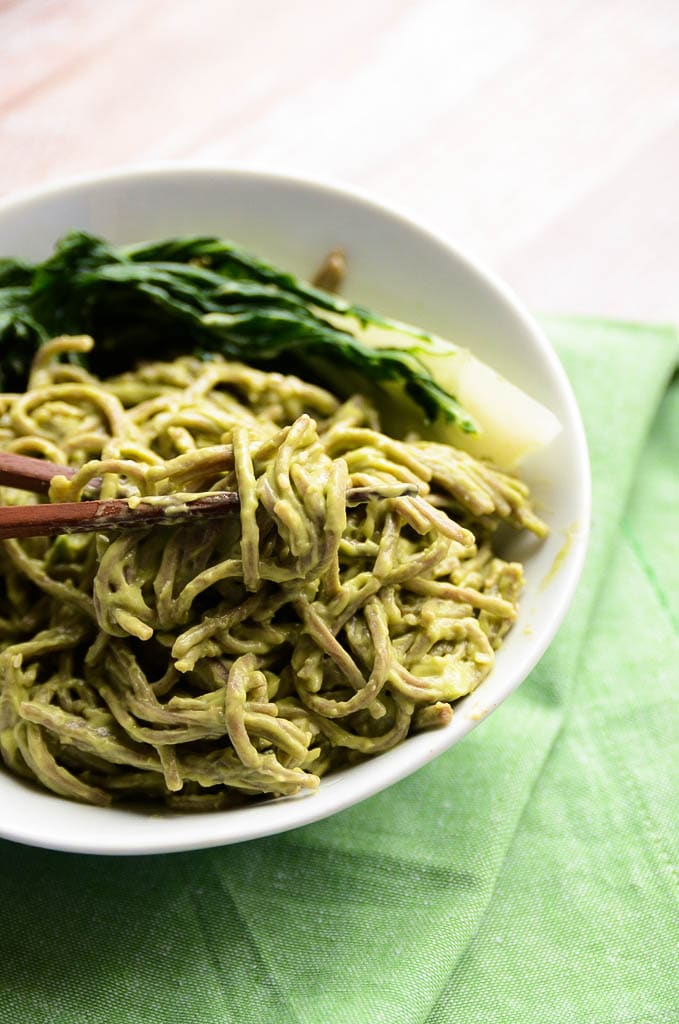 I hope you all had a lovely weekend filled with family, friends, and plenty of sunshine! We were graced with one of those perfect sunny + 75-degree days in Chicago yesterday, so Dan and I spent the sun-infused Sunday exploring the city on our wintertime dust-collectors and storage unit decorations bikes . There's something so freeing about hopping on a bike and pedaling ferociously into the cool breeze that rolls off the lake this time of year. That first breath of spring air makes us all a little more mindful of the beautiful world that surrounds us, and everything seems to transform into optimism and opportunities. So invigorating and inspiring. I want to capture that feeling, bottle it, and release its essence during the more dreary days of winter. For now, there are hopes and expectations for the warmer days to come, and it feels awesome. Fingers crossed for no snow in May… or June for that matter.
These creamy sesame-avocado soba noodles are the perfect step into spring. Hearty enough for a spring day with a remnant winter chill in the air and light enough to refresh on those unexpected hot days that inevitably surprise us come late May. Buckwheat soba noodles are boiled in a combination of water and soy sauce to infuse the dish with flavor right from the start. The noodles are then tossed in a creamy and savory combination of avocado, sesame oil, soy sauce, lime juice + fresh ginger. A garnish of juicy bok choy adds texture and a pop of spring green color. This dish comes together in a breezy 20-25 minutes, so it's perfect to throw together for a quick, satisfying, and healthy weeknight meal. Flavorful. Nutritious. Simple. Creamy. Hits-the-spot amazing.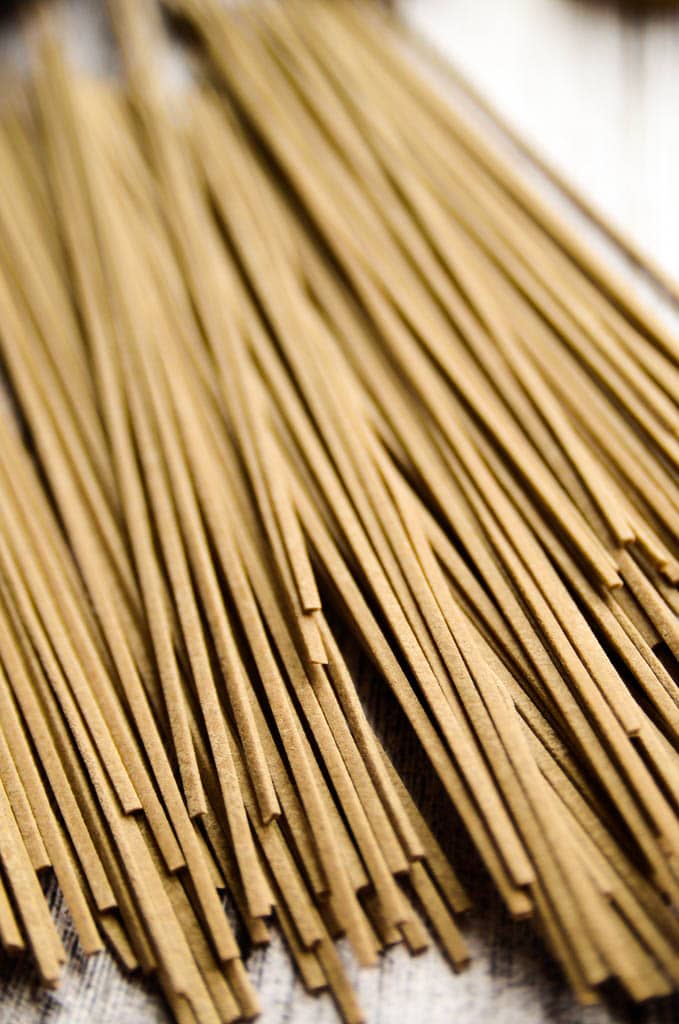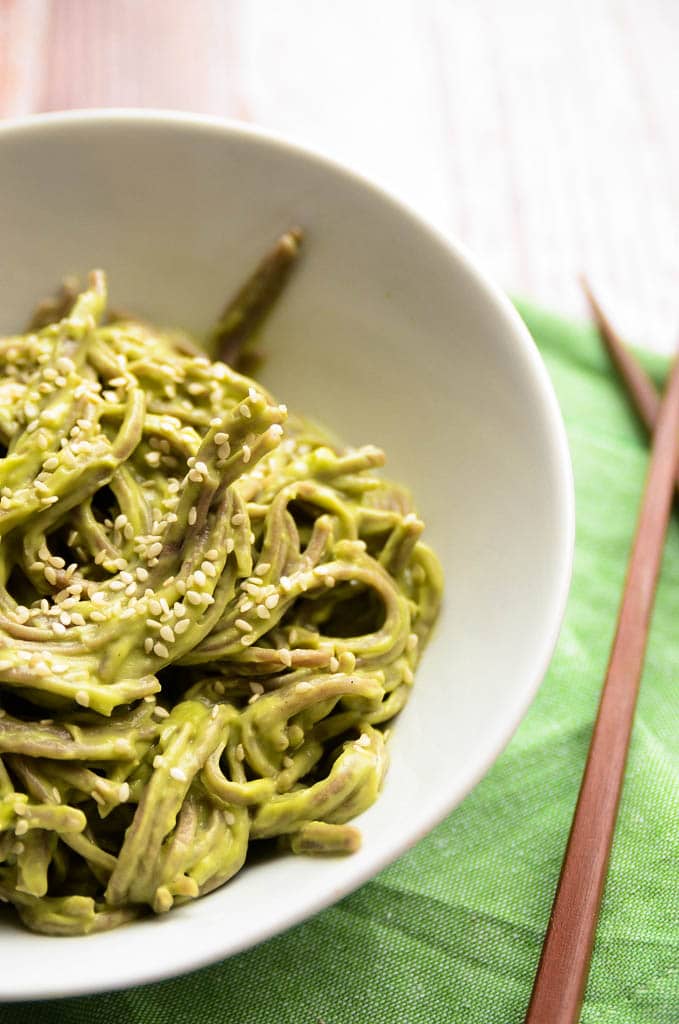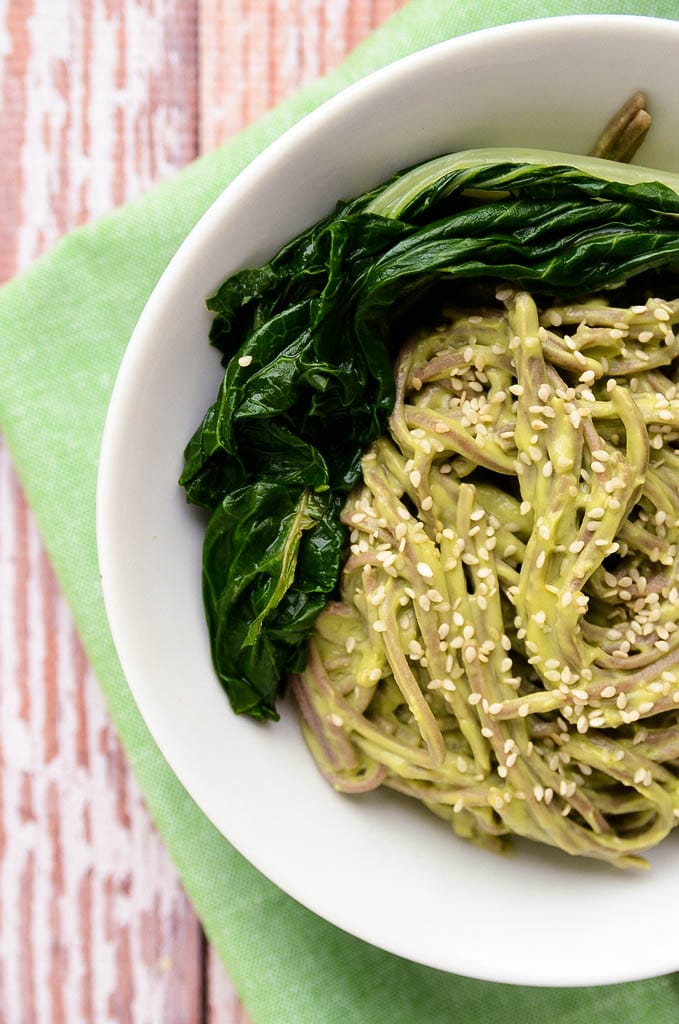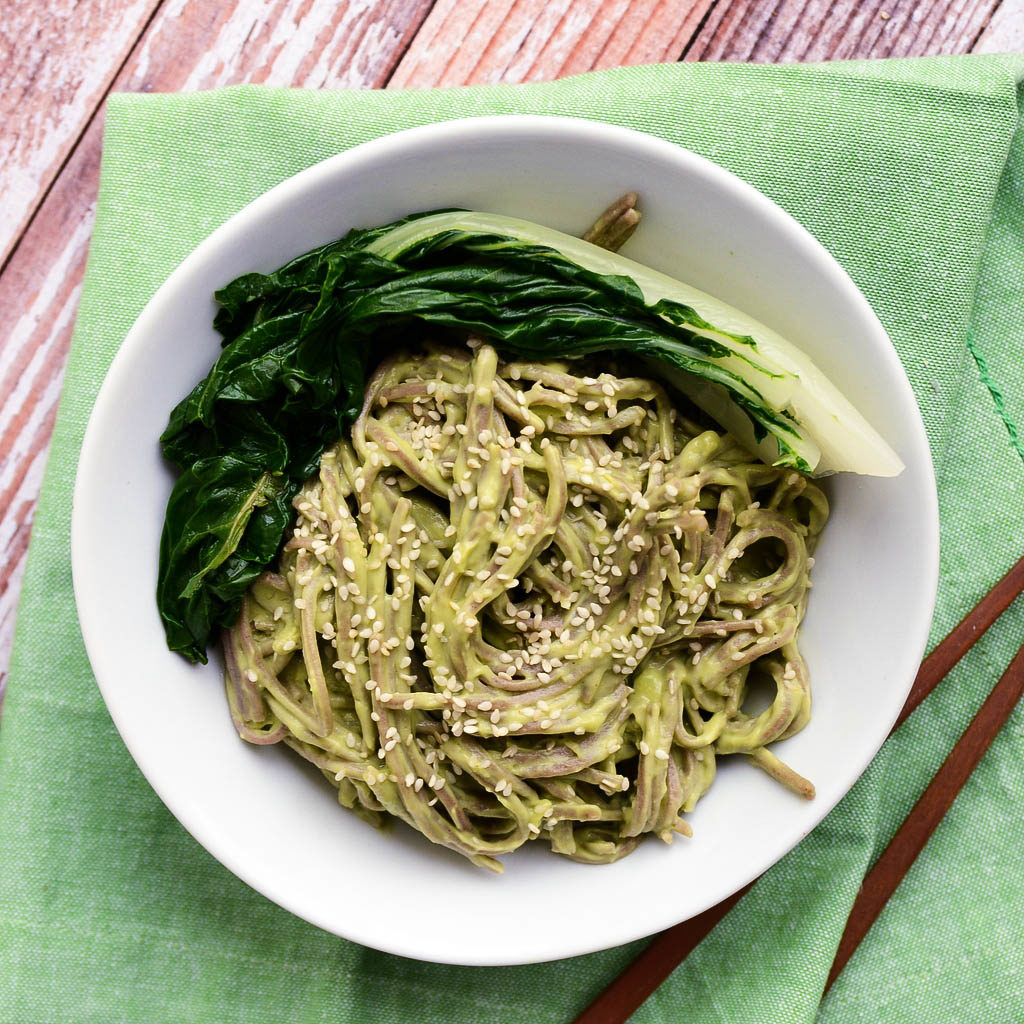 Creamy Sesame-Avocado Soba Noodles | Vegan + Gluten-Free
Recipe type:
Entree, Pasta
Ingredients
8 ounces buckwheat-only soba noodles
2 tablespoons soy sauce or Bragg's Liquid Aminos, divided
1 head baby bok choy, cleaned and destemmed
1 large avocado
2 tablespoons lime juice
1 tablespoon toasted sesame oil
1 teaspoon grated fresh ginger root
optional: sesame seeds
Instructions
Bring 2-3 quarts water and 1 tablespoon of Bragg's Aminos or soy sauce to a boil. Add soba noodles and bok choy leaves and boil for 8 minutes or until noodles are tender, stirring every minute or so to keep the noodles from clumping.
While the noodles are cooking, prepare an ice bath.
Drain the noodles and bok choy. Transfer the noodles to the ice bath to keep them from sticking.
To make the sesame-avocado sauce, add the flesh from the avocado, lime juice, sesame oil, grated ginger, and 1 tablespoon Bragg's Aminos or soy sauce to a food processor. Process for 2-3 minutes or until completely smooth.
Add the noodles to a large bowl, pour as much of the sesame-avocado sauce over the noodles as desired, and toss the noodles to coat. Depending on the size of your avocado, you may not need to use all of the sauce.
Serve the noodles in bowls and top each serving with a few of the boiled bok choy leaves and a sprinkling of sesame seeds.
Enjoy!
Notes
This recipe doesn't keep well in the fridge because of the avocado, so be sure to enjoy it fresh!
Most soba noodles contain a combination of buckwheat and wheat, so be sure to choose buckwheat-only soba if you want to keep this dish gluten-free.