Breakfast? Dessert? Both?
I'll let you be the judge, because I honestly can't decide. Although it leans toward the sweeter side of the flavor spectrum, I would happily welcome this rosy-cheeked beverage to my breakfast table.
Frozen raspberries are blended with a hearty dollop of rich coconut cream, almond milk, medjool dates, chia seeds, and a splash of vanilla. The coconut cream and chia seeds thicken and offer a shake-like quality, the dates lend sweetness, and the vanilla provides that extra something special.
The result is a silky-smooth, pink-hued shake with just enough sweetness to balance out the tart notes from the raspberry.
This recipe makes enough for two snack-sized shakes but could easily be single-strawedly devoured. The only judgment for the latter endeavor? That you're pretty darn awesome.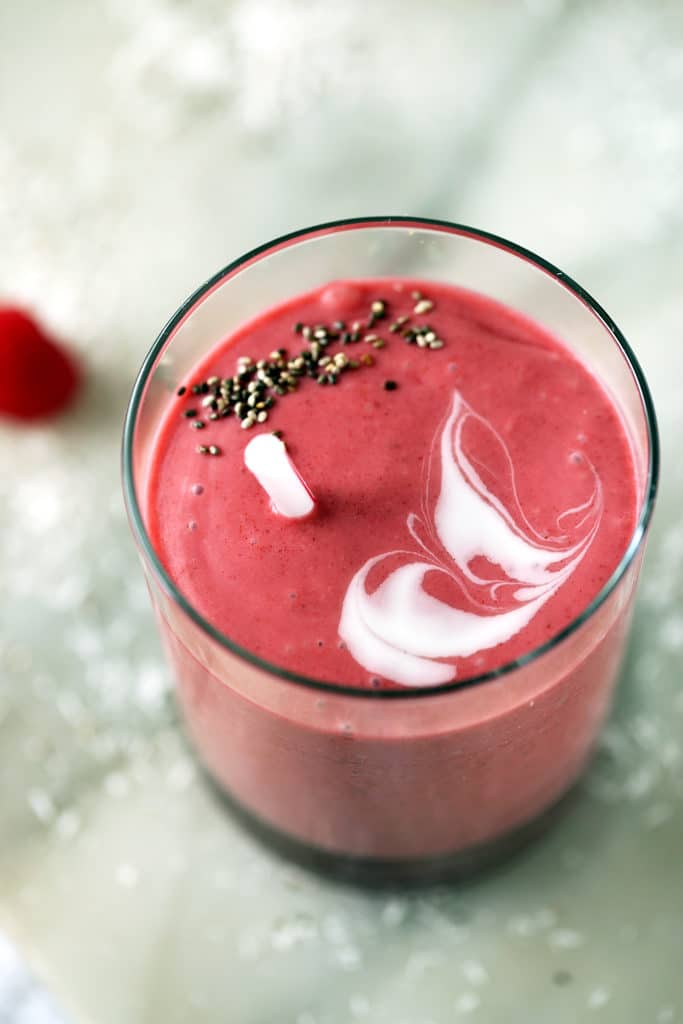 Creamy Raspberry, Coconut & Chia Shake
Author:
Ashley Melillo | Blissful Basil
Recipe type:
Dessert, Shake, Smoothie
Ingredients
1 1/2 cups frozen raspberries
1/3 cup full-fat coconut milk, chilled
1 cup unsweetened oat milk or almond milk
1/2 cup ice
4 soft medjool dates, pitted
1 tablespoon chia seeds
1 teaspoon pure vanilla extract
Instructions
Add all ingredients to a high-speed blender, and blend until smooth.