I'm so excited to introduce you to my new favorite recipe: Creamy Avocado, Artichoke + Kale Dip.
This dip is out-of-this-world-amazing.
Yesterday, I got wrapped up in another blog project for hours and started worrying that I wouldn't have a post ready for today if this dip recipe was a flop. Considering how much nutrition is packed into this green dip, I figured my worries were warranted. I mean kale in an artichoke dip? That's some risky recipe business if I've ever seen it.
Fortunately, flop it was not. Unless you mean flop-on-the-floor-this-taste-so-good-it-hurts.
This dip is not only swoon-worthy, it's also super simple to throw together in a pinch. Curly kale is wilted with a bit of olive oil and chopped into tiny pieces so even your finicky, kale-fearing friends won't know it's in there (it'll be our little secret). Then, avocados, fresh lemon juice, hemp seeds, garlic, salt, and black pepper are tossed into a food processor and whirled into a super creamy mixture. The artichokes are quartered, and then all of the ingredients are gently mixed together in a bowl.
I think my heart's actually beating faster thinking about this dip again. Not even kidding. It makes me so happy, and it's packed with plant-based goodness. This is the kind of dip that loves you back with both its taste and nutrition; it's like a bowl of self-love.
It's delicious paired with tortilla chips, but the sky's the limit. Fresh vegetables, pita chips, naan, or rice crackers would all be amazing. You could also slather it on bread and top it with big tomato slices. Or, as a first last resort, you could enjoy it all by its lonesome. I'm not sure who would do that except me, but it would probably taste great.
No matter your pairings, I hope you have a chance to make this dip. I promise you'll be rewarded with flavor, energy, and a healthy glow.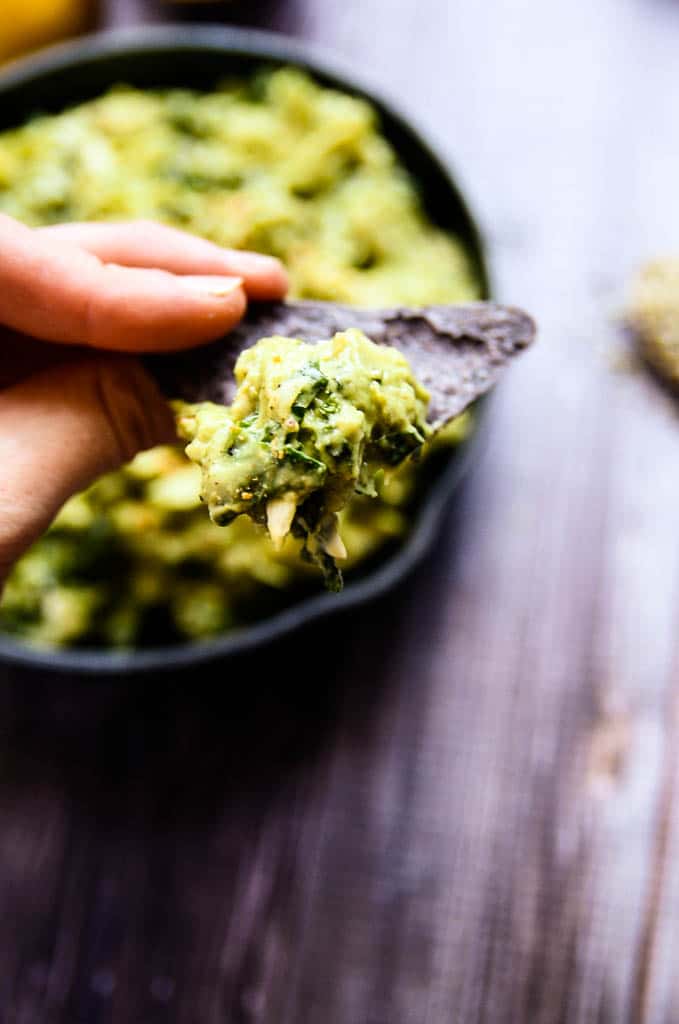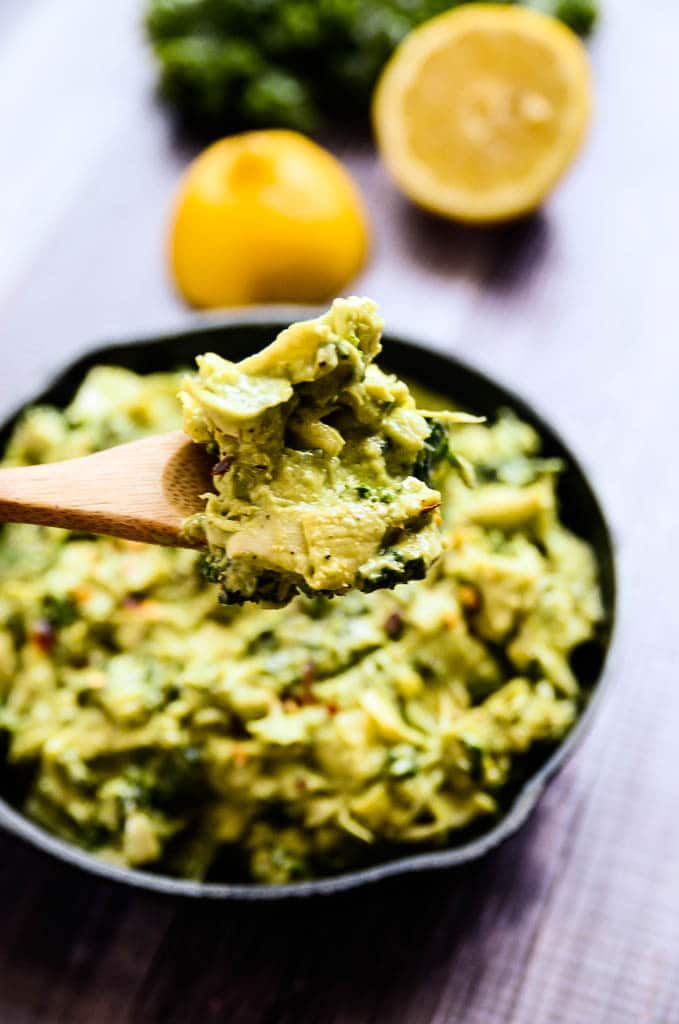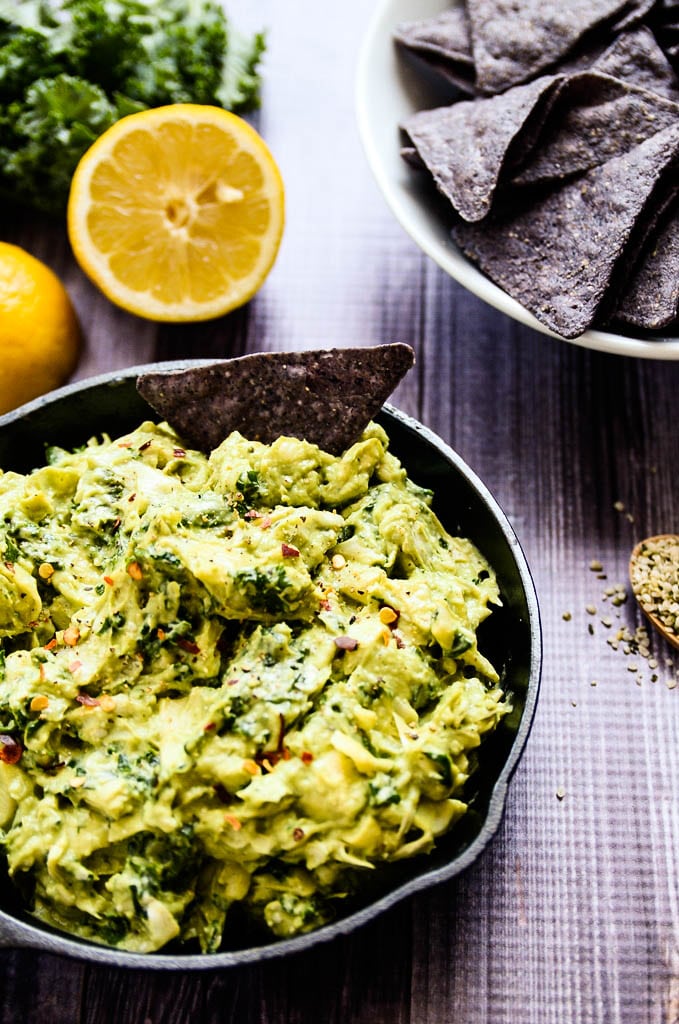 Creamy Avocado, Artichoke & Kale Dip
Author:
Ashley Melillo | Blissful Basil
Recipe type:
Appetizer, Dip
Ingredients
2 cups chopped curly kale
1/2 tablespoon olive oil
1 14-ounce can whole artichoke hearts, drained
2 small avocados
2 tablespoons fresh lemon juice
2 tablespoons hemp seeds
1 garlic clove, minced
1/4 teaspoon sea salt
black pepper, to taste
Serving Ideas
tortilla chips
pita chips
rice crackers
sliced vegetables
Instructions
Add the kale and olive oil to a skillet over medium-low heat. Cook the kale until it wilts and becomes tender, stirring occasionally (5-6 minutes). Transfer the kale to a cutting board and chop into small pieces. Let cool.
While the kale is cooking, quarter the artichoke hearts.
Scoop the flesh from the avocados into a food processor along with the lemon juice, hemp seeds, garlic, sea salt, and black pepper. Process for 2-3 minutes or until completely smooth.
Transfer the avocado cream, kale, and artichoke hearts to a bowl and gently mix together with a spoon.
Transfer the dip to a serving dish. Serve alongside tortilla chips, pita chips, rice crackers, or sliced vegetables.
This dip is best enjoyed fresh, but will keep for 1-2 days in the refrigerator. Store leftovers in an airtight container with a layer of plastic wrap pressed up against the dip to prevent browning.