If you've been reading along over the past few weeks, you might have noticed that I've accidentally fallen into a pattern of posting smoothie recipes on Wednesdays. I was trying to think of a snazzy name to commemorate this happenstance tradition, but I haven't been able to come up with a creative way to link Wednesdays to smoothies. Wet Wednesdays? Umm, no. Unfortunately that is what I came up with, and now it's plastered within my mind like the latest Ke$ha song. For now, the catchy name will have to wait. In the meantime, we'll enjoy more smoothies.
And to be brutally honest, this one actually tastes more like a milkshake. Two frozen bananas are blended with raw cacao, coconut shreds, dates, and coconut milk to create a smoothie that is so decadent it will make you question whether or not it's truly appropriate to enjoy for breakfast.  This smoothie is deliciously chocolaty and satisfying, and although it's breakfast-approved, it's rich enough for dessert.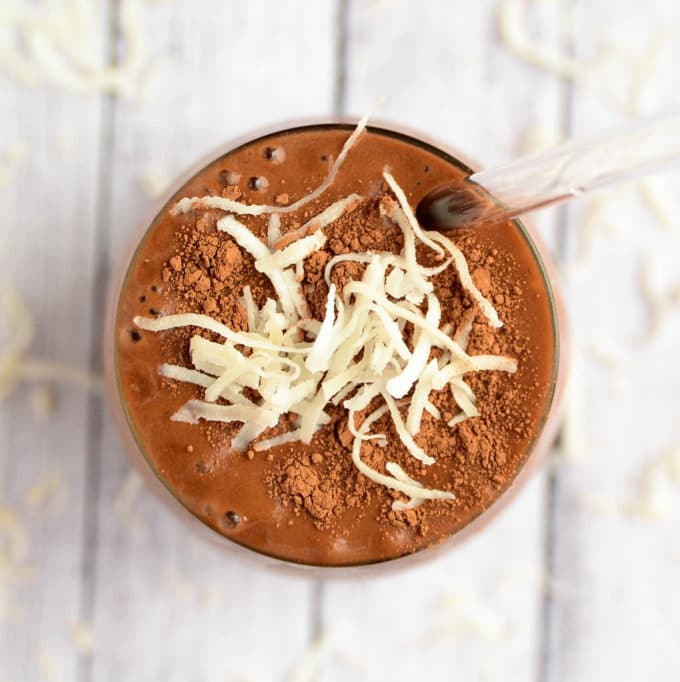 Coconut + Chocolate Milkshake
Ingredients
2 frozen bananas
2 tablespoons raw cacao
2 dates, pitted (or more depending on desired sweetness)
2-3 tablespoons raw coconut flakes
1/2 cup sweetened vanilla coconut milk (or full-fat coconut milk if you truly want to turn this smoothie into a milkshake)
Instructions
Add all ingredients to a blender, and blend 1-2 minutes or until smooth and creamy.
Pour into a glass and garnish with coconut flakes and cacao powder, if desired.
Enjoy immediately.